Trying to decide whether or not to start a Sportsman's Box subscription? Make sure you read this Sportsman's Box review first.
It seems like there's a subscription service for everything these days. It's possible to have subscriptions for groceries, entertainment, fitness classes, vitamins, music, books, gaming, even pickles and toilet paper! Well, you can also do the same thing for outdoor equipment.
This past year has been pretty crazy with the global COVID-19 pandemic and all the disruptions to our lives that have also occurred. Unfortunately, it's not unusual to see hunting gear that's out of stock or on backorder as a result of supply chain disruptions.
It's a simple fact that shopping for hunting requires more time, energy, and patience than ever before.
Lots of new people have also started hunting in the past year as well. Many of those people are overwhelmed by the process of shopping for hunting gear and don't quite know where to start.
Fortunately, there's a better way.
Founded by avid outdoorsman Adam Whitehead, Sportsman's Box is a seasonal gear subscription service designed for folks who love to hunt and fish. Basically, you tell them what outdoor activities you're most interested in and they'll pick out high quality gear that fits your needs and send it straight to your door on a regular schedule.
Oh and by the way, you'll pay significantly less for all that gear through the Sportsman's Box subscription service than you would purchasing each item individually through a normal retailer.
Want to learn more?
In this article, I conduct a detailed Sportsman's Box review and explain how Sportsman's Box works, what sort of gear you can expect from them, and why they're different from traditional ways of obtaining hunting gear.
Before we get started, I have two administrative notes:
First, the folks at The Sportsman's Box sent me their Executive box free of charge in exchange for an honest review and evaluation.
Second, some of the links below are affiliate links. This means I will earn a small commission if you make a purchase. This commission comes at no extra cost to you and you'll actually even save money going through that link if you use my coupon code listed below. This helps support the blog and allows me to continue to create free content that's useful to people like you. Thanks for your support.
I share my thoughts on this subscription service below, but if you're looking to get started now, you can use code BIGGAME20 to take 20% off your first box.
How Sportsman's Box Works
The Sportsman's Box isn't a "one-size fits all" product. More than other subscription boxes I've seen, Sportsman's Box focuses on customization to help members prepare for their choice of seasonal pursuits.
All new members take a "Sportsman's Quiz" to identify their individual interests (deer hunting, fly fishing, etc.), other outdoor hobbies (camping, hiking, etc.), the types of places they normally hunt or fish (mountains, wetlands, etc.), their level of experience, and their clothing sizes.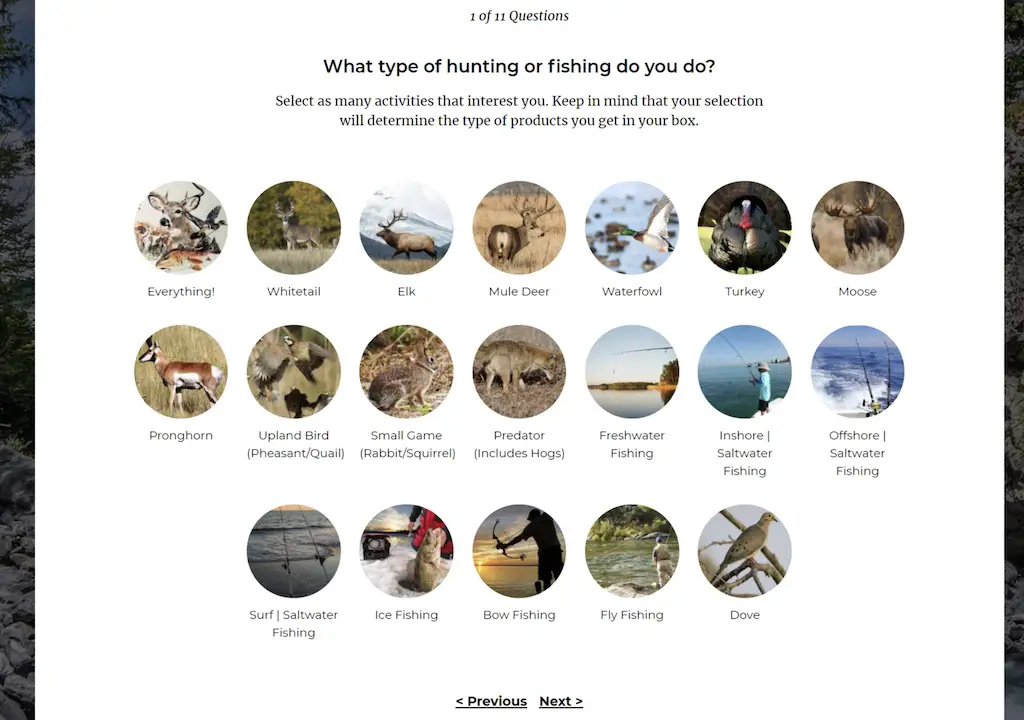 This process helps the folks at Sportsman's Box select the right gear for your particular needs for each new box. So, a person who checks the "whitetail" and "waterfowl" boxes on the quiz won't get freshwater fishing gear in their box.
Instead, they'll receive some premium items ideal for helping outfit them for their next hunting trip going after deer and/or waterfowl.
For example, Dereck (@maximus2themax on tiktok) is a member who identifies with "waterfowl" interests. He recently received an Axis 'Waterfowl' Lanyard, a new favorite item that he didn't even know existed until he received his first box.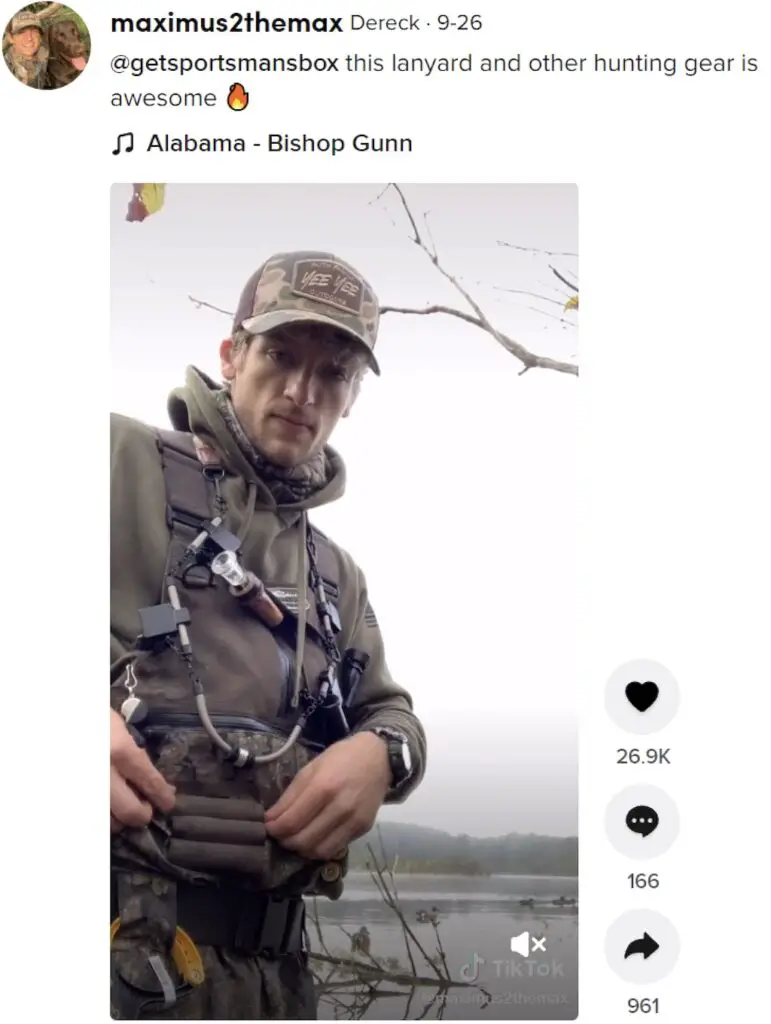 Likewise, an angler will receive a box with the best gear for his or her fishing style to ensure they're set-up properly for their next fishing trip.
Your first Sportsman Box will ship within 24 hours after you sign up for a new membership and complete your "Sportsman's Quiz."
After that initial box, all community members receive a shipment of outdoor gear from brand name companies tailored specifically to each member's interests and to the time of year every quarter (every 3 months).
So, your quarterly box subscriptions will arrive like a kickoff to each new season with your spring box arriving in February, the summer box arriving in May, the fall box arriving in August, and the winter box arriving in November.
What's In Each Sportsman's Box
Since each and every box is tailored to each specific sportsman's lifestyle and the current season, what you get in your box will be different from what I get in mine or from your neighbor.
Everybody gets different subscription boxes, so a mountain hunter box will be different from a waterfowl hunter box which be different from a turkey hunter box, etc.
Depending on the lifestyle interests of the member and the exact season, these boxes contain things like fishing reels, trail cameras, game calls, and even rifle scopes.
In addition to matching the gear in each box to your interests, Sportsman's Box also has three subscription plan levels. The different plans very in the total number of items you'll receive and have specific features (like the ability for you to return or hand select gear).
Executive Box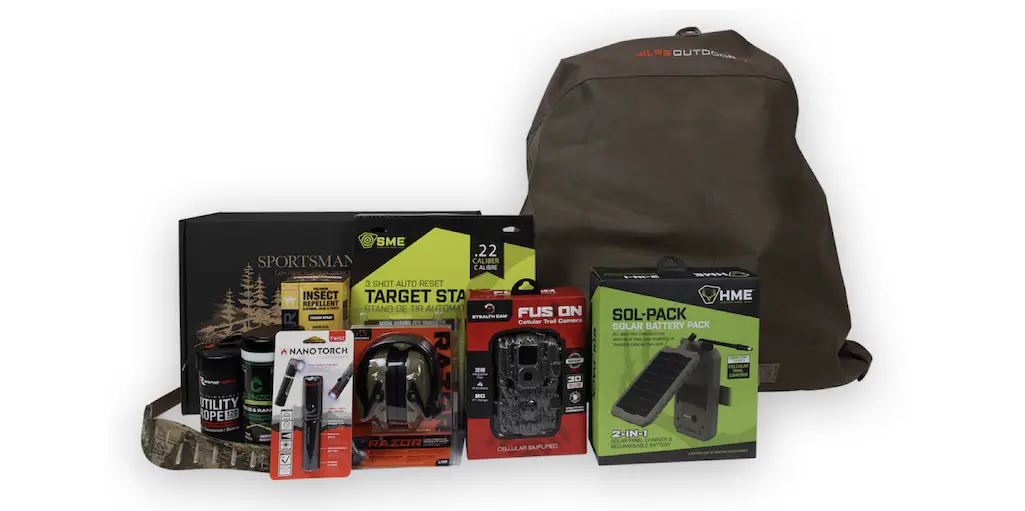 First, the Executive Box contains 3-5 unique products with a combined value greater than $150 MSRP (typically $150-180) selected by a team of sportsmen to fit with your needs and desires for the upcoming season.
You'll also have the option to return 2 unwanted items from this box.
Additionally, you'll also get to select 2 additional items for yourself that have a combined value of greater than $350.
Add it all up and you'll be receiving over $500 worth of outdoor products in this box every quarter, to include those 2 items you'll get to pick out yourself.
The executive box costs $299.99 per quarter or $275 if you sign-up for an Annual Membership.
Pro Box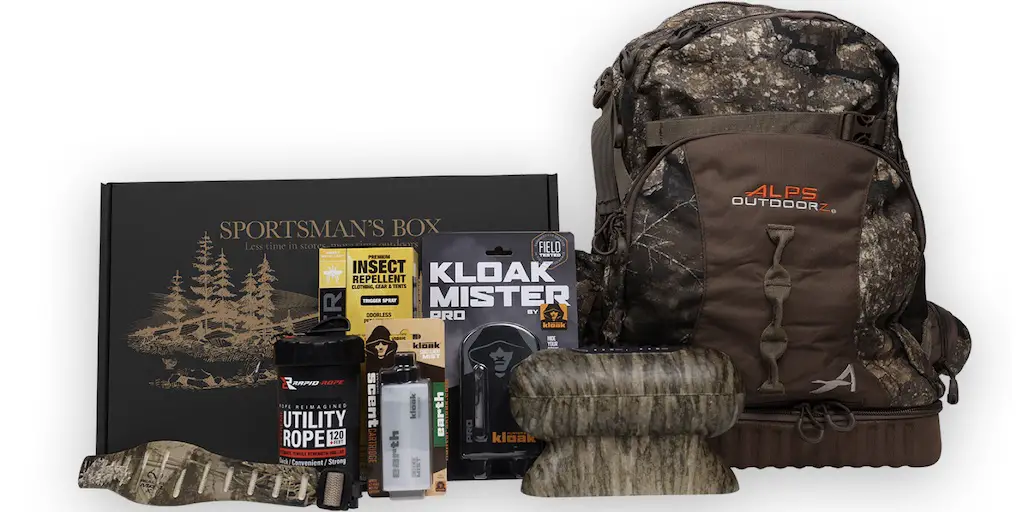 Next, the Pro Box contains 3-5 items with a combined value greater than $150 MSRP (typically $150-180) selected by a team of sportsmen to fit with your needs and desires for the upcoming season.
You'll also have the option to return 1 unwanted item from this box.
Additionally, you'll get to select 1 additional item for yourself with a value of greater than $150.
This box contains up to $300 worth of outdoor products in this box every quarter.
The Pro Box costs $164.99 per quarter or $150 if you sign-up for an Annual Membership.
Weekender Box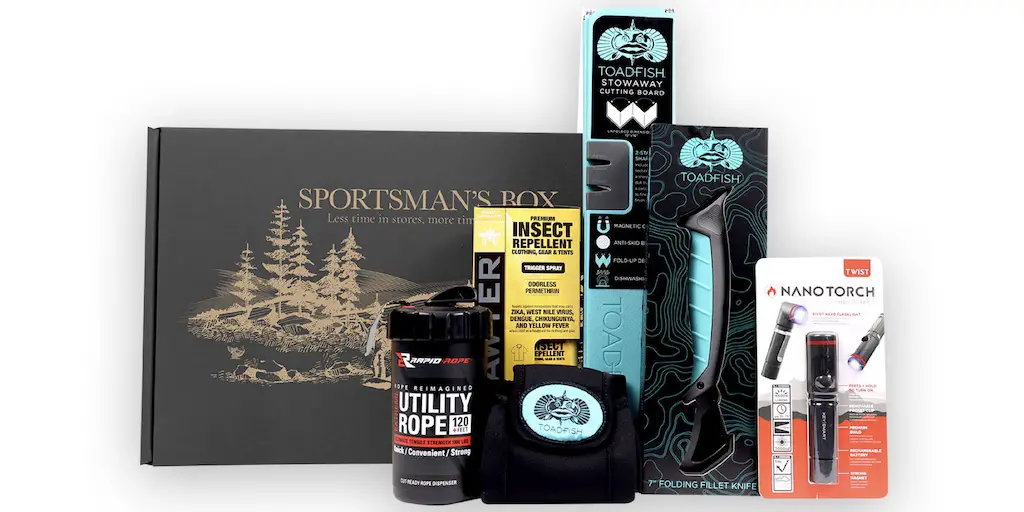 Finally, the Weekender Box contains 3-5 items with a combined retail value greater than $150 (typically $150-180) selected by a team of sportsmen to fit with your needs and desires for the upcoming season.
Containing over $150 worth of outdoor products, the Weekender Box costs $109.99 per quarter or $100 if you sign-up for an Annual Membership.
Now that we've covered the differences between each membership level, we can certainly talk in general terms about what comes in a Sportsman's Box to give you an idea of the cool gear you could potentially receive.
The video below is of me unboxing my fall shipment. That's an Executive box, so I was able to select two items myself.
As you can see, I picked a Tactacam Solo and the Allen Shotgun Gun case. I'm planning on going sandhill crane hunting later this year and will put both of those items to good use on that hunt.
While I'm very happy with those choices, Sportsman's Box did provide a couple of other options for me to choose from and I had trouble not selecting a Vortex illuminated scope ($199 MSRP) and an Otter Box cooler ($249 MSRP).
I definitely would have enjoyed both of those items, but I ultimately decided the Tactacam Solo and the shotgun case were better options.
Sportsman's Box Review: Is It Worth The Money?
Bottom line: I think this is a really great (not to mention super fun) way to get new gear from premium brands so you can be properly outfitted to enjoy your adventures in the great outdoors.
If you like getting hunting gear on a regular schedule and at a reasonable price from some of the big brand names in the business (like Vortex, Stealth Cam, and the Rocky Mountain Elk Foundation), then you'll love being Sportsman's Box member.
Like I mentioned earlier, you'll be receiving your hunting gear at a discount compared to purchasing all this stuff individually. Everything is tailored to your needs and desires as a sportsman and the fact that some of their subscriptions allow you to choose specific items in your box is another excellent bonus.
Heck, I have a hard time deciding what the best part of the experience is sometimes: choosing the items in my box or actually receiving it in the mail.
Try Sportsman's Box For Yourself
If you've made it this far in this post, you deserve something big.
The company has even set up a special Sportsman's Box Promo code for Big Game Hunting Blog readers that's good for 20% off your first box.
This is an exceptional discount on quality gear that comes at nearly half the cost of its total value. Just click the button below and use code: BIGGAME20 at checkout to receive 20% off your first box.
Enjoy my Sportsman's Box review? Please share it with your friends on Facebook and Twitter.
Make sure you subscribe to The Big Game Hunting Podcast and follow The Big Game Hunting Blog on Facebook, Instagram, Twitter, and YouTube.
Endorsement Disclosure: Per the guidelines of the Federal Trade Commission, the product reviewed here is an endorsement and I received compensation by "in-kind" payment to review the product.