Subscribe
Apple | Google | iHeart | Spotify | Stitcher
Mark Huelsing from Exo Mountain Gear joined me again on this episode of the Big Game Hunting Podcast and we had a great discussion on how to choose the right backpack for your hunting needs. We talked about how to evaluate your backpack needs as a hunter, the capabilities a good pack offers, the right way to pack your backpack when hauling a heavy load, and specific recommendations on which Exo Mountain Gear packs are best for various hunting situations.
Giveaway: I'm giving away 3 copies of Ryan Cleckner's book The Long Range Shooting Handbook to listeners of the show. To enter, subscribe to the Big Game Hunting Podcast, leave a rating and review on whatever podcast service you use, and share the show on social media. Email screenshots showing you completed those steps to [email protected].
Feel free to email me at the address above with any feedback you have on the show as well as topic requests for future episodes.
What We Covered
1) How Mark first got started working for Exo Mountain Gear.
2) A few shortcomings Mark and I have noticed in various backpacks over the years.
3) Considerations to keep in mind when buying a hunting backpack.
4) Capabilities a good pack should offer.
5) Specific recommendations of Exo Mountain Gear products best suited for various hunting situations.
6) The right way to pack your backpack when hauling a heavy load.
Resources
1) Exo Mountain Gear– Visit the Exo Mountain Gear web site to learn more about their packs.
2) Exo Mountain Gear Blog– Lots of great information on backcountry hunting gear as well as lots of tips and tricks from experienced backcountry hunters.
3) Hunt Backcountry Podcast– Mark co-hosts this podcast and it's mission is to give you the information you need to become a more capable, confident, and successful backcountry hunter.
4) The photo below shows Mark doing a pack out at the end of his recent hunt on Kodiak Island and demonstrating how to use the meat shelf on his backpack.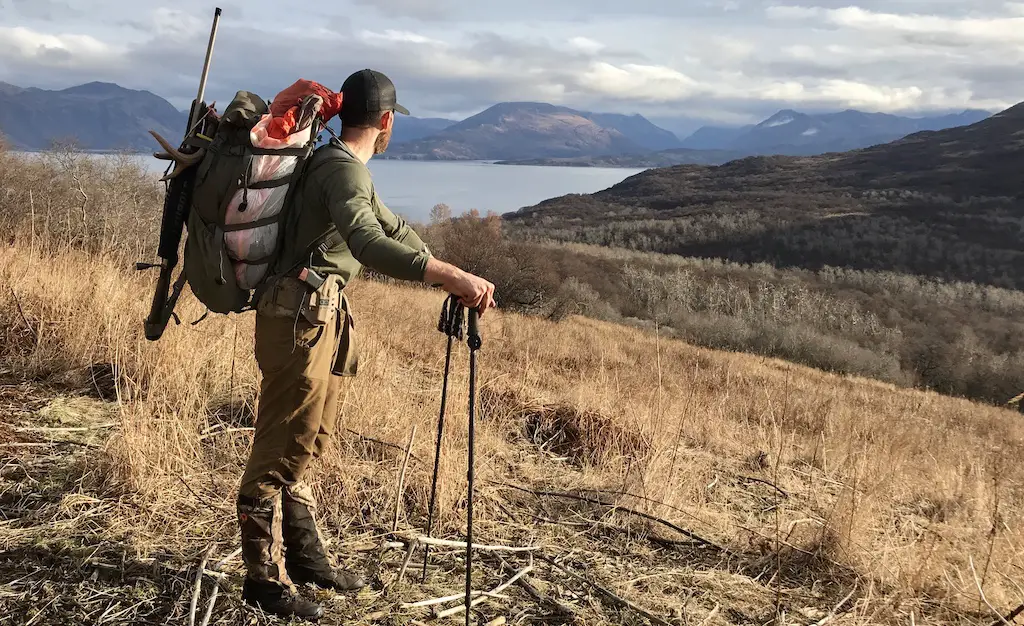 Subscribe