Today, Phil Massaro is back on the show. In this episode of the Big Game Hunting Podcast, we had a great discussion on hunting plains game. We talked about some of the ins and outs of hunting plains game: how tough they are, proper shot placement, choosing the right, bullet and cartridge, some underrated species of plains game and some other things you should keep in mind when preparing for a hunt for in Africa.
Show sponsor: Big Game Hunting Adventures. Say you heard about Big Game Hunting Adventures through The Big Game Hunting Podcast for special pricing on your hunt!
Giveaway:I'm giving away 3 copies of Ryan Cleckner's book The Long Range Shooting Handbook to listeners of the show. To enter, subscribe to the Big Game Hunting Podcast, leave a rating and review on whatever podcast service you use, and share the show either with a friend you think will enjoy it or on your social media account.
Email screenshots showing you completed those steps to [email protected]
Feel free to email me at the address above with any feedback you have on the show as well as topic requests for future episodes.
Subscribe
Apple | Google | iHeart | Overcast | Spotify | Stitcher
What We Covered
1) What is plains game?
2) What explains the reputation African plains game has for toughness?
3) Phil's take on what he considers the toughest species of plains game pound for pound as well as the most underrated species of plains game.
4) Specific plains game bullet and cartridge recommendations.
Resources
1) PhilMassaro.com – Phil's Web Site
2) Phil Massaro's Facebook, Instagram, & Twitter Pages
3) The Perfect Shot II– Kevin "Doctari" Robertson is a veterinarian and a long-time professional hunter from Zimbabwe. He puts his knowledge of animal anatomy and experiences hunting game in Africa to good use in his "Perfect Shot" series of books. The newer book "The Perfect Shot II" has the same useful information as the first edition of the book regarding shot placement and general information about some of the most popular species to hunt in Africa. However, he updated the book to also included more animals and to reflect newer bullets that didn't exist when he wrote the first edition. 
I own both editions of the book and the knowledge I gained from reading them was easily worth several times the price I paid for the book. In addition to the full sized book, you can also purchase a pocket-sized shot placement reference titled The Perfect Shot Mini-Edition that contains shot placement diagrams for some of the most popular species of game to use for quick reference on your hunt.
4) The Perfect Shot For Dinosaurs– Phil Massaro wrote this book in a similar style to Kevin Robertson's books, but for hunting dinosaurs. Ever thought about hunting a T-Rex? Well, Phil gives solid advice on exactly what cartridge and bullet you should choose as well as exactly where to shoot it.
5) Below is a photo of Phil with the kudu he referenced in the interview. This is the one they encountered while driving back to camp and the PH had to wake him up to shoot.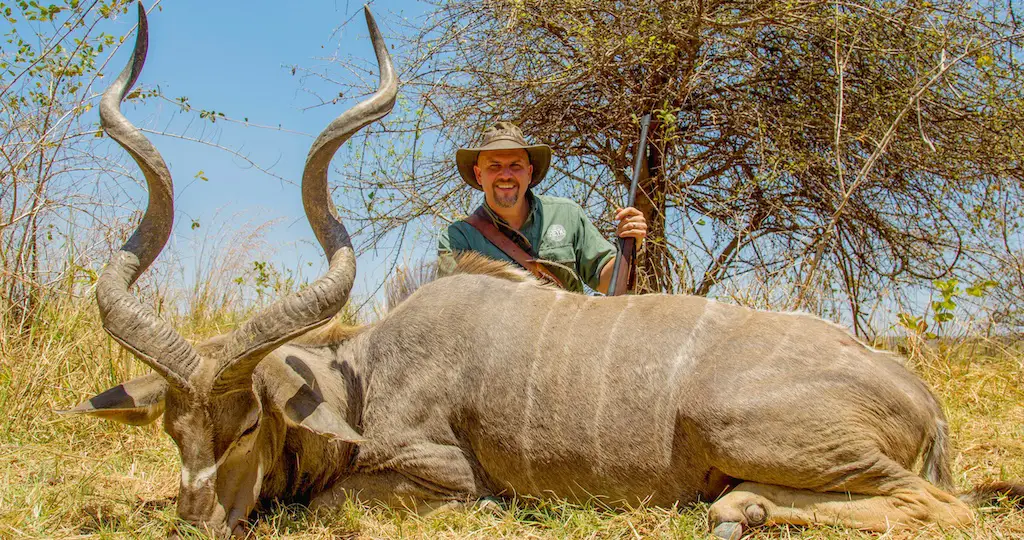 Sponsor
I founded Big Game Hunting Adventures specifically to pair hunters like YOU with great outfitters in Africa, Canada, and New Zealand. All the guys I work with are the real deal and will set you up with a great hunt. I'll be hunting with my South Africa outfitter this summer. This will be my 5th trip to Africa and I've been to Mozambique, Namibia, South Africa, and Zimbabwe. I've never had a bad hunt in Africa, but I can honestly say that these guys in South Africa are by far the best I've ever hunted with and I guarantee they'll treat you right. 
So, if you've always dreamed about an African hunting safari, then this is the outfitter you need to check out for both plains game and cape buffalo. I'll be having a great hunt there this summer with my dad and there's no reason why you can't either. Visit BigGameHuntingAdventures.com to learn more.
Subscribe