Clay Newcomb On Brown Bear and Grizzly Bear Hunting
When it comes to serious hunts for dangerous game, Brown bear and grizzly bear probably rank right up there with cape buffalo on most hunters lists. Those creatures are the top predators in their habitat, and hunts for them are not for the faint of heart. Unfortunately, opportunities for hunting brown and grizzly bear are nowhere near as widespread or as reasonably priced as black bear hunts though.
The good news is that are a couple of more reasonably priced options for brown/grizzly bear hunting that also offer a great overall experience, those hunts don't take place where you'd probably first think though. Additionally, the quality of experiences available for those big bears can vary dramatically as well and many hunters drop serious money on those hunts, but still go home empty handed each year.
Today we have an old friend back with us again: Clay Newcomb from Bear Hunting Magazine and he's going to help us sort out things in the brown and grizzly bear hunting world. As you'd expect from the guy who runs Bear Hunting Magazine, Clay knows a WHOLE lot more about bear hunting than I do. Clay was actually the very first guest I had on the big game hunting podcast all the way back in Episode 2. In that episode, we talked about bear hunting opportunities in general. Well today we're going to talk much more specifically about grizzly bear and brown bear hunting: what they are, the difference between brown and grizzly bear, where they live, where the best places are to hunt them, and about how much one of those hunts will cost.
Show sponsor: The Sportsman's Box. Enter promo code BIGGAMEHUNTER for 25% off your first order of high quality hunting gear shipped straight to your door each month.
Feel free to send me a message with any feedback you have on the show as well as topic requests for future episodes.
Subscribe
Apple | Google | iHeart | Overcast | Spotify | Stitcher
What We Covered
1) Recap of Clay's recent Montana black bear hunt.
2) Difference between brown and grizzly bear: what they look like, how big they get, and what their behavior is like.
3) Where can you hunt brown and grizzly bears.
4) What methods are most common for hunting brown and grizzly bears.
5) Hunting brown bear in Alaska vs Russia: success rates, differences in experience, and hunt cost.
Resources
1) Bear-Hunting.com – Bear Hunting Magazine Web Site
2) Bear Hunting Magazine YouTube, Facebook, Instagram, & Podcast Pages
3) Video of Clay's Montana black bear hunt: here
4) Video of Clay's Alaska brown bear hunt: here
5) Black bear vs Alaska brown bear skull below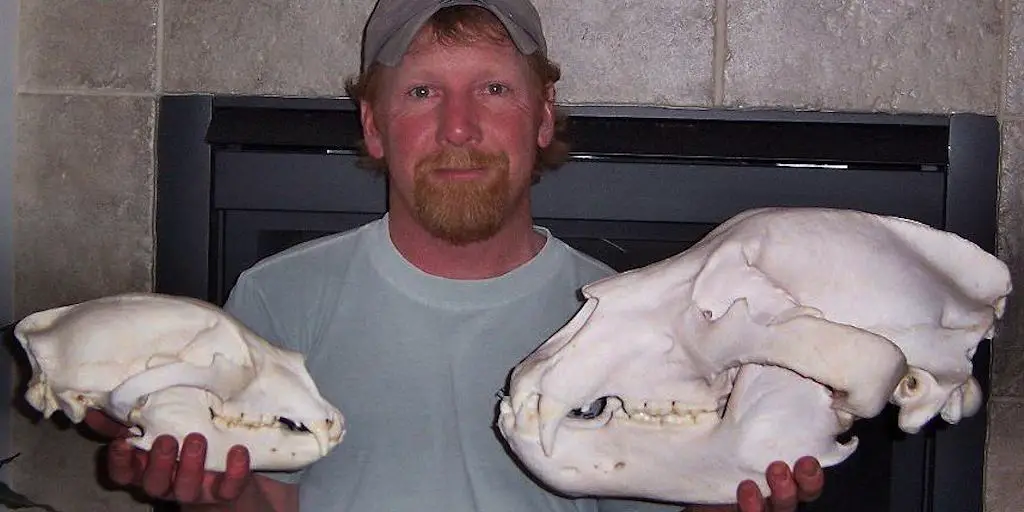 Sponsor
Head over to GetSportsmansBox.com to sign up for a new membership. By doing so, you'll get regular deliveries of high quality hunting gear tailored to your specific needs and desires as a hunter. You'll also get access to a dedicated gear guide at Sportsman's Box who can provide recommendations for specific gear you might need over and above anything you receive in your box.
You'll receive a significant discount off the regular prices for everything you get in your regular box as well as anything you purchase through their gear guide. Use promo code BIGGAMEHUNTER when you sign up to get 25% off your first purchase.
Subscribe