What are the best hunting rifle bipods ideally suited for pursuing big game like deer, elk, pronghorn, and bear in 2023?
Many hunters, especially those who go afield in more open and/or mountainous terrain, probably desire to use some sort bipod on their hunting rifle. Unfortunately, most products marketed as hunting rifle bipods are better suited for use at the range from a bench rest than under the challenging and varied conditions hunters often encounter afield.
Yes, a good hunting rifle bipod will allow the hunter to more comfortably shoot from the prone position (and potentially some other situations as well). However, there's a big difference between the best hunting rifle bipod for a sportsman who need to take a shot on an antelope across more or less flat ground with little cover vs the best bipod for a backpack hunter who needs something that's more easily carried for miles of hiking in mountainous terrain that will still perform when taking a steeply inclined shot on uneven ground.
Unfortunately, not all rifle bipods are created equal. Furthermore, the wide variety of different bipod options currently available can make choosing the best hunting rifle bipod an overwhelming task.
From one hunter to another, trust me when I say that I've experienced a lot of that same frustration myself.
I've purchased nearly a dozen separate rifle bipods over the course of my hunting career. Several have worked great, but others were a total waste or money.
While the wrong bipod can make your life miserable afield by digging into your back or getting hung up on every branch you walk by, the best hunting rifle bipods are much easier to carry and will also help you make a good shot regardless of the terrain at the moment of truth.
Luckily, there are lots of good bipods available to use on your long gun these days.
With all that in mind, I'm sharing my picks of the best hunting rifle bipods in 2023 so you can make an informed decision and choose the best rifle bipod for your individual hunting situation and specific needs.
Before we get started, I have a disclaimer.
Some of the links below are affiliate links. This means I will earn a small commission if you make a purchase. This commission comes at no extra cost to you. This helps support the blog and allows me to continue to create free content that's useful to hunters like yourself. Thanks for your support.
Next, even the best rifle in an appropriate cartridge and equipped with a great bipod won't be of much use without a high quality scope and without appropriate ammunition. Learn more about what I consider the best scope and sling options to use with your rifle on your next hunt at the links below.
9 Reasons The Leupold VX-5 HD Is A Great Hunting Scope
11 Reasons The Leupold VX-6 HD Is An Even Better Hunting Scope
Best Hunting Rifle Slings For 2023
Now that we've got all that out of the way, let's get started.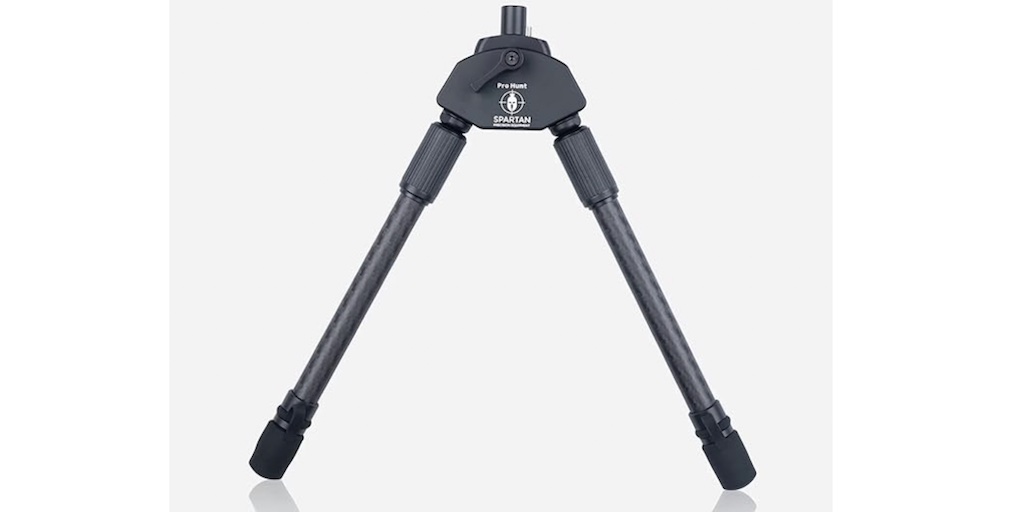 The Javelin Pro Hunt TAC from Spartan Precision is my favorite hunting rifle bipod. So if you don't want to spend a lot of time researching, then buy one of these bipods and be done with it. I switched over to a Javelin Bipod after many years of hunting with a Harris.
My Javelin Pro Hunt TAC has performed significantly better than the Harris in every single category and I could not be happier with it.
Designed by Rob Gearing, Javelin Bipods take a slightly different approach than is normally the case with most other rifle bipods. Rob has a mountaineering background. He's obsessed with lightweight gear, so it's only natural that he decided to build a lightweight bipod that utilizes carbon fiber construction.
To that end, he has designed a series of ultra lightweight and compact bipods that are still outstanding shooting platforms. The rub is that, unlike most typical bipods that you attach to the front of your rifle for the duration of a hunt, you attach a Javelin bipod to your rifle using a strong magnet right at the moment of truth.
Basically, you carry your bipod in your cargo pocket or in a pouch attached to your bino harness for the hours or days you'll spend working to get a shot on a hunt. This keeps the bipod out of the way and prevents it from getting hung up on tree limbs, brush, your backpack, etc. like a traditional bipod does from time to time while hiking and maneuvering for a shot. Plus, it also just makes your rifle that much lighter and easier to carry.
As you get into position to shoot, you pull the bipod out (I carry mine in a pouch on my binocular harness from Red Kettle), quickly attach it to your rifle, and then take the shot. With just a very little bit of practice, this takes only a handful of seconds and is darn near as fast as folding down the legs of more traditional bipods. For this reason, I still rank this bipod very highly in the "ease of use" category.
Installation of a Javelin Bipod is very simple too: simply unscrew the front sling swivel stud and replace it with a Javelin bipod adapter (which is included with the purchase of a bipod). The adapter is basically a socket with a magnet inside that provides a secure and sturdy attachment point that's also still lightweight and compact.
And don't worry: the adapter has a spot where you can attach your sling. Spartan Precision also manufacturers different adapters (like Arca, M-Lok, Key Mod, and Picatinny adapters) for those with rifles that don't have have quick detach swivel stud mounts.
Additionally, this bipod is easily adjustable for cant in uneven terrain and pans easily for traversing onto a target. Plus, it's also very compact and lightweight, but also sturdy enough for use under almost any reasonable hunting situation.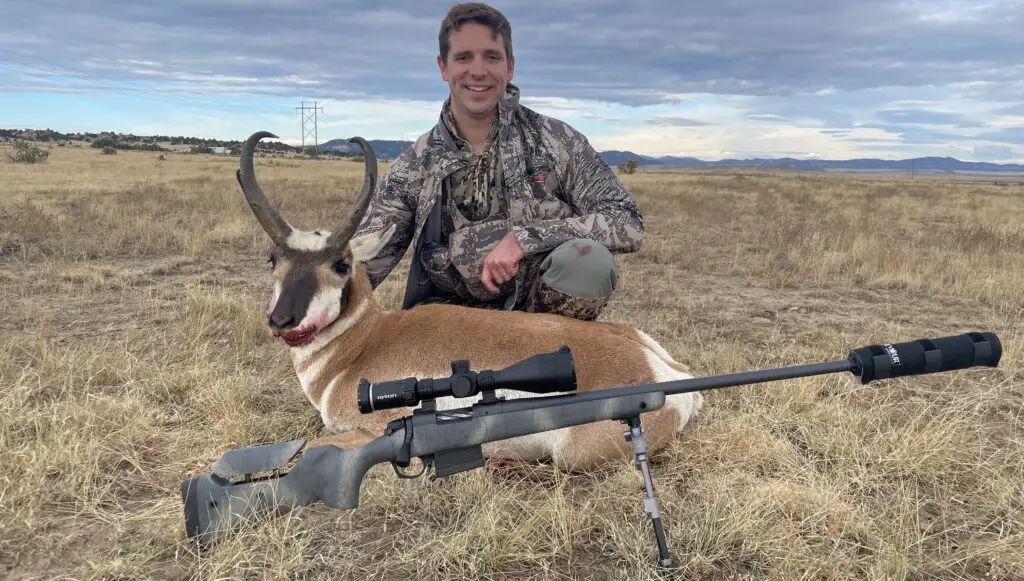 The bipod is available in two different sizes (each with adjustable legs), which weigh 7.6 and 8.3 ounces and are 7-9″ or 9-12″ long respectively.
While it's not as stable as other models designed specifically for competition, I think the Javelin Pro Hunt TAC is hands down the overall best hunting rifle bipod available these days.
Weight: 7.6oz/215g (standard) or 8.3oz/236g (long)
Ground Clearance: 7-9″ (17.8-22.8cm)″ for standard model of 9-12″ (22.8-30.5cm) for long model
Cant: 15 degrees left and right
Traverse: 30 degrees left and right
Material: 7075 hard-anodised aluminium and premium carbon fiber
BUY A SPARTAN PRECISION JAVELIN PRO HUNT TAC BIPOD HERE
Also Available At: Amazon, Optics Planet, & MidwayUSA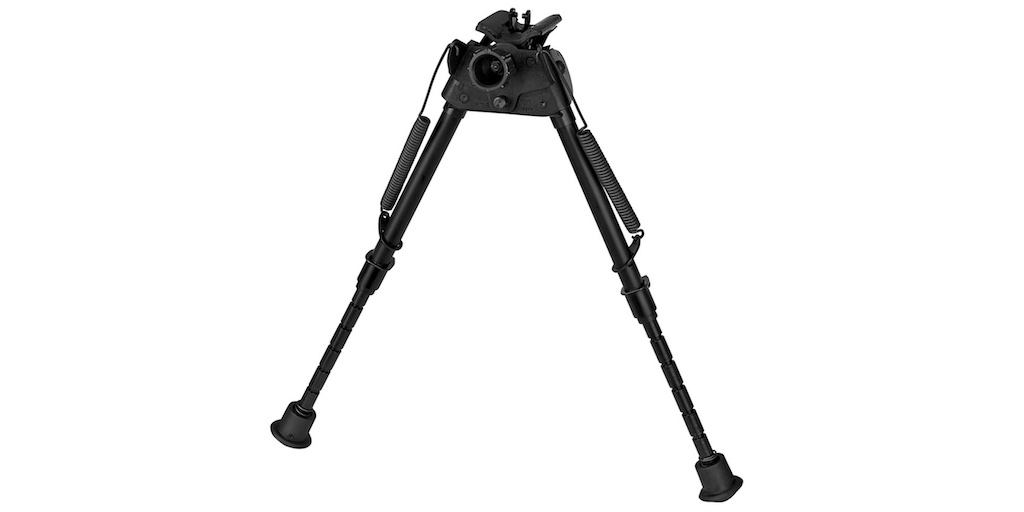 No list of the best hunting rifle bipods would be complete without a Harris Bipod of some sort. They use an older design, but Harris Bipods are still some of the best bipods out there.
Indeed, my first rifle bipod was a Harris S-BR and that bipod was essential for success on my first two pronghorn hunts in Wyoming and Colorado.
That particular bipod had a 6-9″ adjustment range, but it was a little shorter than I'd prefer to use afield when dealing with grass, bushes, etc. See what I mean in that photo below?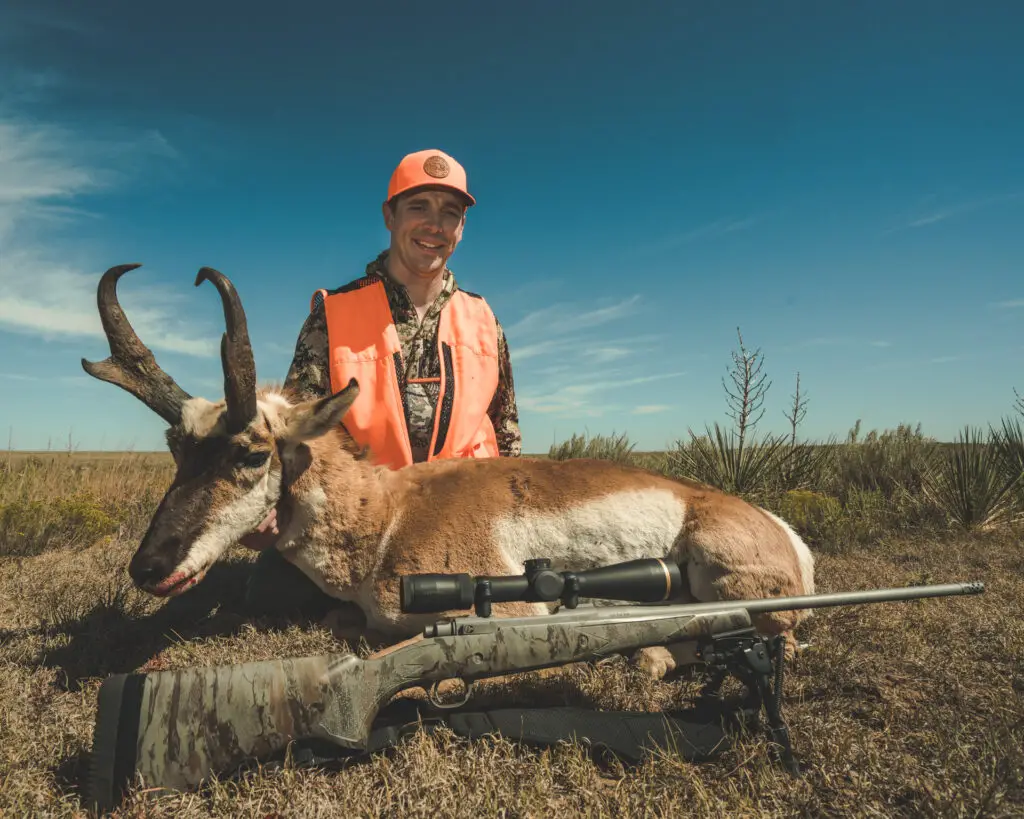 For that reason, I recommend the similar, though slightly taller Harris S-LM with longer bipod legs that give it a 9-13″ adjustment range.
Harris bipods use an older, but still solid, easy to use, and dependable spring loaded design.
Just attach the bipod to your hunting rifle via a standard quick detach sling mount (you can get different Harris bipod models or a Picatinny Adapter if your rifle has a Picatinny Rail mount). It also has an attachment where you can attach a sling directly to the bipod.
The legs fold up and out of the way when not in use. When you're ready to shoot, simply fold the legs down and extend them as necessary to the appropriate height.
The Harris S-LM offers the user some limited ability to adjust cant for use in uneven terrain and the user can also adjust the height of the bipod in 1″ increments.
There are only a couple of things I don't like about it: it's heavy, a little bulky, and can be noisy to deploy. I ended up switching to the more expensive, but lighter, quieter, and more compact Javelin Pro Hunt Tac bipod from Spartan Precision to eliminate those issues.
All things considered though, the Harris S-LM is a fantastic hunting rifle bipod option, especially for those on a more limited budget.
Weight: 15oz
Height: 9-13″
Cant Adjustment: Yes
Material: Steel, Polymer
Also Available At: Amazon, Optics Planet & MidwayUSA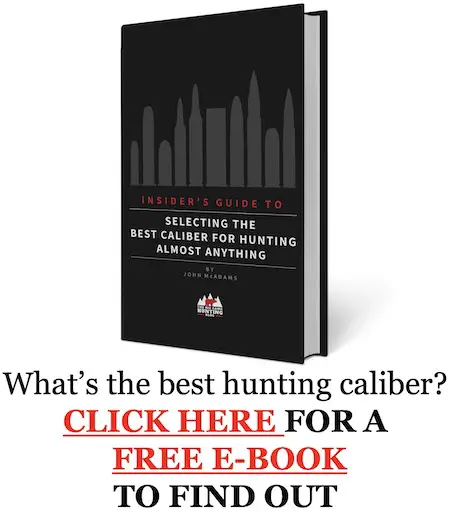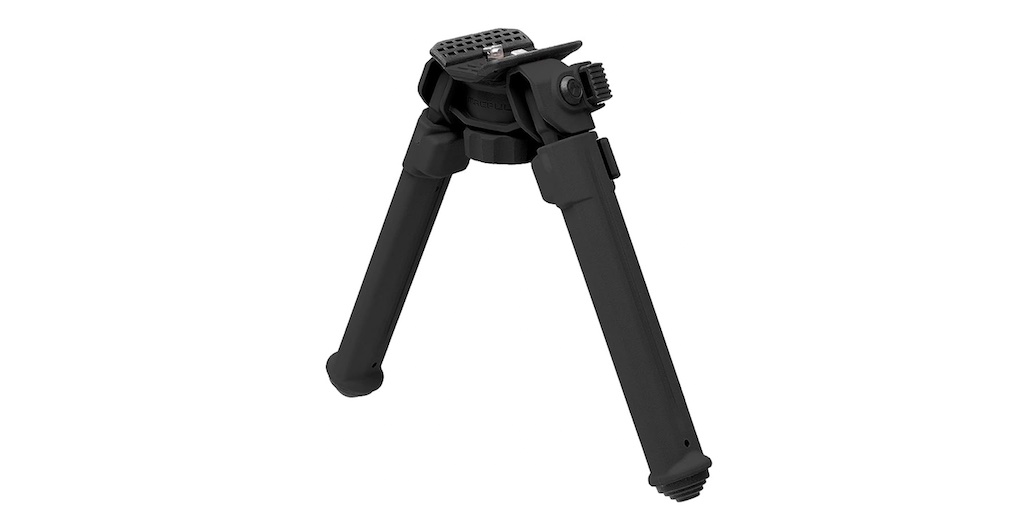 The Magpul MOE is a lightweight, simple, reasonably priced, and straightforward hunting rifle bipod option.
Attach the bipod to your rifle via the front sling swivel, stow the legs when you're not shooting, and then deploy each leg when you're ready to get into position.
While this Magpul bipod does utilize a lightweight construction with polymer legs (and it's certainly a good bipod), I wouldn't describe this bipod as "compact" though. The legs aren't that long and don't take up much space under the rifle when stowed, but this bipod has a pretty beefy overall appearance.
Another downside of this bipod is the legs aren't quite as long as I personally like. You can extend them from around 7 to 10 inches in half inch increments, which is enough for many situations, but not others.
Finally, you cannot adjust the cant on this bipod either. That's not a problem when shooting from a bench or from pretty level ground, but can be an issue when hunting in uneven terrain.
This is definitely not a high end or fancy bipod and it lacks a lot of the features other, more expensive rifle bipods have. However, this Magpul rifle bipod is another worthy addition to this list of the best hunting rifle bipods for those who want something very simple and lightweight and/or those with a smaller budget.
Weight: 8oz
Height: 7-10″
Cant Adjustment: No
Traverse: No
Material: Polymer, Steel
Also Available At: Optics Planet, Magpul, & MidwayUSA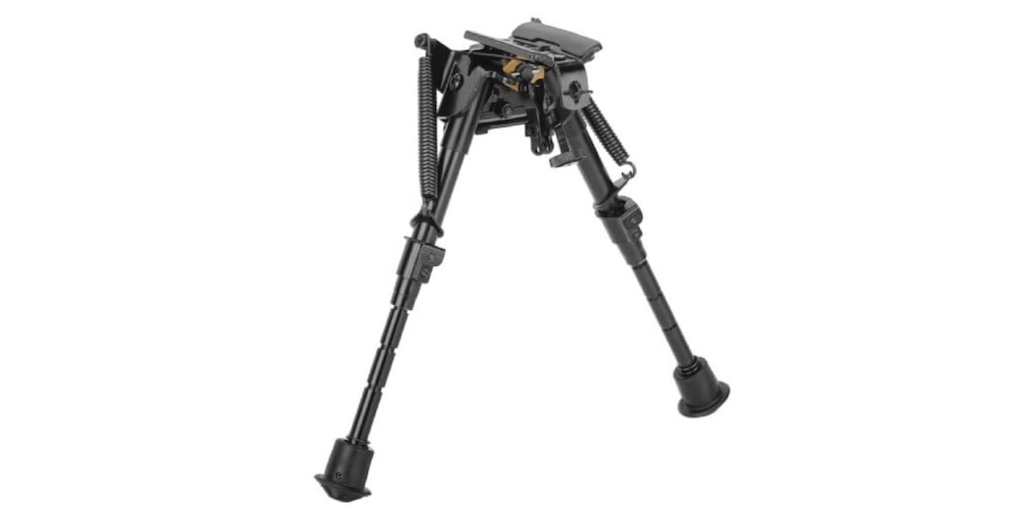 Looking for a capable, but also extremely reasonably priced bipod for your hunting rifle? Well, the Caldwell XLA Pivot is unquestionably the best hunting rifle bipod for you then.  
Very similar to the Harris bipod, the Caldwell XLA Pivot bipod has four different leg length configurations: 6 to 9 inches; 9 to 13 inches; 13 to 23 inches; and 13.5 to 27 inches. The shorter length legs are good for use in the prone position and those longer 23-27″ leg lengths optimally work in different positions, like sitting or kneeling.
Plus, the bipod can cant up to 18 degrees in either direction to help the hunter level their rifle in uneven terrain.
Like many other hunting rifle bipods, the Caldwell XLA Pivot attaches to the front sling swivel of most rifles. It also has an attachment where you can attach a sling directly to the bipod.
All in all, this is a surprisingly capable rifle bipod when you consider the price. The downsides of the XLA Pivot are that it's heavy, bulky, and its spring-loaded legs are potentially loud if you bang something into them afield. It's also not quite as durable as most of the other hunting rifle bipods on this list either.
Yes, there are other bipods that are "better" than the Caldwell XLA Pivot in certain categories, but this is still a great value bipod choice for your money in that price range and is a great option for many hunters.
Weight: 16oz
Height: 13-23″
Cant Adjustment: Yes, up to 18 degrees
Material: Aluminium
Also Available At: Amazon, Optics Planet & MidwayUSA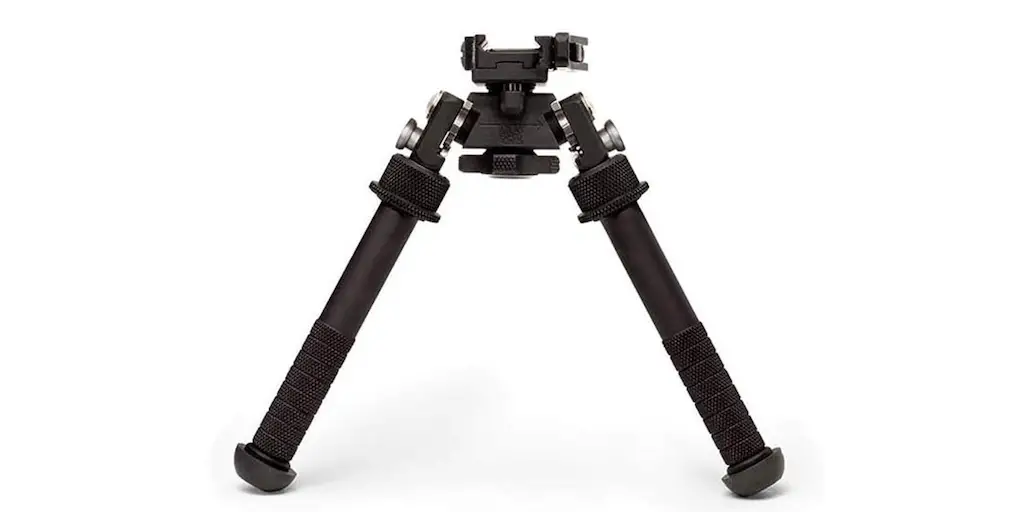 While it's not designed specifically as a hunting bipod, Atlas Bipods are almost universally highly regarded by serious precision rifle shooters who want the absolute best bipod for use at long range. To give you an idea of what I mean, the US Military selected this specific model Atlas bipod (BT46-LW17 PSR) for use with the SOCOM Precision Sniper Rifle (PSR) Weapon System.
Made of aircraft-grade aluminum, the Atlas PSR Bipod mounts directly to any 1913 style Picatinny rail system via an included ADM-170-S lever.
All things considered, this is a very capable, durable, and sturdy bipod that's ideal for use among those who need top end performance from their bipod for use for long-range shooting and under demanding conditions. The fact that it has legs with adjustable height as well as the cant and traverse adjustment features also make it great for use in uneven terrain and for let's just say "challenging" overall conditions.
However, while the Atlas PSR is a quality bipod that's a top pick for some hunters, it's not the right bipod for everyone. This bipod is very expensive, is heavy, and it also is just simply way more than what most hunters really need. That said, there's a reason why this is the rifle bipod of choice for SOCOM snipers and precision rifle shooters in general. If you truly want the best bipod for your hunting rifle that's versatile, durable, and capable for use out to ridiculously long range, then the Atlas PSR is definitely the best option for you.
Weight: 13.6oz
Height: 5.2-9.6″
Cant Adjustment: Yes, up to 30 degrees
Traverse: Yes, up to 30 degrees
Material: 6061-T6 and 7075-T6 aluminum that are Mil-Spec Type III hard coat anodized and have heat treated, stainless steel components
Also Available At: Amazon, Optics Planet, and MidwayUSA
Enjoy this article on the best hunting rifle bipods in 2023? Please share it with your friends on Facebook and Twitter.
Make sure you follow The Big Game Hunting Blog on Facebook, Instagram, Twitter, and YouTube.