Today, we have a special guest on the show: gun writer and big bore rifle enthusiast Phil Massaro. We're going to talk about choosing the right rifle, cartridge, and ammunition for hunting dangerous game (most notably cape buffalo). The advice commonly given about hunting dangerous game is to "bring the most powerful rifle that you can shoot accurately." That's not bad advice, but it really leaves a lot of room for interpretation and is a subject that deserves a pretty in-depth discussion.
Well, that's exactly what Phil and I provide in this episode of The Big Game Hunting Podcast!
Show sponsor: Big Game Hunting Adventures. Say you heard about Big Game Hunting Adventures through The Big Game Hunting Podcast for special pricing on your hunt!
Feel free to send me a message with any feedback you have on the show as well as topic requests for future episodes.
Subscribe
Apple | Google | iHeart | Overcast | Spotify | Stitcher
What We Covered
1) Examples of why it's so important to be appropriately armed on dangerous game hunts.
2) Brief description of some of the most commonly used big bore hunting cartridges these days.
3) Things to keep in mind when choosing a cartridge for dangerous game hunting.
4) Pros and cons of hunting with a bolt action rifle vs a double rifle.
5) Specific dangerous game bullet recommendations.
6) Examples of how things can go wrong, even when using really heavy hitting rifle cartridges, with poor shot placement.
Resources
1) PhilMassaro.com – Phil's Web Site
2) Phil Massaro's Facebook, Instagram, & Twitter Pages
3) Double Time– Phil's article in the American Hunter with the full story of his cape buffalo hunt in the Chirisa Safari Area of Zimbabwe. This is the hunt he referenced in the podcast where he shot two buffalo with his Heym 89B double in .470 Nitro.
4) Video of the cape buffalo shot with a .375 H&H I referenced at the end of the podcast: here.
5) Picture of that cape buffalo's heart below.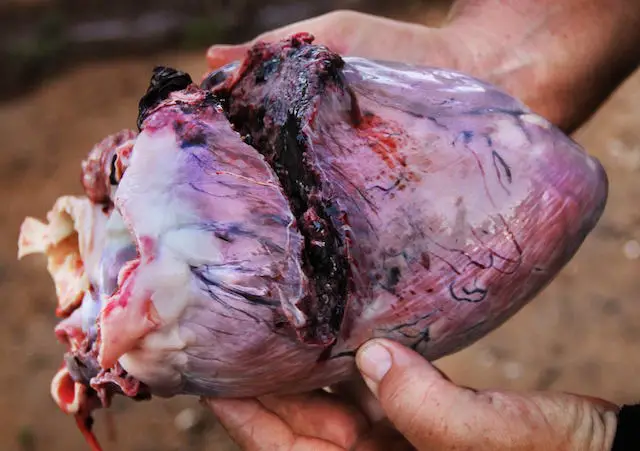 6) Video of the cape buffalo shot multiple times with a .416 Remington Magnum, .458 Lott, and .500 Nitro: here
Sponsor
I founded Big Game Hunting Adventures specifically to pair hunters like YOU with great outfitters in Africa, Canada, and New Zealand. All the guys I work with are the real deal and will set You up with a great hunt. I'll be hunting with my South Africa outfitter this summer. This will be my 5th trip to Africa and I've been to Mozambique, Namibia, South Africa, and Zimbabwe. I've never had a bad hunt in Africa, but I can honestly say that these guys in South Africa are by far the best I've ever hunted with and I guarantee they'll treat you right. 
So, if you've always dreamed about an African hunting safari, then this is the outfitter you need to check out for both plains game and cape buffalo. I'll be having a great hunt there this summer with my dad and there's no reason why you can't either. Visit BigGameHuntingAdventures.com to learn more.
Subscribe