What are the best hunting rifle slings in 2023?
Most hunters probably realize they should use some sort of rifle sling afield. Unfortunately, the situation is a little more complicated than most people initially realize and many rifle owners soon realize the $15 nylon sling they bought at their local big box retailer wasn't the best hunting rifle sling for them after hitting the woods with it.
Yes, a good hunting rifle sling will allow the hunter to more conveniently carry his or her firearm. However, there's a big difference between best rifle sling for a hunter walking 100 yards from their ATV to their deer stand vs the best rifle sling for a backpack hunter who needs something better suited for miles of hiking in mountainous terrain.
Additionally, as Ryan Cleckner says: a sling can also be more than just a "purse strap" or a "shoulder strap" for your rifle. Indeed, the best hunting rifle slings can also aid hunters in getting into a stable shooting position and increase hit probability on game hundreds of yards away.
Unfortunately, not all rifle slings are created equal. Furthermore, the wide variety of different rifle sling options currently available can make choosing the best hunting rifle sling an overwhelming task.
From one hunter to another, trust me when I say that I've experienced a lot of that same frustration myself.
I've purchased over two dozen different rifle slings over the course of my hunting career. Some of them have worked great, but some were a complete waste or money.
For instance, I spent a significant amount of money on a hunting rifle sling I used on a recent elk hunt in Arizona. I waited nearly a decade to draw that tag and I was thrilled to finally go on that hunt. Unfortunately, that hunt took place in some very rough terrain and I learned the hard way that my chosen hunting rifle sling was most definitely NOT up to the task.
I walked over 50 miles over the course of a week (very little of which was on flat ground) and I had to fight against my rifle and my sling for the entire hunt as it kept trying to slip off my shoulder. My thumb was sore from the days of walking I spent with it "hooked" under the sling and pulling it across my chest to keep my rifle secure.
Things were so bad that I had to remove my rifle from my shoulder and lean it up against a tree or set it on the ground every time I stopped if I wanted to use my hands for something else (like looking through my binoculars). While I don't blame my lack of success on that hunt completely on my rifle sling, it certainly didn't help and made for a more frustrating and tiring overall experience.
I wouldn't necessarily say that was a "bad sling", but it certainly wasn't an ideal choice for that situation and was not a hands-free rifle sling. The last thing any hunter wants is to purchase a poor quality rifle sling that will behave like that on their dream hunt.
While the wrong rifle sling will make your life miserable afield, the best hunting rifle slings will hold your rifle securely on your shoulder (without forcing you to constantly hold it in place with your hand) regardless of the terrain while at the same time also potentially helping provide a steady and field-expedient shooting platform.
Luckily, there are lots of good slings available to use on your long gun these days.
With all that in mind, I'm sharing my picks of the best hunting rifle slings in 2023 so you can make an informed decision and choose the best rifle sling for your individual hunting situation and specific needs.
So, what's the best sling for you? Keep reading to find out.
Before we get started, here's a disclaimer: some of the links below are affiliate links. This means I will earn a small commission if you make a purchase. This commission comes at no extra cost to you. This helps support the blog and allows me to continue to create free content that's useful to hunters like yourself. Thanks for your support.
The name "Ultimate Firearm Sling" may seem pretty bold at first, but I think that's a pretty accurate description of this particular rifle sling. Made of nonslip thermoplastic materials, the Ultimate Firearm Sling is incredibly versatile and absolutely excels in a rifle sling's primary role of holding the rifle securely on the shoulder.
Thing rifle sling works great in a traditional rifle carry position over one shoulder and won't slip off, even if you're carrying a heavy rifle and leaning to one side on long hikes in steep terrain. Additionally, this sling can be quickly transformed into a "three quarter backpack" (watch the video below for a demonstration) for carrying your rifle even more securely by taking the outer loop of the sling and pulling it over your head and neck.
You can easily and comfortably hold the rifle in this configuration even while wearing a backpack. For this reason, I think this is arguably the best rifle sling for mountain hunting.
The Ultimate Firearm Sling does have an adjustable length and also performs well as a shooting sling to provide support and assistance while assuming a hasty firing position. In fact, a sling like this one can be a surprisingly important factor in making an accurate shot afield with a little bit of practice.
Additionally, this rifle sling is compatible with any standard stud and comes equipped with standard "Uncle Mike" type metal swivels.
Finally, this excellent sling is made in the USA and is just a comfortable sling to use.
All told, I think this is definitely one of the best hunting rifle slings available on the market and the Ultimate Firearm Sling and the RedKettle Quick Release Rifle Sling (below) are my two favorites.
BUY AN ULTIMATE FIREARM SLING HERE
RedKettle's motto for their Quick Release Rifle sling is "Your rifle out of the way, but ready for action." I think that's a pretty accurate description of what a good rifle sling should do and the RedKettle accomplishes that goal in a unique manner.
This particular sling has a novel 10″ extension you can instantly release by simply pulling on a tab. Basically, you can sling the rifle across your chest for situations where you want both hands free. When you need to get the rifle into action, simply pull the tab to release the sling extension and then slide the rifle off your back and get on target (watch the video below for a demonstration).
This is another great hunting rifle sling that allows you to easily and comfortably hold the rifle securely on your back so both hands are free. It also works just find if you're wearing a backpack. With all this in mind, I think this is one of the best rifle slings for mountain hunting and for carrying your rifle comfortably for long distances.
Like I said earlier, this is one of my two favorite candidates for the title of the best hunting rifle sling overall because it does such a great job of securely and comfortably holding the rifle so you can have both hands free to traverse rough terrain, use binoculars, use trekking poles, etc.
NOTE: Sling swivels and other attachment hardware are NOT included with this sling. You'll need to purchase appropriate hardware separately (this sling needs 1″ swivels.)
As great as the RedKettle Quick Release M19 and Ultimate Firearm Slings are, not everybody needs the capabilities they offer. Indeed, the Quake Claw is a really good sling for a large segment of the hunting population who want something closer to a traditional sling.
This is a simpler, more minimalist, and less expensive rifle sling that still performs well in many situations. First and foremost, the Claw sling has a padded shoulder strap with a non-slip surface to help keep your rifle securely in place on your shoulder without rolling, tugging, or slipping.
It doesn't really stretch, it's not "quick-adjustable", and it doesn't work great in a cross-body configuration if you're wearing a backpack. However, this is still an excellent hunting rifle sling that will work great for a large portion of the hunting community.
The Quake Claw sling comes with quick disconnect (QD) sling swivels and is compatible with standard quick detach sling studs.
There's also a version of this sling that uses flush cup mounts. If you've never heard of them, flush cup mounts are sling attachment points that are below the surface of the rifle stock.
Some rifles and muzzleloaders (like the CVA Paramount) have flush cup mounts on the bottom of the stock. Other rifles, (like the Bergara Wilderness Terrain pictured below) have flush cup mounts on the sides of the stock to better facilitate different styles of carry that may be a better choice for some hunters in different situations.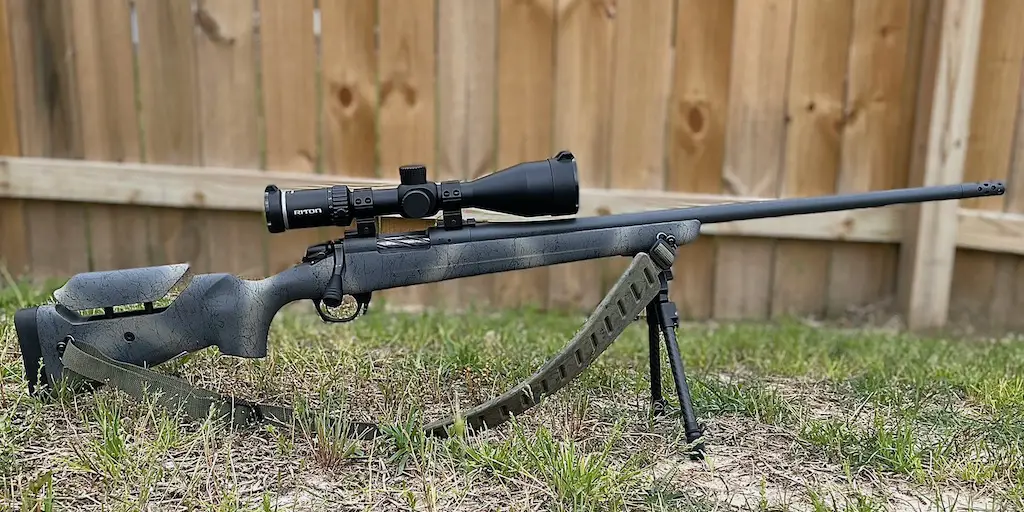 That particular rifle has 6 different sling connection points: 2 standard quick detach mounts on the bottom of the stock along with 2 pairs of flush cup sling mounts on each side of the rifle.
In any case, there's also a Quake Claw sling available that will work with those QD flush cup mounts. Just pop the attachment point on the sling into the flush cup mount to mount the sling and simply push the button and pull to remove it.
All things considered, the Quake Claw sling is one of the best hunting slings if you just need something to use while walking back and forth between your deer stand and your ATV, navigating moderate terrain, or dragging your deer out of the woods at the end of a successful hunt. I have several of these slings and they're a great option for those roles.
BUY A FLUSH CUP COMPATIBLE QUAKE CLAW SLING HERE
Also Available At: Amazon and Sportsman's Warehouse
All the slings I've listed to this point work best with traditional hunting rifles. However, there are an increasing number of hunters using AR-style rifles each year and I think the Vickers Sling from Blue Force Gear is one of the best AR-15 slings for those people.
When it comes to tactical slings, I personally prefer a good two-point sling over all the other types of slings. This is just my personal preference though and I have nothing against single-point slings or three-point slings (and yes, I provide a single-point sling recommendation later in this article).
The Vickers Sling is a simple, lightweight, durable, and effective two-point sling designed for use with AR-style rifles.
Inspired by Larry Vickers' years of experience in 1st SFOD (aka Delta Force), the Vickers Sling instantly adjusts by up to 10″ in length via a simple pull tab to accommodate different carrying positions.
I'm not sure when I purchased my Vickers Sling, but I've had it for at least 11 years now and definitely used it on my Afghanistan deployment (I might have had it in Iraq too, but I can't remember for certain). Either way, I think it's a great sling and I've literally used a Vickers sling for months on end to carry my rifle in a manner where I can rapidly put it into action, yet still carry it comfortably for hours at a time and have my hands free for other tasks.
It's simple to use too and is designed for quick adjustments in size: just use the pull tab to lengthen the sling, slip it over your head and shoulders, and then tighten the sling using the same pull tab to the point where it hangs comfortably in the appropriate position.
While most hunters likely aren't wearing body armor like I was on my deployments, it will perform just as well while you're wearing heavy clothing and/or a backpack.
The Blue Force Gear Vickers Sling is ideal for AR-style rifles, but will also work on traditional hunting rifles. That said, I personally prefer the other slings mentioned in this article to the Vickers Sling for use on a bolt action rifle.
I think the Vickers Sling is the best hunting rifle sling for use with a modern sporting rifle though and I use it all the time in that role. This is the sling you're looking for if you want a 2-point sling to use with your AR-15, AR-10, or other modern sporting rifle.
Blue Force Gears also makes a padded version of the Vickers Sling (and both models are available in different colors) that will be a little more comfortable for periods of extended use. I have the unpadded version, but I don't think you can go wrong with either one.
BUY A PADDED VICKERS SLING HERE
Also Available At: Optics Planet (padded and unpadded)
Note: Sling swivels and other attachment hardware are NOT included with this sling. You'll need to purchase appropriate hardware separately (this sling needs 1.25″ swivels).
I don't like to use single-point slings myself, but I realize not everyone agrees with me and that different people will often have different needs and unique preferences for what they want in a tactical sling. While single point slings don't hold your rifle as securely to your body as a two-point sling or a three-point sling, a 1-point sling is also faster to use in certain situations.
This type of sling is most popular with AR-style rifles and I used this exact sling for most of my year-long Iraq deployment. I eventually switched over to a Vickers Sling, but the Blackhawk single-point sling still performed very well for me and I was happy with it overall.
This is a very simple rifle sling that has a short elastic webbing sleeve that will offer a few inches of stretch. The end result is that nylon webbing makes the sling easier to use without bouncing too much. It's also easily adjustable for length and has a quick detach buckle.
You'll need this adapter to use the Blackhawk Storm Single point sling with your AR-15/M-4 if you don't already have one. While I'm not a big fan of single point slings in general, I think this is by far the best option for a hunting rifle sling in that style.
BUY A BLACKHAWK SINGLE POINT SLING HERE
Also Available At: Brownell's
This leather sling from Ruger is the very first hunting rifle sling I ever bought as an adult and I actually purchased it to use on a cape buffalo hunt in Zimbabwe. While there's nothing advanced or fancy about this leather rifle sling, it's a good quality product and performed just fine over in Africa as a safari sling (and yes, I got my buffalo).
Some people just prefer the old style leather slings instead of rifle slings made out of nylon or other synthetic materials. Well, this is the best rifle sling for those people. It's a very simple sling that's comfortable to use for hours at a time and won't slip off your shoulder.
Hunters who want a hasty sling to use as a shooting support or who want something better suited for cross body use should get a different hunting rifle sling from this list. However, this is the right sling for those who prefer traditional rifle slings made of a durable material.
Note: Sling swivels and other attachment hardware are NOT included with this sling. You'll need to purchase appropriate hardware separately (this sling needs 1″ swivels).
Enjoy this article on the best hunting rifle slings in 2023? Please share it with your friends on Facebook and Twitter.
Make sure you follow The Big Game Hunting Blog on Facebook, Instagram, Twitter, and YouTube.