Looking for the best hunting socks to wear afield this hunting season? Here are the socks you've been looking for.
Socks are one of those extremely important, yet often overlooked pieces of hunting gear. They don't get nearly as much attention from hunters as gear like rifles, binoculars, or hunting knives, but a pair of good hunting socks can sometimes mean the difference between success and failure on a hunt.
For instance, hunting socks that are ill fitting, poorly made, or manufactured from the wrong materials can result in blisters, cold feet, or even hypothermia in extreme cases. At best, low quality socks just won't be as comfortable to wear or hike long distances in as higher quality socks.
I've used a number of different types of hunting socks over the years. While I've experienced a great deal of success afield and have escaped major blisters or other foot injuries, I was never really happy with my socks. In particular, my feet get very cold when temperatures are low, extremely sweaty when it's hot outside, and I'm constantly having to readjust my socks as they slide around on my foot during the course of a day of hunting.
Wearing different boots and various sock liners have helped with those issues to a certain degree. I was still not completely satisfied though.
However, I recently started wearing Darn Tough socks and they're now easily my favorite socks, especially for hunting.
In this article, I'm going to explain what makes Darn Tough socks different from most other hunting socks and why I think they're the best hunting socks currently available for most sportsmen. I'll also go over the pros and cons of these socks so you can decide whether or not they make sense for you to use yourself.
Before we get started, I have two administrative notes:
First, the folks at Darn Tough sent me a couple pair of Darn Tough Hunter Boot socks free of charge in exchange for an honest review and evaluation.
Second, some of the links below are affiliate links. This means I will earn a small commission (at no extra cost to you) if you make a purchase. This helps support the blog and allows me to continue to create free content that's useful to people like you. Thanks for your support.
What Are Darn Tough Socks?
Darn Tough Vermont is a family owned business founded in 2004. Based out of Northfield, Vermont, Darn Tough's mission is to sell and promote the most comfortable, durable and best fitting socks available in the market today. 
They manufacture their socks from premium materials and primarily use merino wool with a little bit of nylon and lycra added in for added comfort, durability, and fit.
The result is some hunting socks that fit very well and are comfortable to wear under a variety of conditions.
In fact, merino wool is one of those rare materials that is comfortable in hot weather as well as when it's really cold outside. It's also very lightweight, moisture wicking, and is antimicrobial (so it won't smell like really bad body odor when wet and dirty).
Merino wool is also very durable and will stretch without sagging.
Since they're well designed merino wool socks, Darn Tough socks are absolutely perfect for people like hunters, hikers, and military service members who really need high performance socks.
What Are The Characteristics Of Great Hunting Socks?
First, good hunting socks must fit the user very well.
A snug fit is essential, but hunting socks shouldn't be so tight that they're uncomfortable or cut off circulation. However, they should be snug enough that they won't slide around on the foot and cause blisters or just general discomfort during heavy use.
They must continue to perform when really wet as well as under heavy use under tough conditions (like walking on steep slopes at a variety of angles).
Next, good hunting socks must also be very durable. Some hunters really put a lot of stress on their socks through miles and miles of walking over very rugged terrain. Durable and well constructed hunting socks will soak up that punishment for years at a time without developing holes or starting to sag or tear.
Additionally, hunting socks must also be very comfortable in a variety of temperatures. Certain hunts take place in hot temperatures while others occur when it's really cold outside. Good socks will still perform under both conditions.
Good hunting socks must also still work well when they're wet. This must hold true if that moisture comes from sweat or from outside sources (like rain). Wet socks and feet are a recipe for blisters, which can ruin a hunt. So, it's essential that hunting socks be moisture wicking.
So that's the basics of good hunting socks: they must be comfortable, durable, and keep the user's feet cool, warm, and dry. It sounds simple, but those things are easier said than done.
Now that we've covered the basics of good hunting socks, let's talk about what I like and don't like about Darn Tough hunting socks in terms of the standards I just laid out.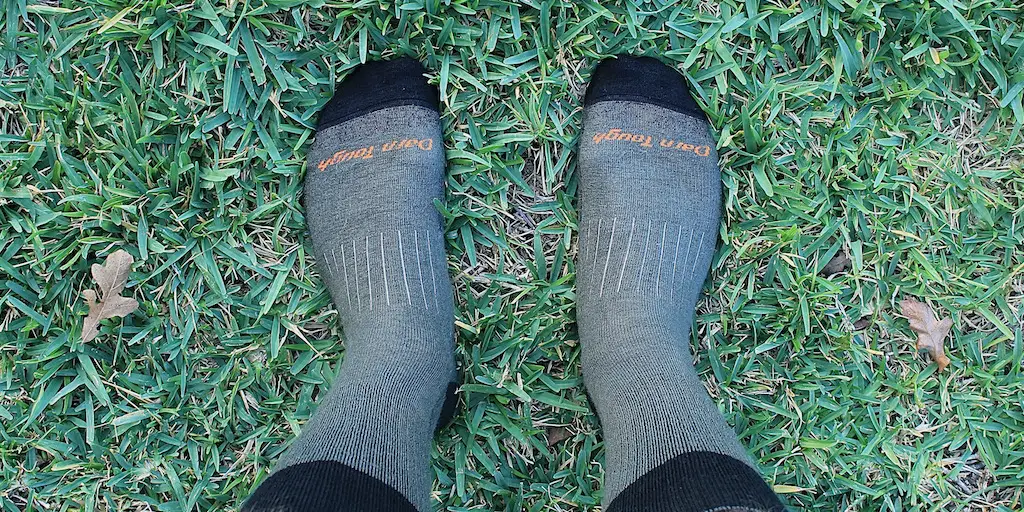 What I Like About Them
First, I primarily use two different Darn Tough hunting socks: Darn Tough Hunter Boot Midweight hunting socks and Darn Tough Hunter Boot Heavyweight hunting socks (pictured above). They also sell a Hunter Boot Lightweight hunting sock as well.
As you can probably tell from their names, the lightweight socks are geared primarily towards warmer conditions like turkey hunting and early season hunts. The midweight socks are good choices for those who want good all-around hunting socks ideal for a variety of conditions (both hot and cold) and for everyday use. Finally, the heavyweight socks are ideal for those who need warm hunting socks for use in cold weather.
The heavyweight socks use a 79% Merino Wool, 19% Nylon, 2% Lycra Spandex material mix while the midweight socks use a 64% Merino Wool 33% Nylon 3% Lycra Spandex mix and the lightweight socks use a 59% Nylon, 36% Merino Wool, 5% Lycra Spandex material mix.
All three variants are available as calf socks while the heavyweight socks are also available as over the calf socks and the lightweight socks are available in a micro crew length as well.
The heavyweight socks are available with a full cushion, the midweight socks offer the choice between regular cushion and full cushion, and the lightweight socks are only available with a regular cushion.
All Darn Tough hunting socks have cushion underfoot while the full cushion hunting socks have cushioned terry loops running the length of the sock (including up the leg).
So, you have several different options and features to choose from to ensure you pick the right socks for you based on your personal preferences and the weather conditions you'll be hunting under.
I prefer a full cushion sock and both types of Darn Tough socks I use are extremely comfortable.
They also fit just right and don't move around on my foot after I put them on. For example, I did a lot of very physically demanding work in the area I hunt this past summer clearing roads and doing general maintenance preparing for hunting season.
I live in Texas, so that was some HOT work. I sweat a lot, so I was absolutely soaked from head to toe with sweat after a day of working there. I'm used to having really wet feet after a day like that.
However, those socks performed exactly as advertised and I'm very happy with their moisture wicking capabilities. While I'm used to having to stop every few hours under those conditions to readjust my socks or put on a fresh, dry pair, I did not have to do that with the Darn Tough midweight hunting socks.
In fact, I completely forgot that I was wearing them until I took them off at the end of the day. Even though I worked for hours, walked several miles, and was literally soaked with sweat, my feet were in perfect condition after wearing the hunter boot midweight hunting sock all day long.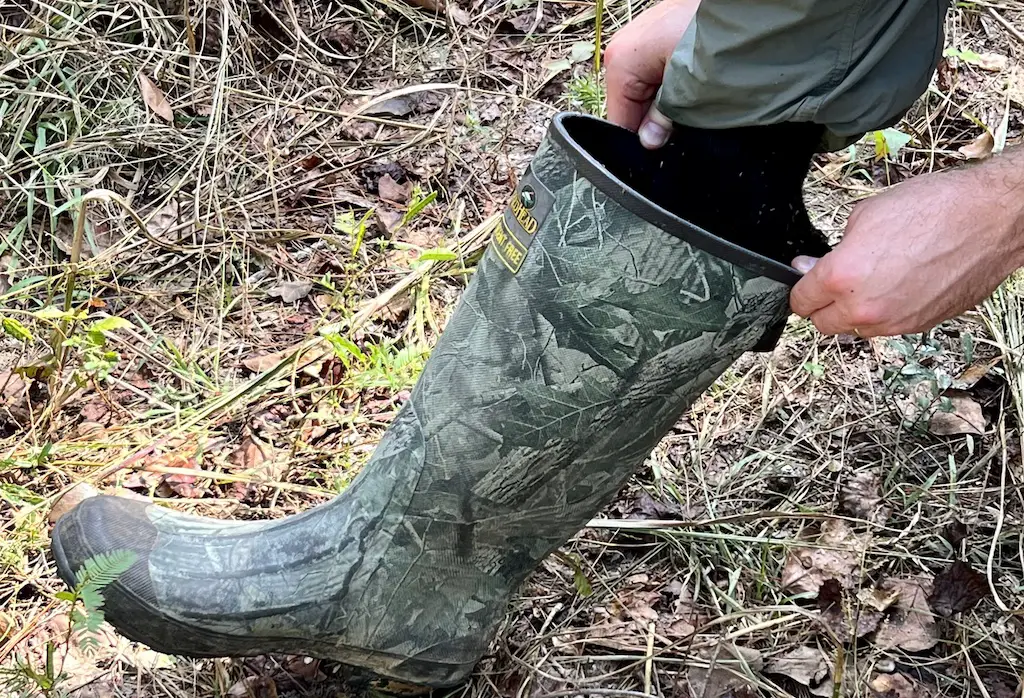 The socks also didn't smell too bad afterward either. In fact, they smelled MUCH better than the synthetic liners and socks I used to wear.
In addition to sweating a lot, I also have poor circulation in my feet and they get pretty cold and uncomfortable when temperatures are low. It doesn't get that cold where I hunt, but I've had to go to extraordinary lengths with sock liners and insulated hunting boots in attempts to keep my feet warm during those long, chilly sits in a deer stand during December.
Things have been much better with my Darn Tough hunting socks (especially the heavyweight socks). My feet still get a little cold at times when it's really chilly, but I think that issue is more on my end. Regardless, the situation is much improved.
These socks have also taken everything I've thrown at them without missing a beat so far. I've subjected them to use under some pretty demanding conditions and they still look (and feel) practically brand new.
What I Don't Like About Them
My initial complaint about these socks was their cost. Honestly, that's the primary reason why I didn't try out Darn Tough hunting socks before I did.
Looking back on things, that wasn't the smartest decision I ever made. Darn Tough normally charges around $20-30 for a pair of socks in their hunting line. Yes, that seems expensive at first, especially compared to buying a pack of 6 pairs of cotton socks for $9.99 at Wal-Mart.
However, Darn Tough Socks are high performance gear and are ideally suited to use under really demanding conditions.
I now subscribe to the "buy one, cry once" way of thinking for hunting gear in general. This is especially important with socks because poor quality hunting socks can literally ruin a hunt with blisters or cold feet.
Darn Tough hunting socks will also last much longer than the average socks. Instead of having to replace them every year or so like cheaper socks, Darn Tough socks are intended to survive many years of hard use.
In fact, Darn Tough even has an unconditional lifetime guarantee. If your socks wear out, just return them for a new pair of socks for free.
The only other complaint I have (and it's admittedly minor) is that color options are very limited with Darn Tough hunting socks. Their lifestyle and hiking socks have all sorts of different funky colors and patterns that are available if you want something that's more unique.
However, their hunting socks are only available in charcoal, forest, and burgundy (women only) colors.
Best Hunting Socks: Final Thoughts
All things considered, I think Darn Tough Hunter socks are great socks for all sorts of uses. They're the perfect socks for long hikes, for use in colder weather, and even for use in warm weather. They're great indoor as well as outdoor socks and are also just a really darn comfortable sock.
In particular, I think they're outstanding hunting socks. Just spend the money and get a pair of socks (or a couple pairs) from Darn Tough. You won't regret it and that will probably be one of the better $30 purchases you'll ever make in your life.
Darn Tough makes their lightweight, midweight, and heavyweight hunting socks in both men's and women's sizes as well as with the different sock lengths and amounts of cushion I described earlier. So, you're almost certain to find the right socks for your needs.
If you don't quite know where to start, I'd recommend going with either the lightweight or midweight hunting sock. The midweight socks will work for most situations, but I tend to wear the lightweight socks when it's really hot.
Click the button below to buy your hunting socks straight from Darn Tough.
BUY LIGHTWEIGHT HUNTER BOOT SOCKS HERE
BUY MIDWEIGHT HUNTER BOOT SOCKS HERE
You can also browse the various Darn Tough hunting sock options for both men and women by clicking the buttons below.
BUY DARN TOUGH MEN'S HUNTING SOCKS HERE
BUY DARN TOUGH WOMEN'S HUNTING SOCKS HERE
Finally, you can also purchase Darn Tough hunting socks from Amazon as well.
BUY DARN TOUGH SOCKS FROM AMAZON HERE
Enjoy my article on the best hunting socks? Please share it with your friends on Facebook and Twitter.
Make sure you subscribe to The Big Game Hunting Podcast and follow The Big Game Hunting Blog on Facebook, Instagram, Twitter, and YouTube.
Darn Tough hunting socks are also a great hunting gift and made the cut for my list of recommended gifts for hunters the past few years. Click the link below to see what other hunter gifts made the list.
Endorsement Disclosure: Per the guidelines of the Federal Trade Commission, the product reviewed here is an endorsement and I received compensation by "in-kind" payment to review the product.