The Leupold VX-6HD rifle scope is one of the best options for hunters who want a high-end rifle scope.
I think most hunters will agree that it's a lot easier to make clean and ethical shots on game if you're using a quality rifle scope. This is particularly true if you're hunting in challenging environmental conditions, in open country where longer range shots are sometimes necessary, or during times of reduced light near dawn or dusk when game is most active.
On one hand, optics have greatly improved in overall quality during the past few decades and hunters these days have an incredible variety of good quality rifle scopes to choose from.
While those are good things, picking out the best rifle scope from the incredible variety of choices available can still be really difficult. 
I've struggled with trying to find a high quality rifle scope and I know how it feels to be overwhelmed by all the available choices. At the same time, I've learned a lot of lessons the hard way. Though I've never owned a truly "bad" scope, I've still used several that did not perform up to expectations.
Fortunately, those experiences have taught me a lot about the differences between a mediocre scope and a good scope as well as the differences between a good scope and a great scope. So, when the folks at Ochocos Outdoors sent me a new Leupold VX-6HD 3-18x44mm rifle scope to evaluate, I was excited to put everything I'd learned about rifle scopes to the test.
In this post, I'm going to share my experiences testing out the Leupold VX-6HD rifle scope over the last few months and show you why this is such an outstanding scope for hunters.
Note: Some of the links on this post are affiliate links. This means I will earn a small commission (at no extra cost to you) if you make a purchase. This helps support the blog and allows me to continue to create free content that's useful to hunters like yourself. Thanks for your support.
Outstanding Glass
Having excellent quality glass is one of the most important characteristics for a high end rifle scope. Fortunately, Leupold definitely hit it out of the park with the glass on the VX-6HD rifle scope (the HD stands for high definition).
The VX-6HD rifle scope incorporates what Leupold refers to as a "Professional-Grade Optical System."
Leupold's Professional-Grade Optical System is advertised as providing unmatched light transmission, industry-leading glare reduction for a clear image in harsh light, and the resolution and clarity demanded by professional guides and shooters in the field.
Translated into plain English, that means the VX-6HD rifle scope is designed to maximize light transmission in low light, minimize glare in really bright light, and provide a crisp, clear image under all conditions.
With regards to light transmission, this scope has excellent low light performance and should give you an advantage right at the beginning and end of legal shooting hours each day. Those extra couple of minutes of shooting light could make the difference between filling a tag and going home empty handed.
For instance, I shot the hog in the photo below right at first light one morning. The great low-light performance and illuminated reticle (more on that in a minute) definitely helped me close the deal on that dark colored hog in the early morning light before she realized I was there.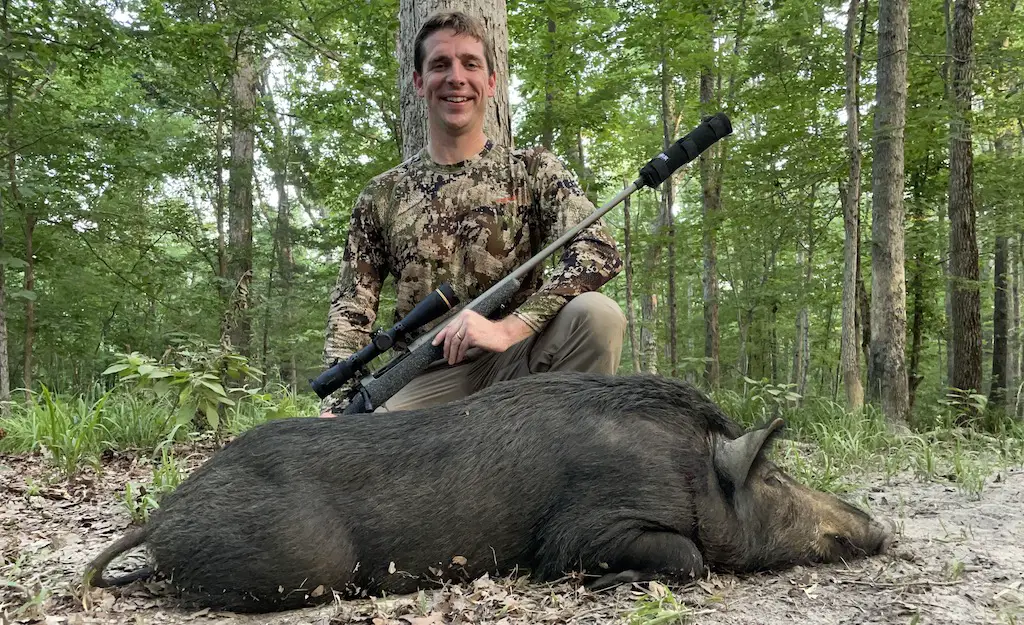 At the same time, the glass on this scope is also designed to perform well under exceptionally bright light and minimize glare under those conditions.
All told, the VX-6HD delivers outstanding optical performance and crystal clear images at all magnifications and across the field of view with no fuzziness or distortion around the lens edges.
Adjustments Are Repeatable And Reliable
In addition to having excellent glass, the Leupold VX-6HD holds a zero well and has reliable and repeatable adjustments.
I was impressed with how easy the Leupold VX-6HD was to sight in. The windage and elevation turrets are easy to fine tune with both tactile and audible clicks.
A little bit of testing confirmed that 5 MOA windage and elevation adjustments in the scope do indeed move the bullet impact 5 MOA in the correct directions. In short, the VX-6HD also tracks really well and returns to zero just like it should.
Useful Accessories
In addition to all that, the Leupold VX-6HD comes standard with several nice accessories to help round out a unique combination of features for the scope.
First, all these scopes have Alumina Flip-Back Lens Covers to protects the front and rear lenses from moisture and debris.
Next, the Leupold VX-6HD also comes with a reversible throw lever. The magnification adjustment ring is a little stiff and hard to quickly adjust, but the included removable throw lever makes fast magnification changes much easier.
Finally, the scope also has an electronic reticle level (which is exactly what it sounds like) to help both with scope mounting and to improve precision at longer range.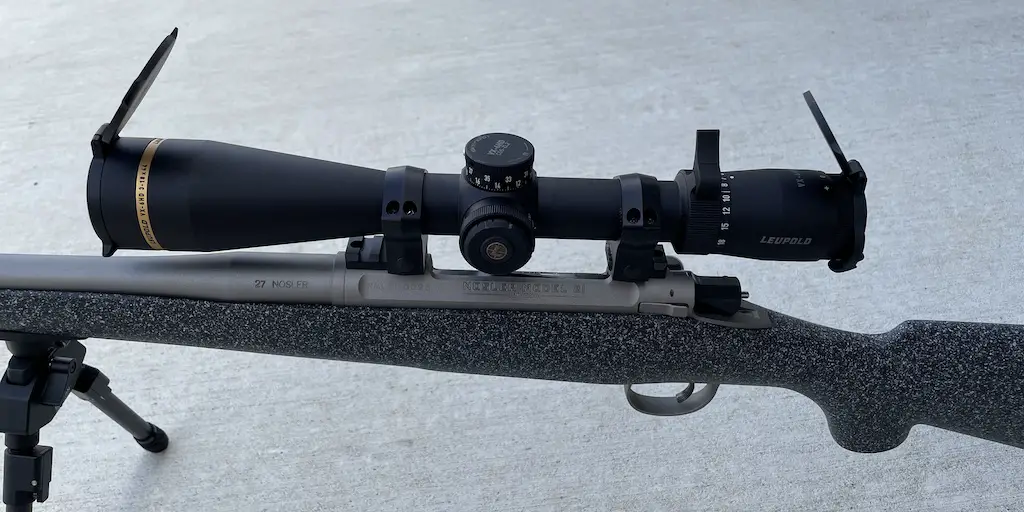 Custom Dial System
The Leupold VX-6HD has another great feature in the Custom Dial System ZeroLock 2 (CDS-ZL2).
Basically, Leupold will build a custom elevation adjustment dial for your specific hunting load, scope, and typical hunting conditions.
All scopes ship from the factory with a standard MOA adjustment elevation turret, but Leupold offers one free custom ballistic dial with a new Leupold VX-6HD scope. Additional dials are $80 each.
To get your custom elevation dial, you just need to send them your scope serial number, cartridge, bullet manufacturer, bullet model and weight, ballistic coefficient, muzzle velocity, average temperature, average elevation above sea level, height of the scope, and desired sight-in distance.
They'll take all that data and make a CDS-ZL2 specifically made for you (typical turn-around time is 4-6 weeks).
Installing a new zero lock elevation dial is pretty simple: use the supplied Allen wrench to loosen the screws and remove the old elevation dial, drop the new CDS-ZL in its place (align the hash mark on the scope body with your chosen zero range on the CDS), and then tighten the screws on the new dial.
After that, it's a simple matter of turning the CDS to the right range and doing your part as a shooter.
Randy Newberg calls it a "Click, Dial, Shoot" system:
Click the button on your rangefinder to get the range, dial the scope to the appropriate distance, hold dead on, and shoot!
No more taping a bullet dope chart to the stock of your rifle or trying to determine the proper amount of hold over before you take a long range shot. If your target is 300 yards away, just set the custom elevation dial to 300 yards, hold the crosshairs exactly where you want to hit, and squeeze the trigger.
The CDS is cool feature, but it's only as good as the zero on your scope though.
Make certain you have your scope dialed in exactly at the specified range before you install the CDS on your scope.
This is because small errors in your zero become more apparent when shooting at longer ranges. For instance, an error of two clicks at 100 yards means your bullet will be off by 1/2″. That becomes a 2″ error at 400 yards though.
All that being said, the CDS is a great system and does a great job at its primary task of helping shooters make elevation adjustments on the fly.
The CDS-ZL2 gives the user 2 full revolutions of elevation adjustment. The maximum range of the CDS varies depending on the load, but my particular CDS tailor made for my .300 Win Mag has adjustments out to about 1,200 yards.
Additionally, the VX-6HD 4-24x52mm scope uses the new CDS-TZL3, which provides 3 full revolutions of elevation adjustment.
6:1 Zoom Ratio
While the Leupold VX-6HD is available in several different variations, each specific model has a versatile 6:1 zoom.
What the heck does that mean?
Basically, it means that these scopes have 6 times more magnification at high power than at low power.
For instance, the 3-18x50mm version of the Leupold VX-6HD has a minimum magnification of 3x and a 18 x magnification at the high end. The same is true of the other models: 1-6x, 2-12x, and 4-24x.
This wide zoom range makes the scope incredibly versatile with a low enough minimum magnification and wide enough field of view for optimum performance during an unexpected close range encounter, but still plenty of magnification for use during long range shots.
Indeed, the 3-18x50mm or the 3-18x44mm VX-6HD with a slightly smaller objective lens might be the most versatile Leupold riflescope available and a hunter with the reversible throw lever can rapidly manipulate the power selector to take advantage of that entire magnification range.
Generous Eyebox
The Leupold VX-6 HD has just about the perfect amount of eye relief. At the same time, eye relief doesn't change at all across magnifications.
The scope also has what Leupold calls an extreme fast-focus eyepiece as well as a very generous eyebox. While you might not notice this shooting off a bench rest on flat ground, this is really nice for extreme uphill and downhill shots.
Waterproof, Durable, & Easy To Use
Leupold advertises that the VX-6HD rifle scope is waterproof, shock proof, and fog proof.
According to Leupold, the scope uses the latest technology along with advanced internal gasses and sealing methods designed to withstand extreme temperatures, elevation changes, and shocks to keep the internals of the optics moisture free and crystal clear.
They claim their proprietary gas blend and seals are tested to a 33-foot depth under water and from -40 degrees Fahrenheit all the way up to 160 degrees Fahrenheit.
The lenses also have a hydrophobic lens coating that sheds dirt and water for easy cleaning, even ender rough conditions.
I cannot verify those specific claims, but I can tell you that I've never had an issue with my VX-6HD fogging up, leaking, or having any problems at all under the conditions I've used it under so far.
At the same time, I can also verify that my scope quickly sheds water and dirt with a few seconds worth of cleaning just as advertised.
In addition to being very durable, the Leupold VX-6HD is super easy to use. The elevation adjustment is on top of the scope and uses 1/4 MOA clicks. The scope has a rapid adjust windage adjustment turret and a side focus parallax adjustment knob that are both also really simple to use.
The turrets and knobs are big enough to use for people with normal sized hands, but aren't so big that they get in the way.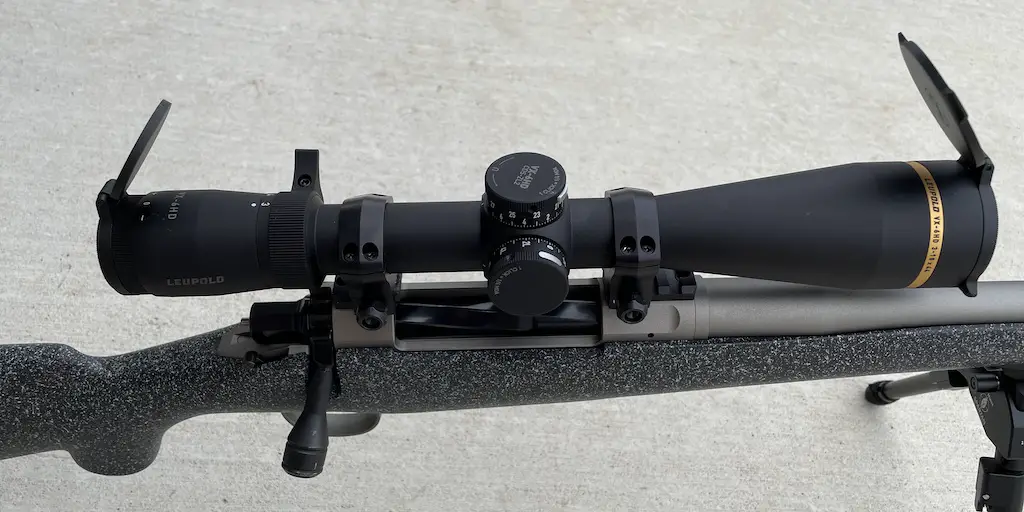 Tons Of Great Reticle Choices
The Leupold VX6HD is a second focal plane scope, which means that the reticle stays the same size at all magnifications.
Hunters utilizing the Leupold VX-6HD also have several different reticle choices: the FireDot duplex illuminated reticle, the TMOA illuminated reticle, the Boone & Crockett illuminated reticle, the LR Varmint Hunter illuminated reticle, and the Impact-23 MOA illuminated reticle.
Notice that every version of the Leupold VX-6HD uses an illuminated reticle, which really sets the scope apart from the very similar VX-5HD scope where illuminated reticle are available, but are not a standard feature (more on this in a minute).
Using the illuminated reticle is optional and the VX-6HD scope functions really well when the illuminated reticle is turned off. Turning it on is a snap (just mere press of a button on the left side of the adjustment turret) and can give you a visible advantage when aiming in low light conditions.
For instance, the illuminated reticle is ideal for taking a shot on a very dark colored animal when lighting is poor (like a black bear at dusk) where it can be really tough to find the crosshairs.
You should turn the reticle off manually when you're finished shooting, but all of these scopes also have what Leupold calls Motion Sensor Technology (MST) that will turn off illumination after 5 minutes of inactivity in case you forget.
Battery life is advertised at 300-1,600 hours depending on the selected intensity of the illuminated reticle.
Of all reticles available with the Leupold VX-6HD, the FireDot illuminated reticle (which is just a standard duplex reticle with an illuminated red dot in the center) is likely the most popular. Below is an example.
The TMOA illuminated reticle shown below is another nice option for those who want assistance with a wind hold. When used at full magnification, the hash mark are in 1 MOA increments on this reticle. The entire reticle is black when illumination is turned off and the hash marks extending 10 MOA up, down, left, and right turn red when illumination is turned on.
Made In The USA With An Incredible Warranty
Just like with any scope bearing the Leupold Gold Ring, Leupold offers a full lifetime warranty on the VX-6HD rifle scope. Here's the Leupold warranty policy straight from the horse's mouth:
If your Leupold riflescope, binocular, or spotting scope doesn't perform, we will repair or replace it for free – whether you're the original owner or not. You don't need proof of ownership or a warranty card, and there's no time limit. We do this because we believe in superior quality and craftsmanship, and we're confident your Leupold won't let you down.
With the exception of their glass (which is imported), Leupold designs, machines, and assembles all of their products in the USA at their facility in Beaverton, Oregon. There is unfortunately a thriving industry producing counterfeit Leupold optics though.
So, if you see a deal that seems too good to be true or if you encounter a supposed Leupold optic being shipped from an international destination, it's probably a counterfeit made in China.
And no, Leupold does not guarantee the performance of or provide warranty coverage for products they do not manufacture.
Leupold VX-5HD vs VX-6HD
You may be wondering about the differences between the Leupold VX-5HD and the Leupold VX-6HD. They have a lot of things in common and are both extremely popular Leupold riflescopes, but the VX-5HD is essentially a less expensive little brother to the VX-6HD that retains a lot of the characteristics most important to hunters, but lacks a few key features.
First, we'll start with the similarities.
Both scopes have top-end high-definition lenses, a 30mm main tube diameter (2 VX-6HD models have a 34mm tube diameter), 75 MOA of windage and elevation adjustments, a non-reflective matte finish to avoid spooking game, and CDS-ZL2 dials.
The "guts" of these two rifle scopes are essentially the same and they also use the same glass. Their main differences are the zoom ranges, objective lens sizes, total weight, reticle choices, and the accessories that come with them.
Their exterior dimensions virtually identical, but the Leupold VX-6HD is a little heavier than the VX-5HD.
For instance, the VX-6 3-18x44mm scope weighs 22.9 ounces and 13.5″ long, while the VX-5 3-15x44mm scope is also 13.5″ long, but only weighs 19.7 ounces.
They also have virtually the same field of view (FOV) at 100 yds: 38.3 feet at low magnification and 7.9 feet at high magnification for the VX-5 3-15x44mm and 38 feet at low magnification and 7 feet at high magnification for the VX-6 3-18x44mm.
The difference in the field of view between the two rifle scopes is mainly a function of their different zoom ratios (magnification range) though. The VX-5 has a 5:1 zoom ratio and the VX-6 has a 6:1 zoom ratio. This means that the high end magnification is 5x more powerful than the low end magnification of the scope with the VX-5 and 6x more powerful with the VX-6 scopes.
The Leupold VX-5HD is available in 1-5x24mm, 2-10x42mm, 3-15x44mm, 3-15x56mm, 4-20x52mm, and 7-35x56mm configurations.
On the other hand, the Leupold VX-6 is available in 1-6x24mm, 2-12x42mm, 3-18x44mm, 3-18x50mm, and 4-24x52mm, configurations.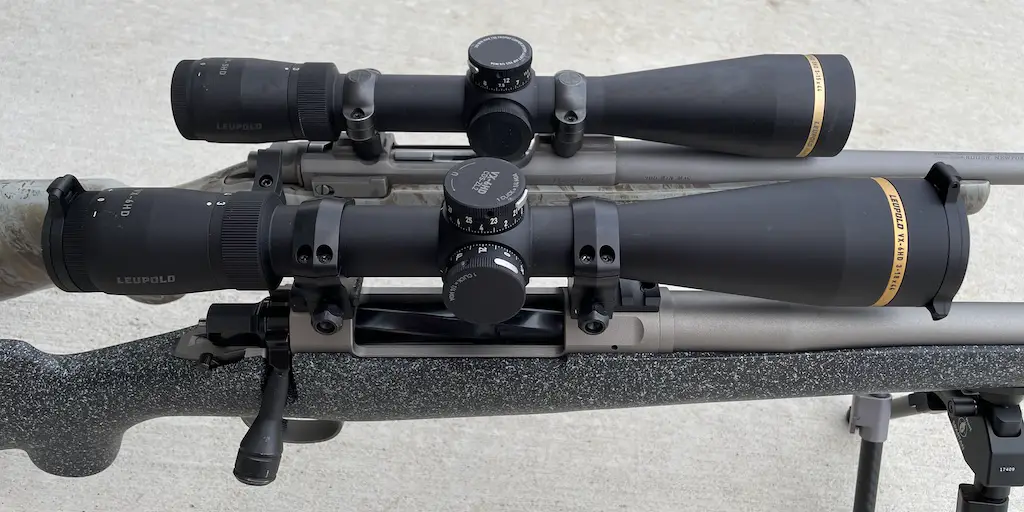 For what it's worth, the Leupold VX-5HD 3-15x44mm rifle scope has a 14.6mm exit pupil at low magnification and has a 2.9mm exit pupil at the highest magnification.
At the same time, the VX-6 3-18x44mm scope also has a 14.6mm exit pupil at low magnification, but only has a 2.4mm exit pupil at the highest magnification. The VX-6 3-18x50mm scope has a slightly larger objective diameter, so it has exit pupils of 16.6mm and 2.7mm at low and high magnification respectively.
The Leupold VX-6HD also has several features the VX-5HD lacks like an electronic reticle level, alumina flip back lens covers, and a reversible throw lever to help quickly adjust magnification.
The VX-6HD scopes also have an illuminated reticle as a standard feature, but that's an optional add-on for several versions of the VX-5HD (which adds about $100 to the MSRP of those specific scope models).
Not surprisingly, the Leupold VX-6HD is also more expensive, with an MSRP of $1,499.99 to $2,299.99 depending on the exact model compared to $999.99 to $1,999.99 for the VX-5HD.
Reasonable Price
Even though the Leupold VX-6HD is more expensive than the VX-5HD, that higher price is definitely worth it for some hunters and it compares favorably to other high end hunting scope offerings from companies like Swarovski, Vortex, and Zeiss.
For reference, I have a Leupold VX-6HD 3-18x44mm CDS-ZL2 model, which has an MSRP of $1,999.99. I think this is an outstanding scope and is perfect for someone who wants top quality optical performance along with those other features it comes standard with.
Fortunately, you can purchase a VX-6HD for a lot less than MSRP.
All things considered, I think Leupold did a great job building a very capable hunting scope with some really nice features that's available at a reasonable price point. So, if you need a great hunting rifle scope, then you really need to add the Leupold VX-6HD rifle scope to your wish list.
Below are a couple of links to where you can buy a VX-6HD from different retailers. Each place might have different specific models in-stock and may offer other incentives like free shipping.
BUY A LEUPOLD VX-6HD SCOPE AT OPTICS PLANET HERE
BUY A LEUPOLD VX-6HD SCOPE AT CABELA'S HERE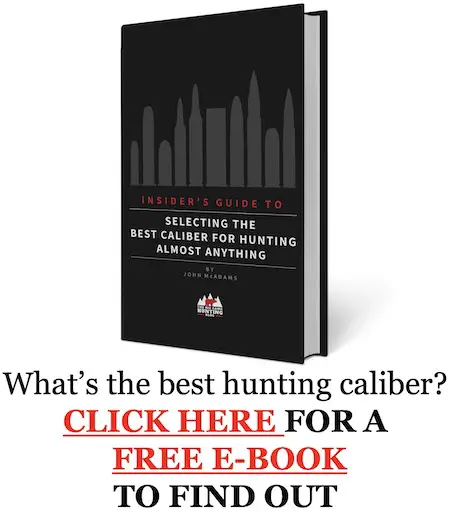 The Leupold VX-6HD 3-15x44mm rifle scope also made cut for my holiday gift recommendations and will work great on even the biggest game. To see what other stuff is on the list, check out the following article:
Awesome Holiday Gifts For Hunters
Enjoy this article about the new Leupold VX-6HD rifle scope? Please share it with your friends on Facebook and Twitter.
Make sure you subscribe to The Big Game Hunting Podcast and follow The Big Game Hunting Blog on Facebook, Instagram, Twitter, and YouTube.
NEXT: BEST 6.5 CREEDMOOR AMMO FOR HUNTING DEER AND ELK IN 2020

Endorsement Disclosure: Per the guidelines of the Federal Trade Commission, the product reviewed here is an endorsement and I received compensation by "in-kind" payment to review the product.