I think the Dark Energy Poseidon Pro portable charger is an essential piece of gear for those who need a dependable and portable power source while afield hunting, camping, or hiking. I explain why I feel this way in my Dark Energy Poseidon Pro review.
Like it or not, there are many very useful electronic devices in the outdoors: GPS units, cameras, emergency communication devices like the Garmin InReach, and smart phones. For this reason, portable power chargers are an important piece of gear for hunters, hikers, and campers who need to charge their electronics without access to the electricity grid. That's where the Dark Energy Poseidon Pro comes in.
I've used all sorts of portable power chargers over the years with varying degrees of success. Fortunately, there is a better way to do things now. I discovered the Dark Energy Poseidon Pro portable charger in 2021 and it's now my favorite power charger for use while camping and hunting.
This article is a Dark Energy Poseidon Pro review where I explain what makes the Poseidon Pro portable charger different from most other portable battery chargers these days and go over the pros and cons of this device so you can make an informed decision regarding whether or not it make sense for you to use yourself.
Before we get started, I have two administrative notes:
First, the folks at Dark Energy sent me a Poseidon Pro portable charger free of charge in exchange for an honest review and evaluation.
Second, some of the links below are affiliate links. This means I will earn a small commission if you make a purchase. This commission comes at no extra cost to you and you'll actually even save money going through that link if you use my coupon code BIGGAMEHUNTER when you purchase. This helps support the blog and allows me to continue to create free content that's useful to people like you. Thanks for your support.
What Is The Dark Energy Poseidon Pro And How Does It Work?
The story of Dark Energy and the Poseidon Pro starts with founder and CEO Garrett Aida's struggles to find a reliable power source for his days out in the bush. Garrett was an engineer by trade, but also an avid hunter.
Frustrated with the portable power sources available to charge his electronics while he was afield, he decided to make his own. His goal was to design and build a portable power source that was tougher, would hold more power, hold a charge for a longer time, and recharge electronics faster than the other power sources available at the time.
This eventually led to the founding of his company, Dark Energy in 2012. Hitting shelves in 2013, the Reservoir was the first battery released by Dark Energy. That battery pack was well received, but was lacking in a few areas.
The next shoe dropped in 2015 with the release of the Dark Energy Poseidon, which was a massive improvement over The Reservoir.
In order to deliver maximum durability in a lightweight and compact package, the Poseidon sandwiched the actual battery between two extremely durable hybrid polymer armor sections and added a number of internal and external shock absorbers into the package.
The original Poseidon battery had 8,000 mAh (milli Amp hours) of power capacity, which was enough for 3-5 full charges of the average smartphone. It also had a dual USB output system which enabled the user to rapidly charge two different devices at once. Dark Energy also claimed the device would hold a charge for more than a year.
The end result was a portable charger that was extremely durable and could take a lot of abuse without missing a beat. In addition to having a 6 foot drop rating, the Poseidon was also advertised as shockproof, dust proof, and waterproof for up to 45 minutes when submerged in up to 4 feet of water.
Chad Glauser even relied on a Poseidon to charge his electronic devices when he climbed Mount Everest a few years ago.
As good as that durability is though, it doesn't mean a thing if the charger doesn't fulfill the primary goal of recharging portable electronics afield. Fortunately, the Poseidon did not disappoint in that area either and it quickly gained a great reputation for durability, for holding charge for a long time, and for rapidly delivering a charge to electronics when needed.
For reference, the folks at Dark Energy claimed they put a few Poseidon chargers in storage to test out how well they held a charge for a long period of time. Well, they still had over a 50% charge remaining after 5 years.
You'd be lucky to get that level of performance after just a couple of months from a low end portable charger.
As good as that was, the people at Dark Energy weren't satisfied and released the latest iteration of the Dark Energy Poseidon in 2021: the Dark Energy Poseidon Pro.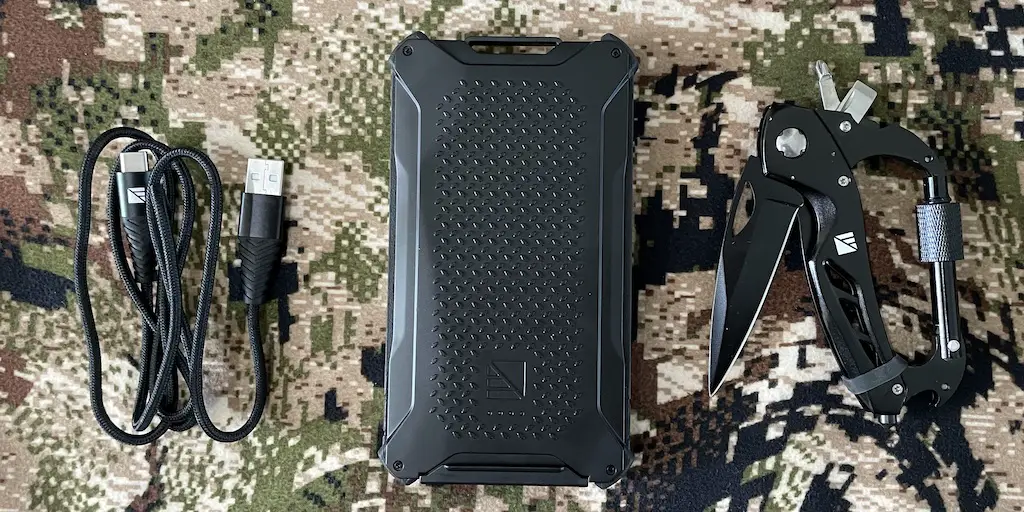 The Poseidon Pro maintains all the same features that made the Poseidon such a great portable charger while making a few small improvements to the design.
First, the Poseidon Pro has a slightly larger power capacity of over 10,000 mAh of portable power (10,200mAh to be exact).
Next, it also incorporates what Dark Energy calls Power Pulse technology which Dark Energy claims results in up to a 2.5x faster recharge of a smartphone with the Poseidon Pro.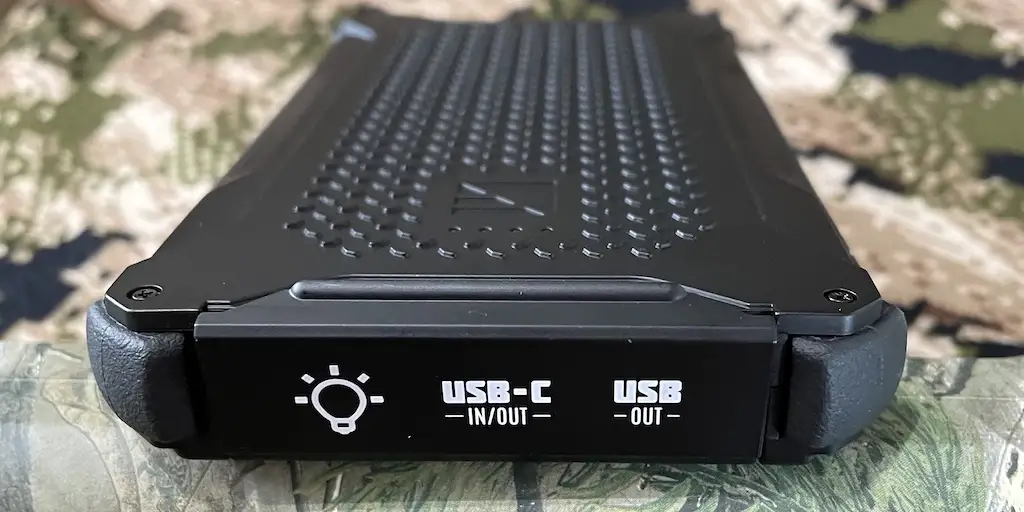 The charging ports were also upgraded. The Dark Energy Poseidon Pro has one USB-C Port (for charging the Poseidon Pro itself and has Power Delivery for larger devices like tablets and small laptops) and one standard USB-A port. 
The USB-C port has a 5V – 3A, 9V – 2A, or 12V – 1.5A output and a 5V – 2.4A or 9V – 2A input. The standard USB port has a 2.4 amp output.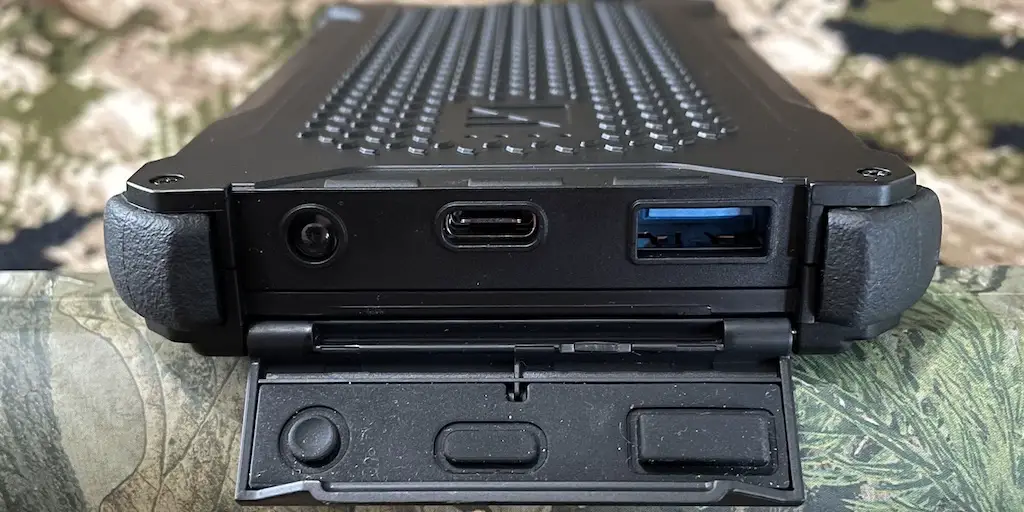 The Poseidon Pro ships with a 3 foot long USB-C charging cable with a ballistic fiber reinforced body, fortified neck, metal head and steel weave throughout, a multi-tool pro carabiner and a cable management leather strap.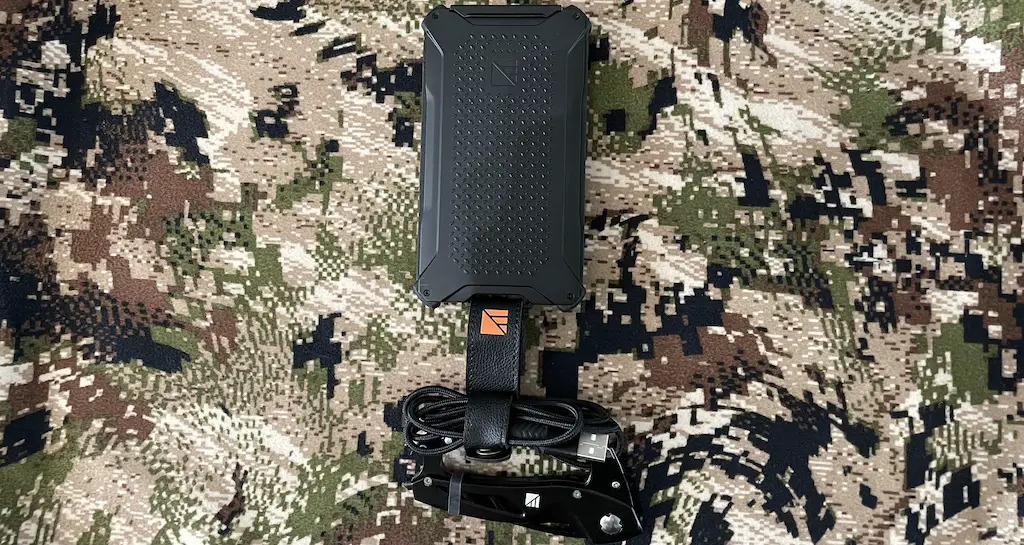 Of course, the Dark Energy Poseidon Pro also has a very robust construction with a IP68 rating (Ingress Protection 68 Rating) and is dustproof and waterproof. It's also dropproof and crushproof. Designed for extreme use, the Poseidon Pro is built to military standard MIL-STD 810G.
Heck, the Poseidon Pro has even survived all sorts of crazy torture tests like a shotgun blast, a 75 foot drop on to rock, an explosion from one pound of tannerite, and the crushing force of over 1,000 pounds without missing a beat.
It can even be used extreme temperatures ranging from -10°F to +140°F (-21-60°C) without losing a charge.
Dark Energy marketing materials claim a Poseidon Pro was still waterproof and maintained a full charge after being frozen in a block of ice for over three days. On the flip side, they say it has also performed really well in extreme heat in places like New Mexico, Arizona, and Texas.
Not surprisingly, The Poseidon Pro is the choice of a lot of elite military and police units like US Army Special Forces, the FBI, and the DEA.
The Poseidon Pro is also pretty darn simple to use.
First, open the protective flap on the end to expose the charging ports, then charge the Poseidon Pro up by connecting the USB-C cable to the "IN/OUT" port and a standard wall plug (you could probably use solar panels for this as well to recharge it afield) using a standard USB power plug.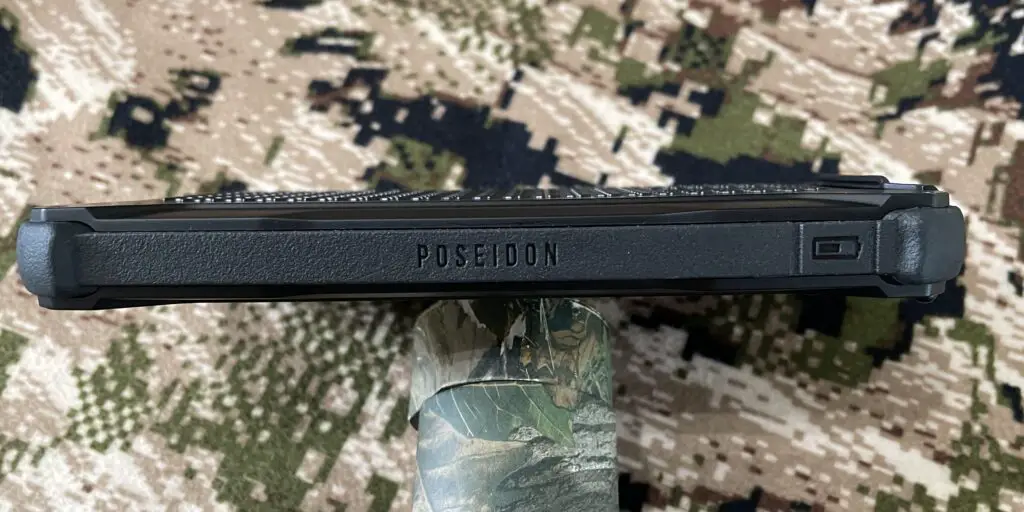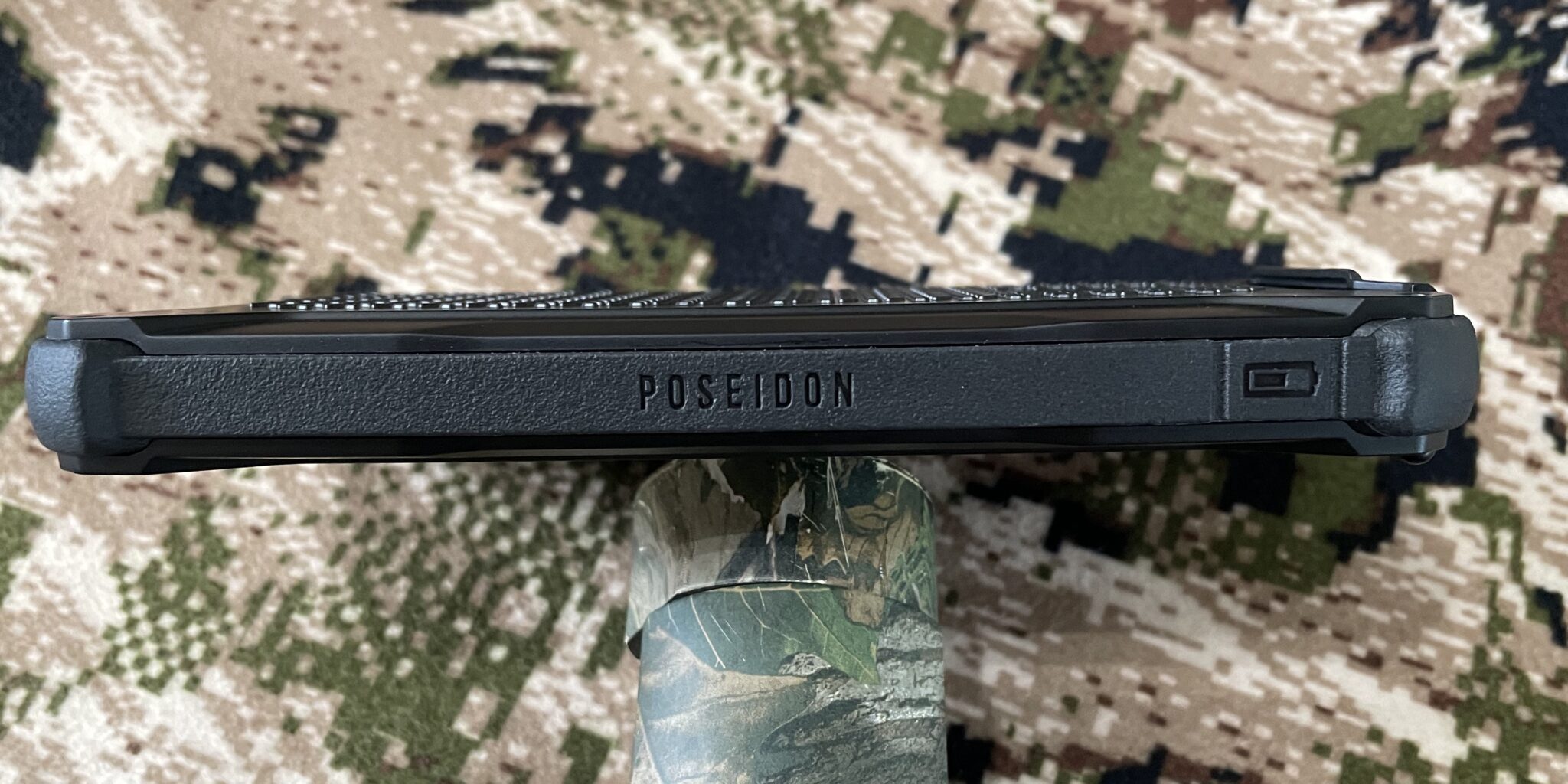 You can check the charge status of the Poseidon Pro by pressing the button with the battery symbol on the side (I just call it the power button). When you do so, some green LED lights will light up on the front of the charger. Each LED light indicates 25% charge, so the battery is full (or nearly full) when all 4 lights come on.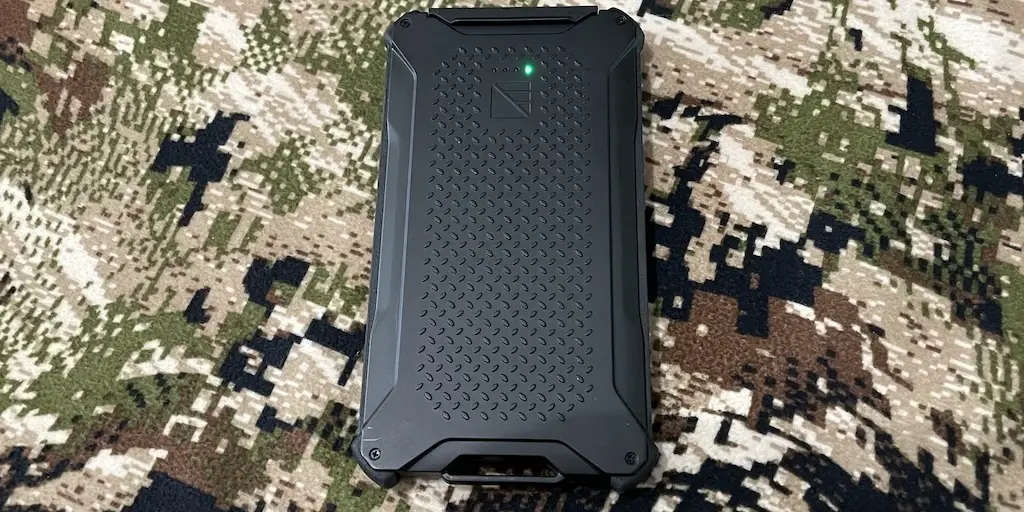 After charging the Poseidon Pro, connect your electronic devices to the appropriate charging plug and then press the battery button on the side of the Poseidon Pro.
Dark Energy claims the Poseidon Pro has enough power for up to 36 hours of use with a cell phone, 38 hours with a portable GPS unit, 10 hours with a tablet, and 5 hours for a laptop.
The Poseidon Pro also has a cool LED flashlight (35 lumens) that's activated by a button (I just call it the light button) on the opposite side from the battery button.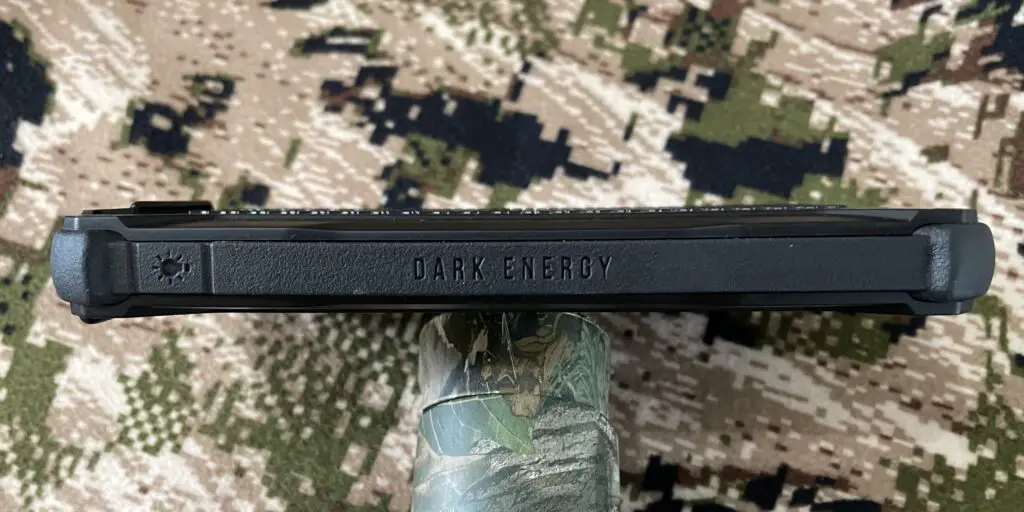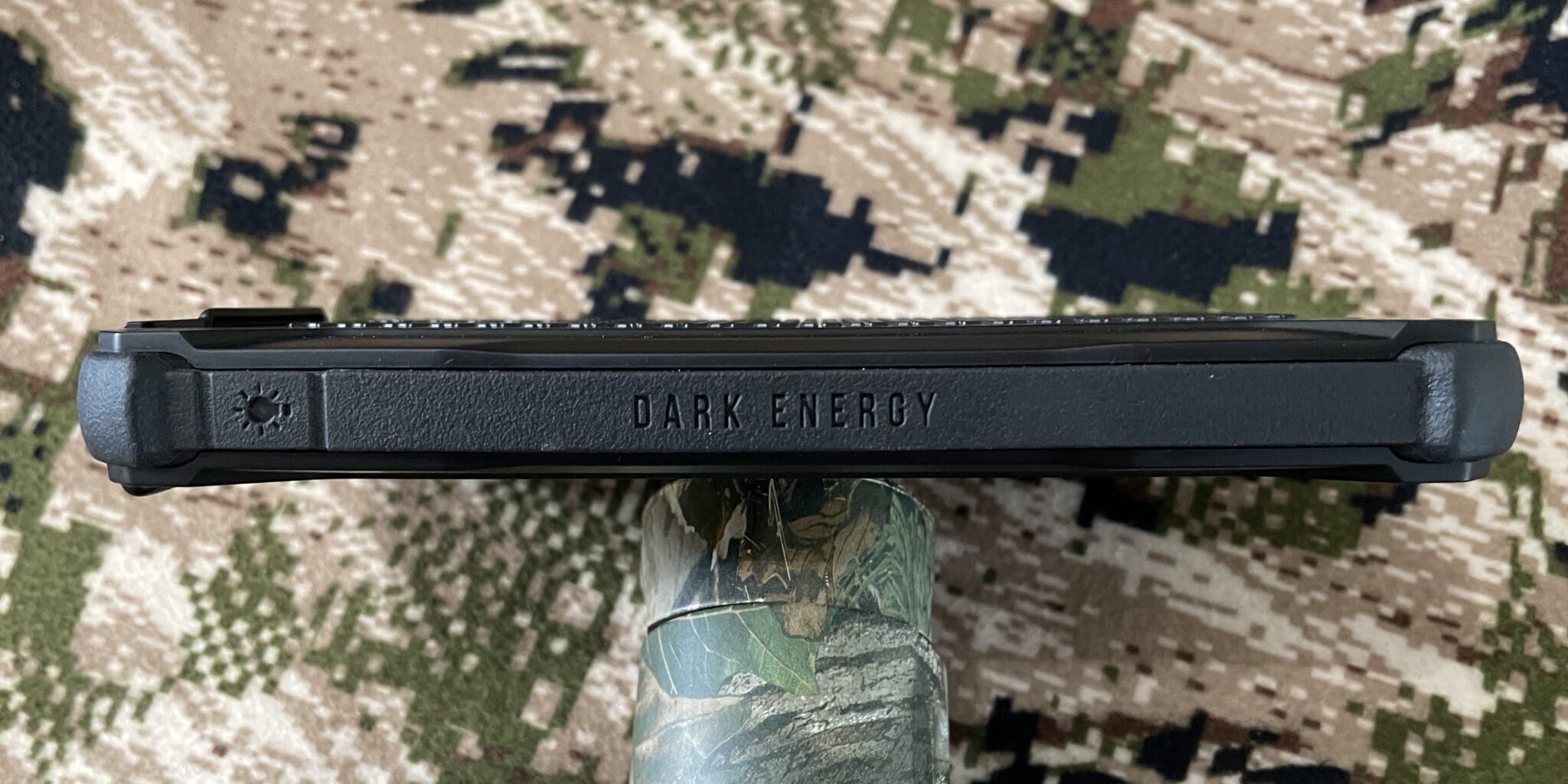 Touch that button once to turn on the LED flashlight (which is a single white colored LED light). Push it a second time to put the light into S.O.S. mode, which could be handy for emergencies. Push the button a third time to turn the light off.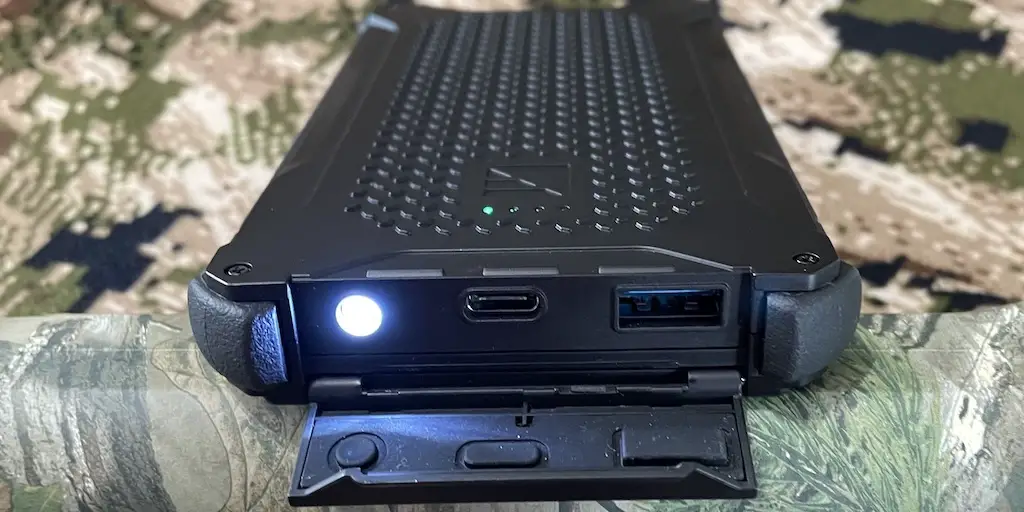 According to the manual, holding the power and light button down at the same time (~10 seconds) will do a hard reset on the electrical components of the Poseidon Pro. If you ever run into issues with it, performing a hard reset should fix majority of the problems. 
Now that we've covered the basics of the Poseidon Pro portable charger from Dark Energy, let's talk about what I like and don't like about it.
What I Like About It
First, the Dark Energy Poseidon Pro is very good in its primary role of charging electronic devices.
While I cannot verify the claim that the Poseidon Pro will provide up to 36 hours of power for mobile phones, I've used it for charging my iPhone 12 for about a week. I fully charged the Poseidon Pro on Monday and used my cell phone heavily each day with a goal of depleting the battery as much as possible and my phone normally had less than a 10% charge remaining each evening.
The Poseidon Pro fully recharged my phone each night until Friday. The Poseidon ran out of juice that night, but still got the phone back above 90% charge before running out.
Especially if you're being careful with your phone and not using it too much, putting it on airplane mode if service is spotty, etc., that should be more than enough to cover you for over a week in the backcountry.
I've also used the Poseidon Pro to charge all sorts of other devices like an iPad, a portable Bluetooth speaker, my AXIL GS Extreme electronic ear buds, my wireless mouse and keyboard, my laptop, and even a battery powered flashlight.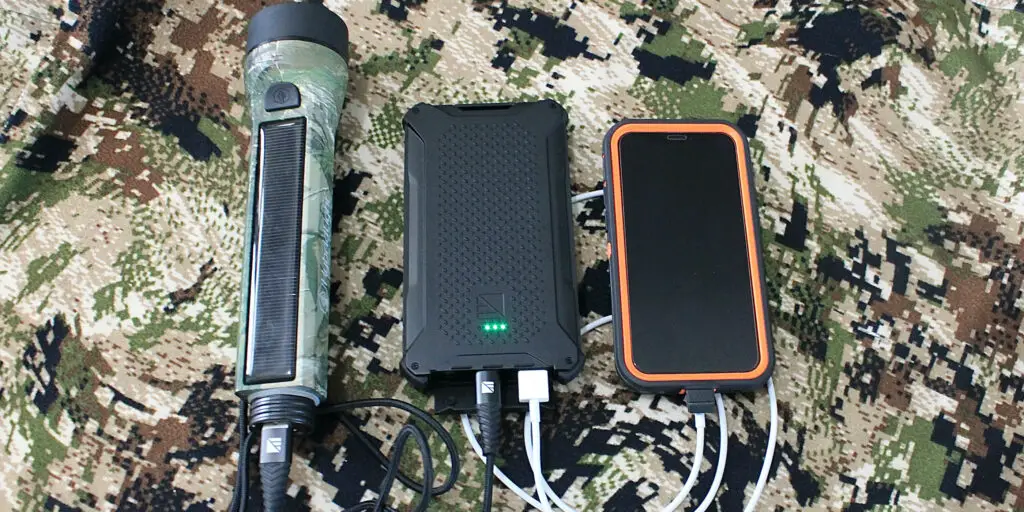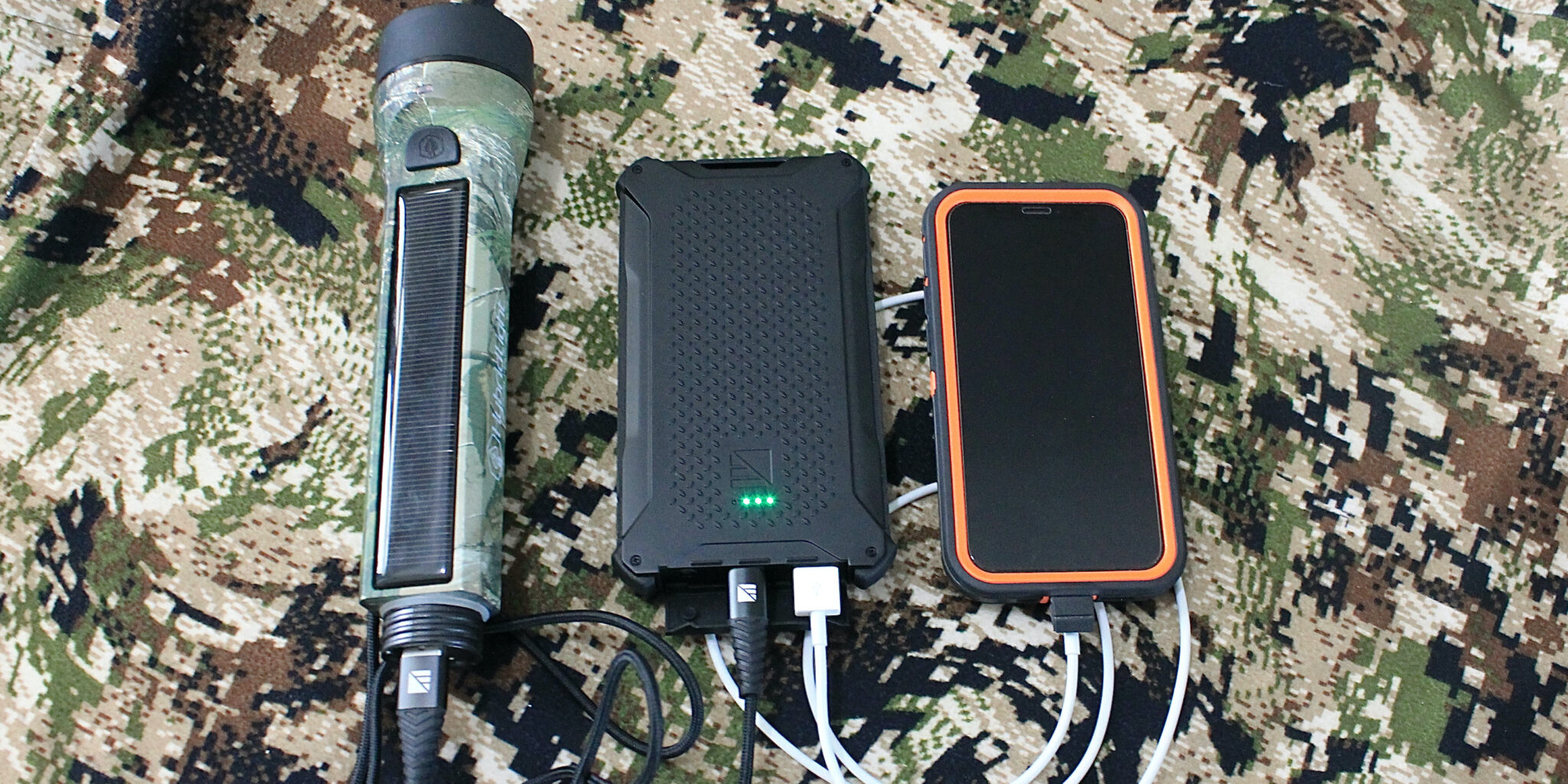 While I can't verify that the Poseidon Pro charges my smartphone 2.5x faster than a typical charger, charging speeds with it are noticeably faster than the other chargers I've used over the years.
It also continues to work really well after being exposed to really cold temperatures. As anyone who has done a lot of hunting in cold weather can tell you, low temperatures will suck the juice right out of your phone battery.
Well, the same thing happens with the typical rechargeable battery pack too.
The Poseidon Pro also seems to be much more resistant to extreme swings in temperature and I didn't really notice any difference in performance when I've taken it camping or hunting in temperatures well below freezing in December or January.
While I wouldn't say I've intentionally put my Poseidon Pro through a torture test, I also haven't babied it either. So, it has survived months of hard use of being dropped on the floor, thrown into the bottom of my backpack, and rattled around while in a vehicle being driven off-road.
It's still trucking along without missing a beat.
I also like that it's a pretty compact and lightweight device. It's about the size of my phone, about the weight of an iPhone, and doesn't take up much space.
The Dark Energy Poseidon Pro also ships with a 3 foot long USB-C cable and a cool 5-in-1 carabiner pro multi-tool. That USB-C cord is an extremely durable cable, not the sort of flimsy cord that comes with most electronics.
The multi-tool is a carabiner, glass breaker, a knife, a bottle opener, and a screwdriver (with dual screwdriver heads) all in one.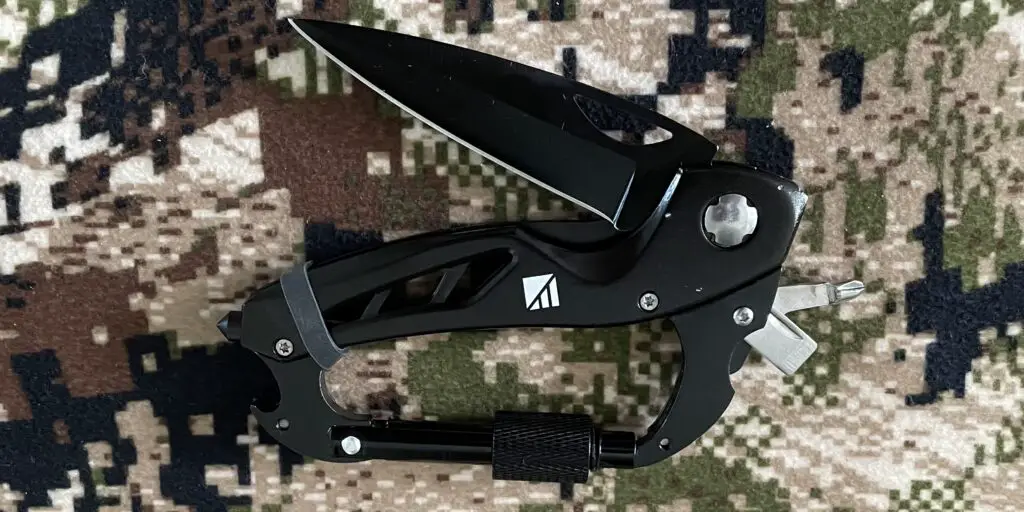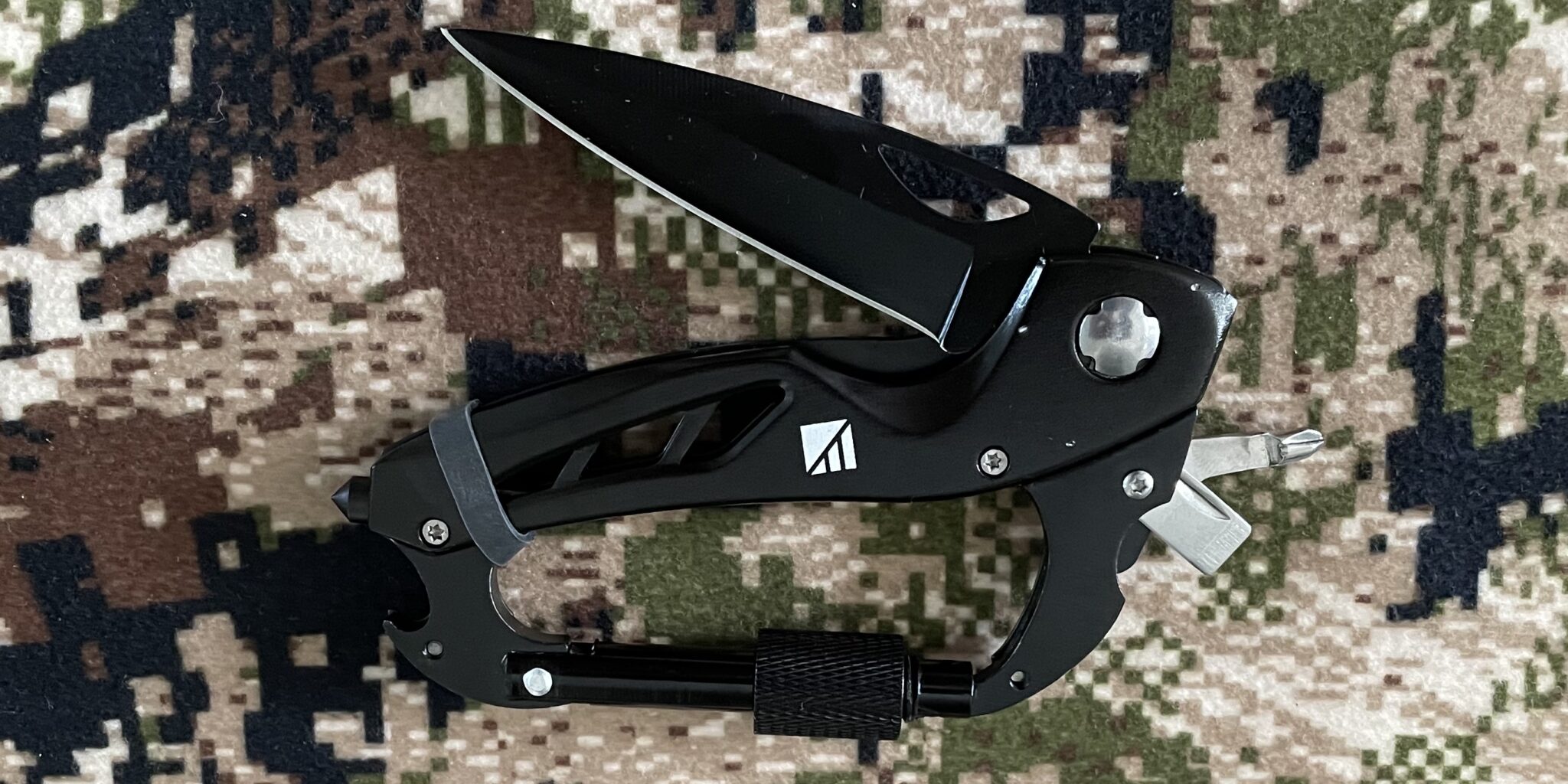 Note: while Poseidon Pro power packs are safe to bring on an airplane in carry-on luggage, do NOT try to bring the carabiner on an airplane in your carry-on bag. TSA will take it away from you because of the knife blade.
Dark Energy also includes a cable management strap to help you safely and securely store the necessary cables inside a crowded pack.
Among other things, you could also use that nylon strap to hang your Poseidon Pro from a wall or ceiling for light or just to keep it out of the way. 
What I Don't Like About It
With all that said, there are a few things I don't like about the Dark Energy Poseidon Pro portable charger that you should be aware of before purchasing one.
First, the Poseidon Pro only has a single USB-A port for charging devices. While it also has that USB-C port, most of the devices I use have a USB-A port. It's certainly not a deal breaker, but I feel like things would be easier with 2 standard USB ports.
That said, Dark Energy does offer something of a solution to that problem with their Tridyn Cable. That cable has a USB-A adapter on one end to connect to the Poseidon Pro along with USB-C, Micro-USB, and Lightning heads on the other end to connect to various devices including Android phones as well as MFI certified Apple devices.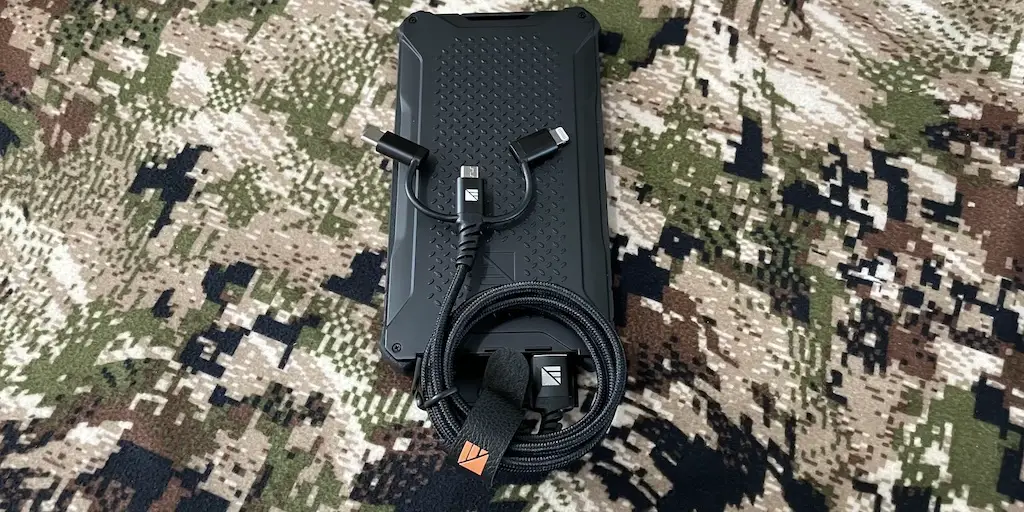 You do have to purchase the Tridyn Cable separately and it's only a partial solution to the problem, but at least it's something.
Additionally, the design of the Poseidon Pro potentially has a problem with the LED light where you could accidentally leave the flashlight or SOS signal on with the cover closed and unintentionally drain the battery.
Fortunately, Dark Energy has mitigated that problem by having the light automatically turn off after 3 hours.
The Poseidon Pro does come with a two year warranty. Customers need to register within 60 days of purchase to receive warranty protection though. Once again, I don't think this is a super big deal, but I would like to see an unlimited 2 year warranty (or longer) that customers don't have to register for.
Finally, it does not come with a wall adapter, though you can buy one from the Dark Energy website. I already had several acceptable wall adapters that work just fine with the Poseidon Pro, so this was more of an annoyance than anything else.
Dark Energy Poseidon Pro: Final Thoughts
All things considered, I think the Dark Energy Poseidon Pro is an excellent portable charger for many hunters, hikers, and campers. The same goes for those who want a reliable and portable battery in case the power goes out.
The Poseidon Pro charger is very easy to use, it does an outstanding job of rapidly charging electronics, and it's extremely durable.
I especially like how it continues to work without any issues after suffering through multiple drops on the floor or after being exposed to extreme temperatures for long periods of time. It's easily one of the most rugged power banks currently available on the market.
Bottom line, the Dark Energy Poseidon Pro is an excellent piece of gear that are well worth the money for charging your electronic devices afield while hunting, hiking, or camping.
With a retail price of $119, it's not cheap. In fact, there are many other portable chargers that cost considerably less. However, I've adopted a "buy once, cry once" policy as I've gotten older and more experienced.
I have 3 other portable chargers I've used over the years and they all worked great for a hunting season (maybe 2) of hard use before starting to slip in performance. While they were all individually cheaper than the Dark Energy Poseidon Pro, their combined price was considerably more than the Poseidon Pro which should last at least 3-5 years (and probably more).
After all, the first generation Poseidon models have already proven they'll hold a charge for over 5 years and there's every reason to think the Poseidon Pro will last even longer.
So, there's definitely a lot of truth to the statement when Dark Energy advertises that the Poseidon Pro is the "last charger you will ever need."
I highly recommend picking up one of these chargers and adding it to your outdoor gear as a portable power station to charge things like action cameras, cell phones, and portable GPS devices. It's perfect for use on a backcountry hunt, a multi-day hike, or just to have around your house in case the power goes out.
If you want to buy a Dark Energy Poseidon Pro for yourself, click the button below and enter promo code "BIGGAMEHUNTER" to get $5 off any order of $50 or more from Dark Energy.
BUY A DARK ENERGY PORTABLE CHARGER HERE
Enjoy my Dark Energy Poseidon Pro review? Please share it with your friends on Facebook and Twitter.
Make sure you follow The Big Game Hunting Blog on Facebook, Instagram, Twitter, and YouTube.
Endorsement Disclosure: Per the guidelines of the Federal Trade Commission, the product reviewed here is an endorsement and I received compensation by "in-kind" payment to review the product.