The Leupold VX-5HD rifle scope is one of the best options for hunters who want a high-end scope at a reasonable price.
I think most hunters will agree that it's a lot easier to make clean and ethical shots on game if you're using a high quality rifle scope. This is particularly true if you're hunting in open country that sometimes necessitates taking longer range shots or during the times of reduced light near dawn or dusk when game is most active.
However, if you have been into any sporting goods store lately, then you've probably seen dozens of different rifle scopes for sale. While optics have greatly improved in overall quality during the past few years, picking out the best rifle scope from all those choices can still be an overwhelming task. Since you're depending on your scope to assist you in cleanly harvesting an animal with as little suffering as possible, it is very important to choose wisely.
Just like you, I've struggled with trying to find a high quality rifle scope. Over the years, I've owned a number of rifle scopes of varying quality. Though I've never had the misfortune to own a truly "bad" scope, I've still learned a lot about the differences between a mediocre scope and a good scope as well as the differences between a good scope and a great scope.
Truth be told, the old saying about how you should spend as much money on a scope as you do on the rifle itself still applies. For the past few years, I've used a Ruger Hawkeye FTW Hunter in .300 Winchester Magnum topped with a Leupold VX-3i 3.5-10x40mm scope for all my big game hunting.
While that scope has worked just fine for me, I kept getting the feeling like I wasn't fully utilizing the capabilities of the FTW Hunter (which is a precision rifle after all). So, when the folks at Ochocos Outdoors sent me a new Leupold VX-5HD 3-15x44mm rifle scope to evaluate, I was excited to put everything I'd learned about rifle scopes to the test.
In this post, I'm going to share my experiences testing out the new Leupold VX-5HD rifle scope over the last few years and show you why this is such an awesome scope for hunters.
Note: Some of the links on this post are affiliate links. This means I will earn a small commission (at no extra cost to you) if you make a purchase. This helps support the blog and allows me to continue to create free content that's useful to hunters like yourself. Thanks for your support.
Outstanding Quality Glass
Having excellent quality glass is one of the most important characteristics for a high rifle scope. After all, if you can't see your target, then nothing else matters, right?
Fortunately, Leupold really hit it out of the park with the glass on the VX-5HD rifle scope (the HD stands for high definition).
The VX-5HD rifle scope incorporates what Leupold calls their "Twilight Max Light Management System" also referred to as "Twilight Max HD." As any deer hunter can tell you, deer are most active during the first and last hour of each day. Unfortunately, that's also when lighting conditions are at their worst.
For that reason, Leupold has done everything possible to maximize light transmission, particularly for red and blue colors. As a result, this scope has excellent low light performance and should give you an advantage when trying to pick out your quarry right at the beginning and end of legal shooting hours each day. Who knows, those extra couple of minutes of shooting light could make the difference between filling a tag and going home empty handed.
Not only does the VX-5HD have exceptional light transmission, but just like you'd expect from a high definition rifle scope, it has very good contrast and clear, crisp images at all magnifications and across the field of view with no fuzziness or distortion around the lens edges. So, optical performance is top notch all around.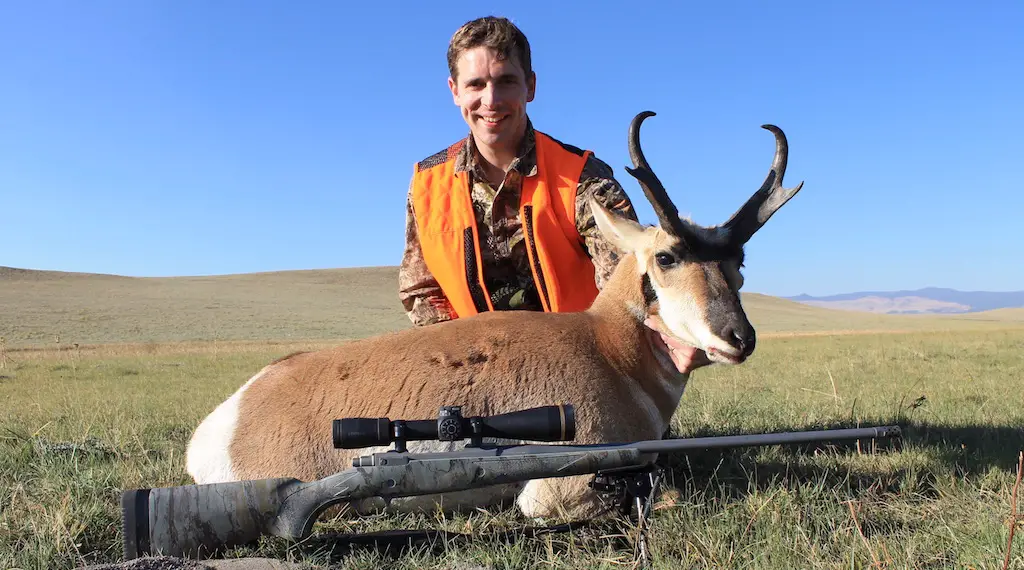 Adjustments Are Repeatable And Reliable
In addition to having excellent glass, the Leupold VX-5HD holds a zero well and has reliable and repeatable adjustments.
I was extremely impressed with how easy the Leupold VX-5HD was to sight in. The windage and elevation turrets are easy to fine tune with both tactile and audible clicks.
A little bit of testing confirmed that 5 MOA windage and elevation adjustments in the scope do indeed move the bullet impact 5 MOA in the correct directions. In short, the VX-5HD also tracks really well and returns to zero just like it should.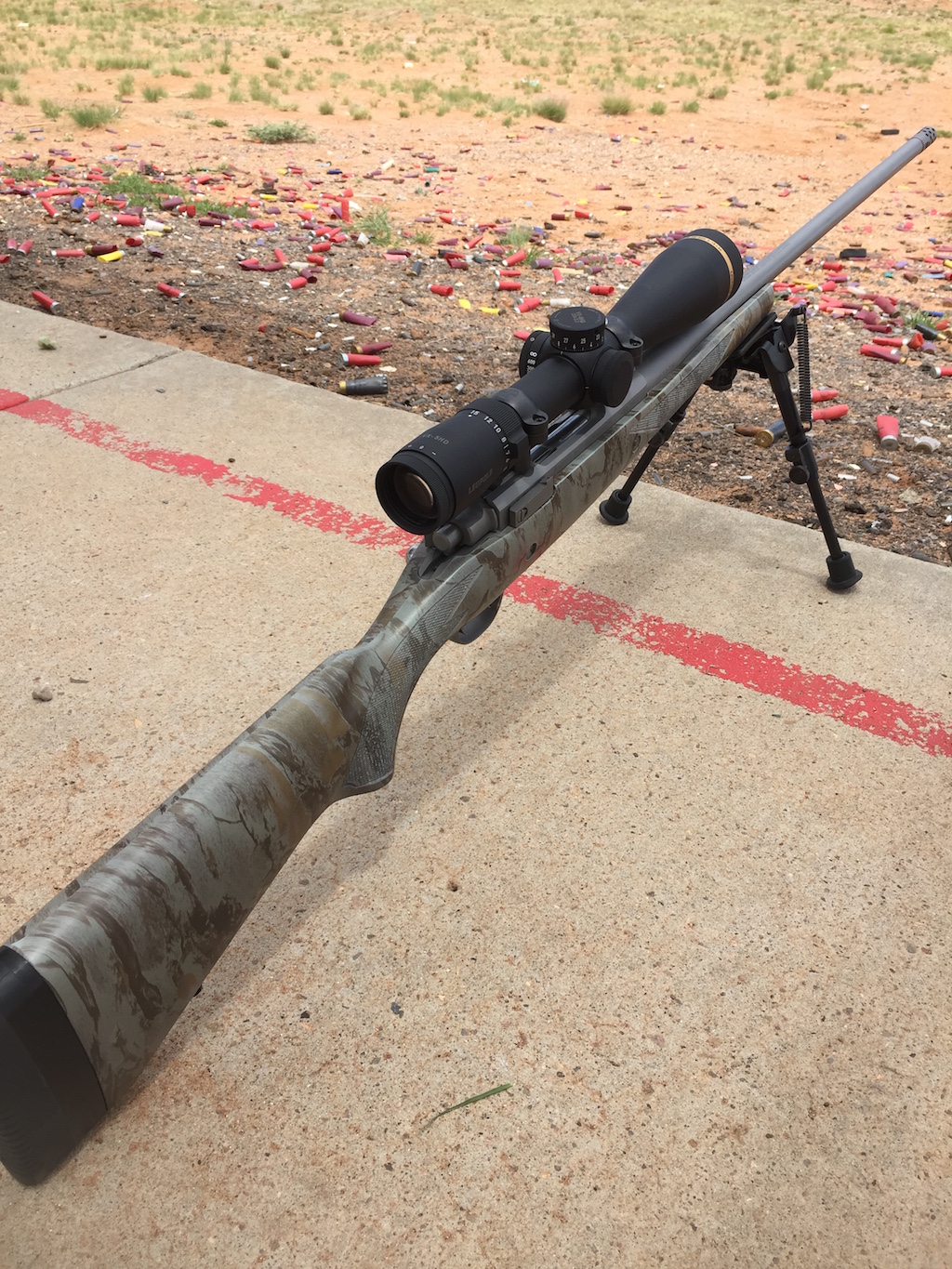 Custom Dial System
The Leupold VX-5HD has another great feature in the Custom Dial System ZeroLock 2 (CDS-ZL2).
Basically, Leupold will build a custom elevation adjustment dial for your specific rifle, scope, hunting load, and typical hunting conditions. You just send them your scope serial number, cartridge, bullet manufacturer, bullet model and weight, ballistic coefficient, muzzle velocity, average temperature, average elevation above sea level, height of the scope, and desired sight-in distance, and they'll send you a CDS-ZL2 specifically made for you.
Once you install the new CDS-ZL2 dial, it's a simple matter of turning it to the right range and doing your part as a shooter. No more taping a bullet dope chart to the stock of your rifle or trying to determine the proper amount of hold over before you take a long range shot. If your target is 400 yards away, just set the custom elevation dial to 400 yards, hold the crosshairs exactly where you want to hit, and squeeze the trigger.
Best of all, Leupold offers one free CDS-ZL2 dial with a new scope. Additional dials are $80 each.
I have had the chance to test the CDS out thoroughly at the range since I received my dials in September 2018. As you can see in the video below describing how to install a CDS-ZL2 dial on a Leupold VX-5 HD scope, it's a pretty simple system to use and works pretty darn well.
Here's a word to the wise though: while the CDS is cool feature, it's only as good as the zero on your scope. So, before you install the CDS on your scope, make certain you have your scope dialed in exactly at the specified range.
This is because small errors in your zero become more apparent when shooting at longer ranges. For instance, an error of a single click at 100 yards means your bullet will be off by 1/4″. However, at 400 yards, that becomes a 1″ error.
All that being said, the CDS is a great system and does a great job at its primary task of helping shooters make elevation adjustments on the fly.
The CDS-ZL2 gives the user 2 full revolutions of elevation adjustment. The maximum range of the CDS varies depending on the load, but my particular CDS tailor made for my .300 Win Mag has adjustments out to about 1,200 yards.
Additionally, the VX-5HD 7-35x56mm and 4-20x52mm use the new CDS-TZL3, which provides 3 full revolutions of elevation adjustment.
Generous Eyebox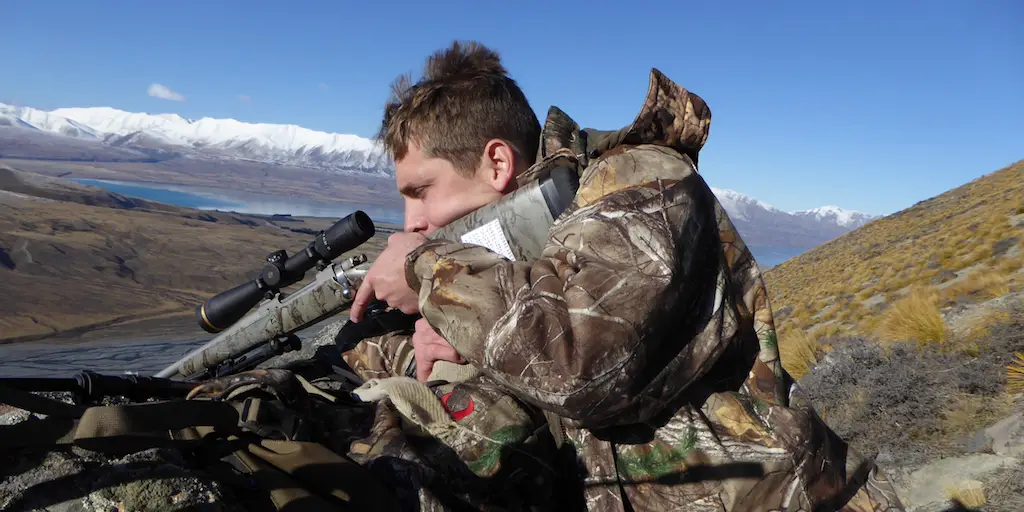 The Leupold VX-5 HD has just about the perfect amount of eye relief. At the same time, eye relief doesn't change at all across magnifications.
The scope also has what Leupold calls an extreme fast-focus eyepiece as well as a very generous eyebox. This is really nice for extreme uphill and downhill shots like I had to take during my recent hunt in New Zealand. Those are the type of shots most likely to result in "scope eye" if you're not careful, so the big eyebox on this scope is a giant plus.
Waterproof, Durable, & Easy To Use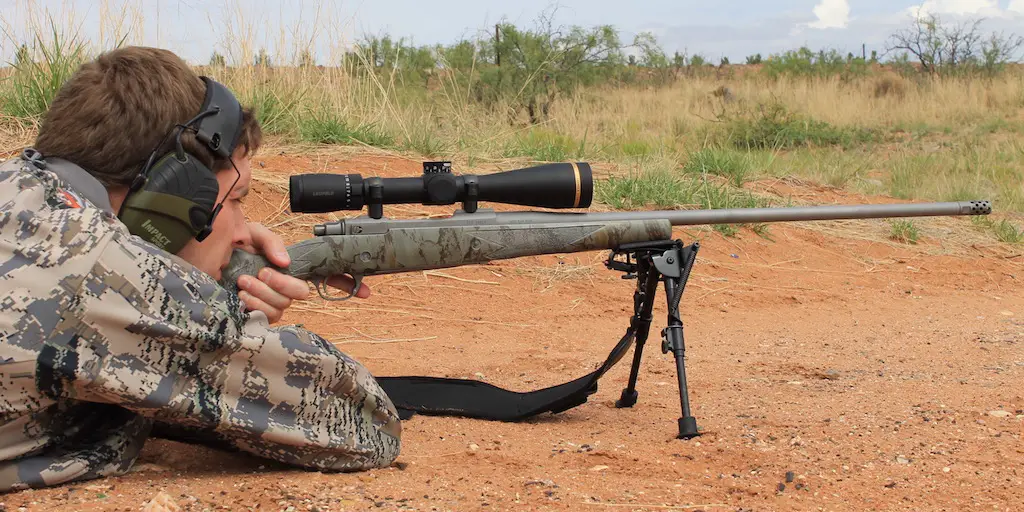 Leupold advertises that the VX-5HD contains an Argon/Krypton gas blend and is waterproof and fog proof. Well, I (unintentionally) put it to the test in New Zealand on a tahr hunt and have verified those waterproof and fog proof claims are indeed true.
The same goes for the Guard-Ion Lens Coating (Leupold calls this a rain shedding coating). After falling and sliding part of the ways down a mountain, the scope was covered in mud and snow. However, I can verify that it quickly sheds water and dirt with a few seconds worth of cleaning just as advertised.
Even through all of that, the scope held its zero and I successfully used it later that day to shoot a 15″ bull tahr.
In addition to being very durable, the Leupold VX-5HD is really easy to use. The elevation adjustment is on top of the scope and uses 1/4 MOA clicks. The scope has a capped windage adjustment turret on the size to protect it from unintentional changes. The scope also has a side focus parallax adjustment knob that's also really simple to use, just set it for the range of your target.
The turrets and knobs are big enough to use for people with normal sized hands, but aren't so big that they get in the way.
Made In The USA With A Great Warranty
Just like with any scope bearing the Leupold Gold Ring, Leupold offers a full lifetime warranty on the VX-5HD rifle scope. Here's the Leupold warranty policy straight from the horse's mouth:
If your Leupold riflescope, binocular, or spotting scope doesn't perform, we will repair or replace it for free – whether you're the original owner or not. You don't need proof of ownership or a warranty card, and there's no time limit. We do this because we believe in superior quality and craftsmanship, and we're confident your Leupold won't let you down.
With the exception of their glass (which is imported), Leupold designs, machines, and assembles all of their products in the USA at their facility in Beaverton, Oregon. Like many other companies making quality products though, there is a thriving industry producing counterfeit Leupold optics. So, if you see a deal that seems too good to be true or if you encounter a supposed Leupold optic being shipped from an international destination, it's probably a counterfeit made in China.
Lots Of Reticle Choices
The Leupold VX5HD is a second focal plane scope, which means that the reticle stays the same size at all magnifications.
Hunters utilizing the Leupold VX-5HD also have several different reticle choices: the standard Duplex reticle, the FireDot duplex illuminated reticle, the Boone & Crockett reticle, the Wind-Plex reticle, and the Impact-29 MOA reticle.
Of these, the FireDot duplex illuminated reticle is especially popular because it has a red dot at the center of the crosshairs and is designed to assist with aiming in extreme low light conditions. For instance, the Fire Dot reticle is ideal for taking a shot on a very dark colored animal when lighting is poor (like a black bear at dusk) where it can be really tough to find the crosshairs.
Leupold VX-5HD scopes equipped with the FireDot illuminated reticle also have what Leupold calls Motion Sensor Technology (MST) that will turn off illumination after 5 minutes of inactivity.
Leupold VX-5HD vs VX-6HD
Some of you are probably wondering about the differences between the Leupold VX-5HD and the Leupold VX-6HD. They have a lot of things in common, but the VX-5HD is essentially a little brother to the VX-6HD that doesn't cost as much and lacks a few key features, but still retains a lot of the characteristics most important to hunters.
First, we'll start with the similarities.
Both scopes have top-end high-definition lenses, a 30mm main tube diameter, 75 MOA of windage and elevation adjustments, a non-reflective matte finish to avoid spooking game, and CDS-ZL2 dials. They have virtually the same weight and exterior dimensions. They also have virtually the same field of view (FOV) at 100 yds: 38.3 feet at low magnification and 7.9 feet at high magnification for the VX-5 3-15x44mm and 38 feet at low magnification and 7 feet at high magnification for the VX-6 3-18x44mm.
The difference in the field of view between the two rifle scopes is mainly a function of their different zoom ratios (magnification range) though. The VX-5 has a 5:1 zoom ratio and the VX-6 has a 6:1 zoom ratio. This means that the high end magnification is 5x more powerful than the low end magnification of the scope with the VX-5 and 6x more powerful with the VX-6 scopes.
The Leupold VX-5HD is available in 7-35x56mm, 4-20x52mm, 3-15x56mm, 3-15x44mm, 2-10x42mm, and 1-5x24mm configurations. On the other hand, the Leupold VX-6 is available in 4-24x52mm, 3-18x50mm, 3-18x44mm, 2-12x42mm, and 1-6x24mm configurations.
For what it's worth, the Leupold VX-5HD 3-15x44mm rifle scope has a 14.6mm exit pupil at low magnification and has a 2.9mm exit pupil at the highest magnification. At the same time, the VX-6 3-18x44mm scope also has a 14.6mm exit pupil at low magnification, but only has a 2.4mm exit pupil at the highest magnification. The VX-6 3-18x50mm scope has a slightly larger objective diameter, so it has exit pupils of 16.6mm and 2.7mm at low and high magnification respectively.
The Leupold VX-6HD also has several features the VX-5HD lacks like an electronic reticle level, alumina flipback lens covers (also called scope covers), and a reversible throw lever to help adjust magnification. The VX-6HD scopes also have an illuminated reticle as a standard feature, but that's an optional add-on for the VX-5HD.
Not surprisingly, the Leupold VX-6HD is also a lot more expensive, with an MSRP of $1,600 to $2,6000 depending on the exact model.
Reasonable Price
With an MSRP ranging from just $1,099.99 to $1,999.99 ($1,169.99 for the Leupold VX-5HD 3-15x44mm CDS-ZL2 model I have), the Leupold VX-5HD is significantly less expensive than the VX-6HD. Essentially, you'll pay less for fewer bells and whistles with the VX-5.
The same goes for many other high end hunting scope offerings from companies like Swarovski, Vortex, and Zeiss.
Note: the VX-5 is currently on sale for a whole lot less than the MSRP.
However, Leupold did a good job of prioritizing the correct features most important to hunters with the VX-5HD. All things considered, they've done a great job building a very capable scope that's still relatively lightweight and compact and is still reasonably priced. So, if you need a great hunting rifle scope, then you really need to add the Leupold VX-5HD rifle scope to your wish list.
Below are a couple of links to where you can buy a VX-5HD from different retailers. Each place might have different specific models in-stock and may offer other incentives like free shipping.
BUY A LEUPOLD VX-5HD SCOPE AT OPTICS PLANET HERE
BUY A LEUPOLD VX-5HD SCOPE AT CABELA'S HERE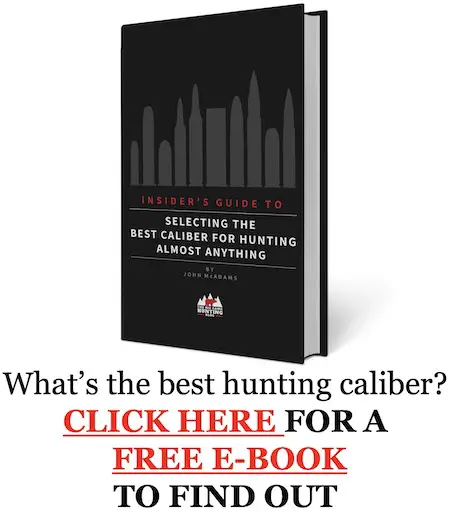 The Leupold VX-5HD 3-15x44mm rifle scope also made cut for my 2020 holiday gift recommendations. To see what other stuff is on the list, check out the following article:
Awesome Holiday Gifts For Hunters
Enjoy this article about the new Leupold VX-5HD rifle scope? Please share it with your friends on Facebook and Twitter.
Make sure you subscribe to The Big Game Hunting Podcast and follow The Big Game Hunting Blog on Facebook, Instagram, Twitter, and YouTube.
NEXT: BEST 6.5 CREEDMOOR AMMO FOR HUNTING DEER AND ELK IN 2020

Endorsement Disclosure: Per the guidelines of the Federal Trade Commission, the product reviewed here is an endorsement and I received compensation by "in-kind" payment to review the product.