Looking for some good bullets to use on a Cape Buffalo hunt? Make sure you check out this Federal Premium Cape Shok Barnes Banded Solid review.
As you may remember, a representative from Ammunition To Go contacted me a couple of months ago. They offered me the opportunity to test and review some 9.3x62mm Mauser ammo (in addition to the Tula .38 Special and .22 Magnum ammo) for them. Since the 9.3x62mm Mauser is perhaps my all-time favorite cartridge, I jumped at the chance to try out some new ammunition for it. So, they sent me some 9.3x62mm Mauser Federal Premium Cape Shok Ammunition loaded with 286gr Barnes Banded Solids to test out. Well, I've gotten a chance to thoroughly test that ammo, so read on for my 9.3x62mm Mauser Federal Premium Cape Shok Barnes Banded Solid review.
Note: some of the links below are affiliate links. This means I will earn a small commission (at no extra cost to you) if you make a purchase. This helps support the blog and allows me to continue to create free content that's useful to hunters like yourself. Thanks for your support.
Barnes Banded Solid: Initial Thoughts
Based out of Anoka, Minnesota, Federal Premium manufactures a wide range of high quality ammunition. They designed their "Cape Shok" lineup of ammunition for use on the largest, toughest, and most dangerous species of big game in the world, like cape buffalo and elephant. Featuring highly regarded bullets like the Trophy Bonded Bear Claw & Sledgehammer, Swift A-Frame, and the Barnes Triple-Shock X (TSX) & Banded Solid, Federal Cape Shok ammunition features some of the best controlled expansion and solid bullets available anywhere in the world.
Though those are all great bullets (and I killed a buffalo several years ago with a Swift A-Frame) I'm partial to Barnes bullets like the TSX and Banded Solids. They have well deserved reputations in the hunting community for accuracy, reliable deep penetration, and excellent weight retention. In both cases, these bullets (especially the solids) are designed specifically to reliably punch through the thick skin, solid muscle, and heavy bones of large species of dangerous game without disintegrating or deflecting. Thousands of successful hunts all over the world have shown that Barnes has been very successful in this regard.
In addition to using high quality bullets, Federal also produces Cape-Shok ammunition with nickel plated cases for more reliable feeding and ejection. Finally, Federal Premium pays takes particular attention to quality control when producing Cape-Shok ammunition that goes above and beyond their already legendary quality control process. This all adds up to some remarkably consistent and absolutely reliable ammunition. Heck, even the box the bullets come in is really nice and it's without question the nicest box I've ever seen made for factory ammunition.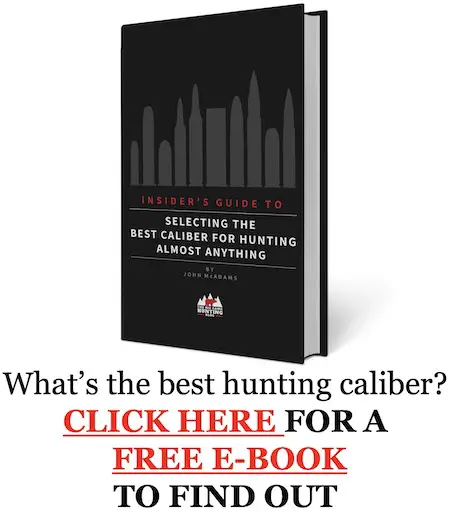 Barnes Banded Solid: How'd It Shoot?
Okay, now we'll get down to how this ammunition actually did at the range. Since it is intended for relatively close range shooting, I did all of my testing at 25 and 50 yards. I shot a couple groups from a bench to ensure my scope was dialed in properly and to get a feel for how accurate the ammo was. Then, I shot several groups at some cape buffalo targets at 25 yards from shooting sticks and off hand to get a good idea of how the ammunition performed under practical circumstances. Finally, I also measured the velocity of all of my shots using a chronograph.
I obtained an average velocity of 2,376fps during my review. Federal advertises an average velocity of 2,360fps for all their 286gr 9.3x62mm Mauser Cape Shok loads. This is not a dramatic difference, but it puts me in the unusual situation of obtaining velocities higher than advertised instead of the other way around.
I was using a Ruger Hawkeye that originally started life as a .30-06, but was converted to 9.3x62mm Mauser a few years ago. As a result, it has an aftermarket barrel that is 23″ long. I could not find any specific information on what length barrel Federal used when testing their loads, but I assume it was a 22″ barrel. This probably accounts for the slightly increased velocity I obtained during testing.
Additionally, I was also extremely impressed by the consistency of this ammunition. This ammo only had an extreme spread of 38fps and a standard deviation of 12. Indeed, my first four shots all measured exactly 2,380fps!
Especially considering the consistency in velocities I measured with my chronograph, it should not be surprising that these Cape Shok Barnes Banded Solids were also quite accurate. I was clearly the weak link in the equation, but I was still able to get .5-.6″ groups off a bench at 50 yards with it (~1.2 MOA) and it's probably capable of slightly better accuracy than that. Those are all 3-shot groups in the photo below and this ammo was easily capable of shooting a single ragged hole at 25 yards, even when standing and using shooting sticks.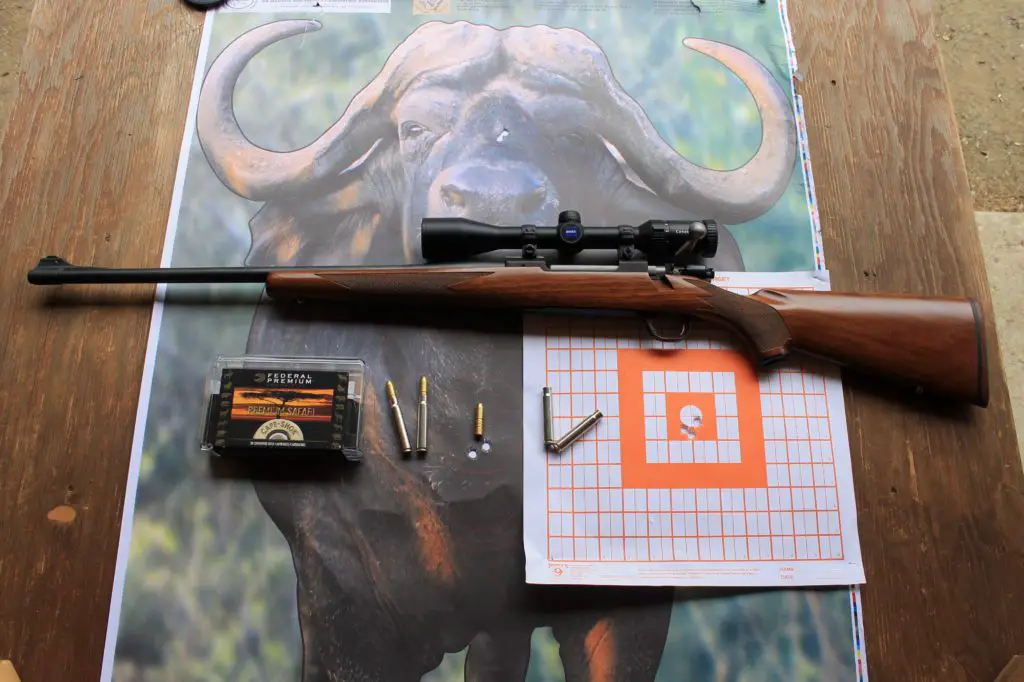 Federal Premium touts their superior quality control in their marketing and I can say that this batch of Barnes Banded Solids really lived up to the hype. In addition to their superior accuracy and consistency, I did not experience a single problem with feeding, firing, extracting, or ejecting this ammunition either. Recoil was stout, but not excessive and was very manageable, especially when standing. Additionally, the Barnes Banded Solid bullet is made out of a copper/zinc alloy, which is another big plus for those who prefer to use lead free ammunition.
This ammunition is intended for hunting thick-skinned dangerous game like Cape Buffalo, hippopotamus, and elephant. When you're hunting large, tough animals that can easily kill you, it is incredibly important to use ammunition that is both powerful and absolutely reliable. Fortunately, my experience shooting this ammunition really makes me confident that it's an ideal choice for use in that role.
There are three drawbacks to using Federal Premium Cape Shok Barnes Banded Solids: their cost, their availability, and their versatility. One box of 20 bullets retails for about $90, which works out to around $4.50 a round.
Now, in the grand scheme of things, $90 for a box of ammunition is a small price to pay when you're trusting your life to them on a $13,000+ cape buffalo hunt, but that is still enough money to give most shooters sticker shock. Additionally, since the market for this ammunition is relatively small, most gun stores do not carry it. You'll have to either order it online (like at Ammunition to Go), or find one of the few brick and mortar stores that keep it in stock.
Finally, while this ammunition penetrates well and is great for use on large animals, it is designed specifically not to expand. For this reason, it is a less than ideal choice for medium game (though it is a good choice for hunting very small, delicate animals, like members of the Tiny 10) and is actually illegal for hunting big game in many jurisdictions in the USA that require hunters to use expanding bullets. So, the Federal Premium Cape Shok Barnes Banded Solid is basically a one trick pony, though one that performs its trick extremely well.
That being said, if you're looking for some top of the line ammunition to use when hunting thick skinned dangerous game and cost is of minimal concern, then the Federal Premium Cape Shok Barnes Banded Solid is a pretty darn good choice. If you so choose, you can use this ammunition in conjunction with controlled expansion bullets, such as the Barnes TSX (which shoots to the same point of impact). All things considered, it is tough to find better ammunition for hunting buffalo or elephant than Federal Premium Cape Shok Barnes Banded Solids.
Rating
Affordability: 1/5
Availability: 2/5
Performance: 5/5
Versatility: 2/5
Reliability & Durability: 5/5
Overall: 3/5
Enjoy this 9.3x62mm Mauser Barnes Banded Solid review? Please share it with your friends on Facebook and Twitter.
Make sure you follow The Big Game Hunting Blog on Facebook, Instagram, Twitter, and YouTube.
Endorsement Disclosure: Per the guidelines of the Federal Trade Commission, the product reviewed here is an endorsement and I received compensation by "in-kind" payment to review the product.