It's an old cartridge, but many people still use the .35 Remington for hunting deer and other species of big game with excellent results. Here are a few great brands of .35 Remington ammo that should serve you well next time you hit the woods.
Though it was originally introduced in the early 1900s, the .35 Remington remains a solid big game hunting cartridge under the right conditions. Known for its outstanding terminal performance on virtually every species of North American big game at short to medium range, hunters all over the United States still utilize the .35 Remington for hunting in thick conditions. However, there aren't many choices for factory loaded .35 Remington ammo these days.
Fortunately, the different varieties of factory loaded .35 Remington ammo currently available are all designed for hunting big game. So, while there aren't many loads to choose from, you still have really good odds of finding some rifle ammo that will work for you on the list below of the best .35 Remington ammunition for hunting.
In today's post, I'm going to show you the best .35 Remington ammo for hunting and go over the pros and cons of each load regardless of whether you're using a Marlin 336, a Remington Model 81, a Thompson Center Contender, or something else.
Note: some of the links below are affiliate links. This means I will earn a small commission (at no extra cost to you) if you make a purchase. This helps support the blog and allows me to continue to create free content that's useful to hunters like yourself. Thanks for your support.
Update August 2021: Ammo supplies finally look like they're starting to recover. We still have a long way to go and selection is still nowhere near where it was back in 2019, but things are a lot better now than they were even 6 months ago.
Click the link below if you just want to quickly check what 35 Remington ammo is in-stock and ready to ship so you can hit the range and get ready for hunting season.
MORE IN-STOCK 35 REMINGTON AMMO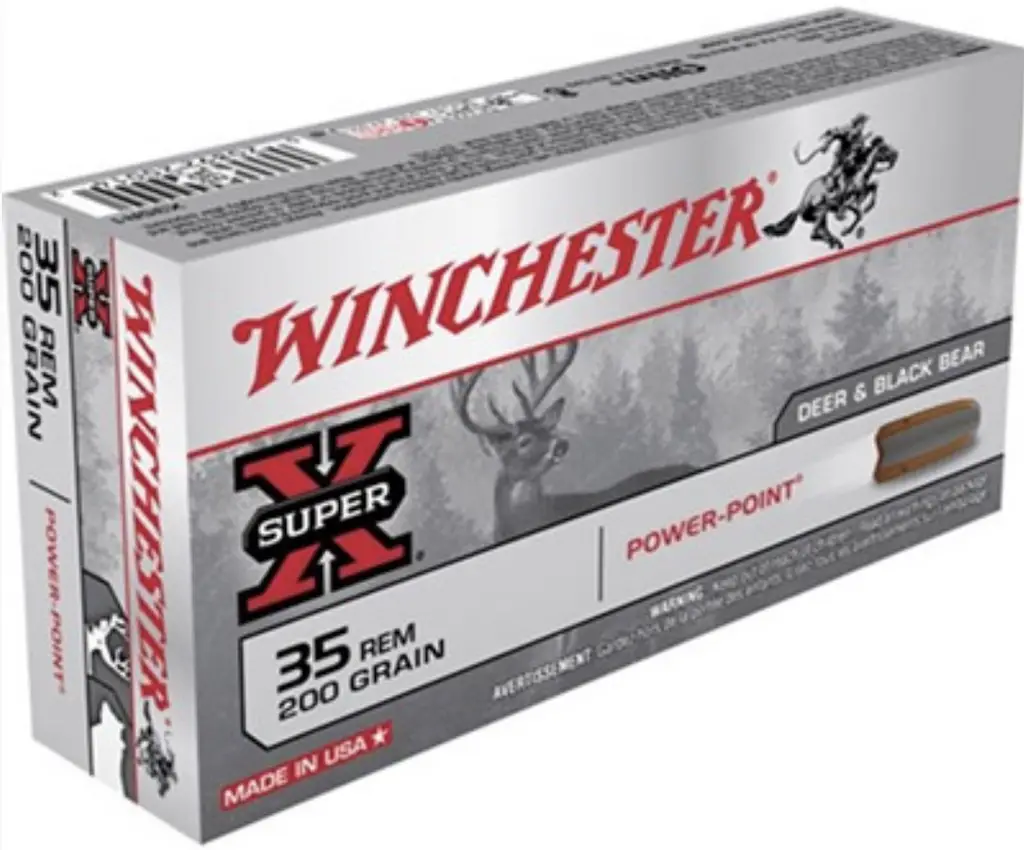 Winchester's Super X rifle ammunition is another great choice for guys who want some reasonably priced, "no frills" .35 Remington ammo. With a muzzle velocity of 2,020 fps, it's going a tiny bit slower than the other .35 Remington ammunition choices on this list. However, don't let that discourage you from using it because, truth be told, that's an insignificant difference in velocity. At typical hunting ranges this ammo will still really get the job done when hunting deer, black bear, and feral hogs.
Bullet Type: Power Point Soft Point (PSP)
Bullet Weight: 200 grains
Muzzle Velocity: 2,020 feet per second
GET WINCHESTER 35 REMINGTON AMMO HERE
Also Available At: Brownells and Natchez Shooter Supplies
Like the .30-30 Winchester and the .45-70 Government, the .35 Remington is very popular in lever action rifles. Since many of those rifles (like the Marlin 336) utilize tubular magazines where the ammunition is stacked tip to primer, most traditional .35 Remington ammo uses round or flat nose bullets to prevent recoil from causing the tip of one cartridge from detonating the primer of a cartridge stacked on top of it. Unfortunately, those stubby bullets aren't very aerodynamic.
Hornady tackled that problem with their LEVERevolution line of rifle ammo. This ammunition uses bullets with a flexible polymer tip that increases their ballistic coefficient, but they are safe to use in a tubular magazine. Loaded with 200 grain FTX bullets and pushed at a slightly faster than normal velocity, .35 Remington LEVERevolution ammunition has a significantly flatter trajectory and carries more energy down range than traditional .35 Remington factory ammunition loaded with round nosed bullets. Make no mistake, this ammunition does not turn the .35 Remington into a flat shooting or long range cartridge in the mold of the 6.5 Creedmoor, but it does noticeably improve the ballistics of the cartridge.
That being said, make sure you spend some time at the range with it before going hunting. After all, every rifle is different and some rifles prefer different types of ammo. However, if it shoots well in your rifle, then this is the arguably the best .35 Remington ammo for hunting deer, black bear, feral hogs, elk, and moose.
Bullet Type: Hornady Flex Tip Expanding (FTX)
Bullet Weight: 200 grains
Muzzle Velocity: 2,225 feet per second
Also Available At: Brownells and Lucky Gunner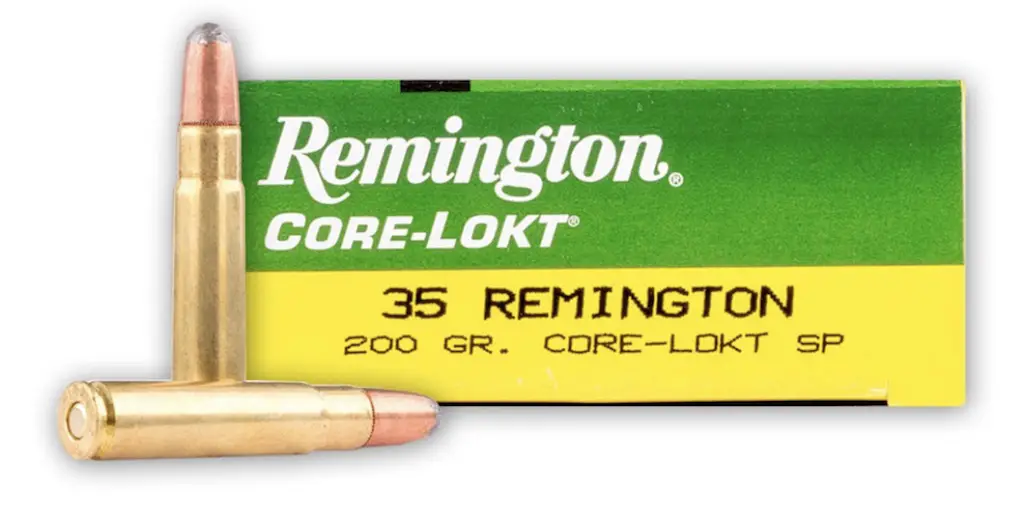 There isn't much to say about Remington Core Lokt ammo other than that it's been around for a long time and has a very good reputation for being one of the best cup and core bullets ever made. This Remington ammo isn't particularly sexy or exciting, but it's very dependable. If you're a "meat and potatoes" sort of hunter who wants reasonably priced and reliable rifle ammunition to use in your .35 Remington for hunting deer, black bear, feral hogs and even elk, then the Remington 200 grain Core Lokt will probably work really well for you. Additionally, this is the ammo you should try next if you can't get the sort of results you want out of the Hornady LEVERevolution ammo in your .35 Remington or if the Hornady ammo isn't available.
Bullet Type: Soft Point (SP)
Bullet Weight: 200 grains
Muzzle Velocity: 2,080 feet per second
Also Available At: Brownells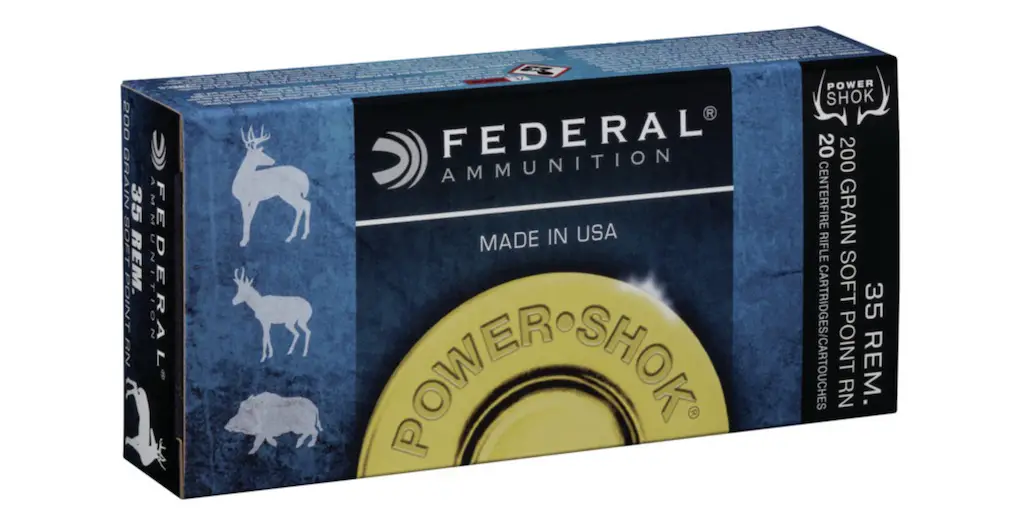 Though it's something of an "under the radar" choice for .35 Remington ammo, don't overlook the 200 grain Soft Point Power Shok ammo by Federal Premium. It's has almost exactly the same ballistics as the Remington and Winchester ammo and those 200 grain round nose soft points really do a number on deer sized game. Add it all up and you've got a great line of rifle ammunition that's another nice option for .35 Remington hunting ammo.
Bullet Type: Soft Point Round Nose (SP RN)
Bullet Weight: 200 grains
Muzzle Velocity: 2,080 feet per second
For a more detailed discussion on the .35 Remington cartridge history and recommended uses, read this article:
The .35 Remington: An Underrated Brush Cartridge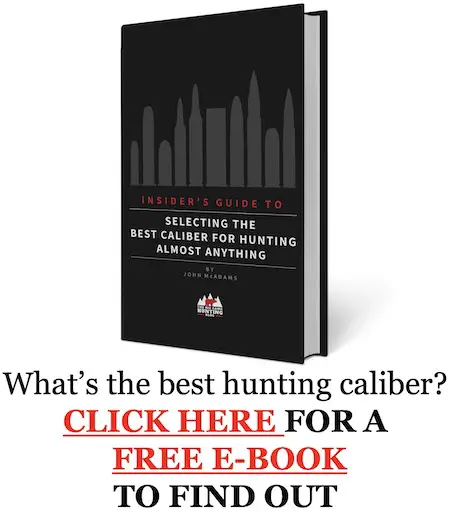 Enjoy this article about the best .35 Remington ammo for hunting? Please share it with your friends on Facebook and Twitter.
Make sure you follow The Big Game Hunting Blog on Facebook, Instagram, Twitter, and YouTube.