Check out this Leupold SX-1 Ventana review where I discuss the advantages and disadvantages of this spotting scope.
I purchased a Leupold SX-1 Ventana 15-45×60 Angled Spotting Scope several years ago. During the intervening years, I've had plenty of time to test out this spotting scope at the shooting range and on multiple hunting trips. Read on for my Leupold SX-1 Ventana spotting scope review.
Before we get started, here's a disclaimer: some of the links below are affiliate links. This means I will earn a small commission (at no extra cost to you) if you make a purchase. This helps support the blog and allows me to continue to create free content that's useful to hunters like yourself. Thanks for your support.
The Leupold SX-1 Ventana is Leupold's entry level spotting scope and is available in both a 15-45x60mm and a 20-60x80mm configuration as well as with both straight and angled eyepieces. Leupold also sells each scope configuration in a kit for an additional $40-50 that includes the scope itself, a hard carrying case, a soft case, a carrying strap, and a small tripod. For the record, I purchased the Leupold SX-1 Ventana 15-45x60mm angled spotting scope kit.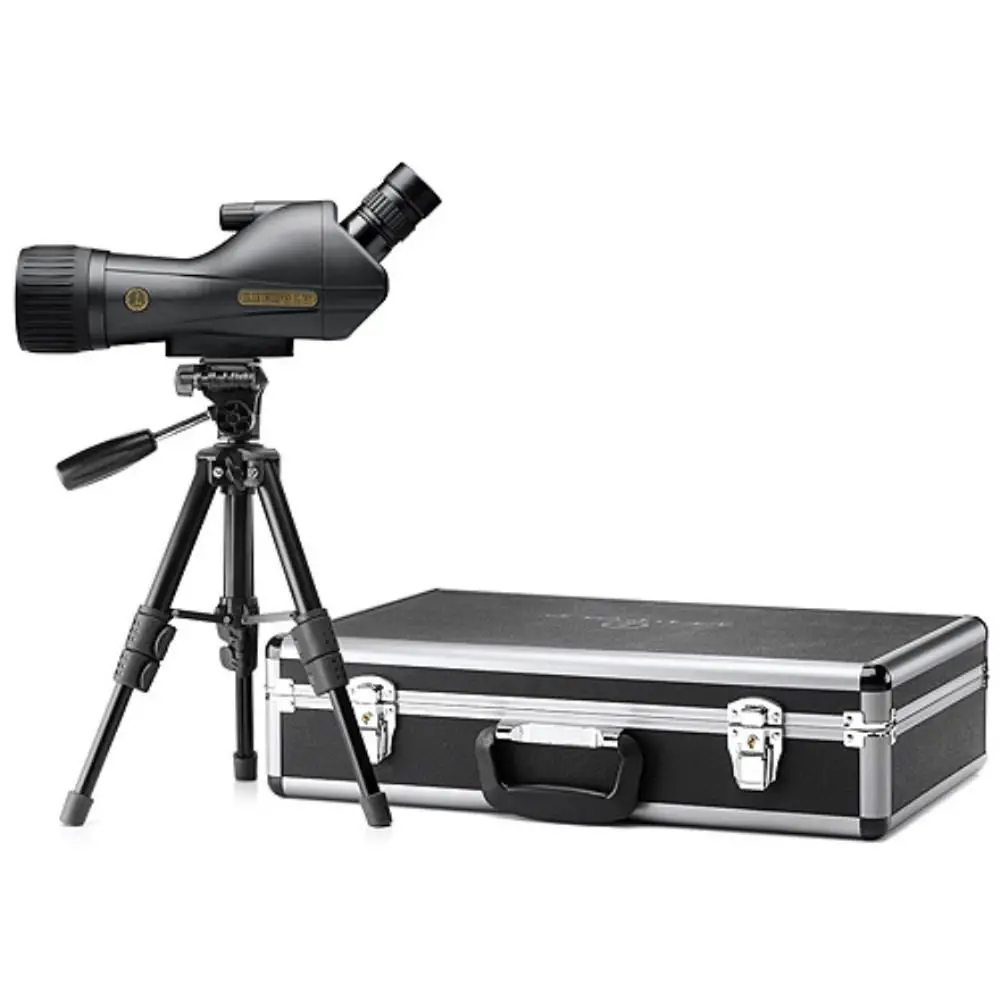 All variants of the scope have an eyepiece with adjustable eye relief for users who wear glasses. Additionally, the scope has an extending lens shade for use on exceptionally bright days and detachable lens covers for both lenses to protect them when the scope is not in use. The scope will work on any standard 1/4-20 size tripod. Finally, the scope is also guaranteed 100% fog proof and waterproof by Leupold and comes with their full lifetime warranty.
Having used many different types of Leupold optics in the past, I knew that they manufacture very high quality glass that perform well in low light conditions. This scope is no different and does not disappoint. I was very pleasantly surprised at how well images looked through such a reasonably priced scope. While images are the most clear, crisp, and bright at low magnification, they still look great at 45x. The scope is also rugged and durable, which is a plus for people like me who are hard on their equipment.
I even compared the Leupold SX-1 Ventana to a higher end (and significantly more expensive) Vortex scope at a local sporting goods store. While the Vortex definitely produced images that were brighter and clearer, the difference between the two scopes was not nearly as great as the price would make it seem. You really get your money's worth out of the SX-1!
Shortly after I purchased this scope, I was able to test it out on a trip to Mount Rainier. While there, I spotted four mountain goats on the side of the mountain. They were barely visible as white spots with the naked eye, but they appeared in full detail while looking through the scope. Even at maximum magnification, the image was still bright and clear with just a little mirage.
I purchased this scope primarily for use at the range but also to use occasionally for hunting when the situation called for it. The scope focuses easily and produces a very sharp image. At the range, it performs very well and I have no problem identifying bullet holes in targets at 200 yards. This scope works so well that it is now a standard piece of equipment that I take with me on each trip to the range and has really proved it's worth during the last few years in that role.
While I'm sure everyone has their preferences, I've found that the angled eyepiece works very well for the sort of things I do with the scope. Since I do a lot of game viewing as well as shooting with the Leupold SX-1 Ventana, the angled eyepiece is ideal for me. However, if you only intend on taking it to the range or if you foresee using it to view objects that are downhill from you, then the straight eyepiece would be a better choice.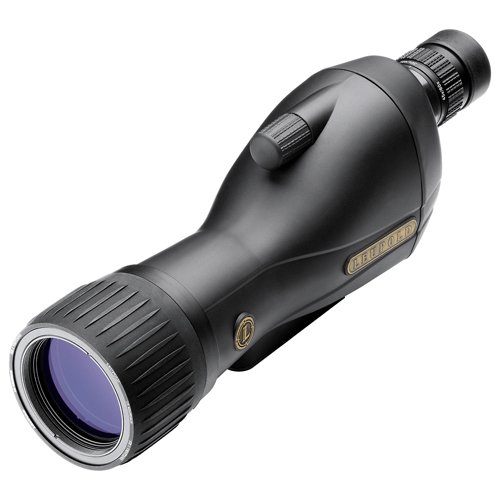 As expected from a low priced scope, it is not perfect. The scope is a little on the large and heavy size for a serious hiker or mountain hunter. I have a Badlands Clutch hunting backpack with two dedicated pouches for a scope and tripod. My Leupold SX-1 Ventana Spotting Scope will fit (barely) in the designated pocket on the backpack. The tripod fits in the other pocket with no problems.
I've made several hunting trips with the scope and it has worked well for me, but that is partly due to the fact that I wasn't going very far or carrying much other gear. If I were a serious mountain hunter or guide after mountain goat or sheep, I would spend the money and get a smaller and lighter scope or maybe even a set of Leupold BX-5 Santaim 15x56mm binoculars. At the same time, if I were a serious bench rest shooter, I would also invest the money in a spotting scope with better quality optics (like a Leupold SX-2 Kenai) that would produce higher quality images at longer ranges than the Leupold SX-1 Ventana.
Additionally, the angled variants of the scope do NOT have an eyepiece that rotates 90° to the side like some higher end scopes do. This can make the scope more complicated to use when looking at something at a significantly lower elevation or when using it with a window mount in a car. While this is not necessarily a deal breaker, it is something to keep in mind when getting ready to purchase one.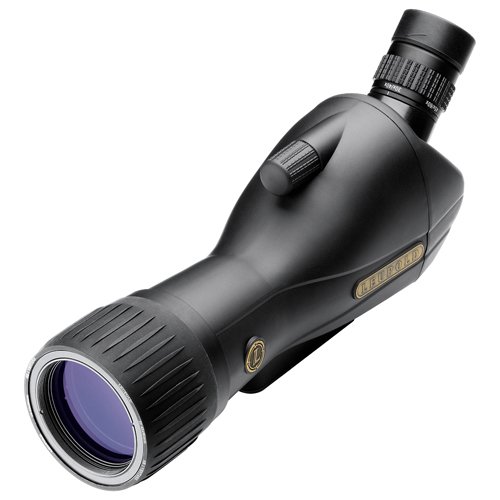 The biggest problem I have with my purchase is the quality of the tripod that came in the kit. It looks and feels very cheap and is not as sturdy as I would like. At its lowest setting, it is a little bit too high to use comfortably when sitting at a shooting bench. However, even at its highest setting, it is too short to use while standing so it is best used while sitting or kneeling behind it. I have since replaced it with a Vanguard MAK 203 tripod that is significantly more versatile and works much better for me.
The Leupold SX-1 Ventana spotting scope is a good entry level "jack-of-all-trades" spotting scope and it's a good choice for most bird and nature watchers, shooters, and some hunters. As long as weight and size are not a serious concern, this scope works well for identifying and scoring game at long range. If you are a hardcore backpack hunter, then I recommend getting a lighter and more compact spotting scope. If you need the best quality optics (such as counting the rings on a sheep), then you should get one of Leupold's top tier spotting scopes.
Fortunately, the Leupold SX-1 Ventana spotting scope will suit the needs of the vast majority of hunters and shooters very well, especially considering the fact that it is so reasonably priced.
If you like what you've read and you want an affordable spotting scope that's still a pretty capable performer, then I highly recommend purchasing a Leupold SX-1 Ventana spotting scope for yourself.
BUY A LEUPOLD SX-1 VENTANA SPOTTING SCOPE HERE
Rating
Affordability: 5/5
Availability: 5/5
Performance: 3/5
Reliability & Durability: 4/5
Size & Weight: 2/5
Overall: 3.8/5
Enjoy this Leupold SX-1 Ventana review? Please share it with your friends on Facebook and Twitter.
Make sure you follow The Big Game Hunting Blog on Facebook, Instagram, Twitter, and YouTube.