I used a pair of Leupold's new BX-Santiam HD 15×56 binoculars on my New Mexico mule deer hunt and I probably wouldn't have been successful without them. I explain why they were so essential in my Leupold BX-5 Santiam binocular review.
After I found out that I drew a limited entry New Mexico mule deer tag this year I started getting my gear ready for the hunt. Fortunately, the good people at Ochocos were nice enough to loan me a pair of Leupold BX-5 Santiam HD 15x56mm binoculars to use on that trip.
My mule deer hunt went really well and I harvested a nice 5×4 buck. Those binoculars ended up being one of the most essential pieces of gear I used and I likely wouldn't have spotted the deer without them. Here's my Leupold BX-5 Santiam binocular review where I explain just how important they were on that hunt.
Leupold BX-5 Santiam HD Binocular Overview
Leupold introduced their BX-5 Santiam HD 15x56mm binoculars in the spring of 2017, so this is the first hunting season they've been available to the general public. Not only are they a brand new lineup of binoculars, but they are also one of Leupold's top end sets of optics specifically designed for the long duration glassing sessions that are common on many western hunts for elk, mule deer, pronghorn, and Coues deer.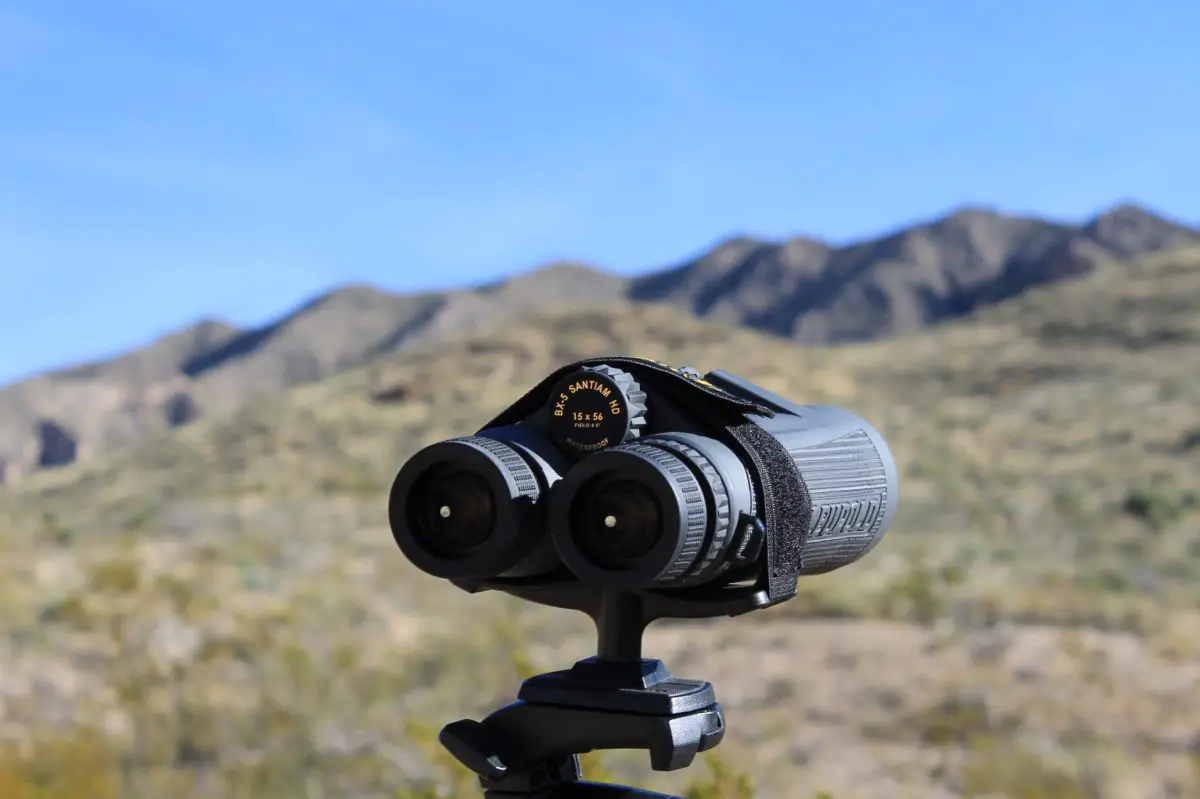 For this reason, Leupold includes a velcro tripod adapter with the binoculars. The Leupold BX-5 Santiam binoculars have a roof prism, a central hinge, and weigh about 2.75 pounds (45 ounces or 1,276g). They are also rubber armored, which helps protect them from the abuse that comes with years of tough hunts without making them excessively heavy.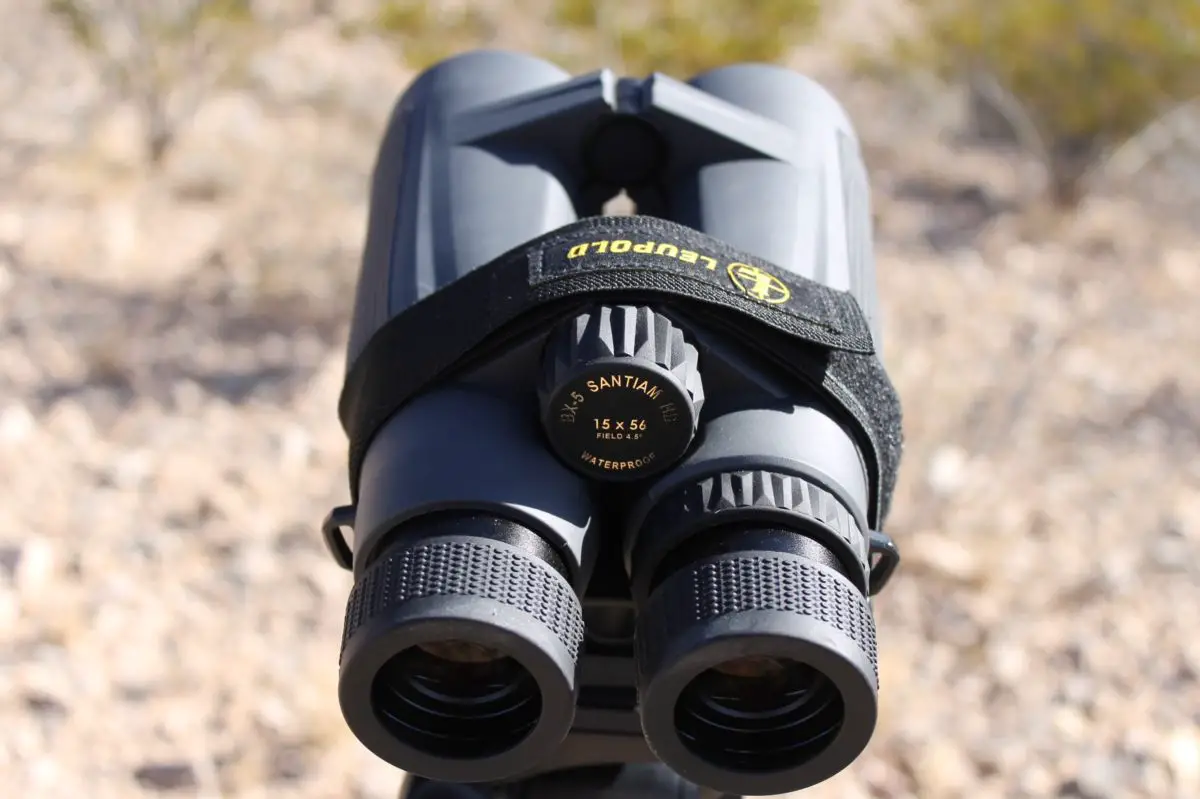 These binoculars also have adjustable eyepieces to provide the appropriate amount of eye relief for users both with and without glasses. The eyepieces lock securely into place and will not retract unexpectedly while in use.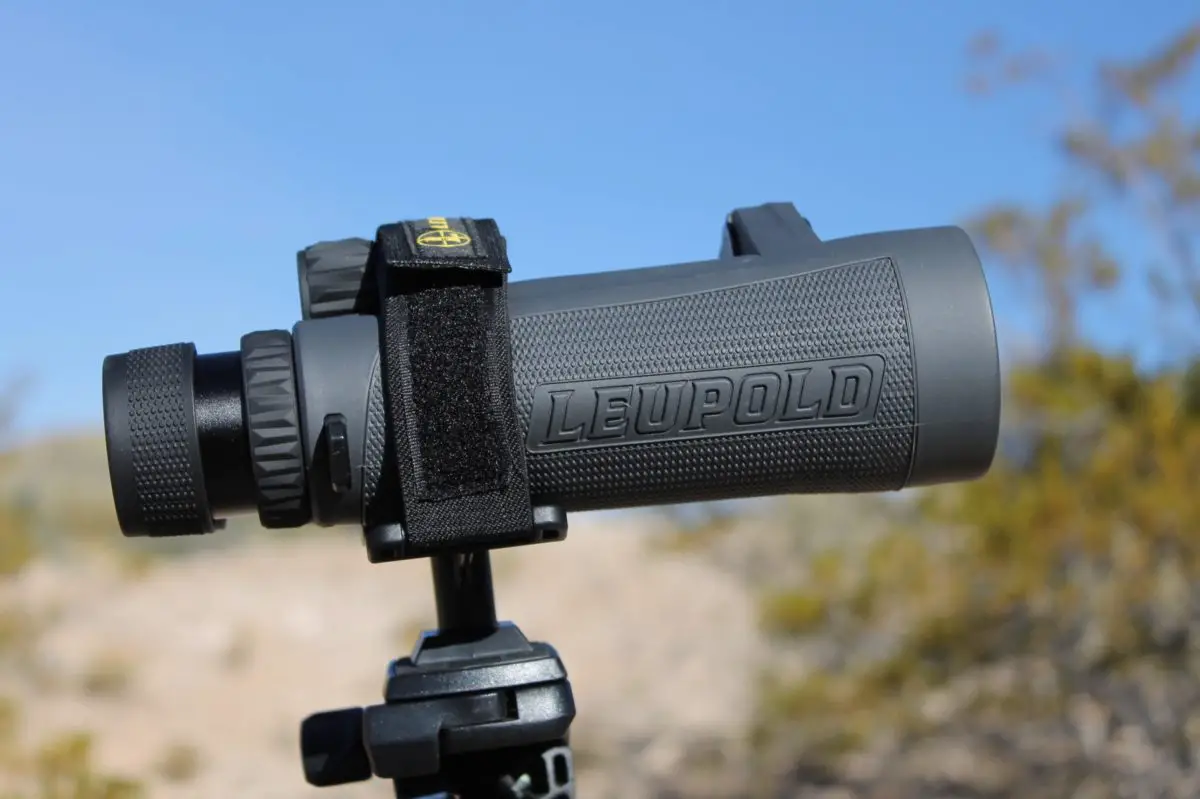 Like they do with all their optics, Leupold fills the the BX-5 Santiam binoculars with nitrogen and guarantees that they are 100% fog proof and waterproof.
Finally, I used a pair of BX-5 Santiam binoculars in the standard "Shadow Gray" color on my hunt, but Leupold also produces these binoculars in "Sitka Subalpine" and "Sitka Open Country" camouflage patterns.
How The Leupold BX-5 Santiam HD Binoculars Helped Me Fill My Tag
The part of New Mexico where I was hunting is textbook glassing country. While I brought my Leupold Cascades BX-2 8x42mm binoculars and my Leupold SX-1 Ventana 15-45x60mm spotting scope (and there's absolutely nothing wrong with either of those optics), the Leupold BX-5 Santiam binoculars quickly demonstrated that they were much better suited for that sort of work.
Leupold claims that they use some of their best glass in the BX-5 Santiam binoculars in order to ensure they have crisp images, good contrast, and great light transmission. Well, it didn't take me long to see that they weren't just blowing smoke with those claims.
During each glassing session, I mounted the BX-5 Santiam binoculars on a tripod and then picked apart the surrounding hills. Even from 650 yards away the doe and fawn in the photo below stood out clearly on that hillside in the fading evening light.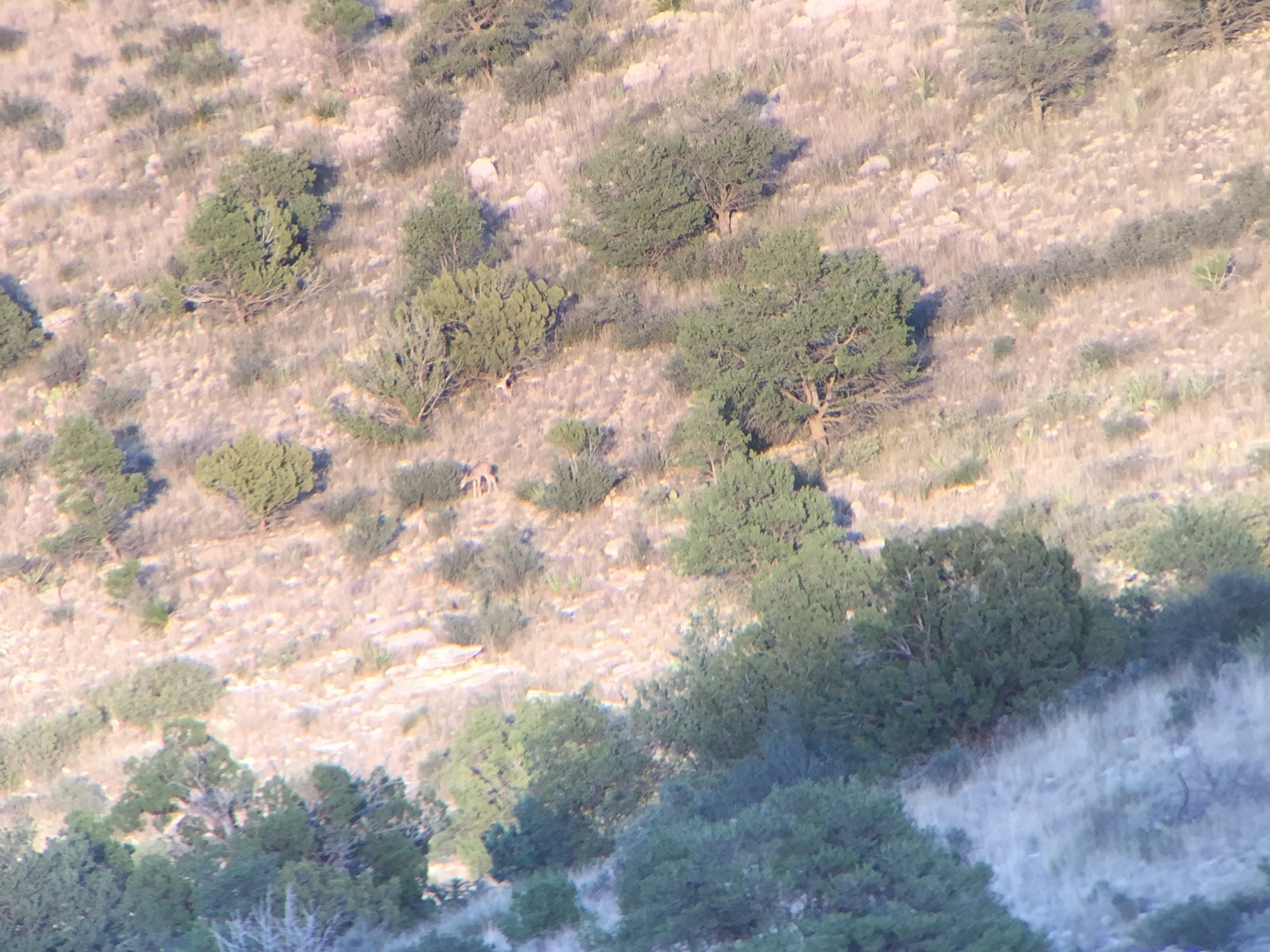 Though I couldn't take a photograph of it, the light transmission capabilities of those binoculars were so good that I could still clearly see them there for several minutes after the sun went down.
I got the surprise of my life when the two bucks in the photo below stood up about 350 yards away the evening before hunting season opened. You can't quite make out all the details in the photo, but I could easily see that the buck on top was a big bodied, heavy racked 6×7 and that the buck on the bottom was a light 4×4 while looking through my BX-5 Santiam binoculars. I observed those bucks for nearly an hour as they fed across the opposite side of the canyon until it got completely dark.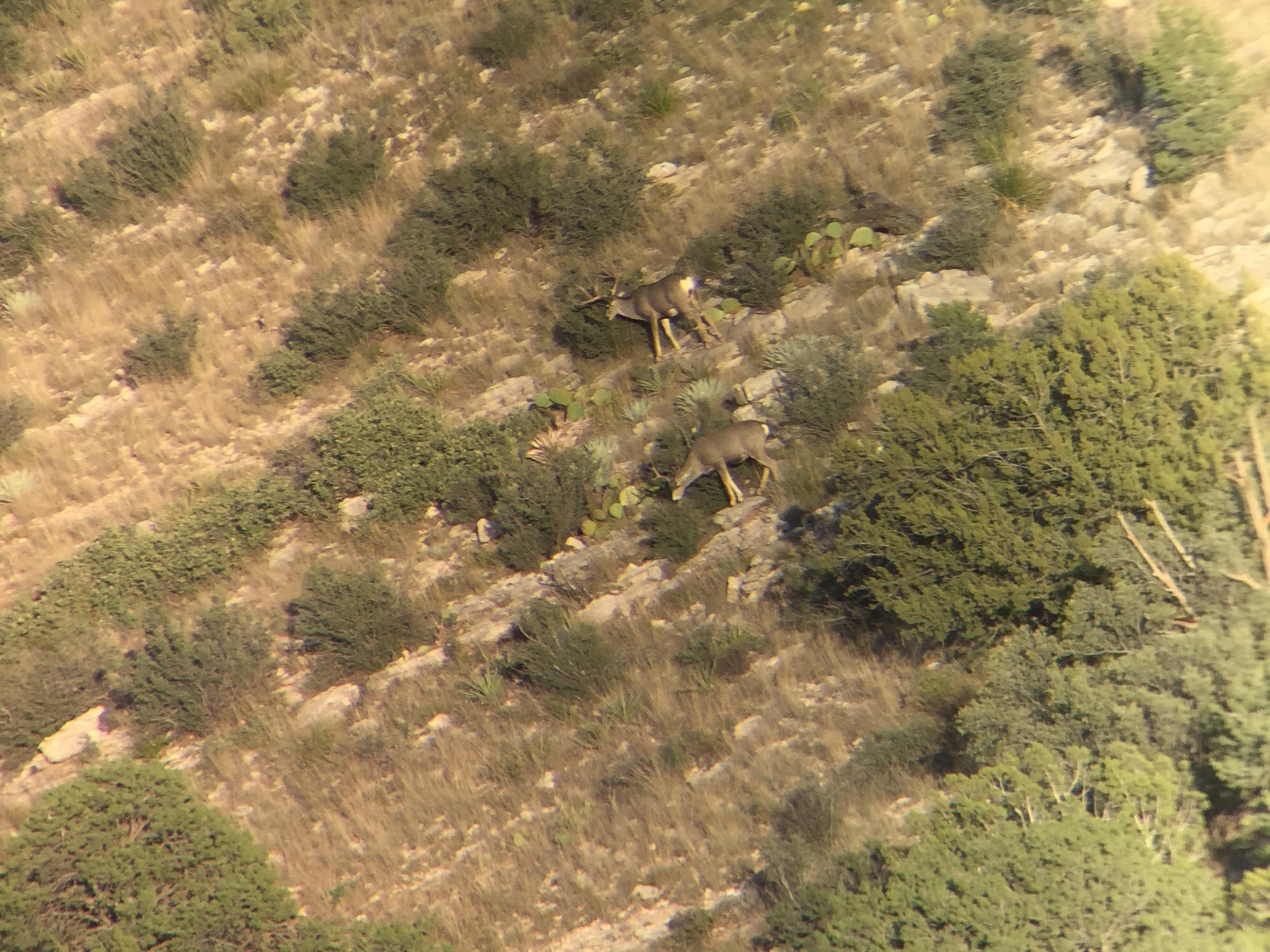 The photo below shows the hillside those bucks were on with no magnification. The bucks are still there, just very difficult to see without using binoculars.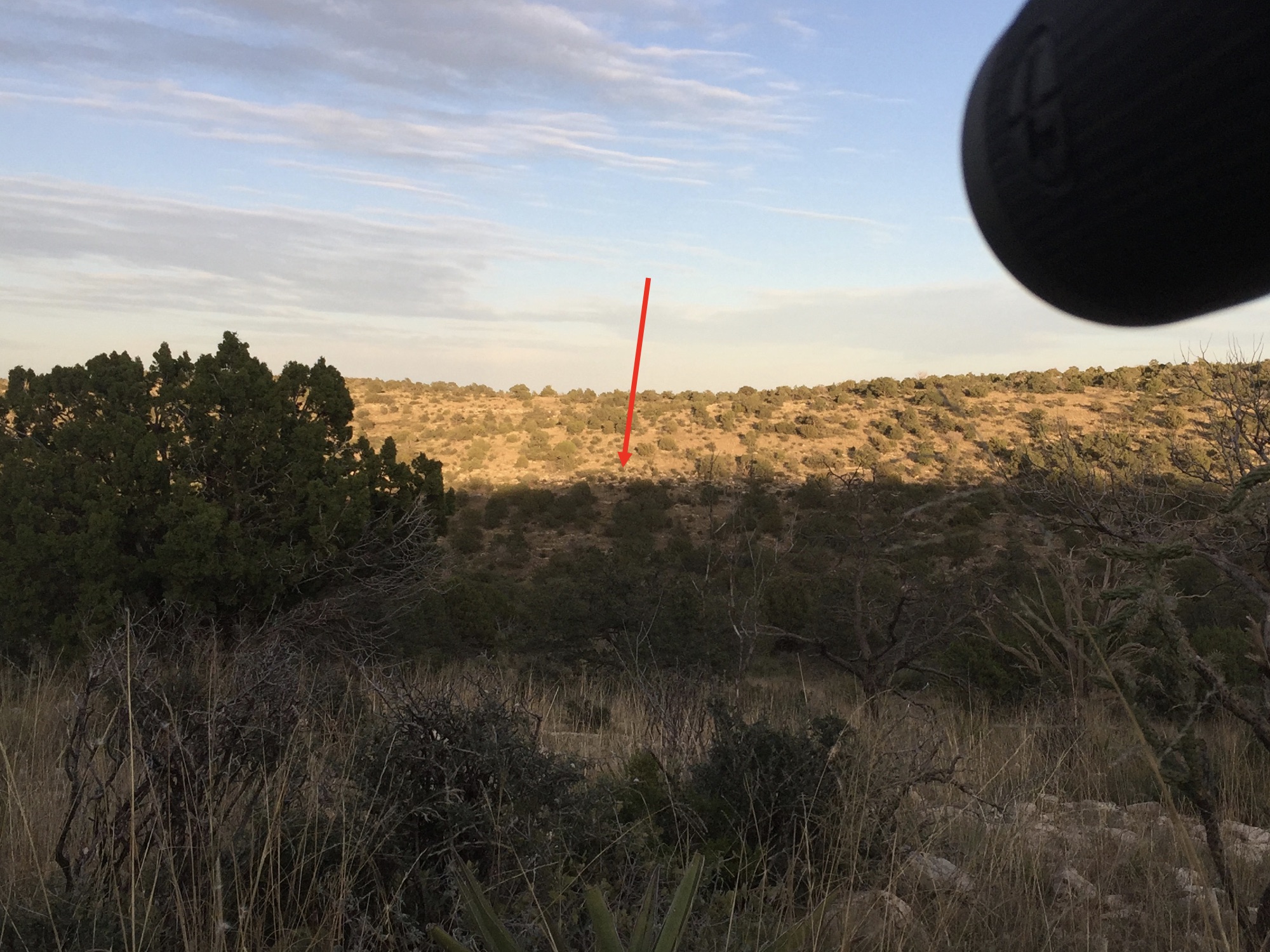 I encountered those same two bucks again a couple of days later. This time, I saw them approximately 1,200 yards away at the far end of the canyon. They were too far away to actually count their points, but I clearly saw one of them had a big body to go with a wide, heavy rack while the other had a much smaller body and rack. I'm certain I would not have spotted those bucks if I were not glassing with my tripod mounted Leupod BX-5 Santiam binoculars.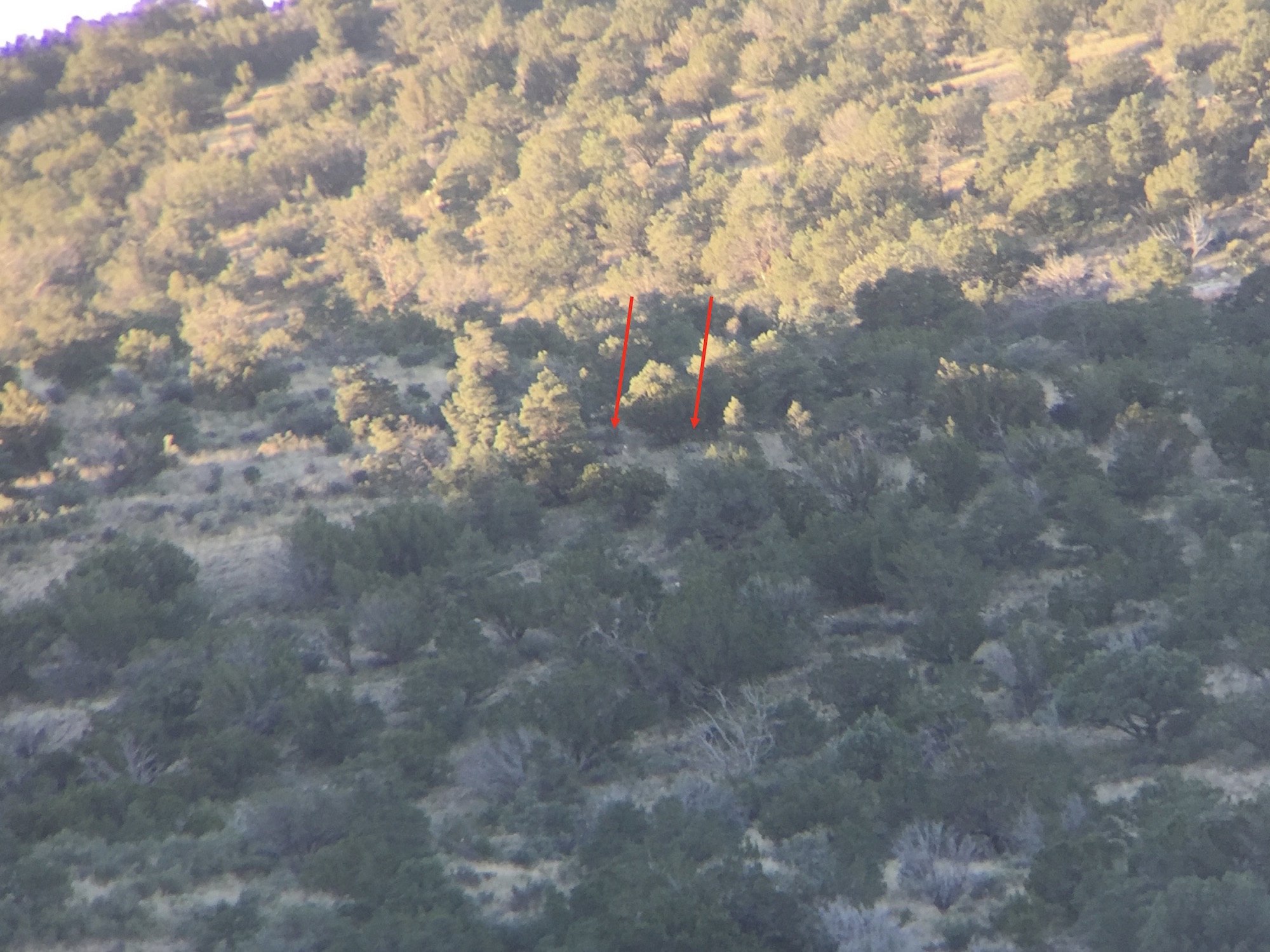 I did not end up shooting either of the bucks in the photos above. However, I spotted a 5×4 buck bedded behind a brush pile a couple of days later while meticulously picking apart the other side of a canyon with the Leupold BX-5 Santiam binoculars.
Movement caught my eye and I quickly zeroed in on that spot. Because I was using such high quality binoculars and had mounted them on a tripod, I quickly identified a buck bedded behind that brush pile once I focused in on it. The buck was about 227 yards away and had been there the whole time, yet it took a concerted effort with a set of top of the line binoculars mounted on a tripod for me to finally identify him.
I ended up shooting that buck and I feel very confident saying that I probably wouldn't have spotted him without using those Leupold BX-5 Santiam binoculars.
What I Liked About The Leupold BX-5 Santiam HD Binoculars
As you'd expect from a set of high end optics, there's a lot to like about the these binoculars. The Santiam binoculars have the best image quality and light transmission I've ever seen in a pair of binoculars. Unlike some other optics I've used, the image is clear across the entire field of view with no image distortion or fuzziness around the edges.
Just as advertised, the BX-5 Santiam binoculars have a crystal clear image and offer great contrast in varying lighting conditions. They also have a very forgiving amount of eye relief and I could comfortably glass for long periods of time with minimal eye strain or fatigue.

At the same time, these binoculars have an impressive field of view: slightly larger than a comparable set of binoculars in the Vortex Kabib HD 15x56mm, significantly more than a spotting scope at the same magnification, and a whole lot more than a spotting scope at a higher magnification.
Leupold said they wanted to build a set of binoculars ideal for extended glassing sessions at long range. Based on how they performed on my hunt, I'd have to say they succeeded in achieving that goal.
Additionally, these binoculars seemed rugged, well built, and easy to use. I could easily operate the focus wheel when wearing thick gloves and had no issues using the diopter paddle for extremely precise adjustments to compensate for differences between by eyes.
Just like with all of their products, Leupold offers a full lifetime warranty on the BX-5 Santiam binoculars. Though I had no issues with them on my hunt, Leupold guarantees their produces and will fix or replace them for free forever if something breaks on them.
What I Didn't Like About The Leupold BX-5 Santiam HD Binoculars
All that said, these binoculars aren't perfect.
First, I'm not quite sure about the quality of the tripod adapter that Leupold shipped with my BX-5 Santiam binoculars. It worked just fine for me on my hunt, but I don't know how a velcro strap will stand up to the abuse that comes with years of hard hunting.
Update: This issue has since been fixed and current production Santiam binoculars use a more robust tripod adapter.
The BX-5 Santiams also weigh quite a bit more than most other binoculars, which makes them difficult and unwieldy to use unsupported. You can free hand them, but their weight and high magnification results in a pretty shaky image. However, Leupold designed these binoculars for serious glassing sessions at long range using a tripod. So, if you want a set of lightweight binoculars, buy a compact set like the BX-4 Pro Guide, not the BX-5 Santiams.
Final Thoughts On The Leupold BX-5 Santiam HD Binoculars
All in all, the Leupold BX-5 Santiam binoculars exceeded all my expectations. They come with a hefty price tag attached, but you really get what you pay for when you buy top end binoculars. As many western hunters can attest, high end optics really come in handy on hunts that require a lot of glassing.
For more information regarding my thoughts on these binoculars, check out my Leupold BX-5 Santiam video review here.
Though I don't recommend them for hunters without a need to spot game at long range (like many eastern whitetail hunters), I can recommend them without hesitation to hunters who need a set of high end binoculars for extended glassing sessions. I can virtually guarantee you won't be disappointed if you purchase a pair of Leupold BX-5 Santiam HD binoculars.
BUY SOME LEUPOLD BX-5 SANTIAM BINOCULARS HERE
Enjoy my Leupold BX-5 Santiam binocular review? Please share it with your friends on Facebook and Twitter.
Make sure you follow The Big Game Hunting Blog on Facebook, Instagram, Twitter, and YouTube.