Check out this review of the outstanding African hunting available with Kok and Seyffert Big Game Hunting.
A couple of weeks ago, my wife and I traveled to Africa to hunt with Kok and Seyffert Big Game Hunting, a fantastic South Africa based hunting outfitter. Though I had multiple African hunting safaris for plains and dangerous game under my belt, this was my wife's first visit to the continent, and I wanted to make sure she had a great experience. Fortunately, Kok and Seyffert Big Game Hunting exceeded all expectations and we had an amazing trip.
Founded by veteran South African professional hunters Kobus Kok and Johan Seyffert, Kok and Seyffert Big Game Hunting specializes in hunting Cape Buffalo and the many species of plains game that Africa is known for, such as cape buffalo, kudu, zebra, wildebeest, impala, waterbuck, and warthog (just to name a few). They offer some of the finest hunting opportunities available in South Africa with access to thousands of acres of prime hunting land in South Africa's Limpopo and Gauteng Provinces at reasonable prices. I recently partnered with Kobus and Johan to help sell their hunts. Though I thoroughly researched them and talked with their references, there is no substitute for actually seeing things firsthand. So, we planned this trip as a way for me to see the details of their operation in person and to have a fun African adventure at the same time.
Gauteng Hunting Area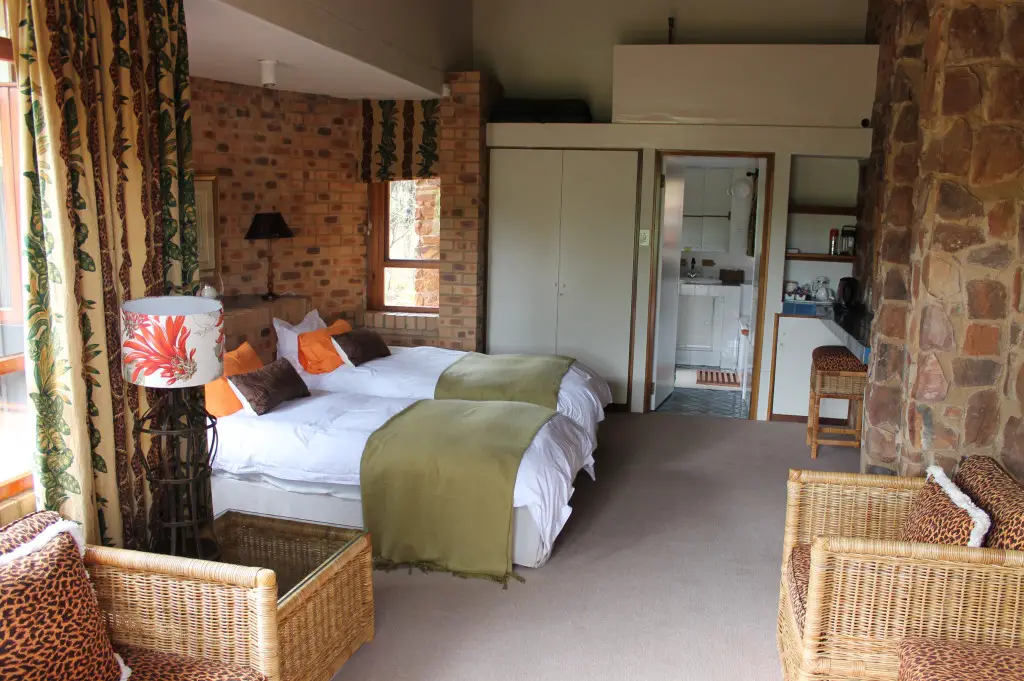 After leaving our home near Seattle and traveling for over 30 hours, our flight finally arrived in Johannesburg Sunday. Johan met us at the airport and took us straight to their camp in Gauteng Province. Luckily, the camp is located only approximately 45 miles from the airport and it took us less than an hour to get there. The accommodations were excellent with clean, comfortable beds, 220v electricity, and an in-suite bathroom with a shower, bathtub, sink, and toilet. The food at this camp (and every other place we visited) was top notch. Kok and Seyffert Big Game Hunting employs a full time, professionally trained cook who accompanied us to all of the hunting areas we visited.
He prepared a variety of delicious meals that included both authentic South African cuisine and wild game. Dinner was served with outstanding South African wine and we had all the beer, soda, juice, and water that we could drink. When we began to explore it the next morning, we discovered that the Gauteng hunting area was a true jewel. The open, rolling hillsides filled with black wildebeest, blesbok, and zebra looked like they were taken straight of of a Discovery Channel show about Africa. In addition to zebra, blesbok, and black wildebeest, we saw hundreds of springbok, hartebeest, eland and impala on the open plains as well.
The hunting area's open plains were interspersed with areas of thick vegetation in the low ground. In this thick cover, we encountered some beautiful nyala, bushbuck, waterbuck, and warthog. Those looking to hunt animals commonly found on the open plains must be prepared to take a 200+ yard shot like you can see in these black wildebeest and blesbok hunting videos, but areas of thick cover also provide an opportunity for hunters to take a shot at shorter range for other animals.
Though we didn't see any in the short time we were there, this area also has outstanding mountain reedbuck, common reedbuck, and kudu hunting. The amazing scenery and staggering numbers of animals, combined with the luxury accommodations and the close proximity to Johannesburg, make this hunting area a prime destination for hunters.
Main Limpopo Hunting Area
We spent the remainder of our trip at Kok and Seyffert's main hunting camp in the northern portion of Limpopo Province near the town of Alldays. The hunting area is right on the Limpopo River, which forms the border between South Africa and Botswana in that area. Though quite different from the Gauteng camp that we visited, the main camp was still spectacular in its own way.
I very much got the sense that we were visiting one of the remaining truly "wild" parts of Africa. The camp was nice, but also very rustic and isolated from civilization. We had encounters with baboons, monkeys, and elephants in and around the camp and we heard hyenas at night. Nothing says "Africa" like the sounds of hyenas waking you up in the middle of the night. The terrain there consists of thick mopani forests with occasional small outcroppings of rocks.
Since we visited right at the end of the dry season, there wasn't much water in the Limpopo River and most of the vegetation had very few leaves remaining. Because they have year round sources of food and water on their hunting area, hundreds of impala, kudu, and elephant cross the dry river bed from Botswana into their hunting area during the dry season. I'm not exaggerating when I say that we saw over 20 really kudu bulls in less than an hour one morning.
Obviously, this time of year is ideal for hunters in search of kudu or impala. However, these were not the only animals that we saw. The wildlife population on this hunting area is a veritable menagerie, and we saw a number of duiker, steenbok, warthog, waterbuck, giraffe, bushbuck, klipspringer, eland, gemsbok, and blue wildebeest while we were there.
We also got the opportunity to do some hunting while we were there. During the morning of our second day at the main camp, Johan and Kobus took us out in search for impala near the riverbed. After a couple of hours, we spotted a herd with a very nice ram and moved in for a shot. Fortunately, the wind was in our favor and they did not spot us as we approached. We could not get any closer than about 190 yards without running a risk of being spotted, so I set up on the shooting sticks and took aim at the big ram.
I had to wait for what seemed like several minutes before he turned and presented a broadside shot. I then aimed at his right shoulder and squeezed the trigger. The big .375 boomed and the ram took off, gravely wounded. Johan managed to get the shot on film, which you can see in the impala hunting video below. Startled and confused, the remaining impala started milling around as they tried to figure out what was going on.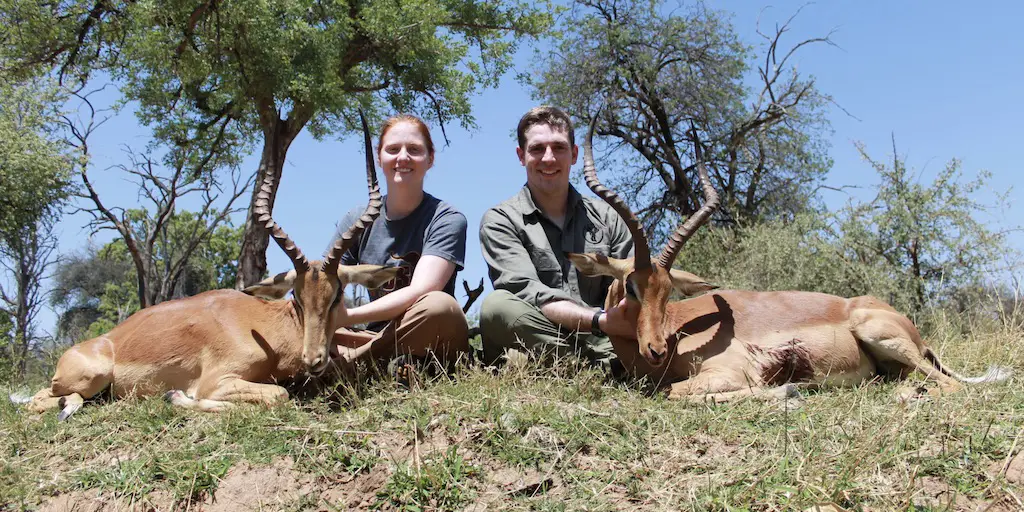 As we slowly approached, another nice ram appeared and stood facing us about 75 yards away. Johan put my wife up on the shooting sticks and she quickly fired, punching the ram's left lung with her .243. We had just shot two very nice impala in less than two minutes!
After a short follow up, we found both impala. This impala was her first big game animal and our two impala together made for quite a trophy photo. The cook did an excellent job of cooking them and we enjoyed impala schnitzel, impala carpaccio, and impala liver for the rest of our trip.
The next morning I had the opportunity to shoot another impala with the assistance of Filemon, the main tracker. After stalking a group of impala through trick brush for several hundred yards, Filemon said that one of the impala was a ram with no horns and directed me to shoot him. How he could see this bewildered me, because I could barely see the impala through my rifle scope and I had a very difficult time distinguishing the ram from the ewes he was with.
It took several tries before I was comfortable shooting, but I finally got a shot on the ram through a narrow window in the bush with Johan's .30-06. The ram did not go very far and we easily found him. Sure enough, he was missing most of his horns and only had the bases remaining. Upon seeing this, Johan said that this particular impala was one shot by a European earlier in the year. The hunter foolishly tried to shoot the impala in the head and missed. The bullet hit the tip of one of the ears and chopped off both horns, which they found on the ground later. The impala escaped with nothing more severe than a headache. Indeed, when we encountered him, he was perfectly healthy other than the fact that he had no horns. So, not only did we get a bunch of camp meat from this impala, but we also got an interesting story and a very unique trophy.
The other animal that I really wanted on this trip was a duiker. They have some very nice duikers on this hunting area and we saw several mature males while exploring the area. However, things never quite seemed to work out. Duikers are pretty skittish and elusive, so I saw plenty of duikers bounding away through the bush, but not many that presented a good shot. Luckily, I got a good shot at one very nice looking duiker, but I missed and shot straight over his back. On the afternoon of the last day we were diligently looking for a duiker, but all we were seeing was young males and females. I then mentioned that I would have no problems shooting a nice steenbok if we encountered one.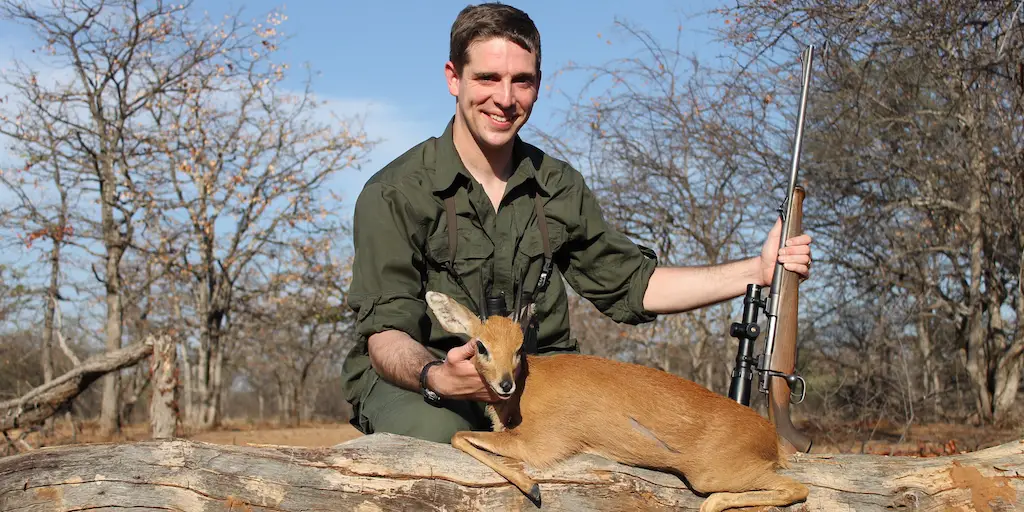 Johan nodded in acknowledgement, but I knew that the odds of this were slim because this hunting area had many more duiker than steenbok. However, no sooner had those words come out of my mouth when we looked up and saw a male and female steenbok standing there looking at us. They quickly bounded off into the bush, but we followed. We caught up several times, but the steenbok would always take off again before I had a chance to shoot.
After pursuing him for about 200 yards, my wife spotted him about 60 yards away standing in a small opening looking back at us. I quickly raised the rifle and fired offhand. My bullet flew true and drilled him through both shoulders. The steenbok was an old male and a beautiful trophy. His teeth were very worn down, indicating that he had lived a relatively long and interesting life and likely wasn't long for this world. As luck would have it, we encountered four duiker (three mature males and one female) over the course of our drive back to the camp after I shot the steenbok. I just had to laugh: it was their lucky day. I guess I'll have to get my duiker on my next trip to Africa…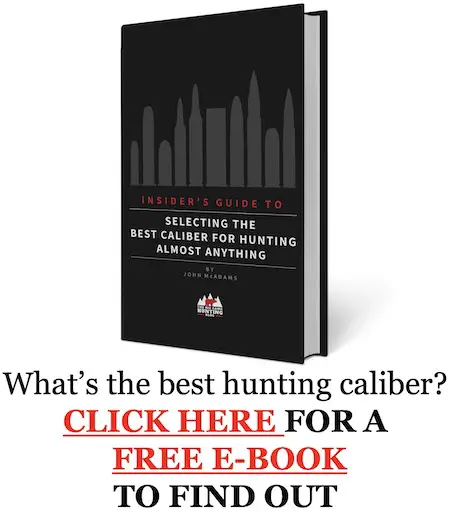 Cape Buffalo Hunting Area
We also met Johan's partner Kobus Kok during the trip. Though Johan and Kobus both guide plains and dangerous game hunts, Kobus really seems to live for hunting Cape Buffalo. So, it was only fitting that Kobus took the lead in showing us how they conduct their cape buffalo hunting in Limpopo Province. We saw numerous buffalo and of these, there a significant number were mature, hard bossed bulls.
Johan and Kobus hunt on foot and the buffalo live in the thickest portions of the bushveld. These are real deal hunts for wild buffalo, so you really need to be on your toes. There are also lots of kudu, blue wildebeest, zebra, warthog, and impala (among other game) in this area for those who would like to combine a plains game and buffalo hunting safari.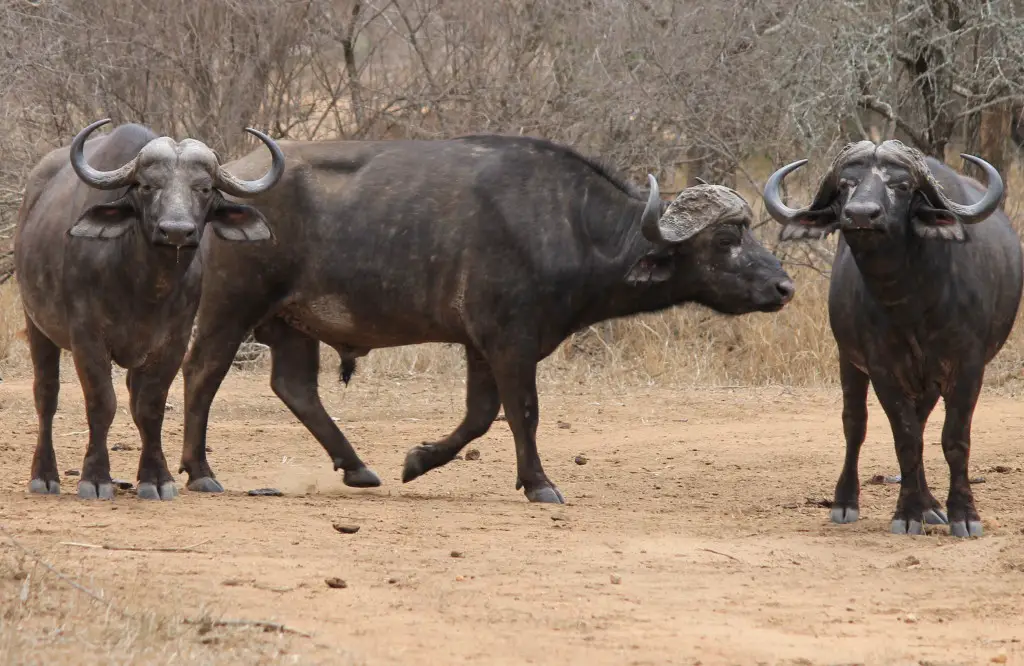 Unfortunately, the end of the trip came all too soon. My wife and I had a wonderful experience exploring South Africa with Johan and Kobus. Both men were friendly, knowledgeable, and responsible and we were very impressed with the quality of the operation that they are running over there.
If you are looking for the trip of a lifetime in South Africa, I cannot recommend Kok and Seyffert Big Game Hunting highly enough. Check out Big Game Hunting Adventures to book the South Africa hunting trip of a lifetime.
You can also watch the clip below (which some have called the best Africa hunting video they've ever seen) and follow the Big Game Hunting Adventures Facebook, YouTube, and Instagram accounts as well to get an idea of what a hunt with them is like.
Update: After a few years of working with them, Johan and Kobus have done incredible work exceeded all my expectations. They're extremely knowledgeable, professional and skilled professional hunters who are just fun to be around. Every hunter I've sent their way had an amazing trip and cannot say enough about how much they enjoyed their hunts.
Don't take my word for it though, check out some of the reviews our hunters have written about their experiences with Kobus & Johan.
Matt: August 2016 Big Game Hunting Adventures review
Lou: June 2017 Big Game Hunting Adventures review 
Mike: September 2017 Big Game Hunting Adventures review
Additionally, Johan and Kobus generously donated a hunt to the Send-A-Vet Foundation and hosted a Mike Stilson, a Marine wounded in Iraq during September 2007, on a plains game hunt in 2017. Check out this article on Wide Open Spaces about the hunt Big Game Hunting Adventures helped them sponsor.
For what it's worth, a hunt with Kok & Seyffert in South Africa made cut for my holiday gift recommendations. To see what other stuff is on the list, check out the following article:
Enjoy this review of Kok and Seyffert Big Game Hunting? Please share it with your friends on Facebook and Twitter.
Make sure you follow The Big Game Hunting Blog on Facebook, Instagram, Twitter, and YouTube.