Check out my Leupold BX-2 Cascades binoculars review where I discuss the advantages and disadvantages of these optics.
Several years ago, I purchased a pair of Leupold BX-2 Cascades binoculars. Since then, I've tested these binoculars pretty extensively on multiple hunting trips and outdoor excursions all over the world. Read on for my Leupold BX-2 Cascades binoculars review.
The Leupold BX-2 Cascades binoculars are Leupold's mid-level binoculars and are available in both 8x42mm and 10x42mm configurations. Leupold also offers the binoculars in either a flat black color or in a Mossy Oak camouflage pattern. For the record, I have a pair of black, 8x42mm Leupold BX-2 Cascades binoculars.
The Leupold BX-2 Cascades binoculars have a roof prism and a central hinge. With a weight of around 1.5 pounds (about 650g), the Leupold BX-2 Cascades binoculars are lightweight and well balanced. They are also rubber armored, which really helps protect them from the bumps and scratches that come with many years of hard use.
All variants of these binoculars have adjustable eyepieces that provide the appropriate amount of eye relief for users who wear glasses. These eyepieces do lock into place, so they won't retract unexpectedly while in use. At the same time, there is no intermediate position for the eyepieces, so they're either all the way up (below) or all the way down (top of the page). That being said, the eye relief on the Leupold BX-2 Cascades binoculars is just about perfect in either case and I've used them comfortably both with and without glasses with no problems.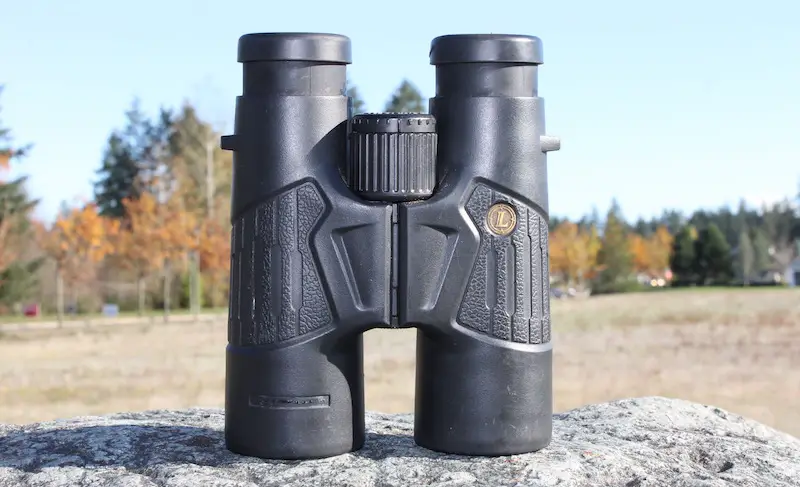 Additionally, the Leupold BX-2 Cascades binoculars are nitrogen filled, which means they are guaranteed 100% fog proof and waterproof by Leupold. Take note that this only means that the lenses will not fog up on the inside. It is still possible for the outside of the lenses to fog up. For what it's worth, I've used these binoculars in a wide variety of demanding conditions over the years. While I've had the exterior surfaces of the lenses fog up a time or two, I have not had a single issue with fog or moisture on the interior of the lenses.
Between my rifle scopes and my spotting scope, I use a number of Leupold brand optics and I'm familiar with the high quality of their work and the fact that they tend to perform well under low light conditions. The Leupold BX-2 Cascases binoculars do not disappoint and I've been very impressed with their optical performance. Images are bright, crisp, and have very little blurring or distortion around the edges. I also have not experienced any problems with using them in either very bright or very low light.
I primarily use these binoculars for hunting. Though they are not really compact binoculars, the BX-2 Cascades binoculars are small and lightweight enough for me to carry all day on extended hunts without really even noticing they are there. At the same time, my 8x42mm Leupold BX-2 Cascades binoculars also offer a wide field of view (6.5°, about 340 feet at 1,000 yards), provide excellent low light transmission and contrast, and are fast focusing, all of which are important traits for hunters. Keep in mind that the 10x42mm variant of the BX-2 Cascades binoculars will offer slightly higher magnification at the expense of a more narrow field of view (5.1°, about 270 feet at 1,000 yards)
Since I purchased them back in 2011 for a cape buffalo hunting safari in Africa, these binoculars have accompanied me on dozens of trips all over the United States and the rest of world. While I've subjected them to some pretty rough conditions, they are still performing just as well as they did the day I bought them. Since I primarily hunt in the reasonably thick conditions in Western Washington and East Texas, the 8x42mm Leupold BX-2 Cascades binoculars work great for me. However, if I were a hunting guide or if I hunted in more open areas where I'd really be able to appreciate a better set of optics, I would either get a set of 10x42mm BX-2 binoculars or maybe upgrade to a set of Leupold BX-3 Mojave binoculars (which is the next step up in Leupold's binocular lineup).
All in all, I'm very impressed with the quality of these binoculars. They are well built, reasonably priced, and perform at a high level. I can only think of one area with them where I'm not happy: they are made in Japan and not in the United States.
That being said, the Leupold BX-2 Cascades binoculars are still a darn good product and I can recommend them to hunters who need a set of nice binoculars to take afield. Leupold makes these binoculars even more appealing with their full lifetime warranty. Basically, if they do not work as promised, Leupold will fix or replace them for free forever, regardless of whether or not you're the original owner. That is a tough guarantee to beat!
A set of high quality binoculars are an essential piece of hunting gear that just about every hunter should take afield. Fortunately, the Leupold BX-2 Cascades binoculars are a great middle of the road optic choice for most hunters that will not break the bank.
If you like what you've read here and you want a reasonably priced, but high quality pair of binoculars, then I highly recommend purchasing a pair of Leupold BX-2 Cascades binoculars for yourself.
Rating
Affordability: 5/5
Availability: 5/5
Performance: 4/5
Reliability & Durability: 5/5
Size & Weight: 3/5
Overall: 4.4/5
Enjoy this Leupold BX-2 Cascades binoculars review? Please share it with your friends on Facebook and Twitter.
Make sure you follow The Big Game Hunting Blog on Facebook, Instagram, Twitter, and YouTube.