What muzzleloader supplies do you really need to go hunting?
I think you'll agree with me when I say that choosing the necessary muzzleloader supplies can be a pretty difficult task, especially if you're new to hunting with a muzzleloader.
This is because there is such an overwhelming variety of muzzleloader supplies and accessories out there. Additionally, traditional muzzleloaders usually require different accessories than inline muzzleloaders. However, some items work just fine in all muzzleloaders. Unfortunately, it's not always clear which items are best suited for a particular type of muzzleloader and this makes things even more complicated.
Believe me, I feel your pain.
Over the years, I've done a bunch of experimentation with various different muzzleloader supplies in my traditional and inline muzzleloaders. Through a lot of trial and error, I learned a lot about the various items that have worked best for me at the range and in the woods. It took a lot of hard work, research, many hours at the range, and some frustrating hunting trips, but now I've settled on a few muzzleloader accessories that I'm comfortable using and work very well for me.
So with all that in mind, I'm sharing my picks of the most important muzzleloader supplies you need to get started hunting with a smoke pole. Regardless of whether you're using a modern inline muzzleloader like the Remington Ultimate Muzzleloader or an old school black powder rifle, this will help you buy the things you need and save money by passing on the stuff that's not as important.
Before we get started, here's a disclaimer: some of the links below are affiliate links. This means I will earn a small commission if you make a purchase.
This commission comes at no extra cost to you. This helps support the blog and allows me to continue to create free content that's useful to hunters like yourself. Thanks for your support.
Now that we've got that out of the way, let's get started.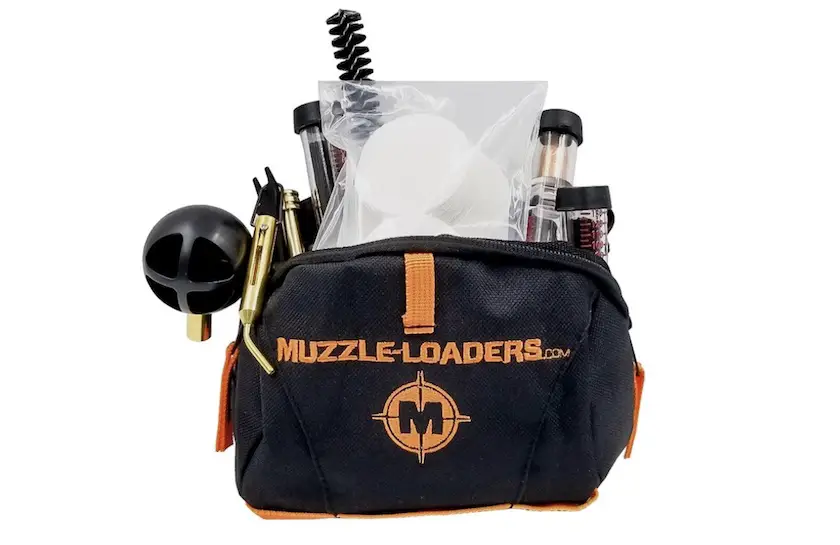 When I first started hunting with a muzzleloader, I found myself wishing that somebody just made a kit containing all the muzzleloader supplies and accessories I needed.
Well, that day has arrived and Muzzle-Loaders.com offers two different all-in-one kits: one for inline muzzleloaders and one for traditional muzzleloaders. Each kit contains the crucial muzzleloader supplies necessary for safe operation of a muzzleloader for a day of hunting.
The inline kit contains a polymer bullet starter, different bullet adapter tips for polymer tipped and hollow point bullets, three speed loaders, a brass extension jag, a breech thread brush, a breech disassembly tool, a nipple pick, and 100 cleaning patches.
The traditional kit contains a wooden bullet starter, a brass capper for #11 percussion caps, three speed loaders, a nipple wrench, a ball puller, a patch puller, a .50 caliber brass cleaning brush, a .50 caliber cotton cleaning swab, a fire channel brush, a brass extension jag, and 100 cleaning patches.
Both kits come with a zippered carrying pouch. While there are a couple of other accessories that are nice to have at the range (which we'll discuss more in a minute), these kits contain the most important pieces of gear you'll need.
If you're looking for a great place to start as a new muzzleloader hunter, buy one of these kits. They each have about 90% of the most important muzzleloader supplies you'll ever need, plus the kits are competitively priced and each kit costs significantly less than what you'd pay to buy each item individually.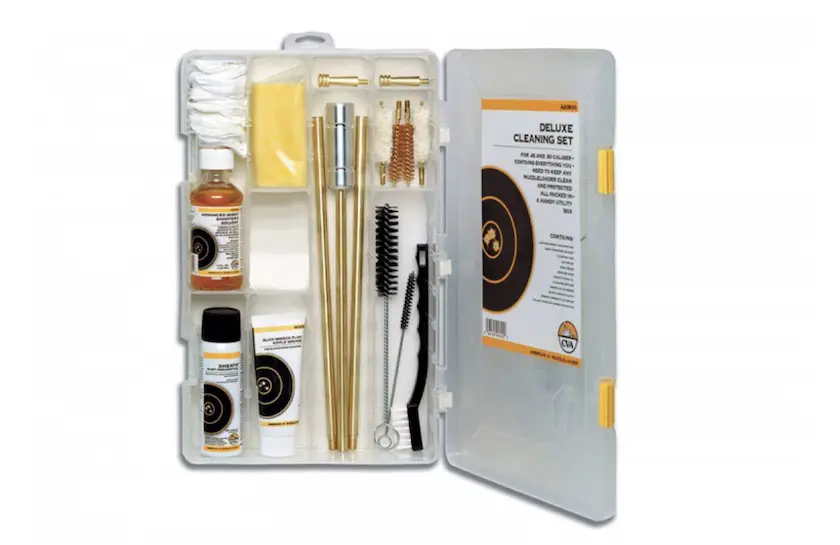 While those all-in-one kits are both great, you'll also probably need more cleaning supplies than they provide. Fortunately, there are also some great cleaning kit options out there. Specifically, I like the CVA Deluxe Cleaning Kit. Lyman, Thompson Center, and Traditions all make good muzzleloader cleaning kits as well, but I personally like the CVA kit the best.
Don't worry, the various cleaning kits work just fine across brands as well. For instance, you can clean a Thompson Center muzzleloader with a CVA cleaning kit and vice versa.
The CVA kit contains all of the essential supplies necessary for cleaning and maintaining your muzzleloader: 100 cleaning patches, 4 ounces of cleaning solvent, 2 ounces of spray oil, 2 ounces of breech plug lube, .45 and .50 caliber cleaning jags, .45 and .50 caliber bore brushes, .45 and .50 caliber cleaning swabs, an aluminum range ramrod, a large breech brush, a small breech brush, a cleaning brush, and some oil cloths.
I also recommend buying a breech plug cleaning tool and parts soaker to help with cleaning nipples, breech plugs, and other small parts. Finally, you can individually replenish your cleaning solvents and patches as you use up the ones that come in the cleaning kit.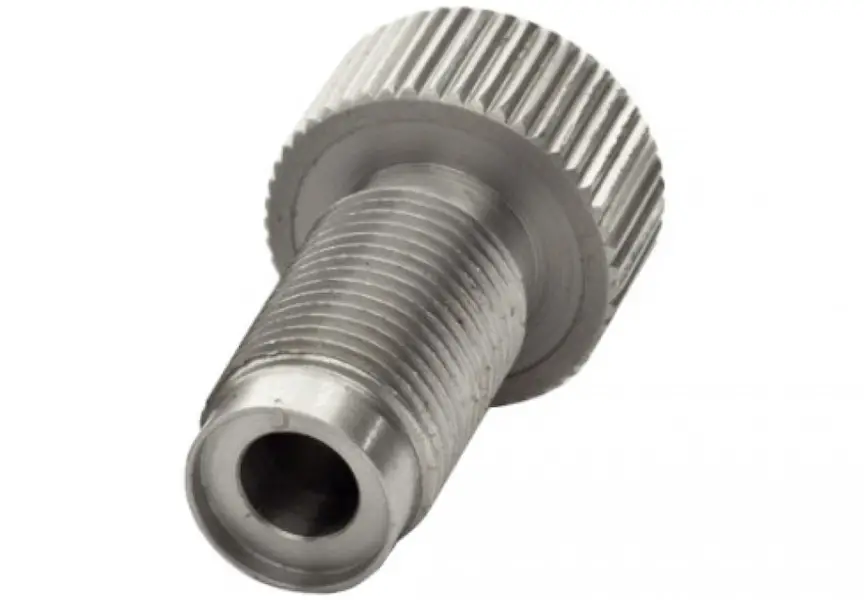 I personally prefer to use Blackhorn 209 powder whenever possible because it offers very consistent performance and my muzzleloader is a lot easier to clean afterwards. The standard CVA breech plugs will sometimes work with Blackhorn 209 powder, but it's not uncommon for hunters to run into ignition issues with that powder though.
Fortunately, the Blackhorn breech plug is specifically designed for use with that powder and switching over to the Blackhorn breech plug virtually eliminates ignition issues, even when using Winchester muzzleloading 209 primers. This breech plug will also work with standard black powder, Pyrodex, and Triple Seven in both loose and pelletized form. So, I highly recommend getting a Blackhorn QR breech plug if you have a CVA Wolf, Optima, or Accura muzzleloader. CVA also offers this breech plug with a nitride coating for use in nitride muzzleloaders.
BUY BLACKHORN 209 BREECH PLUG HERE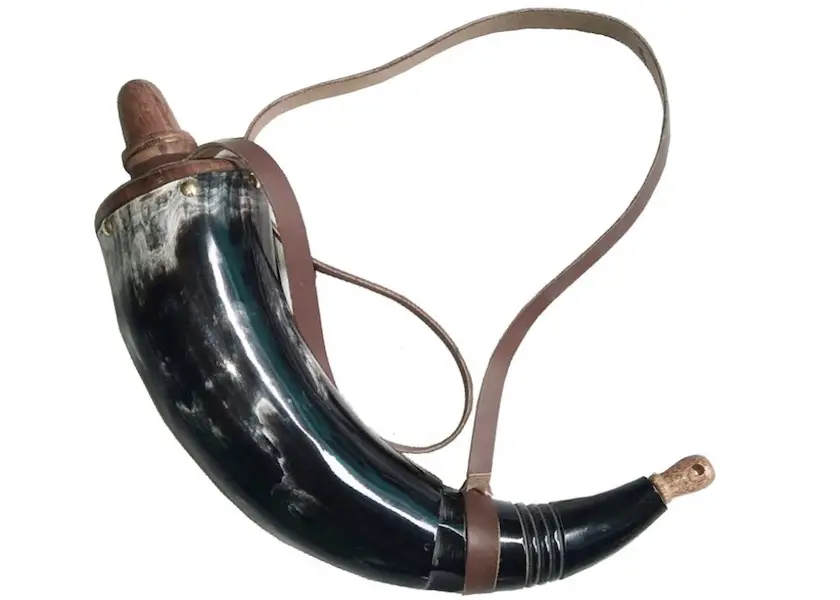 If you're using loose powder, it's usually not a good idea to load your muzzleloader with powder directly from a can or jug for safety reasons. Those containers aren't very convenient to carry afield either. Instead, you should use a powder horn or a powder flask.
An actual powder horn is a cool looking accessory for hunters using traditional muzzleloaders. There's no reason why a powder horn won't work with an inline muzzleloader, but a brass flask will work just as well.
Keep in mind that flintlock muzzleloaders work best with two different kinds of powder: one for the primary charge and one for the pan. So, you'll need a pan charger in addition to your main powder flask or horn to keep the two different powders separate.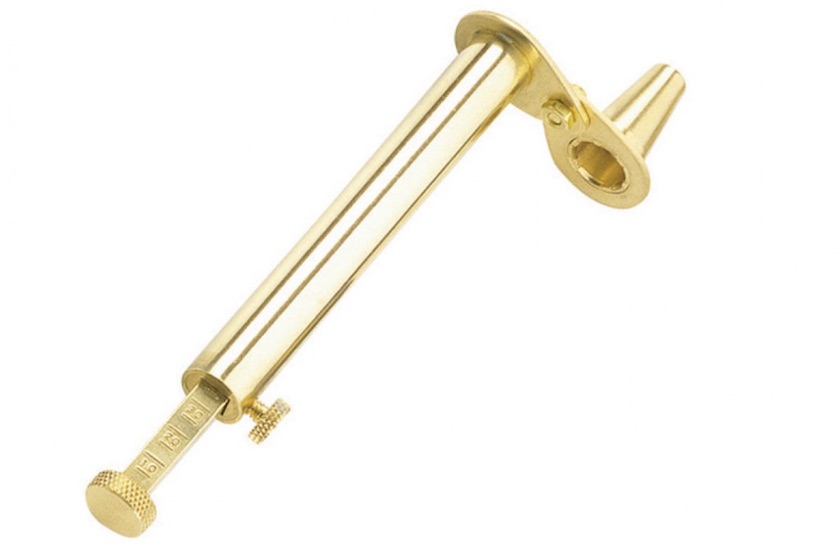 It's essential that you always load your muzzleloader with the correct amount of powder for optimum (and safe) performance. While loading pelletized powder is a relatively straightforward process, you'll need a powder measure of some sort if you're using loose powder. This applies equally to both black powder and black powder substitutes like Pyrodex, Triple Seven, and Blackhorn 209.
This is the exact powder measure that I use with all my muzzleloaders and it works extremely well. Just loosen the screw at the bottom, slide the adjustment bar out to the desired powder charge, fill the measure with powder from a flask or powder horn, then use the attached funnel to pour the powder down the muzzle of your muzzleloader.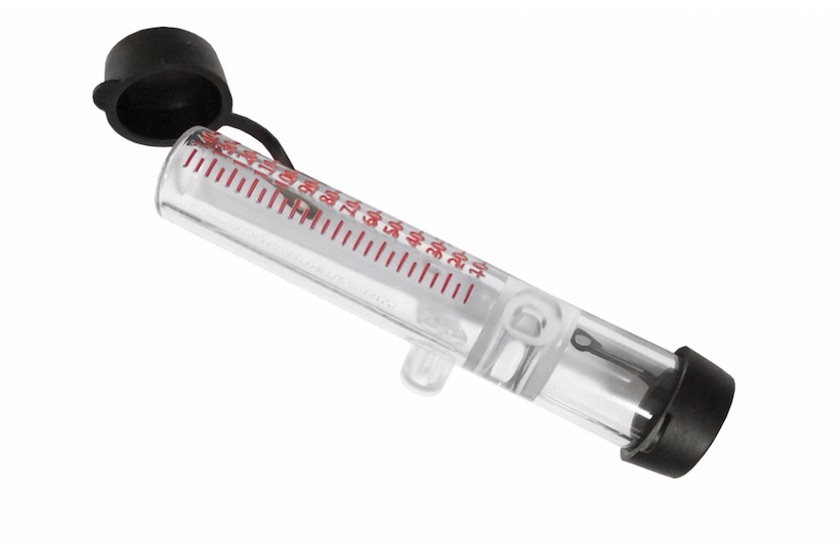 A speed loader is a great way to combine several different tools into one in order to reduce the amount of muzzleloader supplies you'll need to carry afield on a hunt and to shave as much time possible off the loading process. Both of the all-in-one kits above include three of these speed loaders, but I like to have a couple of additional ones on hand.
This particular speed loader can hold up to 140 grains of loose or pelletized black powder and has a volumetric marking system on the side. It also has a separate compartment on the other side to hold a round ball or a conical bullet .38 to .54 caliber in size (with or without a sabot). It also has a bullet starter and a recessed spot to insert the ramrod for assistance when loading
To use it, simply remove the cap on the powder compartment and pour the powder down the barrel. Then, open the other cover and remove the bullet. Use the built-in shot starter to begin pushing the bullet or ball down the barrel. Then, insert the ramrod in the indicated spot to use the speed loader as a palm saver device when pushing the projectile down the barrel and seating it firmly against the powder charge.
While the other features are great, I personally use the speed loaders primarily to store ammo in the form of a pre-measured powder charge along with a bullet for fast reloading afield or at the range. I use the brass powder measure we just discussed for more precise measurement of the powder charge and the bullet starter below for actually starting and seating bullets in my muzzleloader.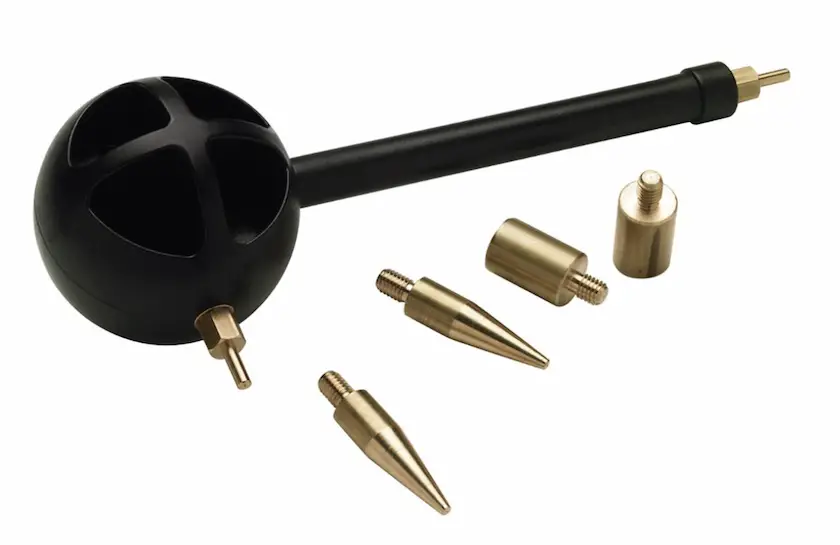 Proper alignment of your projectile is very important for the best accuracy. Well, a good bullet starter is an essential tool to add to your shooting supplies for optimum bullet alignment in a muzzleloader.
This polymer bullet starter comes with six loading jags for use with round balls, hollow point bullets, or polymer tipped conical bullets. Using the correct jag will prevent damage to the projectile while loading. In particular, the Hornady SST and the Barnes TEZ bullets are especially susceptible to tip damage, so make sure you use the appropriate loading jag with those bullets..
To use the bullet starter, simply attach the correct tip to both the long and short starter on the bullet starter, place the projectile at the end of the muzzle, use the short starter to push the bullet into the barrel, use the long starter to push the bullet further down the barrel, then use the large ball shaped portion of the bullet starter as a palm saver device on the ramrod to fully seat the projectile against the powder charge.
This is the exact same bullet starter that's included in the all-in-one inline kit, so there's no need to buy another one if you plan on getting the kit.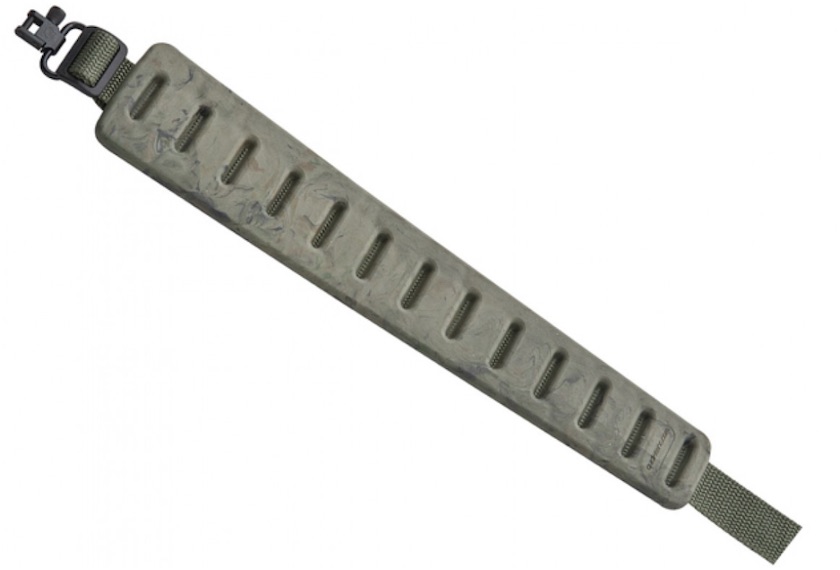 A sling is a really underrated muzzleloader accessory for hunters and can really be useful to have when you need both hands free for another task, like navigating rough terrain or dragging a deer to your truck at the end of a successful hunt. This particular model of the Quake Claw sling has a great non-slip pad that's also very durable and lightweight. It's compatible with standard quick detach sling studs, so you can use it on most muzzleloaders as well as modern rifles and shotguns as well.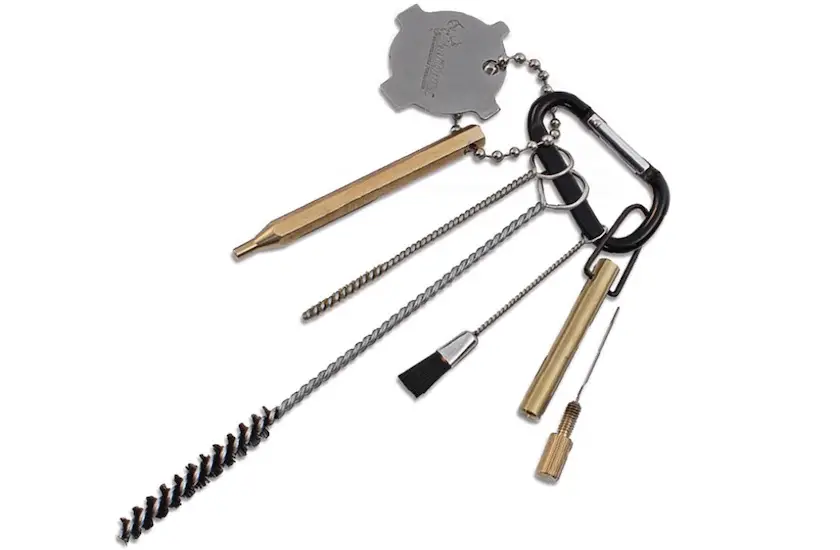 Flintlock muzzleloaders require some additional tools that aren't required by percussion muzzleloaders or modern inlines. Fortunately, Traditions produces this great kit that contains some of the most important items on a carabiner that's easy to attach to a belt loop or range bag. It contains a fire channel brush, nylon round cleaning brush, cleaning pick, pan brush, a small four sided screwdriver, and a bras top jaw rod.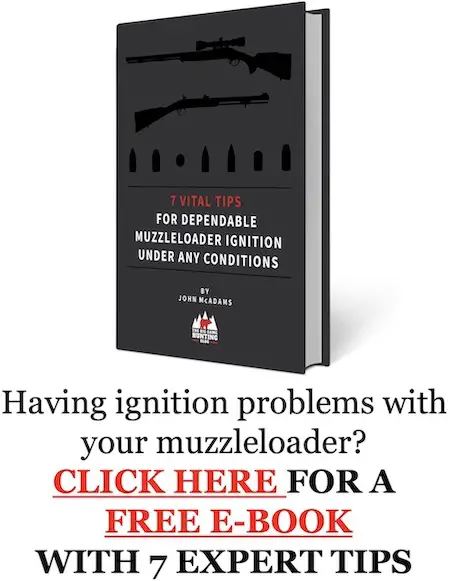 While this post covers choosing the right muzzleloader supplies, that's only a single part of the equation when hunting with a muzzleloader. For more detailed information on choosing the right primer, propellant, bullets, sights, and scopes, check out these other articles:
11 Best Muzzleloaders For Hunters
5 Of The Best Traditional Muzzleloaders For Hunters
15 Of The Best Muzzleloader Primers For Igniting Your Powder
Blackhorn 209 vs 777 vs Goex Black Powder: Which One Should You Use In Your Muzzleloader?
These Are The Best Brands Of Black Powder and Black Powder Substitutes You Should Be Using In Your Muzzleloader
13 Of The Best Muzzleloader Bullets For Hunters
9 Best Muzzleloader Scopes For Hunters
These Are The Best 9 Best Muzzleloader Sights For Hunters
101 Best Gifts For Hunters To Put On Your Wish List
11 Best Hunting Ear Protection Options For Hunters
Enjoy this article on the most important muzzleloader supplies for hunters in 2023? Please share it with your friends on Facebook and Twitter.
Make sure you subscribe to The Big Game Hunting Podcast and follow The Big Game Hunting Blog on Facebook, Instagram, Twitter, and YouTube.