What is the best traditional muzzleloader for you?
I think many hunters will likely agree that there's a certain purity associated with using a traditional muzzleloader while afield. Inline muzzleloaders certainly have their place (and I have nothing against hunters who use them), but traditional muzzleloaders are just really satisfying and fun to hunt with.
Let's be clear: hunting with a traditional muzzleloader isn't easy and successfully taking a big game animal with one requires a lot of patience, dedication, care, and practice. My very first muzzleloader was a Thompson Center New Englander and it took me a while to become proficient with it. However, there's no feeling that can compare with the feeling of having it all come together on a hunt with a muzzleloader that looks and functions in a very similar manner to what American pioneers and frontiersmen used centuries ago.
Another big advantage of hunting with a traditional muzzleloader is that the hunting regulations in just about every state (even the Pennsylvania primitive weapon season) permit the use of them. Check the regulations in your area first, but there are generally fewer rules that restrict hunting with traditional muzzleloaders when compared to hunting with inline muzzleloaders.
While there are some outstanding traditional muzzleloader choices these days, they're not all created equal and some are much better choices for hunters than others.
So with all that in mind, I'm sharing my picks of the best traditional muzzleloaders for hunters in 2021 so you can make an informed decision and choose the best traditional muzzleloader for you.
Before we get started, here's a disclaimer: some of the links below are affiliate links. This means I will earn a small commission if you make a purchase.
This commission comes at no extra cost to you. This helps support the blog and allows me to continue to create free content that's useful to hunters like yourself. Thanks for your support.
Now that we've got that out of the way, let's get started.

Based on the famous Hawken Rifle that was so popular among settlers, fur traders, and mountain men in the Great Plains and Rocky Mountains during the early 1800s, the Lyman Great Plains rifle is an excellent all around traditional muzzleloader for hunters.
The Lyman Great Plains Rifle has a 32″ octagonal barrel with a 1:60″ twist rate. That rifling twist is too slow to stabilize conical bullets, but it's just about perfect for a patched round ball.
The Great Plains Rifle is available in both .50 and .54 caliber as well as flintlock and percussion style ignitions. The percussion ignition models use either #11 caps or musket caps. You can also purchase a kit and assemble the rifle yourself if you'd like.
Lyman rifles are known for their quality workmanship and reasonable prices and the Great Plains Rifle is no different. The walnut stock and blued barrel both look beautiful and the adjustable double-set trigger helps facilitate excellent accuracy. All in all, this is a perfect traditional muzzleloader for a hunter looking for a beautiful and functional muzzleloader at a reasonable price.
Overall Length: 50″
Barrel Length: 32″
Rifling Twist: 1:60″
Caliber: .50 or .54 Caliber
Ignition System: Flintlock or Percussion
BUY A LYMAN GREAT PLAINS RIFLE HERE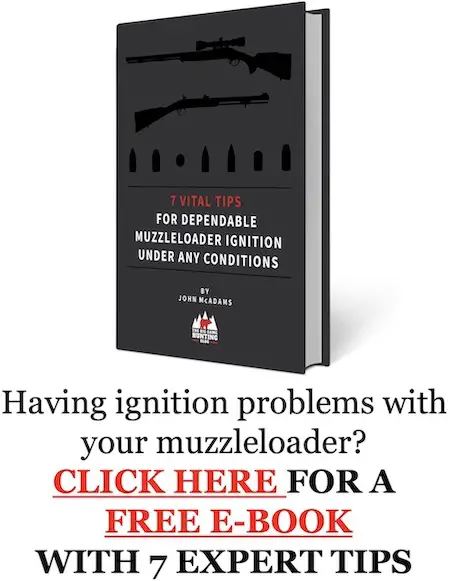 The Lyman Great Plains Hunter rifle is very similar to their Great Plains Rifle with one very important difference: the Great Plains Hunter has a faster 1:32″ rifling twist. For that reason, the Great Plains Hunter is a better choice for using heavier conical bullets.
Those heavier conical bullets are a little better suited for longer range shots as well as for use on bigger game like elk, bear, and moose than round balls. Additionally, the Great Plains Hunter Rifle still shoots a patched round ball pretty well for those hunters who want a little bit of flexibility with their bullet choices.
This traditional muzzleloader has the same octagonal blued barrel, adjustable double set triggers, wooden ramrod, and walnut stock as the Great Plains Rifle. It's also available in .50 and .54 caliber as well as either percussion or flintlock rifles. Southpaws can also purchase a left-handed model as well.
While the Great Plains Rifle is a great traditional rifle for hunting, hunters who prefer conical bullets should lean towards the Great Plains Hunter model instead.
Overall Length: 50″
Barrel Length: 32″
Rifling Twist: 1:32″
Caliber: .50 or .54 Caliber
Ignition System: Flintlock or Percussion
BUY A LYMAN GREAT PLAINS HUNTER HERE

No list of the best traditional muzzleloaders for hunters would be complete without a Kentucky Rifle. With a full-length walnut stock, beautiful solid brass furniture, an octagonal 33 1/2″ rifled barrel, an authentic wooden ramrod, and a case hardened lock, this .50 caliber rifle will help you channel your inner Daniel Boone or Davy Crockett.
Similar to the Lyman Great Plains Rifle, the Traditions Kentucky Rifle has a relatively slow 1:66″ rifling twist rate that's best suited for patched round balls. Sabots and conical bullets probably won't shoot very well in this muzzleloader, but then again, hunters back in the very early days of American history did just fine using patched balls in their long rifles.
Though the model pictured above has a percussion ignition system, Traditions also produces this exact hunting rifle with a flintlock ignition system. Additionally, if you want the full hands on experience of assembling a muzzleloader for yourself, you can also purchase both the flintlock and percussion cap (caplock) ignition models of this rifle as kits.
Overall Length: 49″
Barrel Length: 33 1/2″
Rifling Twist: 1:66″
Caliber: .50 Caliber
Ignition System: Flintlock or Percussion
BUY A TRADITIONS KENTUCKY RIFLE HERE

Davide Pedersoli in Italy also makes a reproduction of the legendary Hawken rifle. Though there's nothing wrong with the Lyman Great Plains Rifle, the Pedersoli Missouri River Hawken is in another league entirely.
These traditional muzzleloaders feature either a one piece American Maple (pictured) or American Walnut stock along with a color case-hardened percussion lock. Pedersoli was trying to build a masterpiece reproduction of the classic Hawken rifle and they largely accomplished their goal.
While these traditional sidelock muzzleloaders are indeed beautiful works of art, they're extremely well built and are excellent hunting rifles as well. Indeed, the Pedersoli Hawken has a 30″ octagon barrel with a tight 1:24″ rifling twist rate. This makes those rifles well suited for using round balls, conicals, and even saboted bullets. Pedersoli's incredible attention to detail also translates into excellent accuracy as well as stunning looks.
Pedersoli only produces this rifle with a percussion ignition system, though it's available in both .45 and .50 caliber with either a walnut or a maple stock. With all that in mind, this is the perfect traditional muzzleloading rifle to display above the mantle or to take afield in pursuit of game.
Overall Length: 46 7/8″
Barrel Length: 30″
Rifling Twist: 1:24″
Caliber: .45 or .50 Caliber
Ignition System: Percussion
BUY A PEDERSOLI MISSOURI RIVER HAWKEN HERE

The Pedersoli Brown Bess musket is another interesting choice for a traditional muzzleloader that has a lot of history behind it. However, from an American perspective, the Brown Bess is unique for being used primarily on the other side of the conflicts fought in the 1700s and early 1800s in North America.
As a .75 caliber smoothbore musket, the Brown Bess is also a somewhat unusual choice for hunters. Even so, it's still a very capable hunting muzzleloader at short range and the British military used it for many decades for the simple reason that it worked very well for them. You're limited to using a patched round ball with the Brown Bess, but those large bullets hit hard and have plenty of stopping power inside their effective range.
Pedersoli manufactures the Brown Bess as a fully assembled product as well as a kit you can finish yourself.
Overall Length: 58 1/2″
Barrel Length: 42″
Rifling Twist: Smoothbore
Caliber: .75 Caliber
Ignition System: Flintlock
BUY A PEDERSOLI BROWN BESS HERE
While this post covers choosing the right traditional muzzleloader, that's only a single part of the equation when hunting with a muzzleloader. For more detailed information on choosing the right primer, propellant, bullets, sights, and scopes, check out these other articles:
15 Of The Best Muzzleloader Primers For Igniting Your Powder
Blackhorn 209 vs 777 vs Goex Black Powder: Which One Should You Use In Your Muzzleloader?
These Are The Best Brands Of Black Powder and Black Powder Substitutes You Should Be Using In Your Muzzleloader
13 Of The Best Muzzleloader Bullets For Hunters
9 Best Muzzleloader Scopes For Hunters
These Are The Best 9 Best Muzzleloader Sights For Hunters
11 Best Muzzleloaders For Hunters
101 Best Gifts For Hunters To Put On Your Wish List
Essential Muzzleloader Supplies Every Hunter Needs
Enjoy this article on the best traditional muzzleloaders for hunters in 2021? Please share it with your friends on Facebook and Twitter.
Make sure you subscribe to The Big Game Hunting Podcast and follow The Big Game Hunting Blog on Facebook, Instagram, Twitter, and YouTube.