Which muzzleloader sights should you use this hunting season?
I think most hunters will agree that it can be pretty challenging to shoot a muzzleloader accurately, especially without a scope. There are many reasons why hunters struggle with getting the best possible accuracy out of their muzzleloader, but the fact that few hunters use quality muzzleloader sights is one of biggest contributors to those issues.
Fortunately, that's a relatively easy problem to fix and there are a number of good muzzleloader sight systems currently available on the market that offer a significant upgrade in performance over the standard open sights that most muzzleloaders come from the factory with.
Since I first started hunting with a muzzleloader, I've tried out several a number of different muzzleloader sights and have gotten excellent results from several of them. Choosing the best iron sights for your muzzleloader really depends on what conditions you hunt in and what you're trying to accomplish though.
For instance, a person who takes most of his or her shots at relatively close range in low light conditions needs different muzzleloader sights than a hunter who takes shots at a much longer range during a hunt in more open country.
In this post, I'm going share my picks of the best muzzleloader sights for hunters and what situations each different sight is best in.
Before we get started, here's a disclaimer: some of the links below are affiliate links. This means I will earn a small commission if you make a purchase.
This commission comes at no extra cost to you. This helps support the blog and allows me to continue to create free content that's useful to hunters like yourself. Thanks for your support.
Now that we've got that out of the way, let's get started.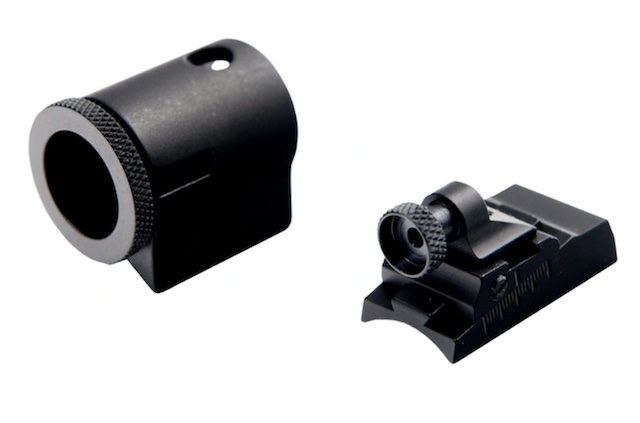 The Williams Western Precision Muzzleloading Sight is the perfect choice for hunters who want the absolute best sights for use in states that do not allow scopes on muzzleloaders. This sight set includes a Williams WGRS rear peep sight and a new front globe sight.
Competition shooters have used globe front sights for years and muzzleloader hunters have discovered the benefits of globe sights in recent years. Well, this is a new model sight set that includes a good quality rear peep and globe front sight that's specifically designed for easy installation without requiring any dovetail mounts or additional bases.
Without a doubt, this is the best muzzleloader sight for hunters who want to stretch their range to use in states like California, Colorado, Idaho, Oregon, Nevada, and Washington. The globe front sight includes several different reticles. However, perhaps the most useful is the reticle that includes a crosshair with an additional BDC sub-tension line below to use as a reference point for holdover at ranges past your zero range.
If you're looking for the mass produced muzzleloader sight that provides the best balance of precision and extended range performance, then you should definitely purchase a Williams Western Precision Muzzleloading Sight. Nothing else on the market can even come close right now.
The sight linked below will work on CVA, Knight, T/C, and Traditions muzzleloaders. This model sight will work on a Remington 700 UML.
BUY A WILLIAMS WESTERN PRECISION SIGHT SET HERE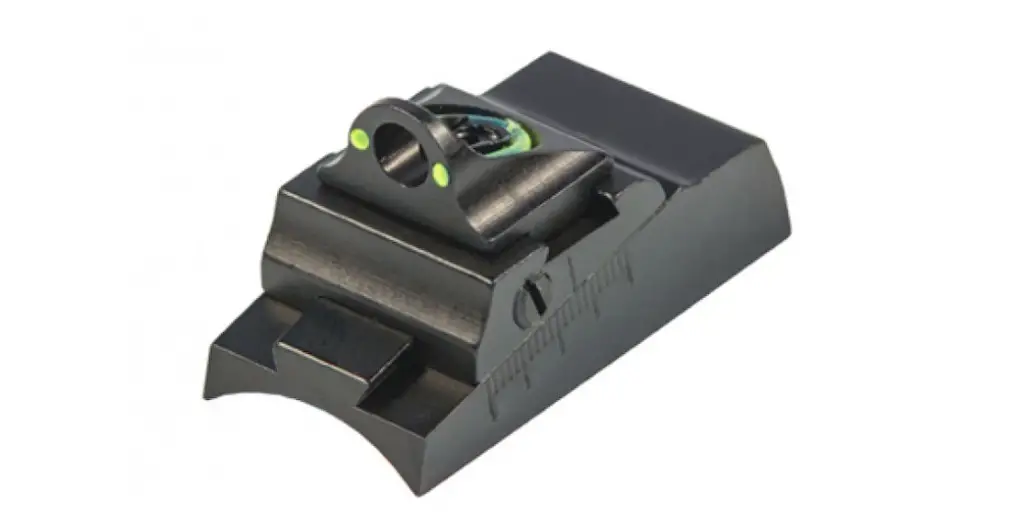 Compared to open sights, an aperture sight (also known as a peep sight) is much more precise. Ghost ring sights have a thinner rear sight ring than typical peep sights, which speeds up target acquisition, obscures less of the target, and allows more light to reach the eye of the shooter. The disadvantage to using a ghost ring is that it's slightly less precise than a target style peep sight, but it still offers a gigantic step up in performance over open sights.
With two fiber optic green dots on either side of the aperture, the Williams Ghost Ring by Williams Gun Sight is designed for use with a fiber optic front sight and combines the excellent low light performance of fiber optic muzzleloader sights with the precision of a peep sight. It's also very lightweight, inexpensive, and easy to install. The Williams Ghost Ring can also be used to replace the rear aperture on the Williams Ace In The Hole Rail (more on that in a minute).
For those reasons, this is probably the best muzzleloader sight for most hunters who prioritize low light performance over extreme precision.
BUY A WILLIAMS GHOST RING SIGHT HERE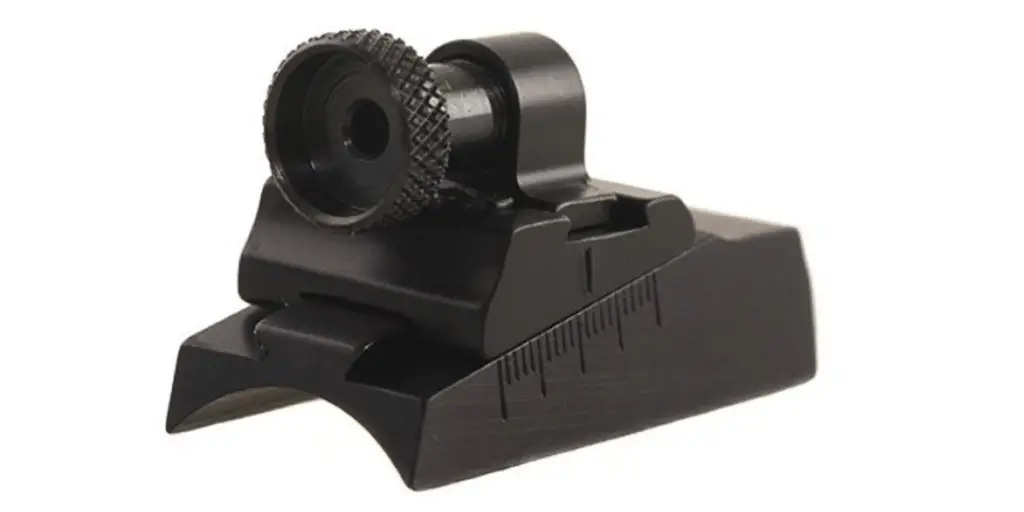 The Williams Peep Sight is very similar to the Williams Ghost Ring, but has a smaller aperture and lacks the fiber optic green dots on either side. This results in a little bit more precision in exchange for less light gathering capability. With that in mind, if you value precision aiming over improved low light performance, then the Williams Peep Sight is probably the better choice for a muzzleloader sight than the Williams Ghost Ring.
Williams manufactures separate versions of their peep sight designed for CVA muzzleloaders with round (also fits Traditions BuckStalker, Vortek, and Pursuit rifles) and octagon barrels (also fits Traditions Deer Stalker, Vortek, and Pursuit rifles) as well a version designed for Thompson/Center muzzleloaders.
Note: most muzzleloaders require a shorter front sight when using the Williams Peep Sight. Luckily, Williams also produces a shortened front sight ramp designed for use with this aperture sight.
BUY A WILLIAMS PEEP SIGHT HERE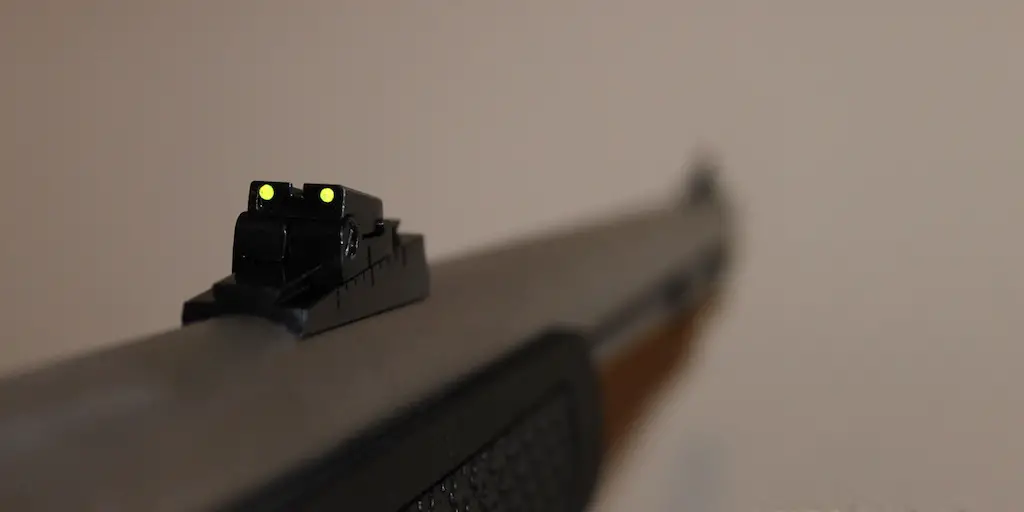 Fiber optic muzzleloader sights are similar to traditional open sights in many ways. However, the biggest difference between them is that fiber optic sights incorporate short pieces of optical fiber that gather light along their entire length and concentrate that light at the ends. Unlike Tritium sights or sights coated with phosphorescent paint, fiber optic sights don't actually glow in the dark, but they are much easier to see than traditional iron sights during low light conditions. They also don't need to be "charged" like some types of glow in the dark paint and do not wear out over time like Tritium and other radioactive isotopes.
Basically, if there is still enough light to properly identify a target, then there is enough light to use fiber optic sights. For this reason, using fiber optic sights can result in a couple extra minutes of practical shooting light when compared to traditional iron sights.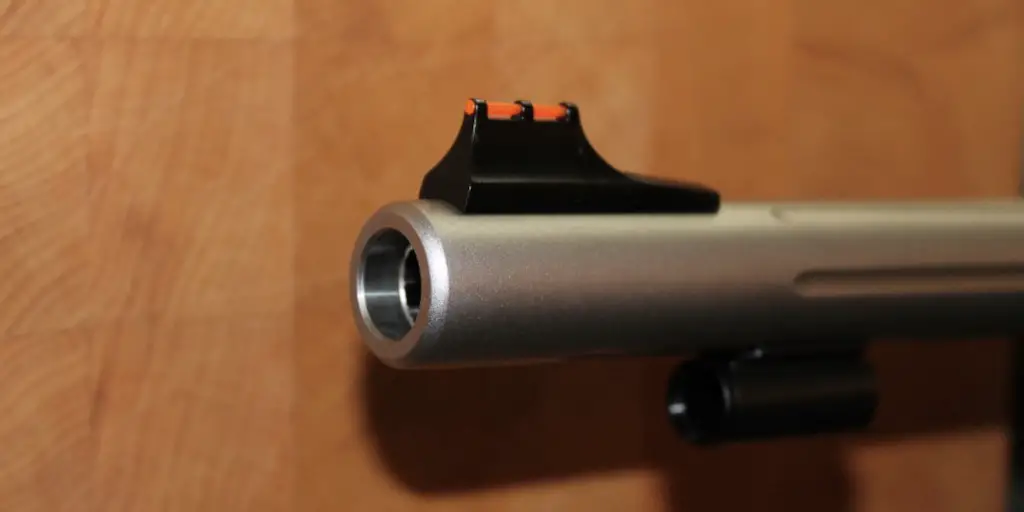 Unfortunately, fiber optic sights have a lot of the same disadvantages as standard muzzleloader iron sights like a relative lack of precision, limited field of view, and a shorter sight radius. Even so, they aren't very expensive and their low light performance gives fiber optic sights a big advantage over a regular iron sight setup. Many inline muzzleloaders come from the factory with these sights. For instance, CVA muzzleloaders come standard with a set of DuraSight/DuraBright fiber optic sights.
Fortunately, there are also a lot of options out there like the Williams Fire Sight set that will fit CVA, Savage, Winchester, and Knight rifles that don't already have fiber optic sights. It's even possible to buy an aftermarket fiber optic sight set for traditional muzzleloaders like the Cabela's Hawken or T/C New Englander to take advantage of their low light performance.
Finally, these fiber optic front sights will often still work with a peep sight for hunters who choose to upgrade.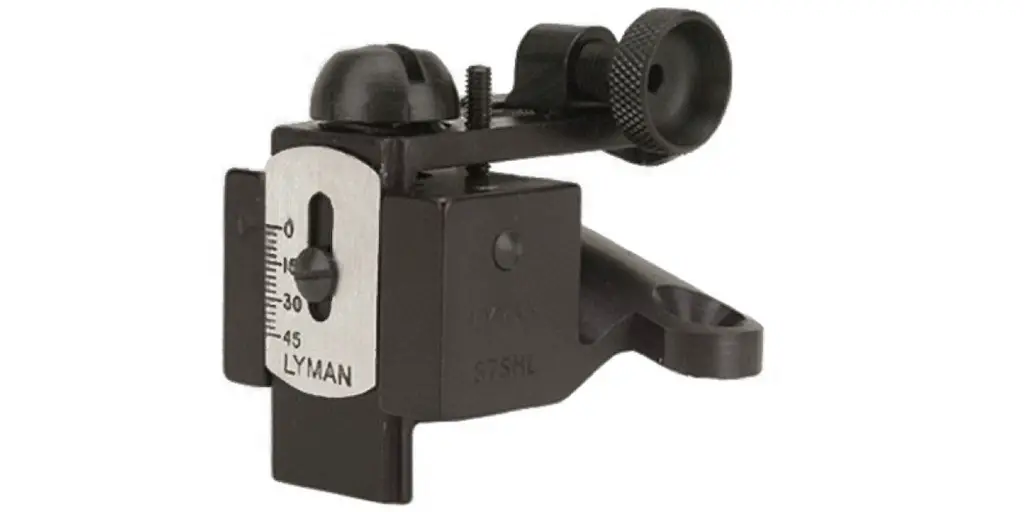 Lyman has long been known for making high quality centerfire peep sights with precise elevation adjustment and their line of muzzleloader sights is no exception. These are the best muzzleloader sights for hunters who use traditional Lyman muzzleloaders. The SML model receiver sight fits the Lyman DeerStalker and Trade Rifles. It might also work on the Thompson Center Hawken. The GPR model fits the Lyman Great Plains Rifle.
BUY A LYMAN RECEIVER PEEP SIGHT HERE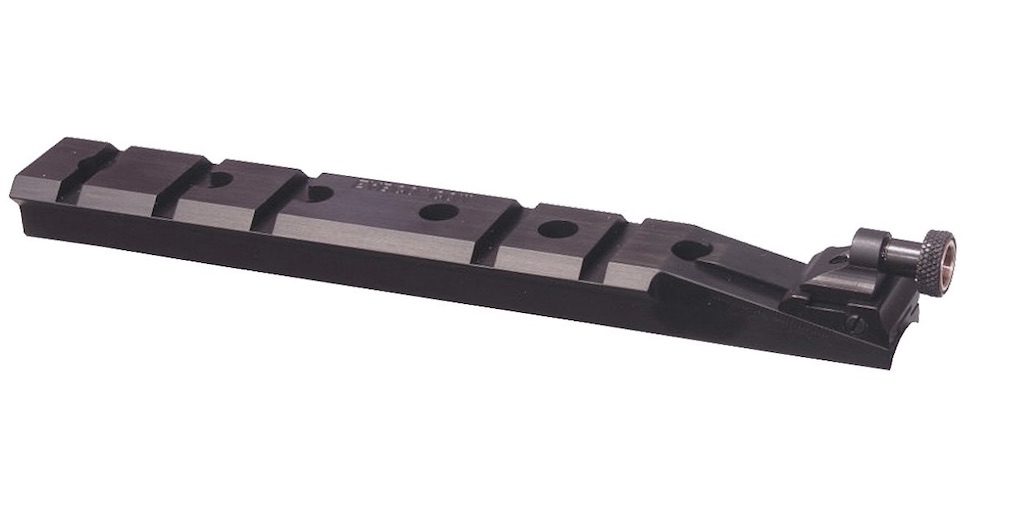 Similar in many respects to the Williams Ace in the Hole, the E. Arthur Brown Company Peep Rib also combines a peep sight with a scope mounting base. It's not a true Picatinny Rail like the Ace in the Hole, but it's still really easy to use and works extremely well. When compared to the Ace in the Hole, I was also able to mount the EABCO Peep Rib closer to the receiver and thereby increase the sight radius by another couple of inches on my CVA Wolf Northwest. They're both great muzzleloader sight choices though, so choosing between them is really just a matter of personal preference.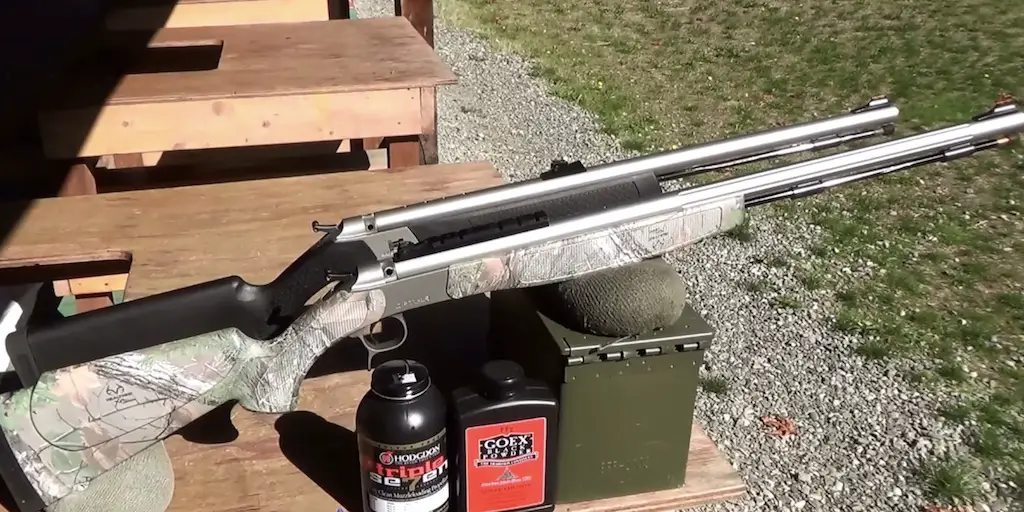 The CVA Optima Northwest in the photo below (closest to the camera) has an EABCO PeepRib on it with the peep aperture right next to the breech plug. Note how much longer the sight radius is with the PeepRib than with the standard rear sight on the CVA Wolf.
The E. Arthur Brown Company makes slightly different versions of the Peep Rib designed to fit CVA muzzleloaders (Accura, Kodiak, Optima, and Wolf), Thompson/Center muzzleloaders (Encore, Impact, Omega, Pro Hunter, and Triumph), and Traditions muzzleloaders (Pursuit and Vortek).
BUY AN EABCO PEEP RIB SIGHT HERE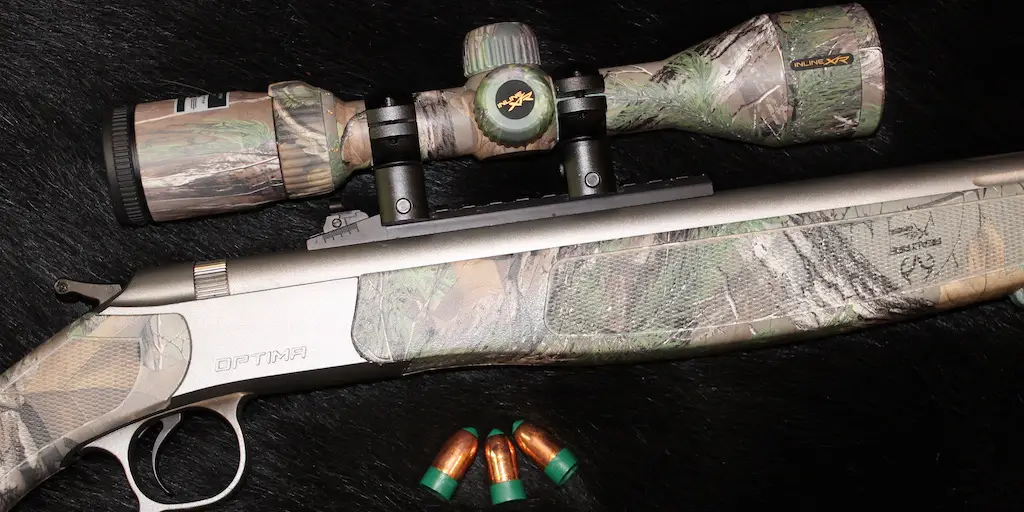 In addition to their line of regular muzzleloader peep sights, Williams also makes a novel product in the Ace in the Hole Picatinny Rail sight. In short, the Ace in the Hole is designed to be mounted using the existing holes drilled in many muzzleloaders for scope rings and provides a combination of a quality peep sight and a Picatinny Rail. This set up moves the rear sight closer to the receiver, thereby increasing the sight radius. It also allows hunters easily to mount a muzzleloader scope or a red dot sight. This rail sight is also compatible with the Williams Ghost Ring Sight.
All things considered, this is an extremely adaptable muzzleloader sight that enables hunters to go back and forth between using iron sights and a scope without disturbing the zero of either one. For instance, I use to hunt in Washington (which prohibited scopes during muzzleloader season) and Texas (which allowed scopes). I'd use the peep sight in Washington and then put my scope back on when I'd hunt in Texas. Making that switch was a snap thanks to the Ace in the Hole rail sight.
Even if you don't ever plan on using a scope, don't underestimate the benefits of an increased sight radius. I noticed a marked improvement in my accuracy when I switched over to a rail sight.
Williams makes versions of their Ace In Hole rail sight designed to fit CVA (CVA Accura, Apex, Buckhorn Optima, and Wolf) and Traditions (Buckstalker, Pursuit, and Vortek) as well as Thompson/Center muzzleloaders (Encore, Endeavor, Impact, Omega, Pro Hunter, and Triumph).
BUY A WILLIAMS ACE IN THE HOLE PICATINNY RAIL SIGHT HERE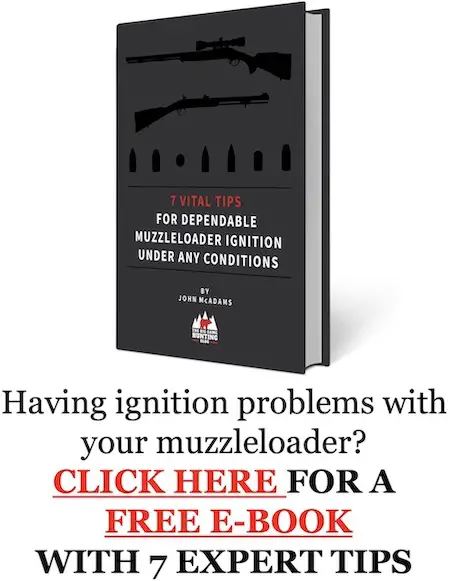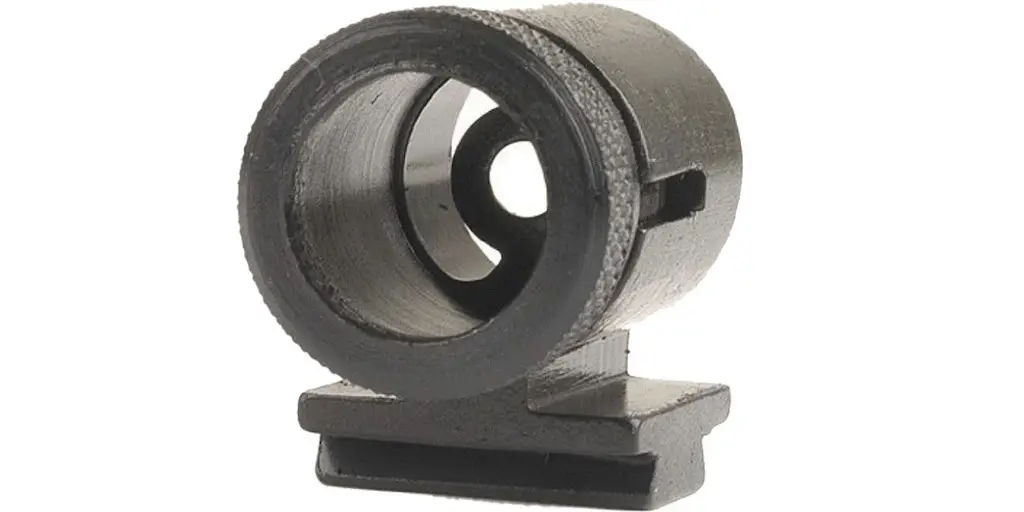 Though this article has mainly focused on various rear sight choices up until this point, shooters who want to get the best possible accuracy with iron sights use a globe front sight combined with an aperture rear sight. When using the proper front sight insert, the precision of a globe sight is unsurpassed. After all, there's a reason why competition shooters use a globe front sight.
With that in mind, the Lyman Globe is an ideal choice for hunters who need to connect on a long range shot with a muzzleloader. It's .404″ high, fits in a standard 3/8″ dovetail, comes with 8 different inserts, and works with many peep sights (like the Williams Peep discussed earlier).
BUY A LYMAN GLOBE FRONT SIGHT HERE
Open Sights
Open sights like these are simple to use, lightweight, durable, and very inexpensive. That's why a lot of muzzleloaders come from the factory with some sort of open sight like a buckhorn or a semi-buckhorn rear sight.
While they do work fine for some applications, open sights are the least precise iron sights for a muzzleloader (or any firearm for that matter). They also have a limited field of view and block out the lower half of the target. Perhaps somewhat counterintuitively, they're also the slowest type of iron sights to aim with. Additionally, they aren't great for use during periods of reduced lighting.
Finally, muzzleloaders with open sights normally have the rear sight mounted part of the way down the barrel instead of close to the receiver. This results in a shorter sight radius, which further reduces the precision of these sights.
Final Thoughts
While this post covers choosing the right muzzleloader sights, that's only part of the equation when hunting with a muzzleoader. For more detailed information on choosing the right primer, propellant, bullets, and muzzleloader, check out these other articles:
15 Of The Best Muzzleloader Primers For Igniting Your Powder
Blackhorn 209 vs 777 vs Goex Black Powder: Which One Should You Use In Your Muzzleloader?
These Are The Best Brands Of Black Powder and Black Powder Substitutes You Should Be Using In Your Muzzleloader
15 Of The Best Muzzleloader Bullets For Hunters
9 Best Muzzleloaders For Hunters
5 Best Traditional Muzzleloaders For Hunters
Essential Muzzleloader Supplies Every Hunter Needs
101 Best Gifts For Hunters To Put On Your Wish List
11 Best Hunting Ear Protection Options For Hunters
Enjoy this article on the best muzzleloader sights? Please share it with your friends on Facebook and Twitter.
Make sure you subscribe to The Big Game Hunting Podcast and follow The Big Game Hunting Blog on Facebook, Instagram, Twitter, and YouTube.