Nosler's new Model 21 rifle provides a rare combination of reliability, precision, and portability not often found in hunting rifles. Learn all the details about this new rifle in my Nosler M21 review.
Most hunters will probably agree that a good hunting rifle must be accurate, unfailingly reliable, and easy to carry. Additionally, more and more hunters these days want a rifle that delivers good extended range performance, which is much more difficult to obtain than just shooting "minute of deer" at 100 yards.
Many rifles check one or two of those boxes, but it's very rare to find one that excels in all those areas. Those that do are often custom jobs that typically cost an arm and a leg.
Nosler aimed to break that paradigm with their new Model 21 rifle, which they designed to perform at the level of a full custom build, but do so at a much lower price.
Did they succeed? Or are you better off spending your money elsewhere?
I got the chance to evaluate the new Nosler Model 21 rifle last year. I put that rifle through the paces at the range and afield over the course of a few months and I'm pleased with how things turned out.
This article is an in-depth Nosler M21 review where I go over the pros and cons of the M21 rifle in detail so you can make an informed decision regarding whether or not it fits your needs as a hunter.
Before we get started, I have an administrative note:
Some of the links below are affiliate links. This means I will earn a small commission if you make a purchase. This commission comes at no extra cost to you. This helps support the blog and allows me to continue to create free content that's useful to people like you. Thanks for your support.
What Is The Nosler M21 And What Makes It Unique?
Nosler is best known for their bullets, especially their legendary Partition that John Nosler designed after his famous encounter with a moose up in Canada. However, they've produced high quality hunting rifles for a long time and have a growing reputation in that area.
Indeed, their M48 series of rifles delivered the accuracy necessary to place shots with pinpoint accuracy at extended range combined with enough portability to make it easier to carry for an extended hunt in rough terrain.
Well, Nosler released the next generation of their rifle line in late 2021: the Model 21.
Designed in partnership with the Mack Brothers of South Dakota, the Nosler Model 21 uses a modified version of their popular EVO action, which is an accurate and reliable push-feed design. According to Nosler, the Model 21 blends most of the best features of the EVO with a few unique Nosler-engineered customizations using premium component thrown in as well.
First off, it's important to realize that this rifle is designed specifically for hunters and is built with their needs in mind. In my opinion, too many "hunting rifles" are simply rebranded match rifles that, while they're often capable of incredible accuracy, are too heavy and cumbersome for use afield.
A good hunting rifle must be accurate as well, but should also be more portable and handle better for a fast shot than a match rifle.
Well, Nosler brought in Jeff Sipe from Montana Rifle Company to run their rifle department and help design the Model 21.
Since they designed this rifle from the start for hunters, the rifle incorporates a number of design features to help accomplish that goal.
First, the rifle has a McMillan carbon fiber stock that's lightweight, yet strong. The stock also has an all weather finish to protect it from the elements, aluminum pillars for strength, and a 1" recoil pad.
The Model 21 action uses a spiral fluted, Nitride coated bolt built from 4340 Chrome Moly steel. The fluted design helps cut down on weight, make bolt operation smoother, and channel debris to improve reliability. In that same vein, the M21 action may also be disassembled without tools.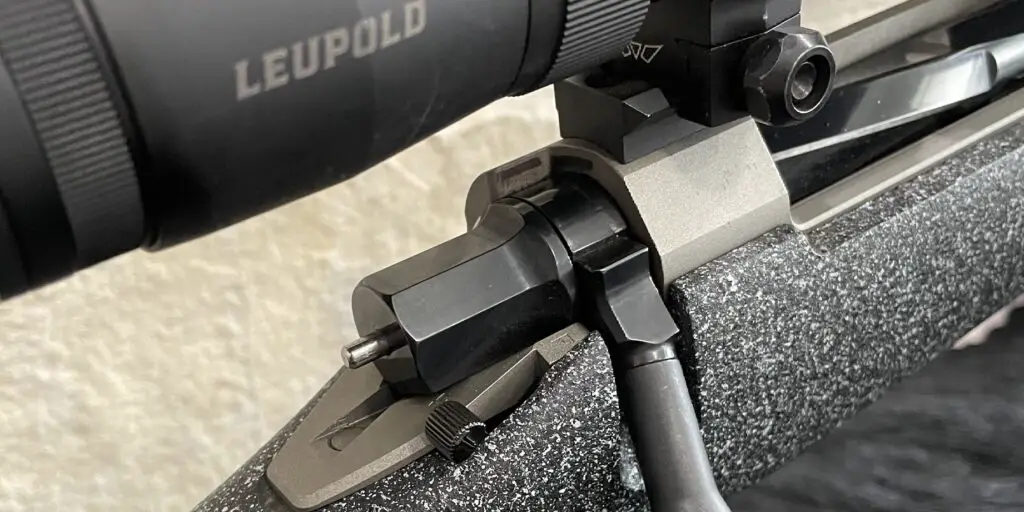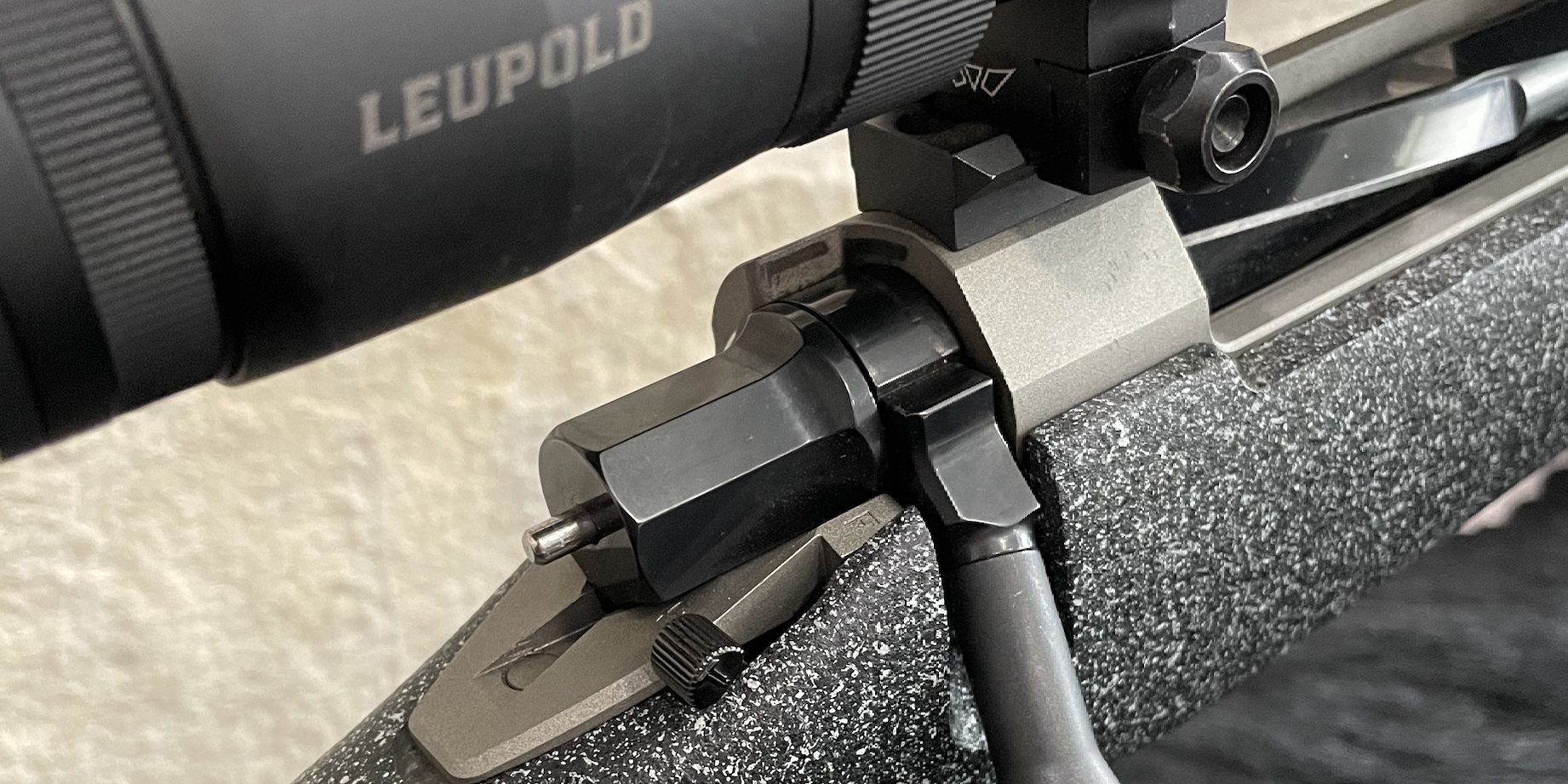 Additionally, the bolt handle is threaded (5/16-24 thread pattern) so the user can easily swap out the existing bolt for a different configuration.
All M21 rifles also have a Shilen match grade stainless steel barrel to deliver outstanding accuracy in a lightweight package. The barrel also has a threaded muzzle (1/2-28 or 5/8-24 thread pattern) and comes with a thread protector. So, it may be used with no muzzle attachment, a muzzle break, or with a suppressor depending on the desires of the owner.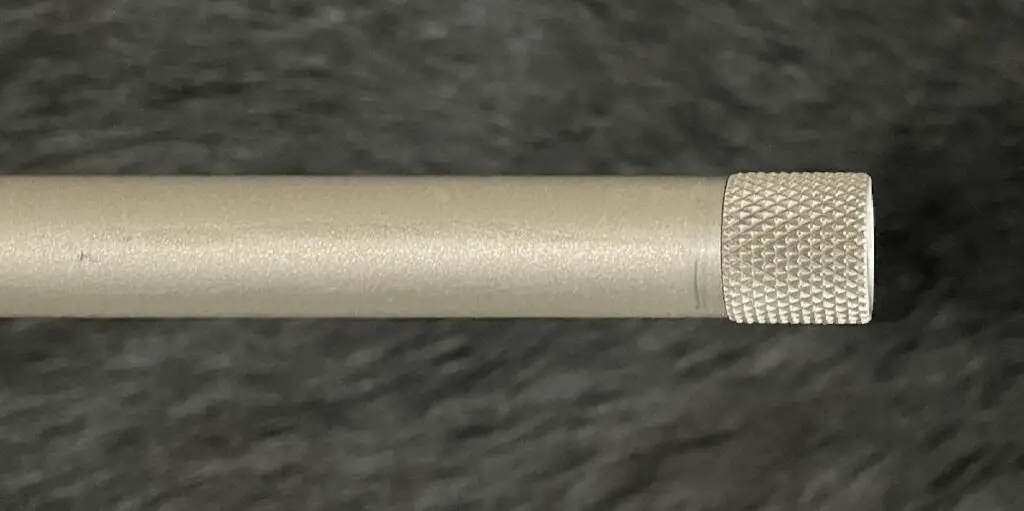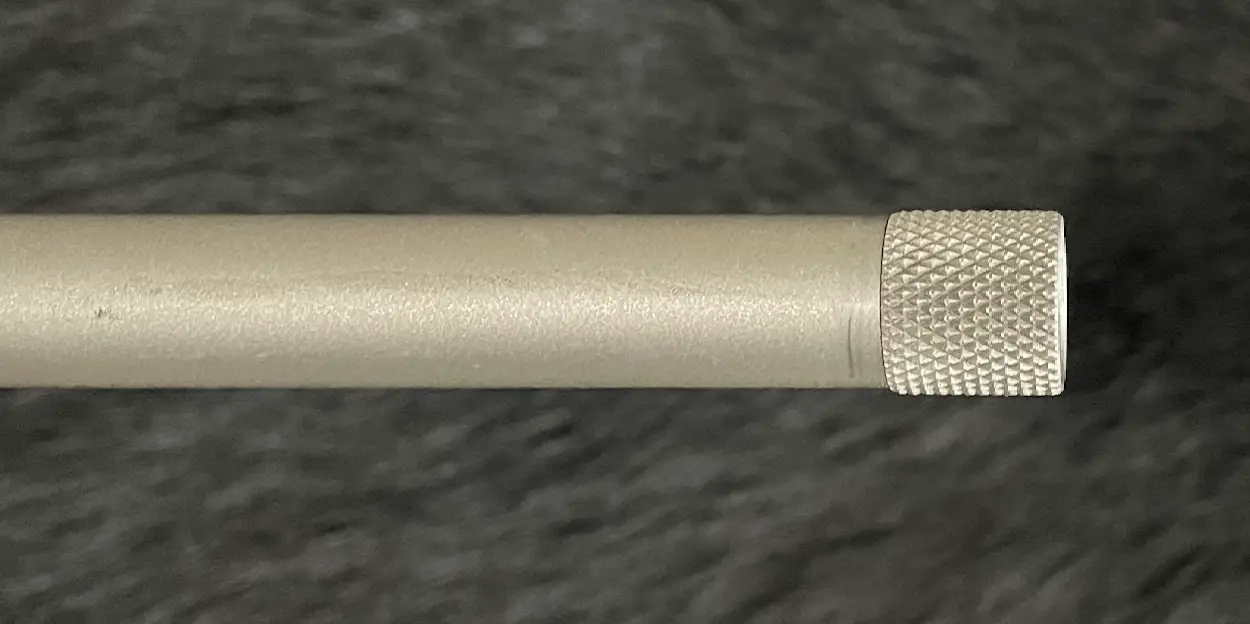 The Nosler Model 21 rifle also comes standard with a TriggerTech Field model trigger. It's really hard to beat a TriggerTech trigger and this particular example of the M21 is an outstanding model that may be adjusted from 2.5-5.5lbs.
Finally, the M21 is currently available in a wide range of both traditional and newer high performance chamberings including: 6.5 Creedmoor, 6.5 PRC, 26 Nosler, 27 Nosler, 280 Ackley Improved, 28 Nosler, 308 Winchester, 300 Winchester Magnum, 30 Nosler, 33 Nosler, and 375 H&H Magnum.
Barrel lengths are either 22″ or 24″ and weight varies from 6.8 to 7.1 pounds depending on the cartridge.
Now that we've covered the basics of the Nosler M21, let's talk about what I like and don't like about it.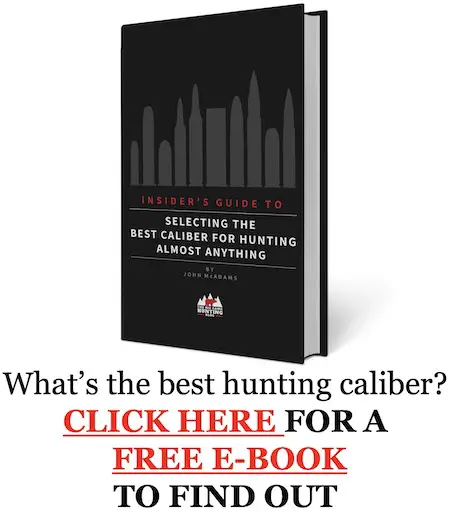 What I Like About It
The folks at Nosler sent me a very early production M21 rifle chambered in the flat shooting 27 Nosler for testing and evaluation in the spring of 2022.
First, this rifle will just flat out shoot!
I mounted a Leupold VX-6HD 3-18x44mm scope on my M21 for use at the range and afield.
Getting ammo was a challenge at first (the ammo shortage was still in full swing), but I did initially source a couple boxes of ammo from Choice Ammunition in Montana loaded with 150gr AccuBond (3,125 fps advertised muzzle velocity) and 150gr Berger VLD bullets (3,188 fps advertised muzzle velocity).
I was eventually able to obtain some Nosler Trophy Grade Long Range ammunition from Nosler loaded with the 165gr Nosler AccuBond Long Range bullets as well (3,158 fps advertised muzzle velocity). Nosler also produces factory ammo for the 27 Nosler using a 150 grain AccuBond (3,250 fps advertised muzzle velocity).
That rifle loved the 150gr AccuBond load from Choice Ammunition and was consistently shooting well under 1 MOA at the range. The Berger bullets were not quite as accurate, but still shot sub-MOA.
The same was true with the AccuBond Long Range ammunition.
It's important to note that this rifle uses a lighter #3 contour barrel. That barrel contour is a good choice for a hunting rifle that provides a great balance of weight and accuracy potential.
However, it will heat up faster than a heavier contour barrel, especially with a fire-breathing magnum like the 27 Nosler. That barrel will be pretty darn hot after shooting a 3 shot group, so take care to let it cool down between shot strings.
Even so, accuracy was great with those 3-shot groups. The 150gr AccuBond, 150gr Berger, and 165gr AccuBond Long Range loads delivered .77 inch, .84 inch, and .97 inch groups on average respectively for me at 100 yards.
I was pretty thrilled with those results, especially since I consistently obtained sub-MOA performance on average with three different hunting loads.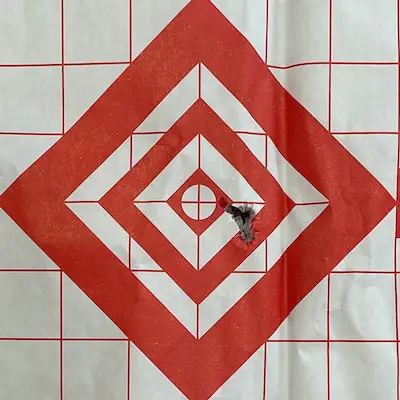 Remember: this is a hunting rifle, not a competition rifle and there's more to building a good hunting rifle than shooting a really small group size.
With that in mind, a hunting rifle needs to be easy to carry and still perform well when shot from various field shooting positions. Fortunately, the Model 21 balances just in front of the front action screw and handles better than almost every other rifle I've shot in the past few years.
Note that adding a muzzle brake or (especially) a suppressor changes the balance characteristics of the rifle and will make it more nose heavy.
I hunted almost exclusively with my M21 wearing a Banish 30 suppressor. This made it a little more awkward to carry and point, but the rifle still handled pretty well.
For instance, I stalked a group of feral hogs on foot one morning last summer and harvested the sow in the photo below with a single shot from my M21. I nearly scored a double that morning when 2 other hogs in that group hung around for another 30 seconds after I dropped that sow. Unfortunately, they were partially obscured from view in thick brush and left without presenting a shot.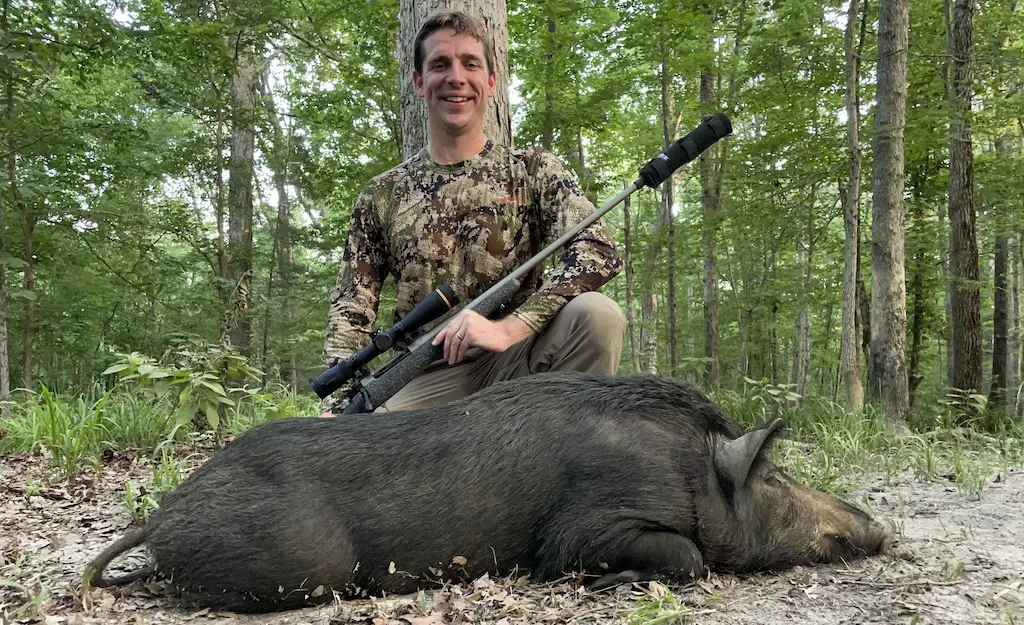 Even so, I was very pleased with the handling characteristics of that rifle, even with a suppressor, that morning as I stealthily crept through the woods without all those hogs detecting me.
I also used a nearby tree as support for my shot and could not have placed my shot more perfectly either, so the M21 definitely did its part that morning.
That rifle received quite a workout at the range over the next few months as I prepared for an elk hunt in Arizona. My local range goes out to 550 yards and, especially after I matched the CDS dial on my scope to the 165gr AccuBond Long Range load, the M21 made reaching out that far almost shockingly easy and I could shoot a saucer sized group (or smaller) on demand before I left on my hunt.
The M21 rifle also proved very reliable at the range and afield. I experienced no feeding, extraction, or ejection issues over the course of putting several hundred rounds through it over the course of several months.
Unfortunately, things didn't quite work out on my elk hunt and, through the rifle was not to blame, I did not end up getting a shot on an elk. However, I carried that rifle on my back as I covered over 50 miles during the course of that week long hunt.
That's never easy with any rifle, but the Nosler M21 was much easier and less awkward to carry than my previous elk hunting rifle, which was larger, heavier, and bulkier. Nosler claims this rifle delivers "packable precision" and I have to agree with them.
I don't think I'll be able to go back to carrying my old 300 Win Mag (which tipped the scales at over 10 pounds) after spending a week carrying the M21 in the Arizona mountains!
Next, the rifle uses a fixed magazine with a hinged floorplate. I prefer these to detachable magazines since I'm always afraid I'll inadvertently drop and lose my magazine afield.
I realize not everyone feels that way though, so just be aware of that if you prefer detachable magazines.
Finally, the Model 21 has an outstanding trigger. Heck, this Trigger Tech trigger is among the best I've ever used on any rifle. It's smooth, has no creep or overtravel, and my test rifle's trigger broke cleanly right at 3 pounds from the factory for me.
What I Don't Like About It
I think the Nosler M21 is an excellent rifle, but it's not perfect and there are a couple of minor issues I don't like about it.
First, the rifle has a two-position safety just behind and to the right of the receiver. That's a good place for the safety and it performed flawlessly.
However, I personally don't like that the bolt does not lock when the safety is engaged. This is more of a personal preference and I'm a fan of the three-position safety used on the Winchester Model 70 and Ruger Hawkeye rifles.
Not a giant deal, but I did think it was worth mentioning.
Next, maybe this is impractical, but I'd like the ability to adjust length of pull with this rifle. The M21 comes from the factory with a 13.5″ length of pull, which fit me almost perfectly.
However, a physically much larger or smaller hunter than I would potentially have been served better with some ability to shorten or lengthen the length of pull on this rifle to better suit them.
Once again, not a giant deal.
Finally, cartridge offerings are pretty limited for the Nosler M21 right now. The same is true for more specialized versions of the M21.
There are some great options (like the 6.5 Creedmoor, 300 Win Mag, and all the Nosler cartridges), but I'd love to see an offering for the M21 in cartridges like 6 mm Creedmoor, 7mm Rem Mag, 7mm PRC, and 300 PRC in the future.
This problem might resolve itself in the next couple years though as we see cartridge offerings potentially improve.
The same will likely hold true with other versions of the rifle and I wouldn't be surprised to see something like an ultralight M21 rifle model along the lines of the M48 Mountain Carbon or a purpose built long range rifle similar to the M48 Long-Range Carbon the company has also produced over the years.
Nosler M21 Review: Final Thoughts
All things considered, I think the Nosler M21 is an excellent hunting rifle.
The Bend, Oregon based Nosler made a name for itself by making premium hunting bullets and I think the new M21 rifle is the perfect complement to the outstanding ammunition the company is known for.
Make no mistake: the Nosler M21 rifle is a premium rifle and is priced appropriately.
With a suggested retail price of $2,875, the Nosler 21 is not a budget or entry level rifle. However, don't forget that it's designed to compete with other high end (and typically more expensive) hunting rifles that deliver exceptional performance at the range and afield.
That price doesn't seem so bad when you think of the M21 rifle as a feature-rich production firearm that's a more economical option than some of the other really expensive rifles that also deliver exceptional precision and outstanding reliability.
With all that said, I can say the Nosler M21 is one of best all-around hunting rifles I've ever hunted with to this point (and I've used a lot of bolt-action rifles over the years).
If you're looking for a very accurate, easy to carry, reliable, and functional hunting rifle that you can take on that hunt of a lifetime in some really gnarly terrain and still rely on for shots from 50 out to 550 yards (or potentially even farther), then I highly recommend the Nosler M21.
It's just as at home in hunting deer in the back 40 as it is up in the mountains in the hands of an elk hunter or in the African bushveld in pursuit of kudu or wildebeest.
If you want to buy a Nosler M21 rifle for yourself, click the button below to see what's currently available.
Nosler M21 Specifications
Type: Bolt-action rifle
Cartridge: 6.5 Creedmoor, 26 Nosler, 27 Nosler (tested), 280 Ackley Improved, 28 Nosler, 308 Winchester, 300 Winchester Magnum, 30 Nosler, 33 Nosler, and 375 H&H Magnum
Weight: 6.8-7.1 lbs (cartridge dependent)
Magazine: 4 (6.5 Creedmoor, 280 AI, & 308 Winchester) or 3 (all other chamberings)
Barrel: Shilen Match Grade 22 in. (6.5 Creedmoor, 308, & 375 H&H) or 24 in. (all other chamberings)
Overall Length: 41.65-44.5″ (cartridge dependent)
Twist Rate: 1:8-in. twist (6.5 Creedmoor & 26 Nosler), 1:8.5-in. twist (27 Nosler), 1:9-in twist (280 AI & 28 Nosler), 1:10-in. twist (308, 300 Win Mag, 30 Nosler, & 33 Nosler) or 1:12-in twist (375 H&H), Thread Pattern: 1/2-28 or 5/8×24 threaded
Stock: McMillan Hunter's Edge carbon fiber
Finish: Cerakote Tactical Grey
Trigger: TriggerTech Field adjustable (2.5-5.5 pounds)
Sights: None, drilled and tapped. (A 2-piece optics base with Picatinny rails included)
Manufacturer: Nosler
2023 MSRP: $2,875
Enjoy my Nosler M21 review? Please share it with your friends on Facebook and Twitter.
Make sure you follow The Big Game Hunting Blog on Facebook, Instagram, Twitter, and YouTube.
Endorsement Disclosure: Per the guidelines of the Federal Trade Commission, the product reviewed here is an endorsement and I received compensation by "in-kind" payment to review the product.