Keep reading to get the details on my Ruger iHunt game call review.
Looking for an inexpensive and easy to use game call to use in all of your hunting adventures? Well, the Ruger iHunt game call may just be the piece of gear that you are looking for. Read on for my complete Ruger iHunt game call review.
Before we get started, I have an administrative note:
Some of the links below are affiliate links. This means I will earn a small commission (at no extra cost to you) if you make a purchase. This helps support the blog and allows me to continue to create free content that's useful to hunters like yourself. Thanks for your support.
I was recently contacted by the developer of the Ruger iHunt game call, a phone application (and an optional external speaker) that provides a wide variety of game calls, a local weather forecast, solunar tables, and more. He asked me to test and review the app during the 2015 hunting season. Though I have a great Primos Alpha Dog game call, I decided to give the Ruger iHunt game call (and its purpose built speaker) a shot because it is such an interesting and potentially game changing product.
The Phone App
The foundation of the Ruger iHunt game call is the downloadable phone app. The demo version of the app is available on both iOS and Andriod from their respective app stores for free. Most of the functionality of the app is restricted in the free version and you can only a few of the calls. However, you can unlock the entire app for $5.99, giving you access to all of the calls, the solunar tables, etc.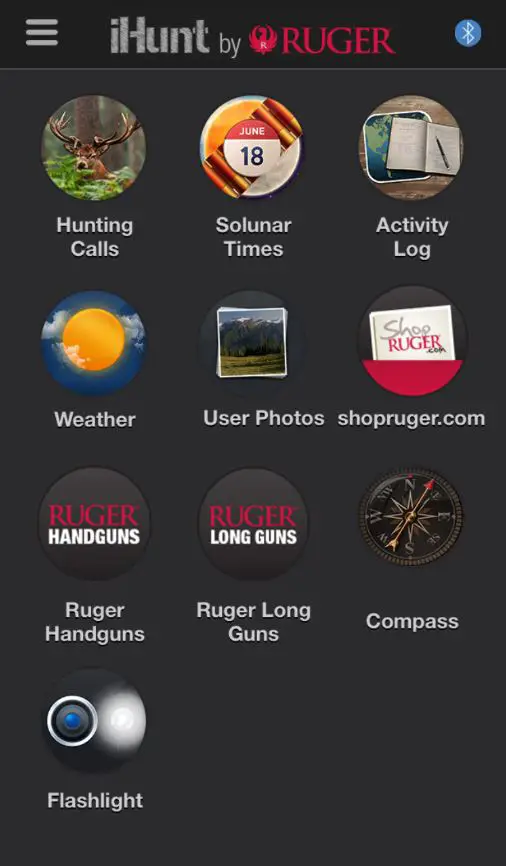 The Speaker
If desired, you can use the app with your phone's internal speaker or you can also use a number of other external speakers. However, the iHunt game call is designed to be used with the Ruger iHunt Bluetooth speaker. This speaker is available from Amazon (click here for the most up to date price) and it will also unlock all functions and calls in the phone app when you pair the speaker with your phone. So, there is no need to pay the $5.99 to upgrade from the trial version if you plan on using the speaker as well.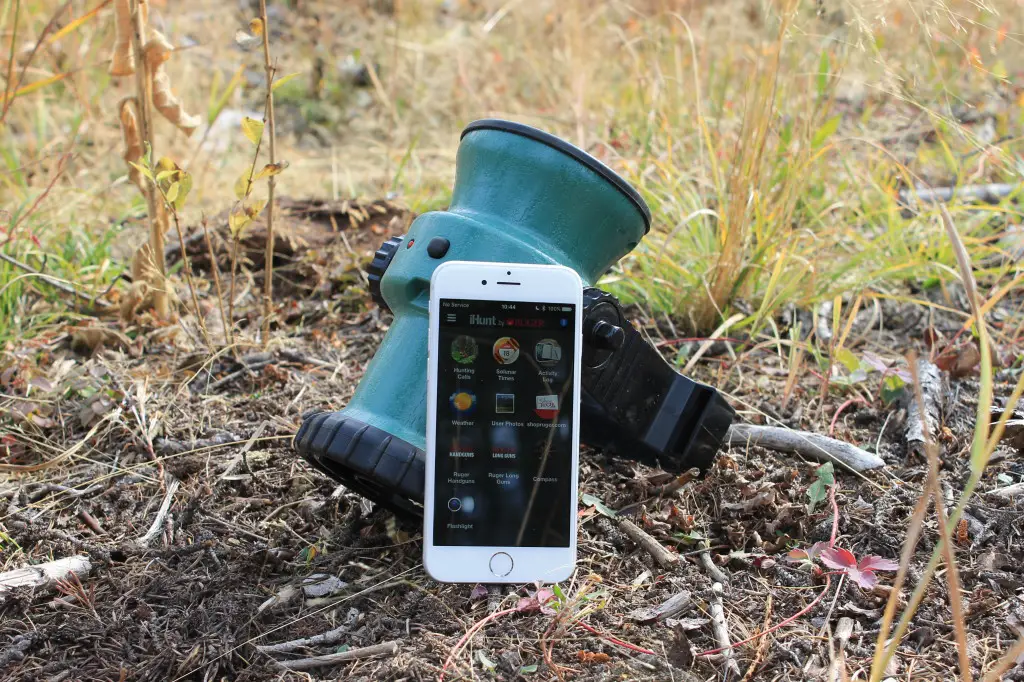 The speaker is easy to use and I was able to connect the speaker to the app within a few minutes. Since the speaker and the phone are connected via Bluetooth, you can use the iHunt game call and speaker in an area without cell phone service. The connection between the speaker and the phone has a surprisingly long range: it's advertised to work out to 50 yards, but I've been able to use it successfully 75-80 yards away in the field with fresh batteries and minimal obstructions.
The speaker is not very large and will easily fit into a reasonably sized bag. It is powered by 4 C-cell batteries. It's also surprisingly loud and produces high quality sounds with minimal distortion, especially considering the price of the speaker (more on the actual calls below).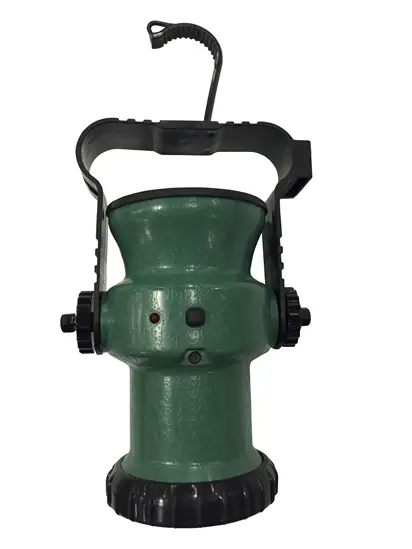 The Calls
The Ruger iHunt game call is programmed with an extremely wide variety of sounds consisting of over 600 different calls from 47 species. Some of these animals are ones that you would expect to be on a game call like coyotes, bobcats, bears, deer, rabbits, etc. However, there are also a number of other animal sounds programmed into the game call like moose, raccoon, wild boar, squirrels, prairie dogs, sheep, goats, geese, zebra, wildebeest, and a whole host of other animals. Since these calls are all stored in the memory of the phone, they will still work even if you are in an area without cell phone service.
There are also a useful variety of actual sounds for each animal that range from vocalizations, to mating calls, to distress sounds and everything in between. These sounds are organized in an easy to navigate list. You can also create an unlimited number of custom playlists with a specific calls at a custom volume and even set a delay between calls.
Just as a warning: before you use the Ruger iHunt game call, make sure that it is legal to use electronic calls for the game animals that you are hunting in your state. The Ruger iHunt game call contains a wide variety of calls, some of which may be illegal to use in certain states. For instance, in Washington, it is illegal to hunt deer and turkey with an electronic call, though there is nothing wrong with using one for bear, coyote, or bobcat.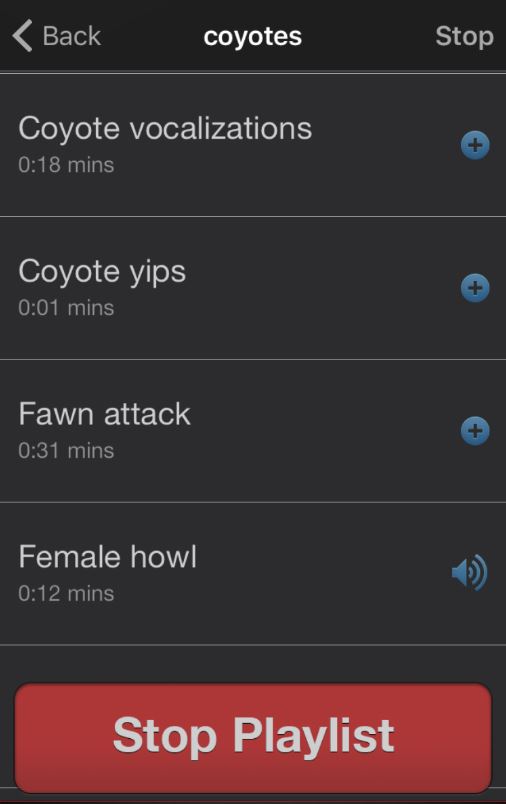 The Solunar Table
The Ruger iHunt game call has an easy to use function that gives tells you the predicted major and minor periods to hunt or fish as well as the sunrise, sunset, moonerise, moonset, the amount of illumination each night, when the moon is overhead, and when the moon is underfoot. This information is provided for the current day as well as several days into the future. So, even if you're not a fan of solunar tables in general, you'll still find some useful information in this function. While all of this information is specific to the spot that you are located, making it more accurate and useful, it requires cellular service.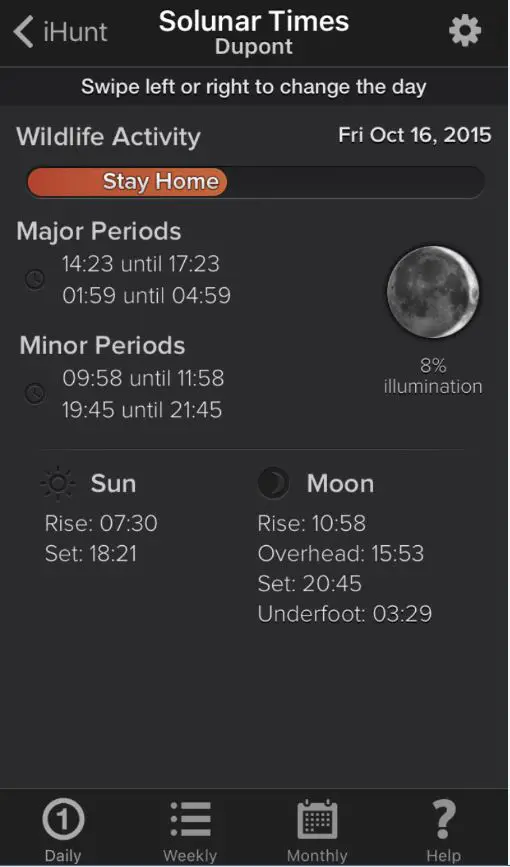 The Weather
The Ruger iHunt game call also a function giving you the weather forecast for either your current location or one specified by you on a map. The app provides a very basic daily and hourly weather forecast at first and you can get more detailed information by selecting a specific hour or day on the screen. The iHunt app will then provide the cloud cover, humidity, precipitation chance, pressure, visibility, wind direction, and wind speed.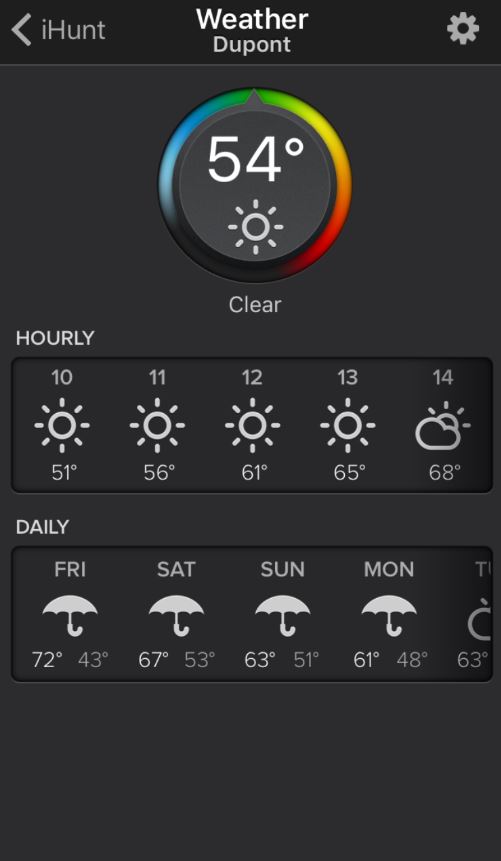 The Ruger iHunt game call also has several other functions including a flashlight, a compass, a photo gallery where you can share photos of your trophies with the iHUNT community, and an activity tracker where you can create a GPS log of your hunt to accompany photos of interesting features, such as tracks or scrapes.
One last thing: before you use the Ruger iHunt game call, make sure you put your phone in "do not disturb mode." Not only will this help preserve your battery, but the iHunt speaker broadcasts ALL sounds made by your phone, to include incoming calls, text messages, and emails. You never know what will happen, but I doubt the wildlife in the area will respond well to your speaker blaring the sound of a phone ringing out in the woods.
All in all, I'm very happy with the Ruger iHunt game call. Not only does it work well in the field, but it is also very versatile, compact, and extremely reasonably priced. While I do not dispute that there are other game calls out there that are better, they are all much more expensive than the full Ruger iHunt game call system.
If you're looking for a versatile, yet reasonably priced game call to use for hunting a wide variety of game, maybe you should give the Ruger iHunt game call a shot.
The Ruger iHunt Ultimate game call made the cut for my holiday gift recommendations. To see what other stuff is on the list, check out the following article:
Awesome Holiday Gifts For Hunters In 2019
Rating
Affordability: 5/5
Availability: 4/5
Performance: 3/5
Reliability & Durability: 5/5
Size & Weight: 5/5
Overall: 4.4/5
Enjoy this Ruger iHunt game call review? Please share it with your friends on Facebook and Twitter.
Make sure you follow The Big Game Hunting Blog on Facebook, Instagram, Twitter, and YouTube.
Endorsement Disclosure: Per the guidelines of the Federal Trade Commission, the product reviewed here is an endorsement and I received compensation by "in-kind" payment to review the product.