Keep reading to get the details on my BoreSmith gun cleaning kit review.
Are you looking for some inexpensive, yet effective gun cleaning tools? You might want to check out BoreSmith's revolutionary triangular cleaning patches or double diameter wire bore brush to help clean your guns more effectively. Read on for my complete BoreSmith gun cleaning kit review.
The BoreSmith gun cleaning product line is centered on two primary products: their cloth triangle (instead of round or square) shaped patches and their double diameter JagBrush. These products are designed to work in concert in order to deliver better cleaning performance with less frustration and chance of damaging a firearm due to improper cleaning.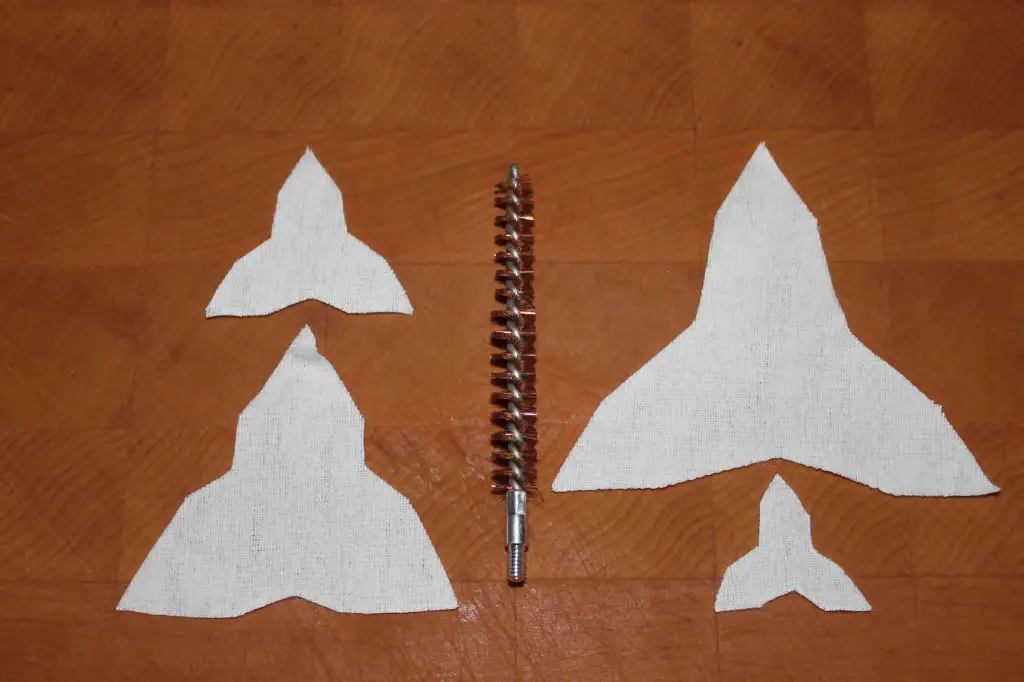 When using a traditional round or square cleaning patch, there is a very fine line between the patch being tight enough to properly clean the barrel and being so tight that the patch gets stuck. With this in mind, the BoreSmith triangular patch was born. These triangular patches have a larger cleaning surface and are manufactored by BoreSmith in several different sizes to provide the best cleaning performance in a wide variety of bore sizes. They will also not fold up on themselves and get stuck like a round or square patch.
While the BoreSmith Triangle Patches may be used with a standard cleaning jag, they are designed to work with the BoreSmith JagBrush. The JagBrush is a wire bore brush with two different diameters and fits on a standard cleaning rod. As you can see in the photo at the top of the page, the smaller diameter bristles at the front hold the Triangle Patch while the longer bristles at the rear of the brush loosen fouling in the bore. Essentially, the revolutionary BoreSmith JagBrush combines the functions of the separate cleaning jags and wire brushes that we are used to in traditional gun cleaning kits into a single piece of equipment.
I've used BoreSmith Triangle Patches along with the JagBrush to clean my CVA Optima Northwest muzzleloader for the last couple of months and the results have been outstanding. Black powder guns are notoriously difficult to clean. However, the BoreSmith products made the task significantly easier for me.
Since the patches are designed to stay attached to the JagBrush until removed, I was able to use the same patch to make multiple passes in each direction down the barrel. This action, combined with the fact that the BoreSmith system combines the patch and brush into one easy to use tool, made cleaning much faster since I didn't have to switch back and forth between the brush and patches.
All in all, I'm very happy with the BoreSmith gun cleaning product line. Their products are inexpensive, easy to use, and work extremely well. They make gun cleaning products designed to fit everything from .17 caliber and .22 caliber rifles all the way up to .58 caliber muzzleloaders. Their products will also work on 28, 20, 16, 12, and 10 gauge shotguns.
If you're looking for the next big thing in gun cleaning products, I highly recommend giving BoreSmith a shot. Their products are available on Amazon
. and will make a good addition to your gun cleaning kit.
Rating
Affordability: 5/5
Availability: 4/5
Performance: 5/5
Reliability & Durability: 5/5
Size & Weight: 5/5
Overall: 4.8/5
Enjoy this BoreSmith gun cleaning kit review? Please share it with your friends on Facebook and Twitter.
Make sure you follow The Big Game Hunting Blog on Facebook, Instagram, Twitter, and YouTube.
Endorsement Disclosure: Per the guidelines of the Federal Trade Commission, the product reviewed here is an endorsement and I received compensation by "in-kind" payment to review the product.