Keep reading to learn what happened on my muzzleloader deer hunting trip in eastern Washington.
I've been waiting for deer season all year long and I was ecstatic to finally be able to go on my long awaited muzzleloader deer hunting trip in eastern Washington. I even got a new muzzleloader (a CVA Optima Northwest from the good folks at Muzzle-Loaders.com) in preparation for the trip. Read on to see how things worked out on this year's muzzleloader deer hunting expedition.
Before we get started, here's a disclaimer: the links below to Muzzle-Loaders.com are affiliate links. This means I will earn a small commission if you make a purchase.
This commission comes at no extra cost to you. In fact, you'll receive a 5% discount any order you place through their web site if you use the promo code "BIGGAMEHUNTER" when you check out. This helps support the blog and allows me to continue to create free content that's useful to hunters like yourself. Thanks for your support.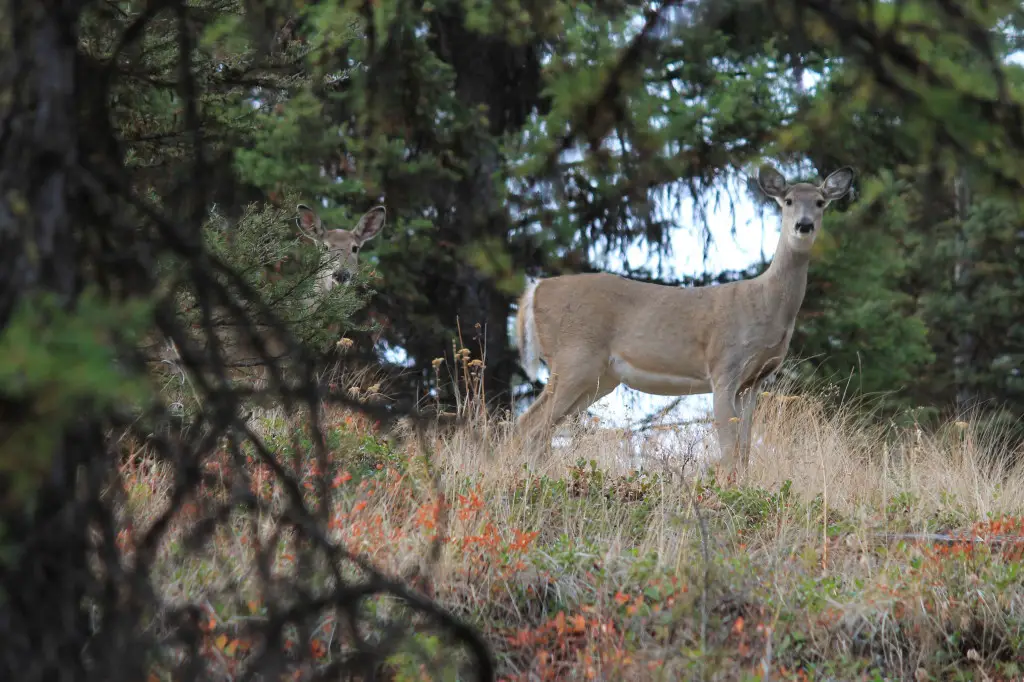 Last year, I bagged my first blacktail deer in western Washington and I was excited to take a mule deer or a whitetail on the other side of the state this year. This was my first muzzleloader deer hunting trip in that part of the state and it did not disappoint. Not only was the scenery in the Colville National Forest absolutely magnificent, but there were loads of whitetail and mule deer in the area. Fortunately, this particular part of the forest did not suffer directly from the massive wildfires that rocked the state this summer. During the first morning, I still hunted along the top of a ridge where I encountered a nice mule deer buck during a previous scouting trip in the area. Reaching the end of the ridge after encountering no deer, I moved down the side of the ridge a few hundred yards and started walking back to where I started.
After only going about 200 yards, I nearly ran into a 3×4 mulie who was walking the opposite direction. I'm not sure who was more startled by the encounter. Not surprisingly, I had no shot and the deer disappeared into the brush, never to be seen again. While that was disappointing, it was also encouraging and clearly demonstrated that there were still deer in the area.
I headed back to camp that afternoon and met up with my friend Danny, who also had an unfilled deer tag in his pocket. He had hunted there for many years and was very familiar with the area and suggested that we check out a few other spots where he had seen deer in the past.
We drove and walked through the woods for the next couple of hours as he showed me several promising spots for deer. Along the way, we saw a number of deer, but we were never able to get a good shot.
Our luck changed that evening. As it got closer to dusk, a light rain shower came through and the temperature started to drop. The combination of the rain, the declining temperatures, and the approach of night got the deer up on their feet and we started seeing deer everywhere.
As we moved through the woods, we suddenly encountered a group of three whitetail does. Though we were only about 50-60 yards away, the wind was right and they did not appear to notice us.
As I quickly got ready, Danny identified the one on the right as the biggest and said to shoot her. However, she disappeared into the brush and the other two deer started to follow her.
Luckily, the big doe turned in her tracks, reared up on her hind legs, and started kicking the second doe with her front hooves. She then chased the smaller doe for a few feet then stood there, looking at the other two deer.
She was standing broadside to me, perfectly positioned in a gap in the brush for a shot. I wasted no time in cocking my muzzleloader and aiming just behind her left shoulder.
I squeezed the trigger and when the hammer fell, the woods echoed with the boom of my muzzleloader and we were instantly enveloped in smoke. The 250gr PowerBelt AeroLite impacted just behind her shoulder, punching both lungs.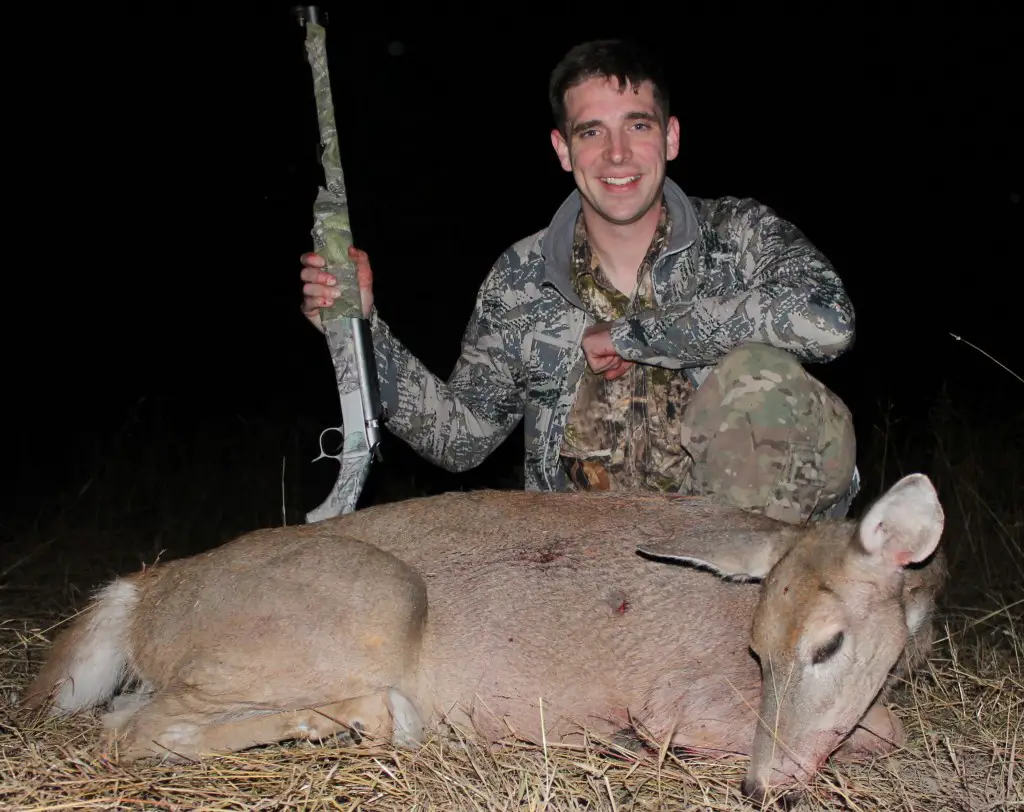 As the smoke cleared, I caught a glimpse of her running off to our left, clearly seriously injured. She left an obvious blood trail that was very easy to follow and we found her about 50 yards away. Just like that, I had filled my tag and ended my muzzleloader deer hunting trip.
Even though I had bagged a deer, Danny still had not. The next morning, we headed out to the same area where I shot my deer to see if we could find one for him. Luckily, it didn't take long for us to find another group of whitetails. Danny filled his deer tag with a 56 yard shot on this nice whitetail doe after a few hours of hunting.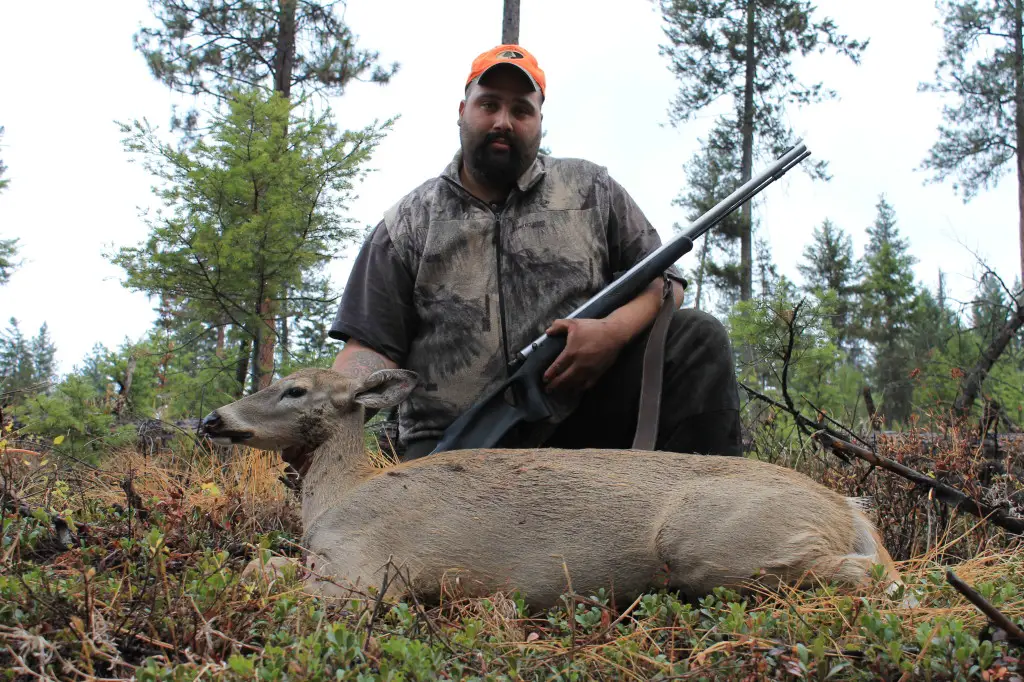 All in all, it was a great trip. While I had dreams of tagging a gigantic mule deer buck, it just wasn't meant to be on this particular hunt. I was much more interested in getting something for the freezer than holding out for a monster and potentially coming home empty handed. By shooting a fat old doe (she weighed 127 pounds on the hoof), I accomplished my goal and ended my muzzleloader deer hunting trip on a great note. I'm looking forward to heading back out that way next year for another crack at a nice buck.
Enjoy the story of my recent muzzleloader deer hunting trip in eastern Washington? Please share it with your friends on Facebook and Twitter.
Make sure you follow The Big Game Hunting Blog on Facebook, Instagram, Twitter, and YouTube.