Are you a hunter wishing you were on safari looking for some good book recommendations? Well, here are 15 of the best African hunting books ever written. 
I dreamed of an African hunting safari for many years before I finally made my first journey over. Each subsequent trip has further captivated my imagination and inflamed my desire to return to hunt again. To that end, I enjoy reading about Africa between trips as a way of partially satisfying that yearning for another safari. Here are my choices for the best African hunting books of all-time, all of which are great reads!
This list contains works from some legends in the field like Hemingway and Ruark as well as authors with more recent experiences like Kevin "Doctari" Robertson and Craig Boddington. And of course, no list of the best Africa hunting books would be complete without contributions from Theodore Roosevelt, Frederick Courtney Selous, and John Taylor.
I can virtually guarantee that there is something for everyone on this list of the best African hunting books regardless of whether you're a veteran of my safaris on the dark continent or dreaming of your first hunt in Africa.

Note: the links below to Amazon are affiliate links. This means I will earn a small commission (at no extra cost to you) if you make a purchase. This helps support the blog and allows me to continue to create free content that's useful to hunters like yourself. Thanks for your support.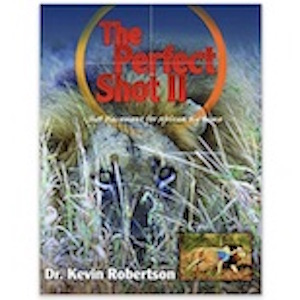 The Perfect Shot II by Kevin Robertson
Long-time professional hunter and veterinarian Kevin "Doctari" Robertson may be Africa's foremost living expert on animal anatomy and terminal ballistics and he put that knowledge to good use in all of his works. The Perfect Shot is widely regarded as one of the most comprehensive books on shot placement on African game ever written and also contains excellent information on bullet and cartridge selection, practical ballistics, and lots of generally "good to know" information for an African safari. Not surprisingly, it is one of the best selling books ever from Safari Press.
While the original edition of The Perfect Shot is out of print (and therefore difficult to find aside from occasional used books or special limited edition copies), Robertson has since written an updated second edition with information on more species and reflects advances in bullet technology since he wrote the first edition. You may also purchase a pocket sized mini-edition of The Perfect Shot that only contains the shot placement diagrams to bring along with you as a reference on your hunt. Regardless of whether you're a veteran of many African safaris or preparing for your first trip over there, the Perfect Shot II is a great read I cannot recommend it highly enough.
BUY THE PERFECT SHOT MINI-EDITION HERE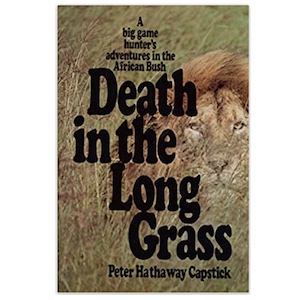 Death In The Long Grass by Peter Hathaway Capstick
Writers have spilled much ink over the years telling stories about the dangers that lurk in bush of Africa. Though this book is not really anything new in that regard, the fact that all the stories in it actually happened either to Peter Capstick himself or to one of his colleagues makes those deadly tales of Africa all the more chilling.
While many of the stories feature the "usual suspects" like lion, African elephant, hippopotamus, crocodile, and buffalo, some of my favorite stores were actually about animals that the average person doesn't necessarily think about when they picture dangerous game in Africa. Written in a very colorful and entertaining matter, Death in the Long Grass is a great book to read while relaxing in the comfort and safety of your own home. Read this book in wild of Africa at your own risk though, unless you want to be jumping out of your skin at every sound you hear during the night…
BUY DEATH IN THE LONG GRASS HERE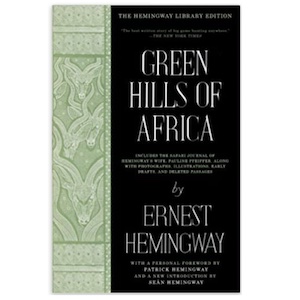 Green Hills of Africa by Ernest Hemingway
No list of the best African hunting books would be complete without a contribution from Ernest Hemingway. Chronicling his 1933 safari in British East Africa, Green Hills of Africa, was one of the original pieces of literature about hunting in Africa that captured the imagination of the American hunter in a way that no other writer had since Theodore Roosevelt's African Game Trails. In Green Hills of Africa, Hemingway describes the beauty and ferocity of the continent in a way that no other writer could. Not surprisingly, it's considered one of the best African hunting books ever written.
BUY GREEN HILLS OF AFRICA HERE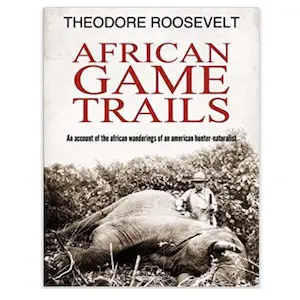 African Game Trails by Theodore Roosevelt
Speaking of Theodore Roosevelt, the former president of the United States and noted big game hunter started off his retirement in an unusual fashion with a year long African hunting safari. Departing from North America in March of 1909, the former president and his son Kermit Roosevelt traveled to the port of Mombasa in British East Africa. The expedition then spent the better part of the next year hunting East Africa (modern day Kenya), the Belgian Congo (modern day Democratic Republic of the Congo), and Sudan, where the expedition finally ended in the city of Khartoum. Many of the animals taken on the famous expedition are on display at the Smithsonian Institution in Washington D.C. and the Museum of Natural History in New York City to this day and Roosevelt chronicled the fascinating details of the expedition in great detail in his book African Game Trails.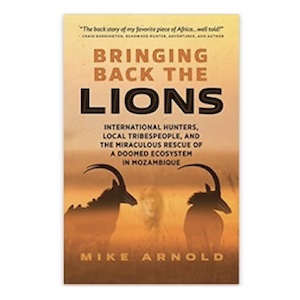 Bringing Back The Lions by Mike Arnold
This Africa hunting book shares shares incredible tale of one of Africa's most stunning conservation success: Mozambique's Coutada 11. Coutada 11 was once a poached out and abused wasteland, but hunting outfitter Mark Haldane and his partners set up shop there in the early 1990s in the wake of the decades long civil war and were determined to restore the area to its former glory. They succeeded beyond their wildest dreams and this new book chronicles the many years of hard work it took to get to this point as well as how the framework Haldane implemented in Coutada 11 can serve as a model for conservation success elsewhere in Africa.
BUY BRINGING BACK THE LIONS HERE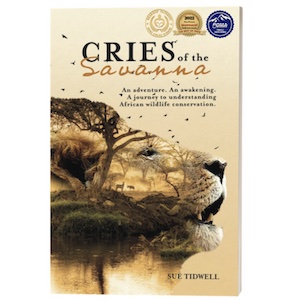 Cries of the Savanna by Sue Tidwell
Make no mistake: Cries of the Savanna is an Africa hunting book at its heart. That said, author Sue Tidwell takes a different approach with this book and she tells her story from the perspective of a non-hunter accompanying her husband on safari in Tanzania. That three week long hunting trip opened her eyes to the reality of life in Africa and she does a masterful job of weaving the untold story of the native people in Africa (who live shoulder to shoulder with wildlife like lions, elephants, and buffalo) and how well-regulated and sustainable hunting actually helps both wildlife conservation and the average person living there into the story of her safari. This book is interesting and highly educational and I highly recommend it to both hunters and non-hunters alike.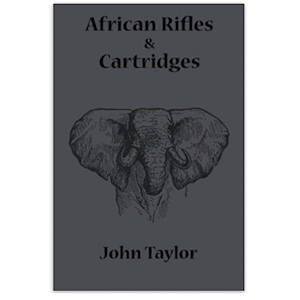 African Rifles and Cartridges by John Taylor
With all due respect to men like Boddington and Capstick, few writers have as much real world hunting experience in Africa as John Taylor accumulated over the decades he spent in the Dark Continent. Not only was he a fantastic writer and story teller, but Taylor was also a bona fide technical expert on how the rifles and cartridges of that time period performed on the major species of game in Africa. This book is a good read for anyone who enjoys reading about guns as well as those who just wants to learn more about hunting Africa in general.
BUY AFRICAN RIFLES AND CARTRIDGES HERE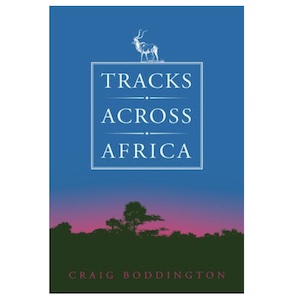 Tracks Across Africa by Craig Boddington
One of the things I appreciated the most about Tracks Across Africa was the fact that it is one of the few Africa hunting books I've ever read that chronicles stories about hunts in some of Africa's lesser known hunting destinations. Don't get me wrong: I love hearing about hunting safaris in Tanzania, Namibia, South Africa, and Zimbabwe, but it's also nice to read about other things as well.
So, if you're want to hear about hunting Mountain Nyala in Ethiopia, Bongo in the Central African Republic, Auodad in their native habitat in Chad, or Roan in Cameroon, then Tracks Across Africa is the book for you. Boddington also sprinkled in stories about hunting some of the more common animals and African destinations as well, so don't worry, you can still hear about hunting kudu, springbok, and Cape Buffalo too. Filled with top notch photographs of the game and scenery he encountered on these adventures, Tracks Across Africa is a great African hunting book for anyone who enjoys reading about Africa.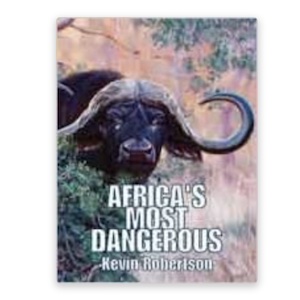 Africa's Most Dangerous by Kevin Robertson
If you are planning on hunting Cape Buffalo, then you need to read Kevin Robertson's book Africa's Most Dangerous. It contains much of the same information as The Perfect Shot, but it's specifically written about Cape Buffalo and has a lot of useful and detailed information about hunting the legendary "Black Death." Covering all aspects of the hunt to include choosing the right rifle, sights, cartridge, and bullet, shot placement on Cape Buffalo, other useful pieces of equipment to bring on a Cape Buffalo hunt, and what to expect when out in the bush on the hunt, Africa's Most Dangerous is a must-read before going on a Cape Buffalo hunt.
BUY AFRICA'S MOST DANGEROUS HERE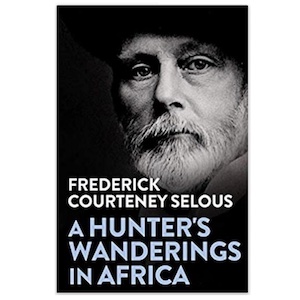 A Hunter's Wandering in Africa by Frederick Courtney Selous
Some people have a larger than life reputation and Frederick Courtney Selous was one of those people. The exploits of the noted big game hunter, explorer, naturalist, and soldier were the stuff of legend. Indeed, he was the very archetype of the white hunters of Africa and he served as inspiration for the fictional Allan Quartermain character created by H. Rider Haggard. A Hunter's Wandering in Africa is a fascinating African hunting book that chronicles his nine years of African adventure wandering the little explored sections of central and Southern Africa hunting, collecting, and recording his interactions with the native people, flora, and fauna.
BUY A HUNTER'S WANDERING IN AFRICA HERE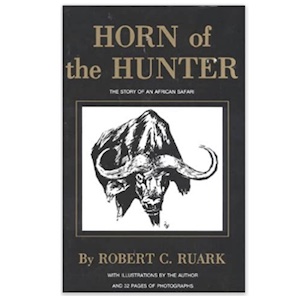 The Horn of the Hunter by Robert Ruark
When he wrote this book about his safari in modern day Kenya and Tanzania in the 1950s, I doubt Robert Ruark had any idea what sort of an impact he would have on the hunting community. Indeed, The Horn of the Hunter made Harry Selby and his .416 Rigby famous and contributed to the enormous surge of American hunters that flocked to Africa in the following years. Ruark also delivered perhaps one of the best and most often quoted descriptions of Cape Buffalo and the effect they have on hunters in this book as well.
BUY THE HORN OF THE HUNTER HERE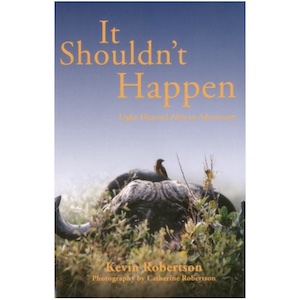 It Shouldn't Happen by Kevin Robertson
Dr. Kevin Robertson is well known in hunting circles as a man who has been around the block a few times. Specifically, he's an extremely knowledgeable and experienced hunter and veterinarian from Rhodesia (now Zimbabwe) who is widely considered to be one of the top authorities on hunting in Africa.
He's also quite the story teller and does an outstanding job of sharing some of his most entertaining and humorous incidents accumulated during his decades of hunting southern Africa in his book It Shouldn't Happen: Light-Hearted African Adventures.
Full of stories like the time Kevin stopped a charging lion with a bottle of shampoo, the time a cape buffalo ripped the shorts off one of his friends with its horns and tried to sink the man's boat, or when a few hunters loaded a seemingly (but not quite) dead kudu into the back of their VW Minivan, It Shouldn't Happen will make you howl with laughter.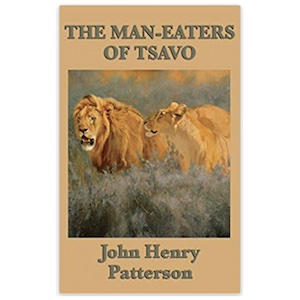 The Man Eaters of Tsavo by Lieutenant Colonel John Henry Patterson
Val Kilmer and Michael Douglas made the Lions of Tsavo and their reign of terror famous in the movie The Ghost and the Darkness. The Man Eaters of Tsavo chronicles the true story of how these lions killed dozens of workers building the British Uganda Railway in the late 1890s and how Lieutenant Colonel John H. Patterson eventually killed both lions. Though (like always) the movie differs from reality in some ways, it stayed true to history in many others (they really did build a "railway car trap" for the lions). Any way you look at it, Patterson's remarkable tale of how he killed the man-eaters of Tsavo and finished building the bridge is gripping and entertaining. If you enjoyed the movie, you'll love the book.
BUY THE MAN EATERS OF TSAVO HERE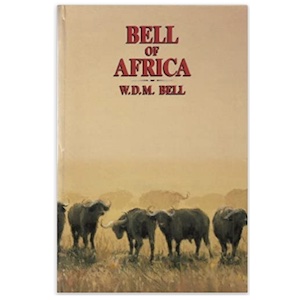 Bell of Africa by W.D.M. Bell
Walter Dalrymple Maitland Bell, better known as WDM Bell or Karamojo Bell, may well be the most famous elephant hunter to ever live. All told, Bell shot over 1,000 elephants over the course of his career as an African hunter. Furthermore, he was especially well known for shooting the vast majority of those elephants with smaller caliber cartridges like the 6.5x54mm, 7x57mm Mauser (257 Rigby), 303 British, and the 318 Westley Richards. Bell was a fantastic shot and studied elephant anatomy in detail, which enabled him to kill elephants with almost surgical precision using those smaller bore rifles. Well, Bell of Africa is the autobiography of this famous ivory hunter where he tells the gripping story of his adventures all over the world, but especially in Africa.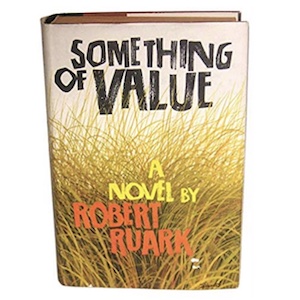 Something of Value by Robert Ruark
Something of Value is a novel loosely based on real events that took place during the violent Mau Mau rebellion in modern day Kenya during the 1950s and was Ruark's next project after the release of Horn of the Hunter in 1953. The book primarily focuses on the story of individuals living in British East Africa during the rebellion, but hunting was deeply rooted into the culture of the settlers and plays an important role in the overall story arc. For that reason, this is a great African hunting book for those who want a gripping story as well as a glimpse into what life was like during that terrifying insurrection.
What did you think about my choices for the best African hunting books? Did I miss any other great Africa hunting books you think should be included?
Several of my picks for the best African hunting books also made cut for my holiday gift recommendations. To see what other stuff is on the list, check out the following article:
Awesome Holiday Gifts For Hunters
Enjoy this article about the best African hunting books? Please share it with your friends on Facebook and Twitter.
Make sure you subscribe to The Big Game Hunting Podcast and follow The Big Game Hunting Blog on Facebook, Instagram, Twitter, and YouTube.