Keep reading to get the details on my CVA Optima Northwest review.
In preparation for deer season this year, I recently got a new muzzleloader: a CVA Optima Northwest. Very similar to the CVA Wolf Northwest, the Optima Northwest is part of a line of muzzleloaders designed by CVA that meet the legal requirements for use in Washington, Oregon, and Idaho and still provide the reliability and convenience of an in-line muzzleloader. This article is a review of my new CVA Optima Northwest.
I originally purchased my CVA Wolf Northwest from Muzzle-Loaders.com in 2014. Based out of Oregon, the company sells muzzleloaders and their accessories. I paid the full retail price for the muzzleloader and had no relationship with the company at the time. I had a great experience with them when I purchased my CVA Wolf Northwest and I have continued to do business with the company ever since. Every person I have spoken to on the phone from the company was friendly and knowledgeable, they ship my orders quickly, and their prices are reasonable.
However, because they sell quality products at a reasonable price, take great care of their customers, and since they are an American small business run by people with values closely aligned with mine, I now have an affiliate partnership with the company. All the links on this site to Muzzle-Loaders.com (as well as the links to Amazon) are affiliate links. This means I will earn a small commission if you make a purchase.
This commission comes at no extra cost to you. This helps support the blog and allows me to continue to create free content that's useful to hunters like yourself. Thanks for your support.
Just FYI: Muzzle-Loaders.com sent me the CVA Optima Northwest free of charge in exchange for an honest review and comparison of the muzzleloader with the CVA Wolf Northwest.
Now that we've got that out of the way, let's get started.
Additionally, I recorded an entire podcast episode on this exact subject. If you'd rather listen than read, click the appropriate link below to listen to this episode on your preferred podcasting service.
Subscribe
Apple | Google | iHeart | Spotify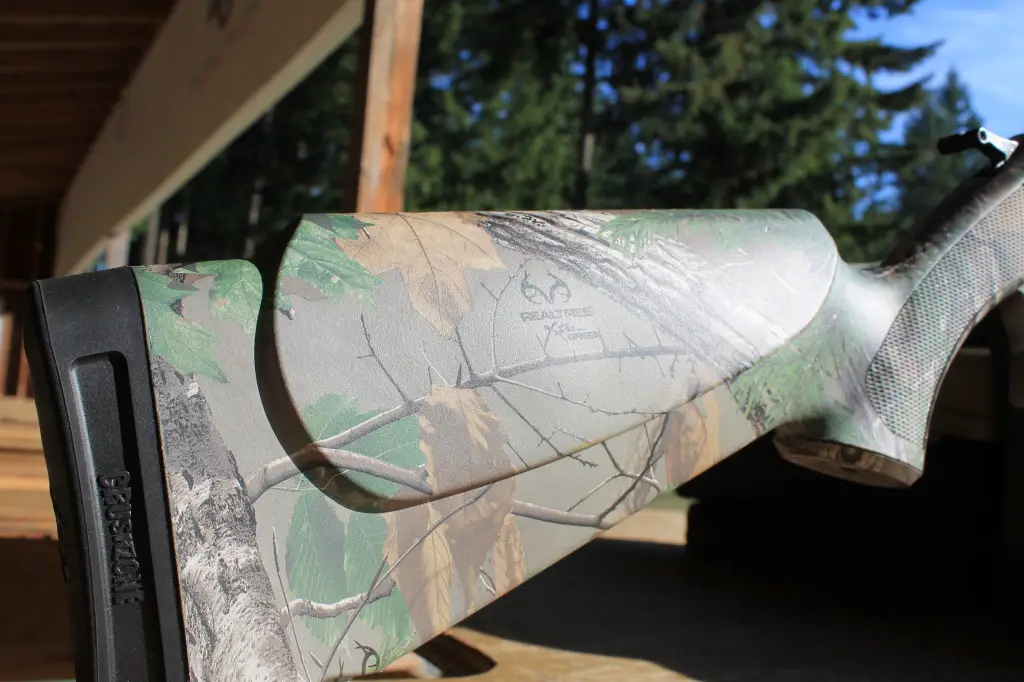 The Optima is CVA's mid-level break action muzzleloader, above the Wolf and below Accura. While the Wolf was a great muzzleloader and I was pleased with how it performed, the CVA Optima Northwest is a big step up from it. 
The Optima has a 26″ fluted stainless steel barrel (compared to a 24″ non-fluted barrel on the Wolf), a reversible hammer spur to accommodate left or right handed shooters, an ambidextrous breech, molded cheek risers (see photo above) on both sides of the stock (absent on the Wolf), RealTree camouflage pattern stock (compared to a flat black stock on the Wolf), a very nice recoil pad, DuraBright fiber optic open sights, a quick release breech plug, a bullet guiding muzzle (see photo below) and is drilled and tapped for a scope.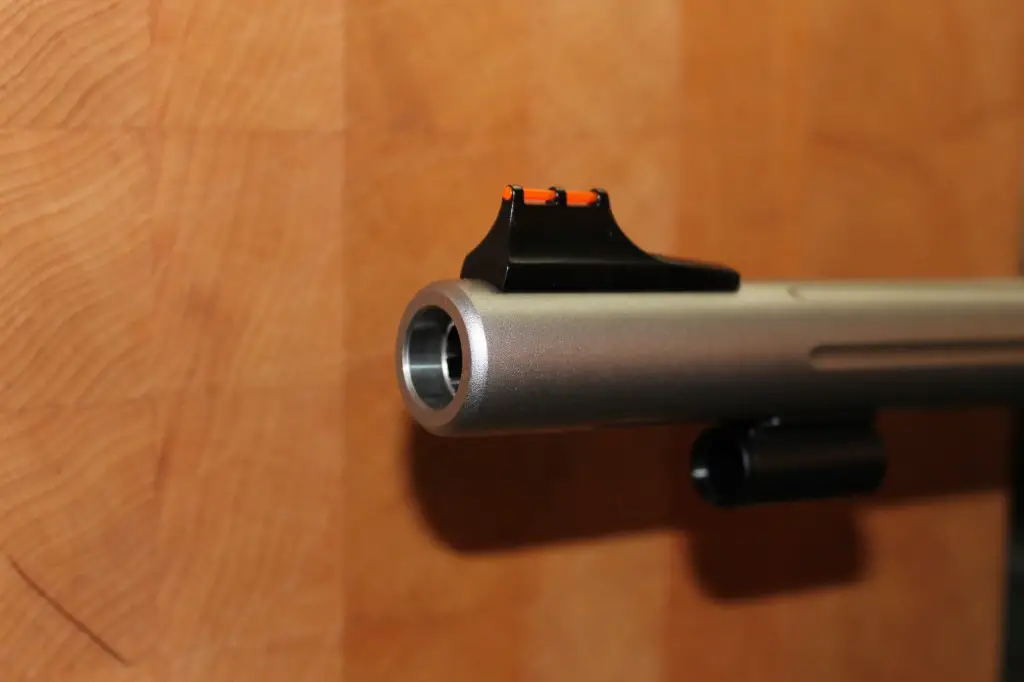 Like the other muzzleloaders in the CVA's Northwest line, the CVA Optima Northwest has a modified breech plug that is compliant with the muzzleloader hunting regulations in Washington, Oregon, and Idaho. The breech plug is designed to work with loose (instead of pelletized) powder, use a musket cap (instead of a 209 primer), and has four holes cut into the sides of it (see photo below) to ensure that the ignition system is "exposed to the elements" in accordance with the regulations for muzzleloader season.
By making these few adjustments to the Optima, CVA was able to design a muzzleloader that incorporates nearly all of the benefits of an in-line muzzleloader, while still being legal to use in the Pacific Northwest.
Update Fall 2018
The Washington Department of Fish and Wildlife updated the muzzleloader hunting regulations for the state in 2018. The new regulations now permit the use of 209 primers and no longer require the cap to be exposed to the weather. All other muzzleloader requirements for Washington remain the same.
Hunters with a CVA Optima Northwest can purchase a 209 primer conversion kit (which consists of a new breech plug and firing pin set) to utilize 209 primers with their muzzleloader. Likewise, the standard CVA Optima muzzleloader with iron sights is now legal to use in Washington as well.
At this time, Idaho and Oregon still prohibit the use of 209 primers on muzzleloaders, so the CVA Optima Northwest remains a great option for hunting in those states.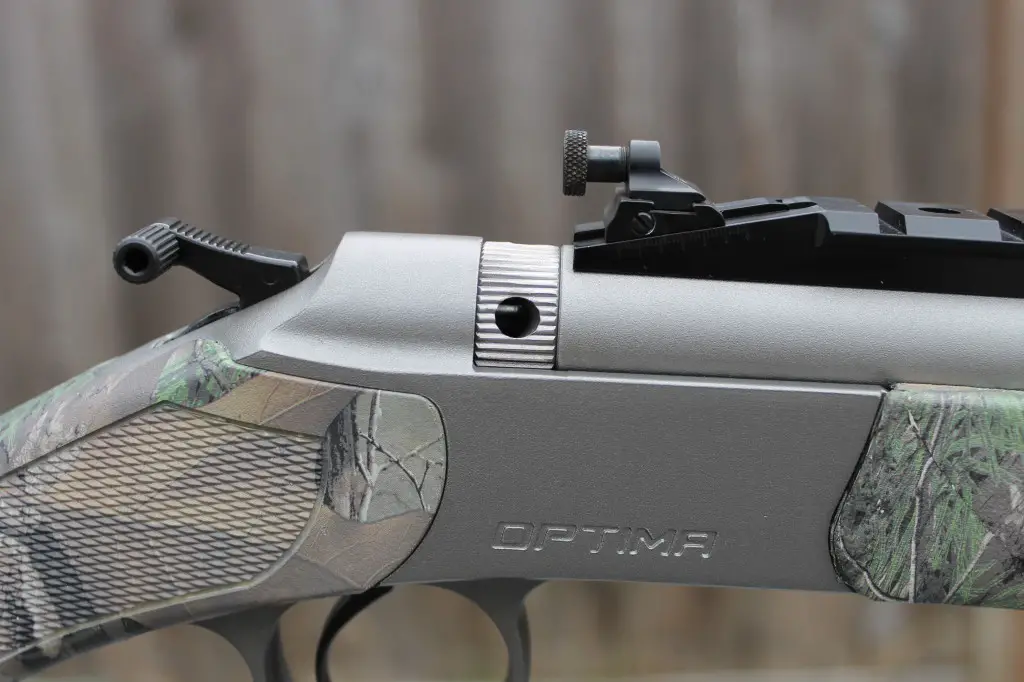 Just as an aside: I highly recommend wearing eye protection whenever you are shooting the CVA Optima Northwest, to include when you are hunting. There is a pretty significant flash that comes out of those holes, which are just inches from your face, when the muzzleloader fires.
When I received my CVA Optima Northwest, I was immediately impressed by the obvious quality in the workmanship exhibited in the muzzleloader. The Optima is lightweight, easy to carry, and quick to mount. The breech opens easily and smoothly by simply depressing a lever at the rear of the trigger guard. The trigger is not great, but is still pretty good and is similar to the one on the CVA Wolf (maybe a little better). It's smooth, breaks cleanly with 3-4 pounds of pressure, and has very little overtravel.
The CVA Optima Northwest has a 1:28" rifling twist, making it suitable for most full size (non-saboted) projectiles. CVA recommends using PowerBelt bullets. This is not surprising, considering they are made by the same company. However, conicals and sabots made by Thompson Center, Hornady, Barnes, and other companies will also work. However, CVA does recommend only using projectiles weighting less than 400 grains in the Optima Northwest for best results.
The CVA Optima Northwest is designed to use up to 150 grains of black powder or a black powder substitute, such as Hodgon's 777 or Pyrodex. Under no circumstances should smokeless powder be used in the Optima Northwest (or any muzzleloader for that matter).
However, even though the muzzleloader will safely handle up to 150 grains of black powder, that does not mean that using a maximum load of propellant will produce the best results. CVA recommends using 80-120 grains of black powder for best accuracy, though results will vary between different muzzleloaders.
For more detailed information on getting your CVA Optima to shoot accurately, check out these other articles:
15 Of The Best Muzzleloader Primers For Igniting Your Powder
Blackhorn 209 vs 777 vs Goex Black Powder: Which One Should You Use In Your Muzzleloader?
These Are The Best Brands Of Black Powder and Black Powder Substitutes You Should Be Using In Your Muzzleloader
13 Of The Best Muzzleloader Bullets For Hunters
9 Best Muzzleloader Scopes For Hunters
9 Best Muzzleloader Sights For Hunters
So far, I've only shot two loads out of my CVA Optima Northwest: 250gr PowerBelt AeroLites and 290gr Barnes  T-EZs, both pushed by 100gr of Hodgon's 777. I will try out some more loads as I get the chance.
As you can see in the photo below, the Optima Northwest shot both loads very well. Though the T-EZs impacted about 3.5″ lower than the PowerBelts at 100 yards, they were both very accurate.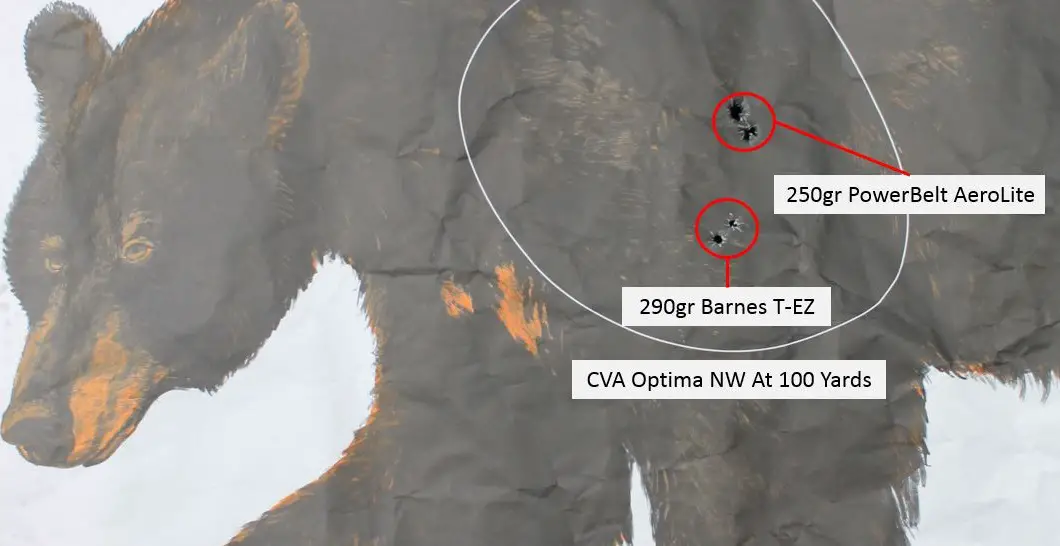 I measured the velocity of all my shots with a chronograph and there was very little difference in velocity between the two loads. The average velocity was 1,748 fps for the 250gr PowerBelts and 1,731 fps for the 290gr T-EZs.The CVA Optima Northwest is very easy to clean. The "quick release" breech plug lives up to its name. Even after shooting it all day at the range, I never had any issues removing the breech plug using just my fingers.
Note: I do recommend putting some lubricant (available here) on the threads of the breech plug after cleaning to ensure that it's always easy to remove after a day of shooting.
In between shots, and after finishing for the day at the range, cleaning the muzzleloader was a simple matter of removing the breech plug and running a few patches through the bore.
So far, I have not had a single issue with misfires or hangfires with my CVA Optima Northwest. The manual states that the rifle is designed for use with RWS Musket Caps and recommends their use. Because of this, I only use RWS Musket Caps and I recommend that you do so as well when shooting any of the muzzleloaders in the CVA Northwest line.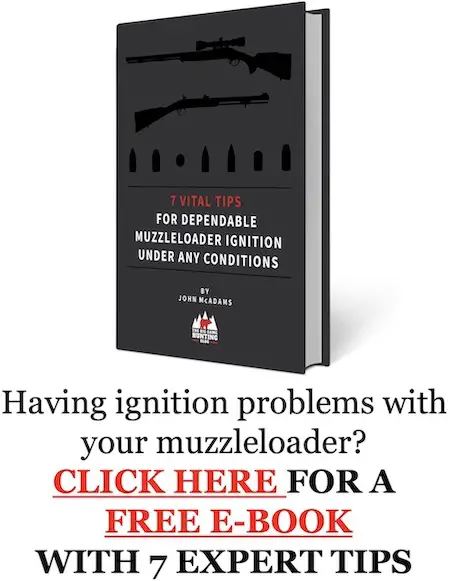 Also, by simply changing the breech plug and the firing pin system, the CVA Optima Northwest may be converted to use 209 primers. Since it is also drilled and tapped for a scope, it is a great choice for a hunter who hunts in multiple states with varying laws for hunting with muzzleloaders. For instance, I plan on using this muzzleloader in the northwest configuration to hunt deer in Washington this year. However, I can also mount a scope on it and switch over to 209 primers to use it to hunt deer in Texas (where that is legal).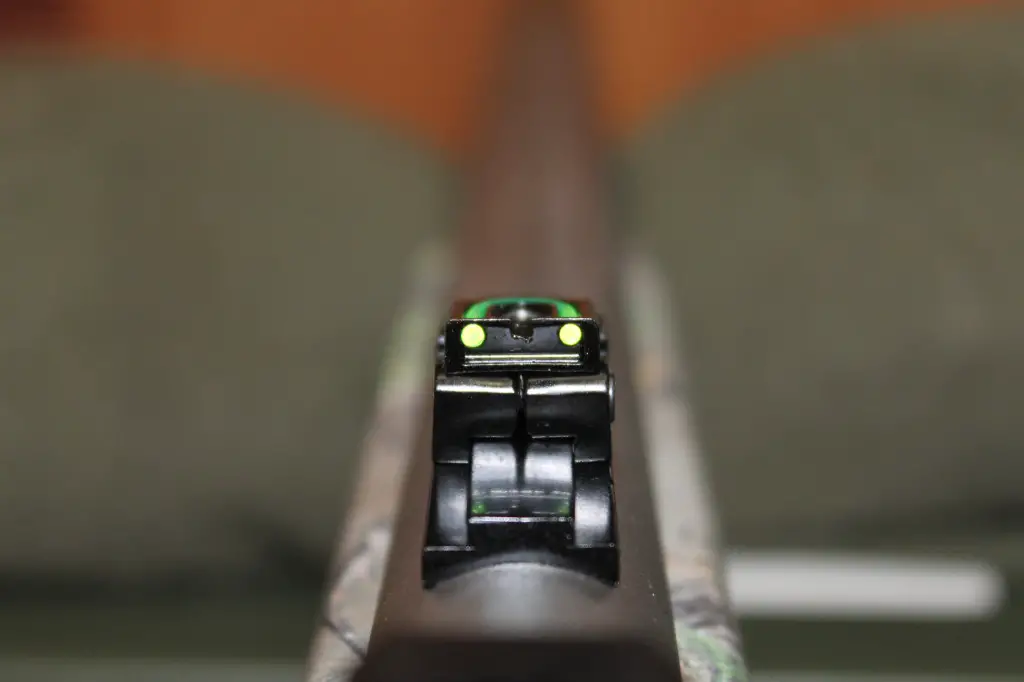 Unfortunately, the CVA Optima Northwest is not perfect. The open sights that came with the CVA Optima Northwest are the same ones that are mounted on the CVA Wolf Northwest, which I consider to be of marginal quality.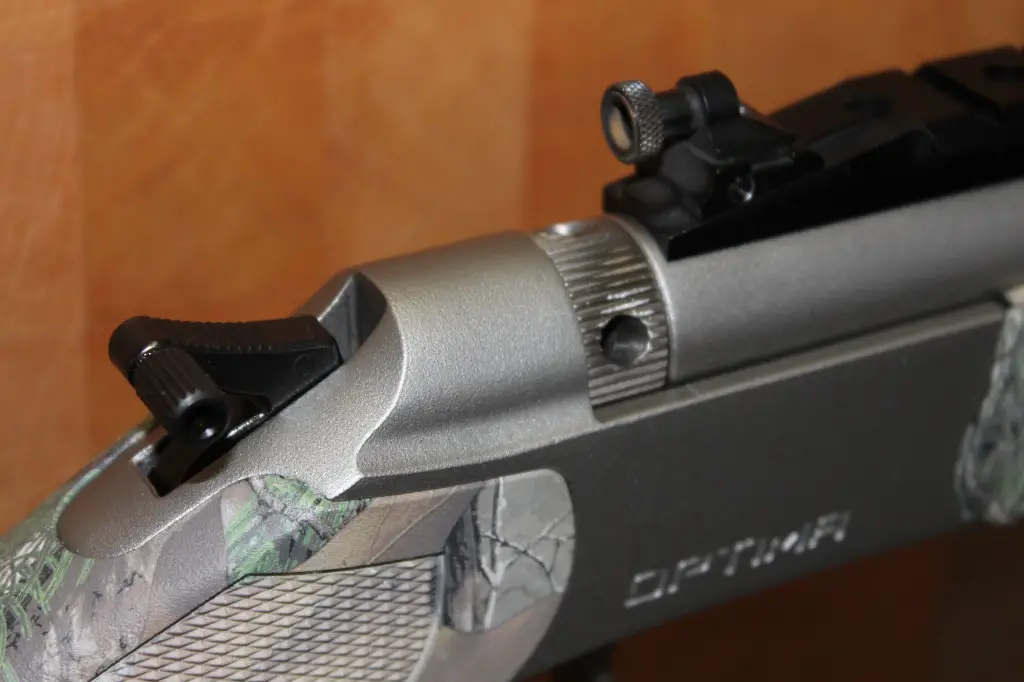 The fact that both the front and rear sights were fiber optic greatly enhanced their utility in low light conditions. However, the sights appear to be cheaply made and I had difficulty adjusting them precisely. In general, I do not like open sights, as they are the least accurate of all iron sights. Additionally, the rear sight is mounted near the middle of the barrel. This cut down on the sight radius and made it even less precise.
Fortunately, the E. Arthur Brown Company makes a reasonably priced peep sight/scope mount combination designed specifically for CVA muzzleloaders (Williams makes another good one). No special tools were needed for installation (just an Allen wrench) and it only took me a couple of minutes to install it. This peep sight is a tremendous step up in quality from the open sights. It mounts just in front of the breech plug, which increased the sight radius from 16" to 24 ½". Additionally, this sight has the added benefit of allowing for the use of a scope (when legal) while still having the peep sight mounted.
So far, I'm extremely pleased with the performance of my CVA Optima Northwest and I think it is one of the best muzzleloaders currently available. With a price of less than $350 (currently on sale for $339 as of 5 April 2022), the CVA Optima Northwest is a great bargain for hunters in the Pacific Northwest who are interested in hunting during muzzleloader season, but who also want some of the conveniences associated with an in-line muzzleloader.
BUY A CVA OPTIMA NORTHWEST HERE


Update 15 October 2015
I just got back from a deer hunting trip in eastern Washington where I shot a fat whitetail doe using my CVA Optima Northwest. It was cold and wet, but the CVA Optima Northwest did everything I asked it to do. Even though I had been hunting in cold weather and drizzling rain for a couple of days, it fired when I pulled the trigger. The shot was about 50-60 yards and my 250gr PowerBelt AeroLite hit her just behind the shoulder, right where I was aiming. She ran about 50 yards after the shot.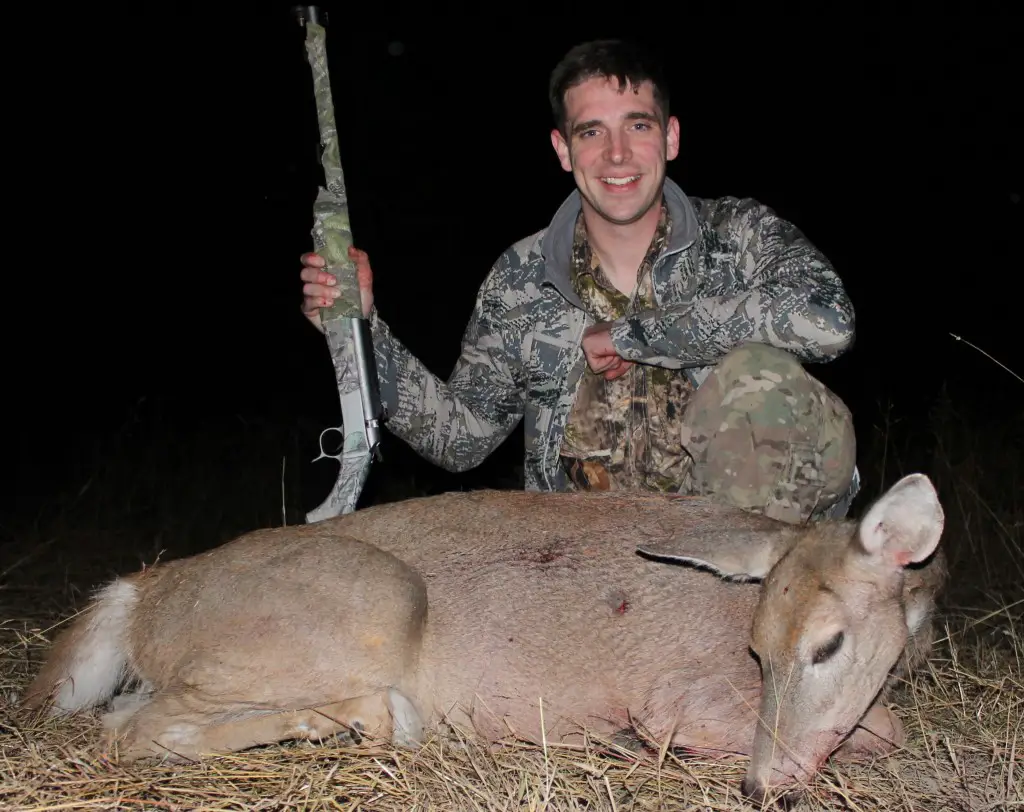 Rating
Affordability: 4/5
Availability: 4/5
Performance: 4/5
Reliability & Durability: 5/5
Size & Weight: 5/5
Overall: 4.4/5
If you like what you've read so far and are looking for a great Northwest Legal muzzleloader for a reasonable price, then I highly recommend purchasing a CVA Optima Northwest muzzleloader.
BUY A CVA OPTIMA NORTHWEST HERE
Enjoy this CVA Optima Northwest Review? Please share it with your friends on Facebook and Twitter.
Make sure you subscribe to The Big Game Hunting Podcast and follow The Big Game Hunting Blog on Facebook, Instagram, Twitter, and YouTube.
Endorsement Disclosure: Per the guidelines of the Federal Trade Commission, the product reviewed here is an endorsement and I received compensation by "in-kind" payment to review the product.