Today, we're talking elk rifles. Some elk hunts take place under really demanding conditions, so you'll want to make sure you're using a rifle that's up to the task. Fortunately, Joseph von Benedikt was kind enough to join us again for an in-depth discussion on elk hunting rifles and what sort of characteristics you need to keep in mind when choosing a rifle. 
For that reason, you need to make sure your ammunition is up to the task.
Show Sponsor: Go to huntingguns101.com to receive specific rifle, cartridge, ammo, and scope recommendations tailored to YOUR specific hunting needs as well as access to our EXCLUSIVE Facebook community and EXCLUSIVE discounts on certain outfitted hunts Big Game Hunting Adventures in Africa or Canada.
Feel free to email me at [email protected] with any feedback you have on the show as well as topic requests for future episodes.
Subscribe
Apple | Google | iHeart | Overcast | Spotify | Stitcher
What We Covered
1) Brief continuation of our discussion on elk hunting bullets in response to a listener question on larger diameter bullets.
2) Story of an elk hunt Joseph experienced that demonstrates the capabilities that a good elk rifle should ideally possess.
3) The most important characteristics he prioritizes when choosing the right rifle for elk hunting.
4) Ideal elk rifle weights for various elk hunting situations as well as the pros and cons of hunting with lighter and heavier rifles.
5) Joseph's opinions on push vs controlled feed rifles for elk hunting.
6) What you need to know about rifling twist as it relates to choosing a rifle that will do what you ask of it, especially when shooting very long, high BC bullets.
7) Specific elk rifle recommendations.
8) Recommended scopes for elk hunting.
Resources
1) Joseph's Personal Instagram Page
2) Check out Joseph's podcast: The Backcountry Hunting Podcast on Apple Podcasts
3) Backcountryhuntingpodcast.net – Web site For the Backcountry Hunting Podcast
4) Follow The Backcountry Hunting Podcast on Instagram and Facebook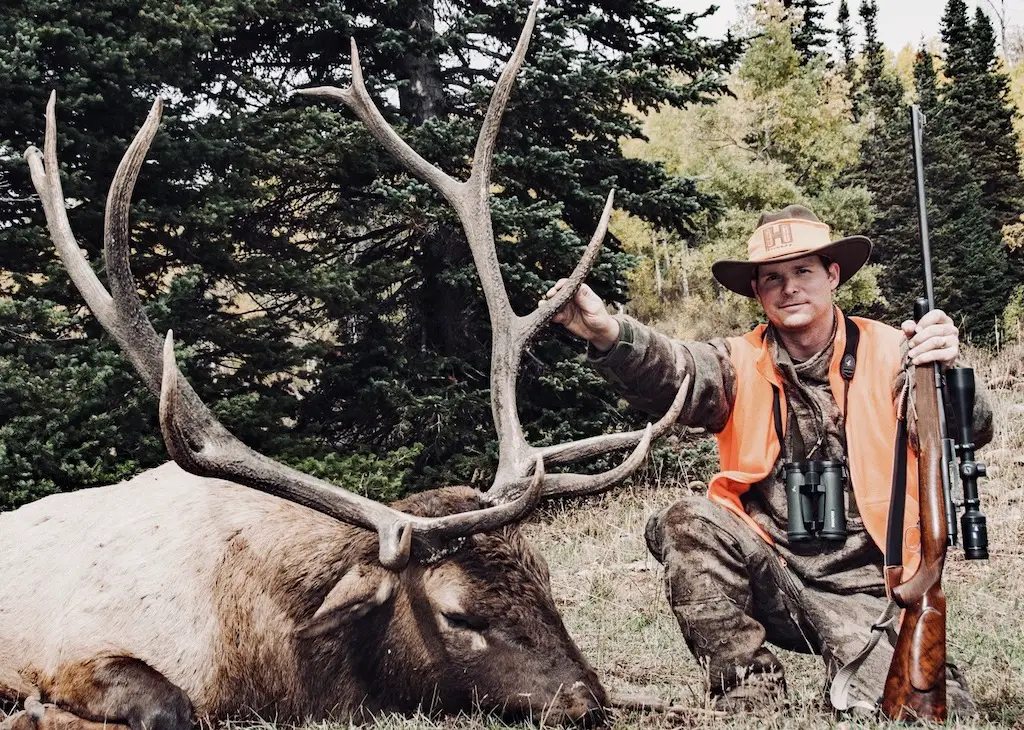 Sponsor
If you want to join a community where you can have these sorts discussions with other veteran hunters who have been there and done that, then you NEED to checkout huntingguns101.com. 
There, you'll receive some specific rifle, cartridge, ammo, and scope recommendations tailored to YOUR specific hunting needs regardless of whether you want to hunt deer or pronghorn in the lower 48, moose in Alaska, or cape buffalo in Africa. 
You'll also get access to a Facebook community EXCLUSIVELY for Big game Hunting Podcast listeners where you can get regular access to ME as well as lots of other experienced hunters and shooters who can answer your questions and give you feedback.
And to top it all off, members receive EXCLUSIVE discounts on outfitted hunts through Big Game Hunting Adventures. Booking just ONE hunt will MORE than cover what it costs to join the group! 
In fact, you get so much useful stuff from joining the community that I'm practically giving it all way considering what I'm charging for it.
Head on over to huntingguns101.com and sign up. I look forward to hearing from you and seeing you in our Facebook group!
Subscribe