Keep reading for a breakdown of essential items from my the mule deer hunting gear list I used on my recent hunt in New Mexico.
While there is certainly more involved with being successful on a hunt than having good equipment, having the right hunting gear can really make your life easier in the field. Here's a breakdown of essential gear from the mule deer hunting gear list I was using when I bagged my first mule deer in New Mexico.
Before we get down to business, you should keep in mind that this is my personal list for a rifle deer hunt in New Mexico. I was also hunting in a unit with a pretty good road infrastructure that enabled me to set up camp right next to where I parked and then drive to the specific spot I planned on hunting each day. So, while I did a lot of walking on my hunt, this was absolutely not a backpack hunt. For that reason, bow hunters, backcountry hunters, or people going afield in different parts of the country will need to tweak their mule deer hunting gear list accordingly.
This is also not an all-inclusive mule deer hunting gear list. Instead, I'm discussing some of the most important pieces of gear in detail and making recommendations based on my experience. Finally, while I found that I was generally very well equipped for my hunt, there are a couple of pieces of equipment that weren't well suited to the task at hand and I'll also discuss what I plan on changing for my next mule deer hunt.
Before we begin, I have a disclaimer.
Some of the links below are affiliate links. This means I will earn a small commission if you make a purchase. This commission comes at no extra cost to you, but helps support the blog and allows me to continue to create free content that's useful to hunters like yourself.
Ruger Hawkeye FTW Hunter With Leupold VX-3i Scope And Barnes TTSX Bullets
Introduced back in 2016, the Ruger Hawkeye FTW Hunter is an all-weather, precision hunting rifle designed to perform under a wide range of rough conditions. I have one with a left-handed bolt chambered in .300 Winchester Magnum and sporting a Leupold VX-3i 3.5-10x40mm scope that I used on this hunt. I knew that the wide open terrain in this unit made it possible that I'd have to take a longer range shot, so I opted for a lightweight, flat-shooting load and used 165gr Barnes TTSX BT bullets (provided courtesy of Ammunition To Go).
In short, the rifle, scope, and ammunition all performed beautifully on my hunt: I made a 227 yard shot across a canyon and dropped the deer in its tracks.
Indeed, a hunt in open country with minimal vegetation like this is exactly what the Ruger Hawkeye FTW Hunter was designed for. The rifle is light enough that I didn't have any problems hiking for several miles a day with it. At the same time, since I was not hunting in heavy timber, I did not experience any issues with the 26″ barrel on the rifle getting hung up on vegetation or tree limbs either.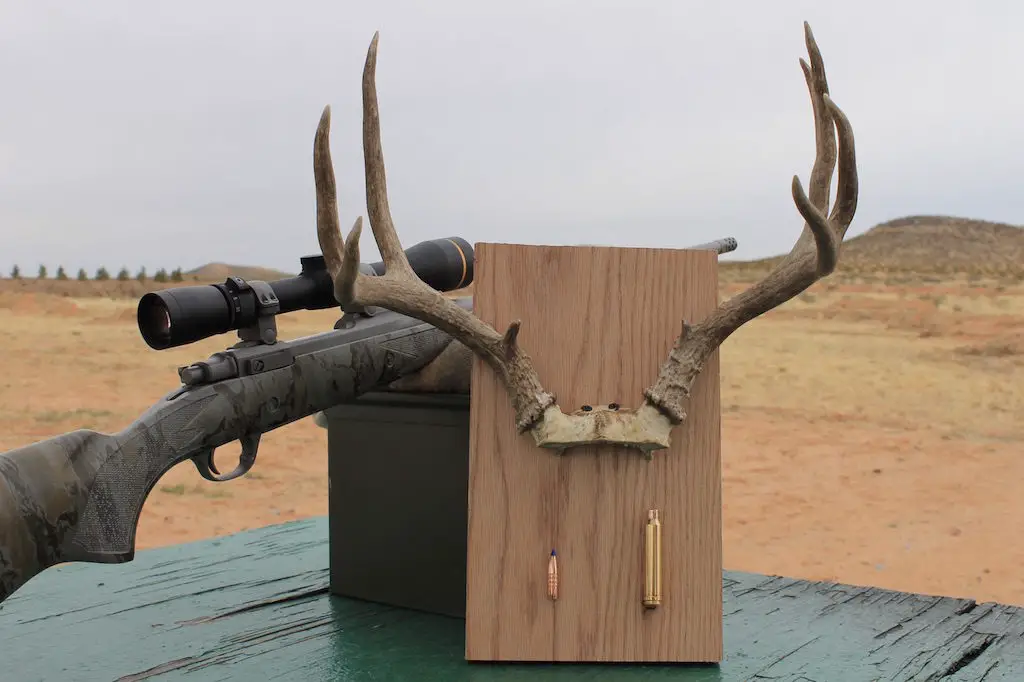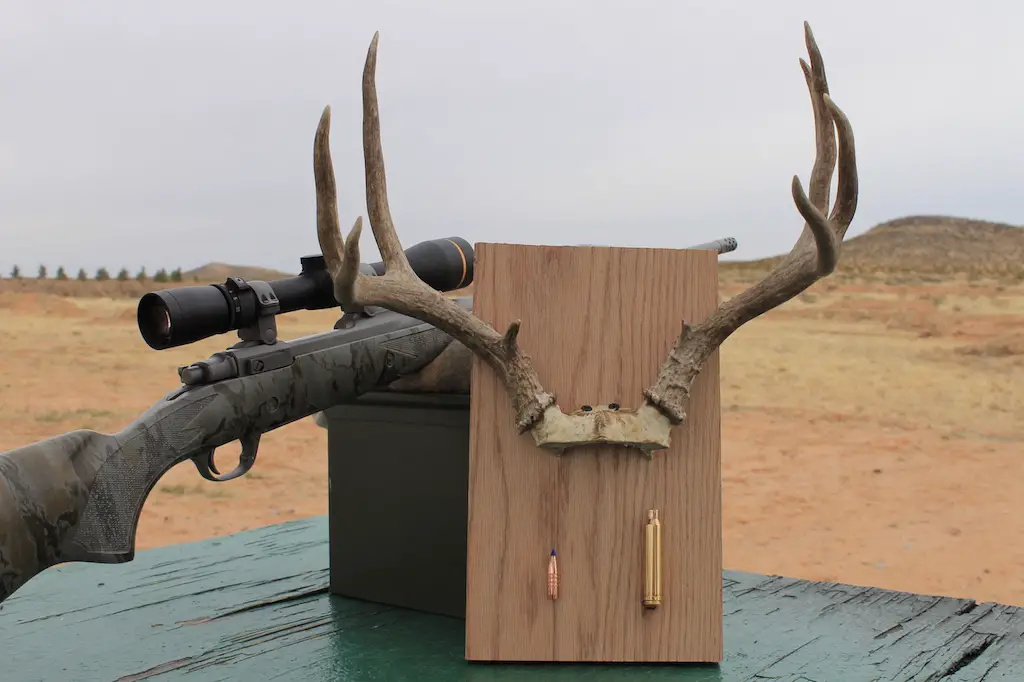 I sighted in my rifle with a 220 yard zero prior to the hunt, so I did not need to adjust my point of aim when I took that 227 yard shot on the deer. I also did not have any problems finding the deer in my scope, even with it dialed all the way up to 9x. If you think you might need to take a shot at ranges out past 500 yards or so, then you should probably look at using a Leupold VX-5 or VX-6 scope.
However, the VX-3i will work just fine at anything closer than that.I did a lot of work at the range prior to my hunt and the Barnes TTSX bullets were very accurate in my rifle. Their real-life ballistics also very closely matched the performance advertised by Barnes. Additionally, they produced a very large wound channel and exited out the deer's opposite shoulder with plenty of energy to spare. This isn't really surprising since mule deer aren't particularly large or tough animals, but it's still exactly the sort of performance I like to see from a bullet. Finally, the Barnes TTSX bullets are also lead free, making them great bullets for hunters in states like California that prohibit hunting with bullets containing lead.
You should always protect your hearing when hunting. However, the muzzle brake on my hunter makes it particularly loud. For that reason, I'm very diligent about wearing hunting ear protection when I'm afield with this particular rifle. During this hunt, I wore as set of Walker's HD Pro Elite ear plugs and they worked great.
Finally, I carried a basic gun cleaning kit consisting of a bore snake and CLP afield. Every couple of days I ran the bore snake down the barrel to make sure it remained clean for when I needed it.
Leupold BX-5 Santiam HD Binoculars
Leupold rolled out their BX-5 Santiam HD 15x56mm binoculars this year and the folks at Ochocos loaned me a pair to use on this hunt.
You can read my BX-5 Santiam review to learn more detailed information about these optics, but like the Ruger Hawkeye FTW Hunter, they were specifically designed for this sort of work and they performed very, very well on my hunt. In fact, I'm fairly certain I would not have killed that buck if I weren't glassing with these binoculars.
If you need to do some serious glassing, then the Leupold BX-5 Santiam HD binoculars (and a good quality tripod) are an absolute must have for your mule deer hunting equipment list.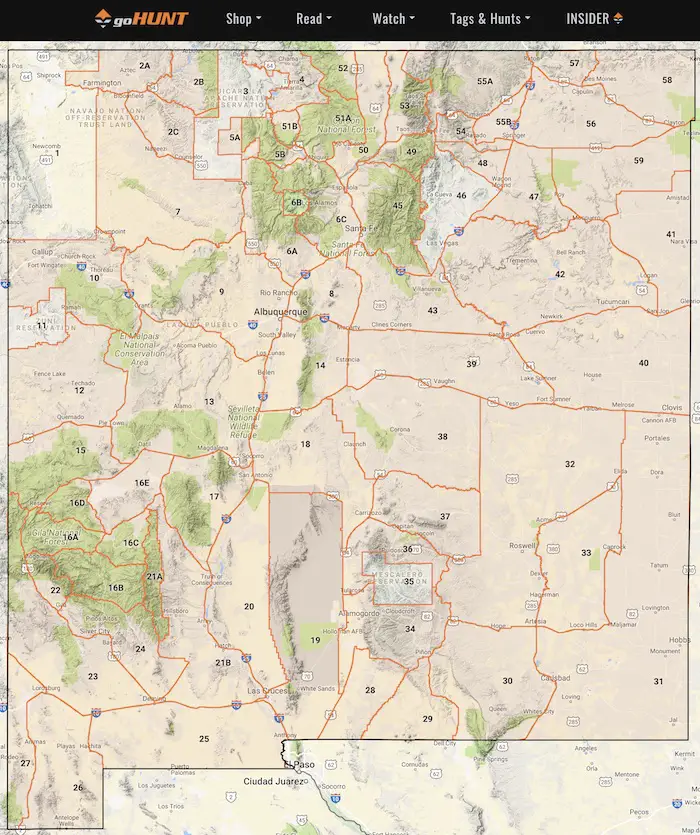 You need to have the appropriate licenses and tags before you go hunting anywhere. Unfortunately, New Mexico does not offer any "over the counter" tags for deer (or other species of big game like elk, pronghorn, or sheep), and distributes these tags through a random draw instead. For this reason, getting a tag in a good unit in New Mexico can be pretty challenging for the uninitiated.
Fortunately, the folks at goHunt provide some of the most comprehensive information available anywhere regarding where to go to hunt specific animals, how to draw the necessary tag, and what hunting tactics work best in those places. Using their service, I was able to find a unit with good odds of drawing a mule deer tag, high historic success rates, and lots of public land that was a reasonable driving distance from my home (for what it's worth, I drew another great tag in 2018 with their assistance).
I cannot emphasize enough how important goHunt was to my success on this hunt and I doubt very seriously that I would have drawn this tag if I would not have been using the goHunt Insider service.
In addition to New Mexico, goHunt also provides detailed information for Arizona, California, Colorado, Idaho, Montana, Nevada, Oregon, Utah, and Wyoming. If you hunt in any of those states (particularly as a non-resident) and want some assistance with your research, then you need to sign up for the goHunt Insider service.
They also have a well stocked online store that's full of hunting gear like optics, backpacks, sleeping bags, and tents from brands you recognize. They only stock high quality gear with proven reputations so, rest assured that anything you buy in the goHunt store will serve you well while you're afield.
Use the promo code "BIGGAMEHUNTER" when you sign up for a new Insider membership to get $50 in store credit at the goHunt gear shop. So, not only will you get the most up to date western drawing odds, but you'll also get a discount on some great hunting gear to go along with it.
Leupold BX-2 Cascades Binoculars and SX-1 Ventana Spotting Scope
I also added my BX-2 8x42mm Cascades binoculars and my SX-1 Ventana 15-45x60mm spotting scope to mule deer hunting gear list for this hunt.
The BX-2 Cascades binoculars worked pretty well for me. I carried them in a KUIU binocular chest harness and used them for quick free hand glassing sessions when it wasn't practical to use the BX-5 Santiams. The Cascades binoculars were light enough that I didn't hardly notice carrying them at all and they nicely filled in the gap in glassing capability below the BX-5 Santiams.
Since I was hunting in such wide open country, I could likely have better utilized a pair of the 10x42mm Cascades binoculars or maybe even a pair of the new Leupold BX-4 Pro Guide 10x42mm or 12x50mm binoculars. That would have given me a slight edge in performance over my 8x42mm Cascades at a higher price. Whether it's worth it to you is really just a matter of how often you hunt that type of country, what sort of optics you already have, and what your budget is like. Personally, I'll probably be using my 8x42mm Cascades binoculars on my next mule deer hunt.
On the other hand, the SX-1 Ventana spotting scope did not work out that well for me and I honestly didn't end up using it very much at all. If I didn't have the BX-5 Santiam binoculars I probably would have used it more, but the Santiam had much better image quality and a larger field of view than the Ventana and I didn't have much of a need to glass animals at ranges where I needed the higher magnification of the Ventana spotting scope. The Ventana will absolutely work for glassing on a mule deer hunt, but just like with the Cascades binoculars, it's certainly worth upgrading to a Kenai or Gold Ring spotting scope if you think you'll need a spotting scope on your hunts and if your budget supports it.
You can read my BX-2 Cascades review and my SX-1 Ventana review to learn more about these optics, but unlike the Ruger Hawkeye FTW Hunter, they are not ideal additions to a mule deer hunting gear list. Don't get me wrong: they will absolutely do the job, but there are other optics out there that will perform much better for that sort of work. Like all things in life though, you just need to make a decision on whether or not it is worth it to you to upgrade based on what you already have, what your budget is, and how often you hunt under conditions like this.
Leupold RX-850i Rangefinder
I also carried a Leupold RX-850i TBR rangefinder with me every day on the hunt. Leupold managed to cram a bunch of capabilities into a small package and absolutely hit it out of the park with this rangefinder. It's incredibly small and compact, yet fits comfortably into your hand when you use it. I carried it in the cargo pocket of my pants each day on the hunt tied it off to my belt loop with some 550 cord to keep from losing it. Similar to the BX-2 Cascades binoculars, they were lightweight enough that I didn't even notice I was carrying them most of the time.
Leupold advertises that this rangefinder can determine the range of a deer sized object out to 750 yards and of a highly reflective object like a truck out to 865 yards. It also has a "True Ballistic Range" feature that can help you calculate the appropriate holdover for shots at extreme upward or downward angles. I've used this rangefinder pretty extensively for over a year now on several different hunts in addition to this one and it's worked very well for me in every regard.
A good rangefinder is an absolute must have for a mule deer hunting gear list and the Leupold RX-850i is a good choice. That being said, while I didn't have one at the time, I plan on using my Nikon Black RangeX 4K on all my future hunts: it's comparable in size, can calculate ranges on deer sized targets out to 1,500 yards, and is only a little more expensive.
Badlands Clutch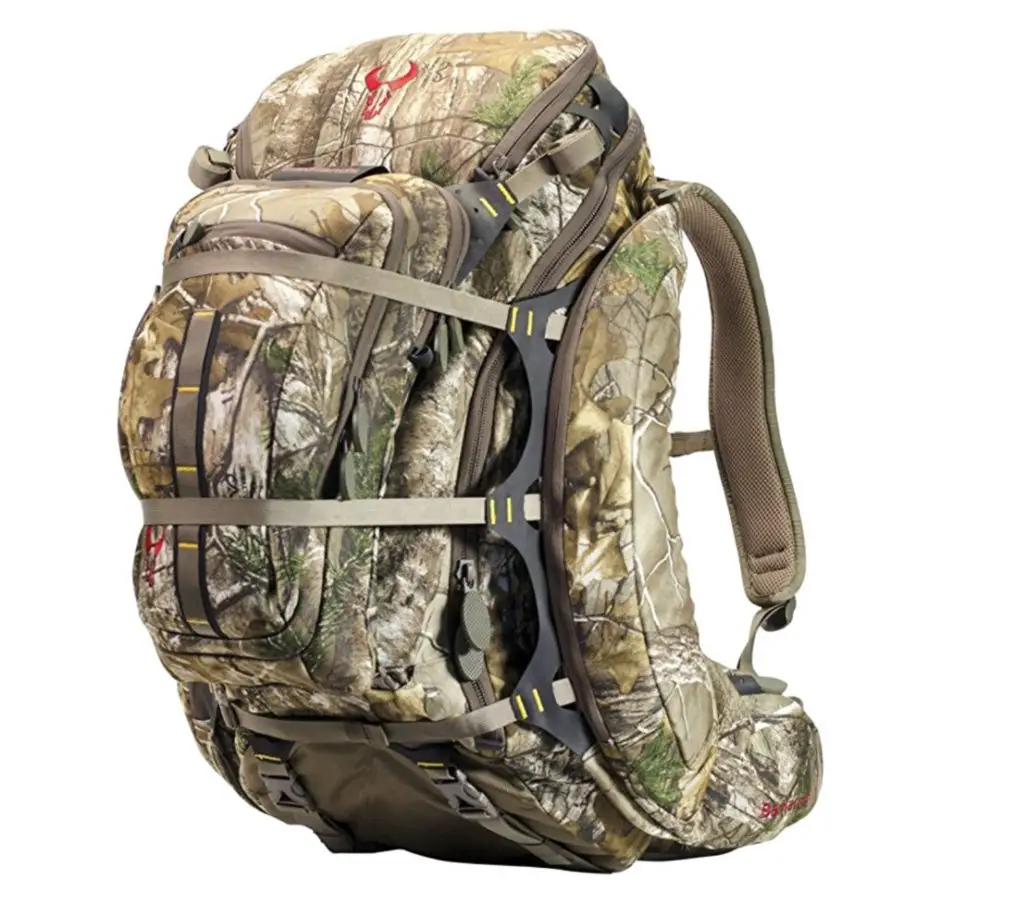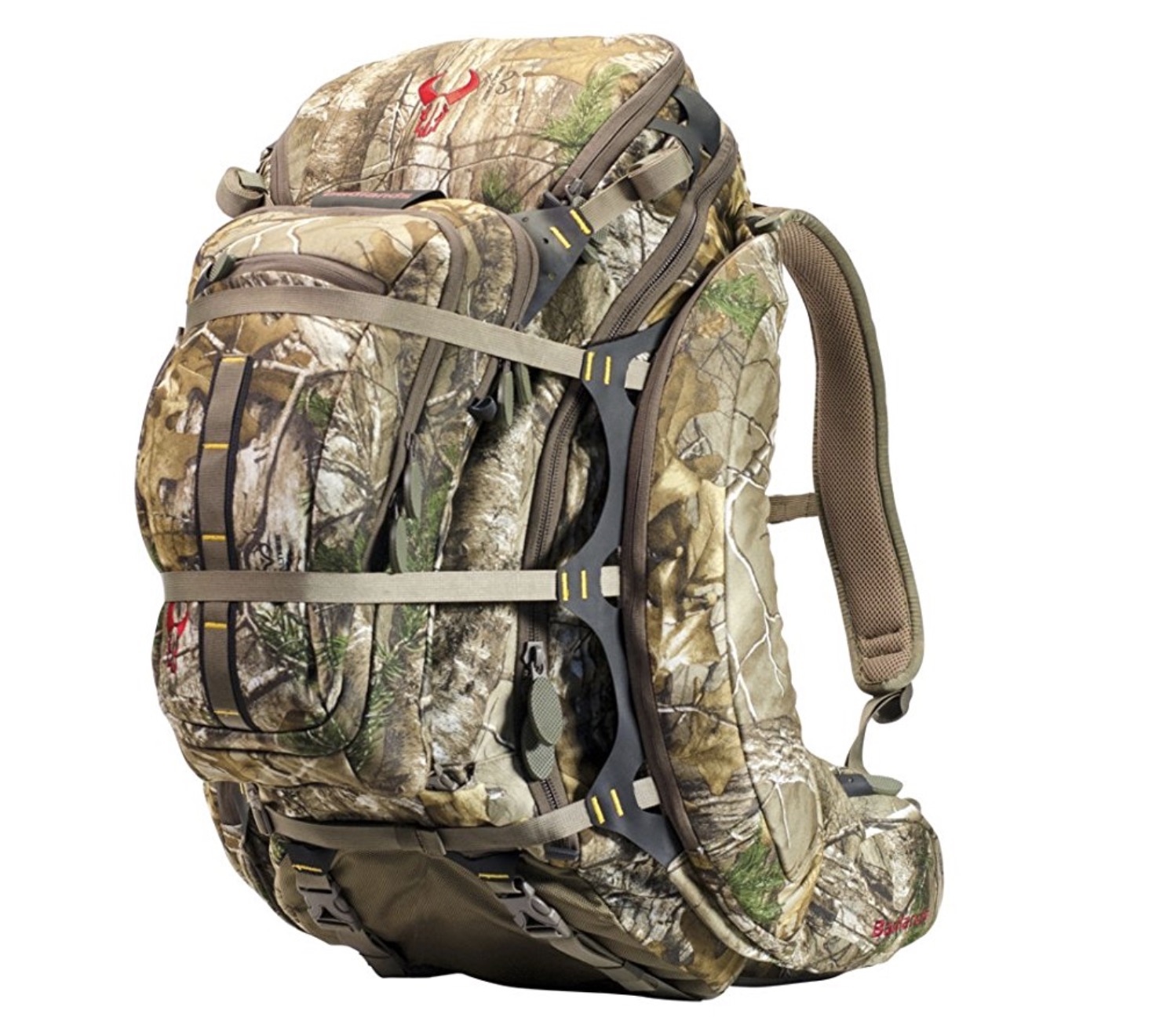 Every hunter needs a good backpack on their gear list and the Badlands Clutch is a really nice one for many situations. One of my favorite features on the Clutch is the fact that it has a detachable hydration daypack ideal for short scouting trips where you don't need to carry the whole backpack. When hunting in a dry area like New Mexico, it's very important to carry plenty of water, so I appreciated having a backpack with an integrated hydration system.
The Clutch also has a bucket top, side pockets designed to hold a spotting scope, an integrated rifle boot, a rain cover, and a zippered back panel that allows you to access the inside of the pack without taking it all the way off. The main compartment has a volume of 2,520 cubic inches and it's big enough to carry an entire deer or a single elk quarter in one trip. The Clutch also has a strong and well designed aluminum internal frame that does a good job of transferring the load to my hips. I've carried 60+ pounds in it for miles at a time without too much trouble.
Badlands also has a really awesome lifetime unlimited warranty and they'll fix any problems with your backpack free forever. I left some food in my Clutch a couple years ago and a mouse chewed through the side of it. I sent it into Badlands for a repair and they repaired the hole with no questions asked and it was back in my hands exactly 2 weeks after I mailed it to them.
All in all, the Badlands Clutch is a solid addition to my mule deer hunting gear list and I'll definitely continue to use it on future hunts.
That being said, it's not be the ideal backpack for all hunting situations. I don't do many true backpack hunts where I need to carry my camp on my back for miles at a time. If you're looking for a serious pack for that kind of work, then I don't think the Badlands Clutch will cut it. Instead, check out the Mystery Ranch Marshall or Metcalf packs.
Alaska Game Bags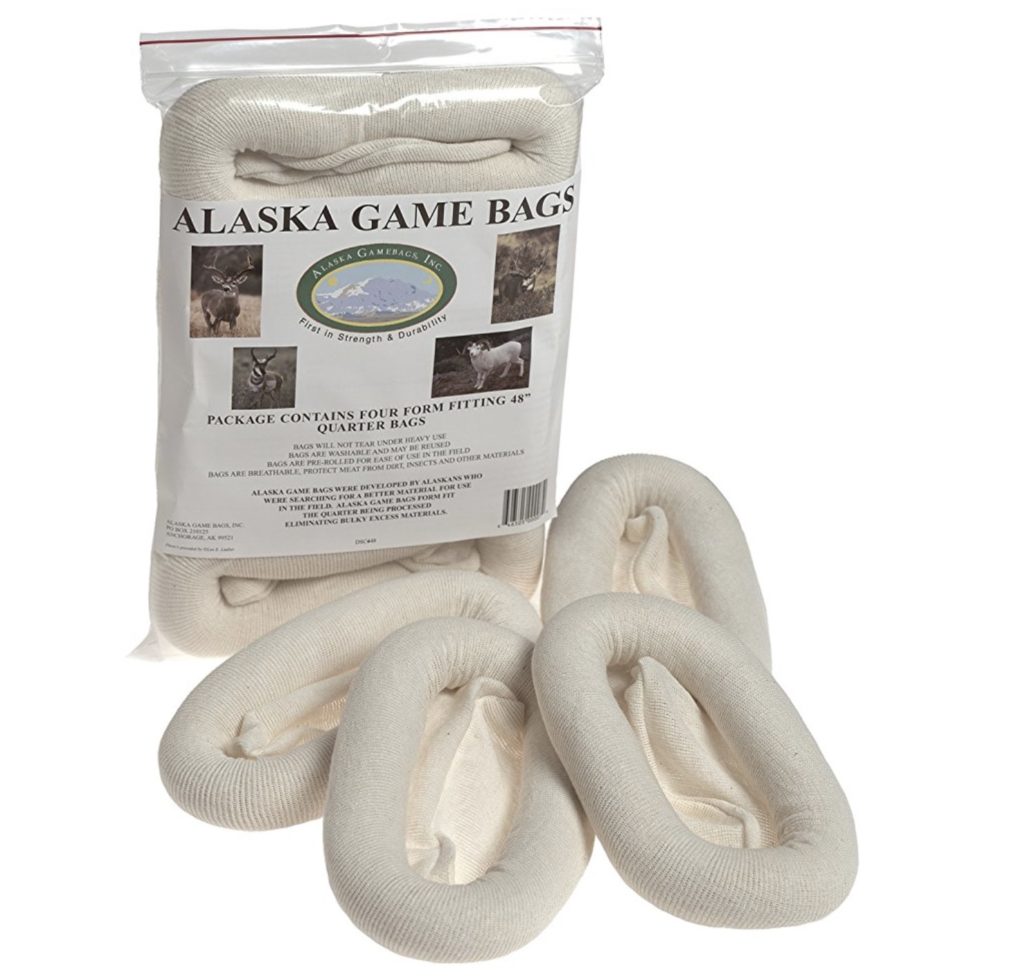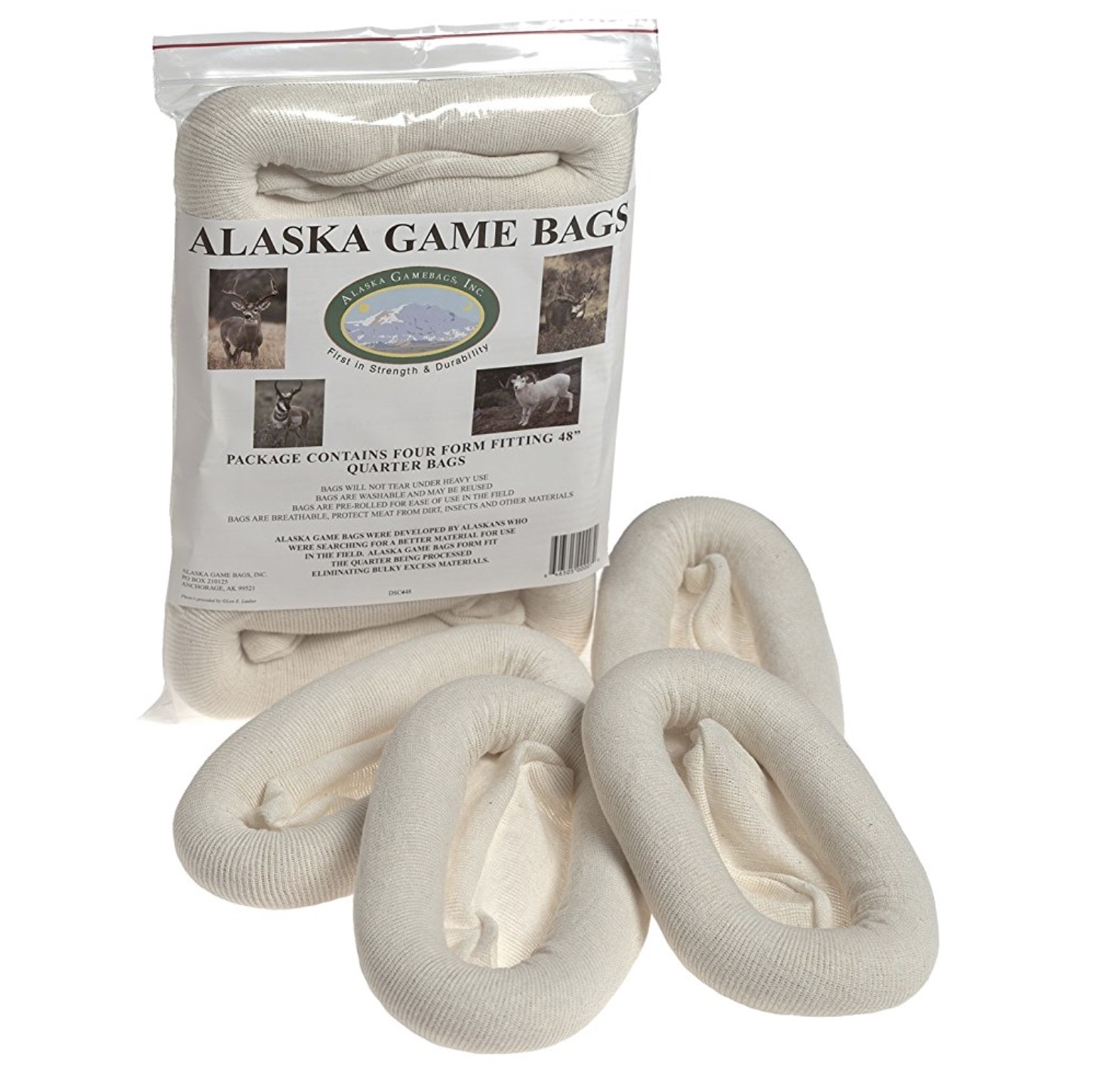 If you're hunting in any sort of remote location where you'll need to pack an animal out on your back (as opposed to just dragging it to your truck), then you need to have some game bags on your gear list. Obviously you'll need a hunting knife to accomplish this task. On this hunt, I used a generic hunting knife that I purchased at a big box retailer many years ago. I've since replaced that knife with a Benchmade Grizzly Ridge (provided free courtesy of Blade HQ, sellers of, among other things, high quality hunting knives).
After you quarter and skin your deer, simply put it in a game bag to protect the meat from dirt and bugs.
I've used Alaska Game Bags for several years now and they've always worked great for me. They are lightweight, well made, reasonably priced, and reusable. Just throw them in the washing machine when you get home and they'll be ready to go for your next hunt. Alaska Game Bags come in two sizes: a smaller size for animals like deer and pronghorn and a bigger size for animals like moose and elk. So, make sure your mule deer hunting gear list has a pack of game bags on it and you won't regret it next time you have to pack a deer out of the backcountry.
Most of these items also made cut for my 2019 holiday gift recommendations. To see what other stuff is on the list, check out the following article:
Awesome Holiday Gifts For Hunters In 2019
Enjoy my article about my mule deer hunting gear list? Please share it with your friends on Facebook and Twitter.
Make sure you follow The Big Game Hunting Blog on Facebook, Instagram, Twitter, and YouTube.
Endorsement Disclosure: Per the guidelines of the Federal Trade Commission, the products reviewed here are an endorsement and I received compensation by "in-kind" payment to review the product.