Continue reading to find out all about hunting in Botswana.
So far, I've completed hunting reports on the countries of Namibia, South Africa, Zimbabwe, and Tanzania. All of these countries currently offer outstanding and diverse opportunities for hunting both plains and dangerous game in Africa. In this article, I'm going to discuss conditions in a country that unfortunately currently has dismal prospects for hunting in the future: Botswana.
Botswana Climate And Geography
Botswana is a medium sized country, larger than Zimbabwe, but smaller than Namibia, South Africa, and Tanzania. It is landlocked and is located in southwestern Africa. Botswana is bordered by Namibia to the north and west, South Africa to the south, Zimbabwe to the east, and has a very small border with Zambia to the northeast. English is the official language, but the majority of the population also speaks Setswana.
Botswana has a climate very similar to that of Namibia, which is not surprising considering the fact that they are neighbors. The rainy season, which is also the hottest time of year, occurs between October and April. The cool, winter season occurs between May and September. During the summer, temperatures generally range from 65-95 °F while winter temperatures usually stay in the 40-75°F range.
The northern portion of the country bordering Namibia's Caprivi Strip, is the wettest piece of Botswana. This area contains the Okavango Delta, a gigantic inland delta that is absolutely teeming with wild game. The Kalahari Desert occupies most of southern and western Botswana. Eastern Botswana, where most of the diamond mining is conducted is generally hillier than the rest of the country.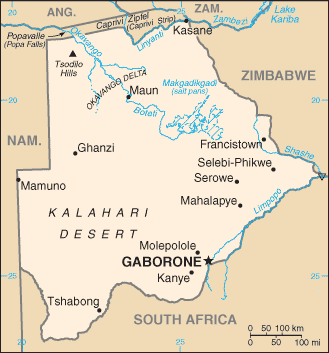 Trophy Hunting In Botswana
Botswana possesses a literal wealth of wildlife. Due to the large amount of water present, there are considerable populations of elephant, buffalo, hippopotamus, crocodile, leopard, lion, wildebeest, giraffe, hyena, kudu, sable, sitatunga, warthog, and zebra in the Okavango Delta. Probably the most common animal present in the delta is the Red Lechwe, a medium sized antelope that lives primarily in marshy areas, with a population of over 50,000. In the arid Kalahari Desert region of southwest Botswana, there are significant populations of gemsbok, springbok, eland, and kudu in addition to lion, leopard, and elephant.
Both the Okavango and the Kalahari are known for producing animals with absolutely outstanding trophy quality and the Safari Club International (SCI) Record Book is heavily populated with animals from both locations. For instance, 7 out of the Top 10 Red Lechwe, including the current #1 and #2, the current #1 leopard, and 7 out of the Top 10 sitatunga were taken in the Okavango Delta. The current # 1, #4, and #5 Kalahari Gemsbok and the current #10, #11, and #14 Kalahari Springbok were taken in the Kalahari region of Botswana.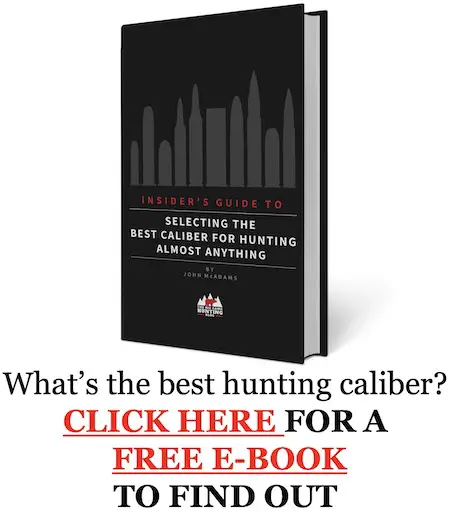 Botswana Hunting Ban
The unfortunate thing about Botswana is that despite the abundance of game present in the country, has enacted very strict rules that amount to a near total ban on all sport hunting. As of this moment, it is no longer legal to hunt on public land. Under the new rules that took effect on 1 January 2014, hunting is only legal pieces of private land that are located more than 20 miles from a national park. Understandably, this considerably restricts hunting opportunities in Botswana. Fortunately, this is certainly not set in stone; the country has been going back and forth about banning hunting for most of the past decade and they can certainly change their mind again. However, the severe restriction on hunting in Botswana is very bad news for hunters and for long term conservation efforts in the country.
So what are some of the long term effects if the ban continues? The first and probably most noticeable effect would be that the majority of hunters who would normally hunt in Botswana would hunt in other countries like Namibia, South Africa, Zimbabwe, and Tanzania. Since the demand for hunting opportunities would likely stay the same but the supply of hunting trips would significantly decrease with Botswana out of the market, prices would go up correspondingly in those areas that did not change their hunting regulations. This would make trips to those other countries both harder to come by and more expensive.
The second major impact of this restriction on hunting in Botswana will likely be a gradual increase in poaching coupled with a corresponding decline in animal populations. This will probably not be immediately obvious in even the next year or so. However, in a decade, maybe even less, one will likely be able to see a clear decline across the board in the numbers of most animal species in Botswana starting with this decision to limit hunting.
Even though Botswana is a relatively wealthy country compared to the rest of Africa, nearly one third of the population lives below the poverty line. While photographic safaris will bring in some revenue from foreign tourists, they will likely not be able to replace the money that foreign hunters have historically brought to Botswana. Generally speaking, hunters spend more money, stay in more primitive conditions, and make more return trips to a country than photo tourists.
Therefore, there must be a significant increase in photo tourists to make up for the loss of hunters in Botswana. Unfortunately, I just don't see that realistically happening. Therefore, a significant number of people who depend on the hunting business for their jobs will probably lose them. This includes not only those who work directly for hunting outfitters, but people who work for the government in anti-poaching units and many other jobs that are on the that support the hunting industry. This economic pinch will be felt even more severely by the people of Botswana, and later by the wildlife, if there is a decline in the diamond market, upon which the country relies heavily.
As a result, the value that animals in Botswana have gained through controlled sport hunting over the years will decline and eventually disappear. Gone will be motivation for the native population to avoid poaching antelope for food, poaching leopard and lion to keep them from killing livestock, or poaching elephant for their ivory. The old adage that "If it pays, it stays" is as true in Botswana as it is elsewhere. Unfortunately, instead of preserving populations of wild game, this decision to limit hunting will likely have the opposite result.
To learn more about the benefits for hunting, read the article below.
Benefits Of Hunting: Why Hunting Is Good For Wildlife
The situation in Botswana is currently very precarious. The government may change its mind about hunting like it has done several times in the recent past, or the new rules may be permanent. That is unfortunate because Botswana presents some outstanding hunting opportunities. However, I fear that it may be a long time, if ever, that hunters are able to enjoy them again on a large scale.
For what it's worth, a hunt in Africa made the cut for my holiday gift recommendations. To see what other stuff is on the list, check out the following article:
Awesome Holiday Gifts For Hunters
Enjoy this article about hunting in Botswana? Please share it with your friends on Facebook and Twitter.
Make sure you follow The Big Game Hunting Blog on Facebook, Instagram, Twitter, and YouTube.
Featured image courtesy of Wikimedia.
The map of Botswana was obtained from the CIA World Factbook.
The World Factbook 2013-14. Washington, DC: Central Intelligence Agency, 2013.