Continue reading to find out all about hunting in Mozambique.
This article will be the final one in a series where I've described hunting conditions in Botswana, Namibia, South Africa, Tanzania, and Zimbabwe. Mozambique is something of a late comer to the modern safari industry. There was no safari hunting to speak of in Mozambique during the brutal civil war that began when the country received independence from Portugal in 1975 and finally ended in 1992.
However, Mozambique has done a great job of rebuilding the once outstanding safari industry that existed before the war. Today, Mozambique has thriving, and still improving, wildlife populations available for hunting all over the country.
This is due in large part to the many tangible benefits hunting has for wildlife populations. To learn more about the benefits for hunting, read the article below.
Benefits Of Hunting: Why Hunting Is Good For Wildlife
Mozambique Climate And Geography
Mozambique is slightly smaller than Namibia and is located on the southeast coast of Africa. The country is bordered by Tanzania to the north, Malawi and Zambia to the northwest, Zimbabwe to the west, and South Africa and Swaziland to the south and southwest. Comoros and Madagascar are located just off the east coast of Mozambique in the Indian Ocean. Due to the fact that Mozambique was a Portuguese colony for over 400 years, Portuguese is the official language and is spoken by the majority of the population. Swahili is another common language spoken there.
The southern and eastern portions of Mozambique are generally low-lying, swampy, and wet. The land closest to the coast, where there is more rainfall, contains forests and swamp land. As the distance from the coast increases, average rainfall correspondingly decreases and the terrain gives way to open savannah and grasslands. The Zambezi River generally divides the highlands in the north and west from the lowlands in the south and east. These highlands usually receive more rainfall than the savannah between the mountains and the coast and as a result, contain some very dense forests.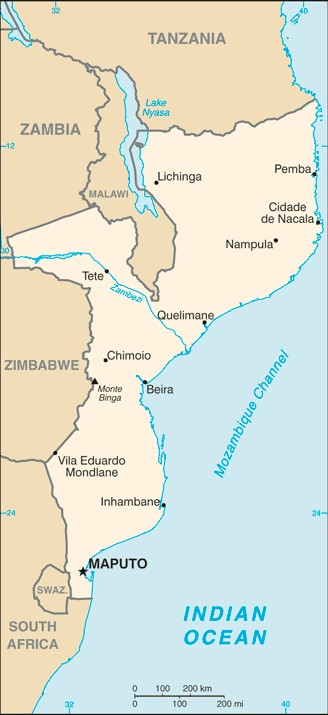 Mozambique has a subtropical climate with well defined wet and dry seasons. The wet season occurs between November and March and the dry season runs from April to October. In the capital city of Maputo, which is located at a very low elevation on the coast, temperatures are in the 55-75°F range during July and the 70-90°F range in February while temperatures are somewhat cooler in the highlands.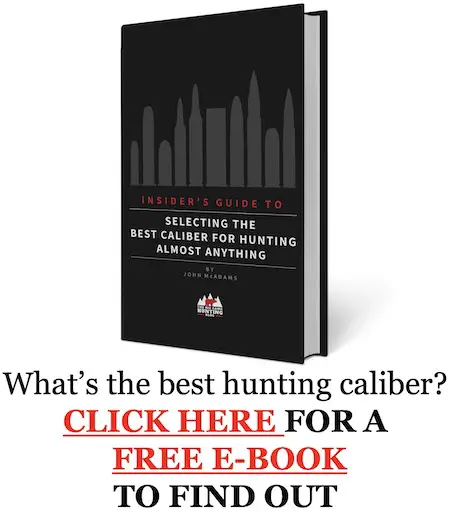 Trophy Hunting in Mozambique
The country has fairly liberal regulations regarding hunting. The hunting season there runs from 1 April to 30 November, which roughly corresponds with the cool, dry, winter season.  Additionally, it is legal to hunt at night with an artificial light for lion and leopard. Very few, if any, of the hunting concessions are high fenced, which is great news for hunters who want to experience the pursuit of wild game in an almost boundless wilderness.
Finally, Mozambique also does not have any minimum caliber or power restrictions when it comes to hunting with firearms or with a bow. Even though there are no legally established minimums, it is prudent to ensure that you contact your outfitter and see what caliber/draw weight they recommend for hunting with firearms or a bow hunting each specific species. Just like most of the other countries in Africa, it is hard to go wrong with a caliber in the .30-06 power range for plains game and one in the .375 H&H range or higher for dangerous game in Mozambique.
The country also has a wide variety of wildlife in healthy populations. Due to the severe poaching that Mozambique suffered for decades during the civil war, wildlife populations vary across the country. Generally, there are larger numbers of animals in areas further from population centers and in areas closer to the borders of South Africa, Zimbabwe, and Tanzania. Among other plains game species, sable, nyala, eland, blue wildebeest, kudu, bushbuck, zebra, reedbuck, impala, waterbuck, and warthog are all present in great numbers across Mozambique.
Additionally, with the exception of the rhino, Mozambique has some hunting for the Big 5: lion, leopard, buffalo, elephant, and rhino. With a population estimated at over 50,000 cape buffalo, Mozambique's buffalo numbers are particularly healthy. Indeed, only Tanzania has more. The country also offers great hunting for crocodile and hippopotamus in multiple locations, but especially in the Limpopo and Zambezi River valleys.
While the Big 5 are relatively well known in hunting circles, another group referred to as the "Tiny 10" are not nearly as well recognized, yet still present interesting trophies for discriminating hunters. The Tiny 10 are 10 different species of pygmyantelope in southern Africa. They are the Damara Dik-dik, Blue Duiker, Bush Duiker, Red Duiker, Cape Grysbok, Sharpe Grysbok, Klipspringer, Oribi, Steenbok, and Suni. Mozambique is a great place for hunting the Tiny 10 due to ample populations of 7 of the 10 species (only the Damara Dik-dik, Klipspringer and Cape Grysbok are not found there) as well as for producing especially high quality Red Duiker and Suni trophies.
All in all, things really seem to be on the upswing with Mozambique and the country is once again becoming one of the premier destinations for big game hunters. After years of uncertainty and apprehension, people are now starting to book Mozambique hunting safaris for trophy buffalo, elephant, leopard, lion and sable.
Travel To Mozambique
Unfortunately, travel to Mozambique is somewhat complicated. While the major airlines that do business in Africa like Delta Air Lines, Lufthansa, and South African Airways all offer service to Mozambique, there are currently no direct flights from the United States. Travelers usually stop in South Africa or Senegal during the course of the trip.
Mozambique is one of the lesser known gems of Africa that is often overshadowed by Tanzania and South Africa. While there are certainly added difficulties involved in traveling and hunting there, the country presents plenty of outstanding hunting opportunities for a serious hunter. The country has come a long way in the last 20 years and the hunting there will hopefully continue to improve. Due to this, I would recommend that experienced hunters who are interested in hunting dangerous game or completing part of a Tiny 10 hunt look into booking a trip to Mozambique.
For what it's worth, a hunt in Africa made the cut for my holiday gift recommendations. To see what other stuff is on the list, check out the following article:
Awesome Holiday Gifts For Hunters
Ready to book a great Africa hunting trip?
Enjoy this article about hunting in Mozambique? Please share it with your friends on Facebook and Twitter.
Make sure you follow The Big Game Hunting Blog on Facebook, Instagram, Twitter, and YouTube.
The map of Mozambique was obtained from the CIA World Factbook.
The World Factbook 2013-14. Washington, DC: Central Intelligence Agency, 2013.
https://www.cia.gov/library/publications/the-world-factbook/geos/mz.html