Continue reading to find out all about hunting in Zimbabwe.
In my last few articles, I described hunting conditions in Botswana, Mozambique, Namibia, South Africa, and Tanzania. In this article, I plan to discuss hunting conditions in Zimbabwe. Even though many of these countries are located relatively close to each other, Zimbabwe presents vastly different hunting opportunities and challenges.
Zimbabwe Climate And Geography
Zimbabwe is a medium sized country, larger than California but smaller than Namibia, and is located in southeastern Africa. The country is bordered by South Africa to the south, Botswana to the west, Zambia to the north and Mozambique to the east. Shona is the most common language spoken in Zimbabwe. Nonetheless, many people speak English and English is used during most official business.
Zimbabwe has no official hunting season; it is legal to hunt there 365 days a year. However, due to the weather, the winter months of June, July and August are the most popular for hunters. The "wet season" in Zimbabwe generally runs from November to March and this coincides with the hottest time of year as well. Temperatures vary across the country with the higher elevations typically being significantly cooler than the lower elevations.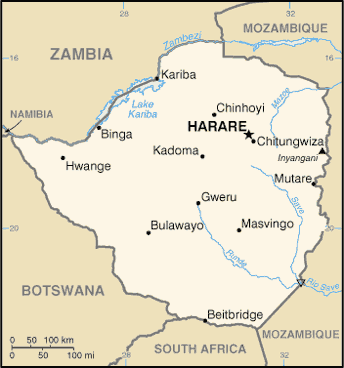 My father and I hunted the Limpopo valley during February, which was the only time I had available to hunt due to conflicts with work, and it was extremely hot and humid. The cooler days typically had highs around 80-85°F and the hottest temperature we experienced was 113°F in the shade. Luckily, it rained every few days and the temperatures would significantly cool down after it rained. Fortunately, the hunt was very successful in spite of the less than ideal conditions. However, due to the oppressive weather, I would not recommend hunting the low veld during the summer there unless you had no other choice. The temperatures in that same area during the winter are usually a much more comfortable 50-70°F.
The center of Zimbabwe is an elevated plateau. The Zambezi Valley in the north and the Limpopo Valley in the south are both considerably lower in elevation than the central plateau, while the Eastern Highlands are somewhat higher in elevation. Vegetation also varies across the country. Most of the country is a savannah ecosystem and the Baobab Tree is a very common sight. However, the portions of the country with more rainfall support pretty thick forests.
On my hunt in the Limpopo Valley, I encountered very thick brush which significantly cut down on the distance I could identify game at; there were some areas where the bush was so thick I couldn't see even five yards ahead. This made for some very close encounters with game: my father shot a buffalo at less than 10 yards! However, a big reason that the bush was so thick was that we were hunting during the rainy season. During the winter, the bush would have been significantly thinner there and visibility correspondingly increased.
In those thicker areas, flat shooting cartridges like the .270 Winchester, 7mm Rem Mag, .280 Ackley Improved, or .300 Win Mag will certainly work, but are not required. Cartridges like the .308 Winchester and .30-06 Springfield are perfect for the majority of plains game hunting in the country, while the .375 H&H, .416 Remington Magnum, .416 Rigby, and .458 Lott, and .458 Win Mag are all great choices for dangerous game like cape buffalo.
Travel To Zimbabwe
In order to travel to Zimbabwe from the United States one must travel through either the United Kingdom or South Africa, with South Africa being the more common choice. From South Africa, one can fly into Harare, Victoria Falls, or Bulawayo. Another option is to drive across the border into Zimbabwe. There are a number of major airlines which offer service into Zimbabwe including Lufthansa, Delta Airlines, South African Airways, British Airways, and Air Zimbabwe.
My personal recommendation is to fly through South Africa. Delta Airlines offers a direct flight from Atlanta to Johannesburg for a reasonable price. It is an extremely long flight (over 16 hours) but going that route avoids the hassle of a layover in Europe. Since we were hunting in the Limpopo Valley in southern Zimbabwe, we flew on a regional airliner from Johannesburg to Polokwane in north eastern South Africa. Once there, the PH we were hunting with picked us up and drove us across the border to the hunting concession.
Unfortunately, Zimbabwe has experienced a significant amount of turmoil in the last decade. The government has been accused of widespread corruption, election fraud, and numerous human rights violations. The country that once used to be called the "bread basket of Africa" now has difficulty feeding its citizens. In 2007-2009 the country suffered from severe hyperinflation which only stopped when the country switched to using the South African Rand, the Pound Sterling, the Euro and the United States Dollar instead of the Zimbabwean dollar. Understandably, many foreign tourists are reluctant to visit the country under these conditions.
Regrettably, there are also a number of health concerns to consider when visiting Zimbabwe. HIV is very common, with nearly one out of every five adults infected. In addition, there was a severe cholera outbreak in the country in 2008 that still continues to a lesser degree today. Fortunately, in both of these cases the diseases are much more common in cities than in the countryside where most of the hunting is conducted. Even so, it pays to be extremely cautious about the water you drink, visiting a hospital, or engaging in sexual intercourse with anyone there. In addition, virtually the entire country is a chloloquine resistant malarial zone, so all hunters should take appropriate anti-malarial drugs when visiting.
Luckily, despite the turmoil in the country, Zimbabwe still has a reasonably sound infrastructure and travel within the country is not too difficult. Since Zimbabwe is a popular destination for hunters, the customs and border police are used to seeing people bringing firearms and ammunition into the country and we had no issues entering or leaving the country with our rifles. One thing to keep in mind when planning a trip to Zimbabwe is that the United States enforces economic sanctions against Zimbabwe. Check with the embassy in Harare to get a list of people and outfitters that Americans are forbidden to do business with and ensure that you comply.
Americans must purchase a tourist visa to enter the country, but that can be done at the airport or border crossing point and only costs $30. A couple of days after we entered the country, a couple of Zimbabwe Customs Police visited us at the hunting concession. They wanted to see our visa receipts because someone had stolen some money from the border crossing point and they were trying to determine how many visas were purchased that day. The police were polite and gave us no problems, but the fact that someone was able to steal a significant amount of money from a very large border crossing point illustrated the amount of decay that many of the government institutions in Zimbabwe have suffered in recent years.
Even with all of the political turmoil in the country, Zimbabwe remains a popular destination for hunters from all over the world. One of the main attractions in Zimbabwe for hunters is the large populations of dangerous game such as cape buffalo, elephant, leopard, lion, hippo, and crocodile that are available for hunting at sensible prices. While I would not say that my hunt there was cheap, I do think that the price I paid was less than what I would have paid for the same hunt in South Africa or Tanzania. In addition to dangerous game, one can hunt a wide variety of plains game including sable, roan, wildebeest, eland, kudu, nyala, waterbuck, zebra, impala, tsessebe, duiker, warthog and bushbuck.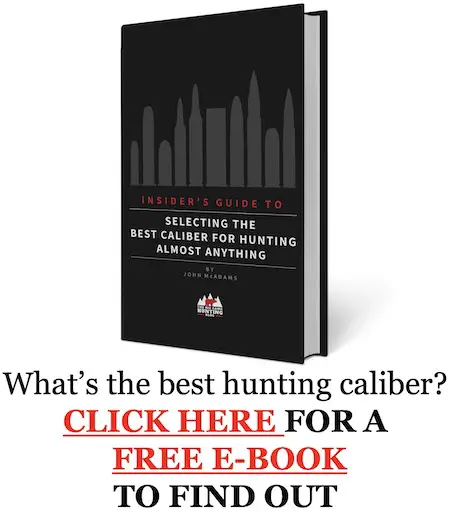 Trophy Hunting in Zimbabwe
I was very impressed with the quality and quantity of dangerous game that I encountered in Zimbabwe. While I only hunted in the Limpopo Valley, that area had plenty of buffalo and elephant. Unfortunately, the area did not have nearly as large of a population of plains game that I experienced in Namibia. I saw tons of impala and zebra, but only a smattering of other plains game like nyala, warthog, and waterbuck. However, I'm sure that this is partly due to the fact that I was primarily focused on hunting buffalo and didn't spend very much time hunting plains game.
When all was said and done, I had an outstanding hunt in Zimbabwe. I hunted with a great outfitter and they really made things easy when entering and leaving the country. I ran into one snag when I was trying to export my trophies from the country though. When it came time to ship them, the government had "lost" the paperwork to approve the trophy export. The outfitter and the taxidermist resubmitted everything and I was able to ship my trophies after a delay of about two weeks.
One of the big reasons that many people avoid hunting in Zimbabwe is the political instability there. While the country certainly has suffered through a great deal of turmoil over the last decade, the reluctance of some hunters to visit is unfortunate, because Zimbabwe is a great country with friendly people and abundant populations of wildlife. If you are a hunter experienced in traveling and hunting in Africa that is looking to hunt dangerous game or some of the more exotic antelope like sable, Zimbabwe is an ideal destination for you. Due to some of the challenges presented by the turmoil in the country, I personally do not recommend Zimbabwe as a destination for a first safari or for a plains game only hunt. Fortunately, as long as you do your due diligence and hunt with a reputable outfitter, any safari in Zimbabwe should produce fantastic results and many fond memories.
For what it's worth, a hunt in Africa made the cut for my holiday gift recommendations. To see what other stuff is on the list, check out the following article:
Awesome Holiday Gifts For Hunters
Enjoy this article about hunting in Zimbabwe? Please share it with your friends on Facebook and Twitter.
Make sure you follow The Big Game Hunting Blog on Facebook, Instagram, Twitter, and YouTube.
NEXT: 11 BEST HUNTING EAR PROTECTION OPTIONS FOR HUNTERS
The Map of Zimbabwe was obtained from the CIA World Factbook.
The World Factbook 2013-14. Washington, DC: Central Intelligence Agency, 2013.